March celebrates not only National Women's Day but also Women in Construction Week. It is a time to recognize the accomplishments and work of women in an industry typically dominated by men and how we can change the narrative of construction careers and success. While women make up only 10.9% of the construction workforce, there are new opportunities in outdoor design.
The business of outdoor design has grown exponentially in the last ten years as homeowners redefine what their outdoor spaces mean to them. We're highlighting Women in Construction Week in episode 12 of Inside Out with Belgard. Joe Raboine chatted with one of the leading female contractors in the industry, Sara Bendrick. Sara is a landscape contractor and designer, owner of Sarita Landscape Design and HGTV personality.
Here are a few takeaways from their conversation.
Creating Balance in Your Outdoor Space
COVID accelerated the industry in terms of outdoor design and altered how viewers used social media. Contractors found a way to educate people on the top dos and don'ts regarding design and at-home DIYs. Homeowners found valuable tips and outdoor design inspiration for their projects.
The difficult part homeowners try to grasp when envisioning their space is finding the balance of efficient outdoor living space while incorporating nature. Many people are pushing for low maintenance, minimal designs using only pavers, rubber mulch, and turf. They don't always realize the benefits that adding a shaded tree and pollinator plants can do for their well-being and health, as well as the environment. This is why contractors and landscape architects are essential when it comes to planning. They can balance inorganic and organic materials to produce a diverse space and make you feel in tune with nature.
Prioritizing Exteriors + Personalizing Trends
Depending on where they're located, some homeowners don't prioritize their home's exterior. As Sara discusses in the episode, homeowners on each coast can see the value for different reasons. But now, people located in more central areas of the U.S. see the value in having an outdoor living area as part of their home. With this shift, homeowners are using their exterior spaces for daily activities rather than just entertaining on the weekends. Outdoor projects can be overwhelming, so homeowners are seeking advice and professionals to help them achieve their dream space.
Homeowners are also leaning on contractors and landscape architects and designers to add trendy patios, outdoor kitchens, shaded structures and more but with a personalized touch. Clients are now more adventurous, moving away from apparent trends and focusing on their wants and needs rather than what is trending. Examples include the use of mixed materials or creating funky patterns with hardscapes.
These are just a few of the topics Joe and Sara discussed.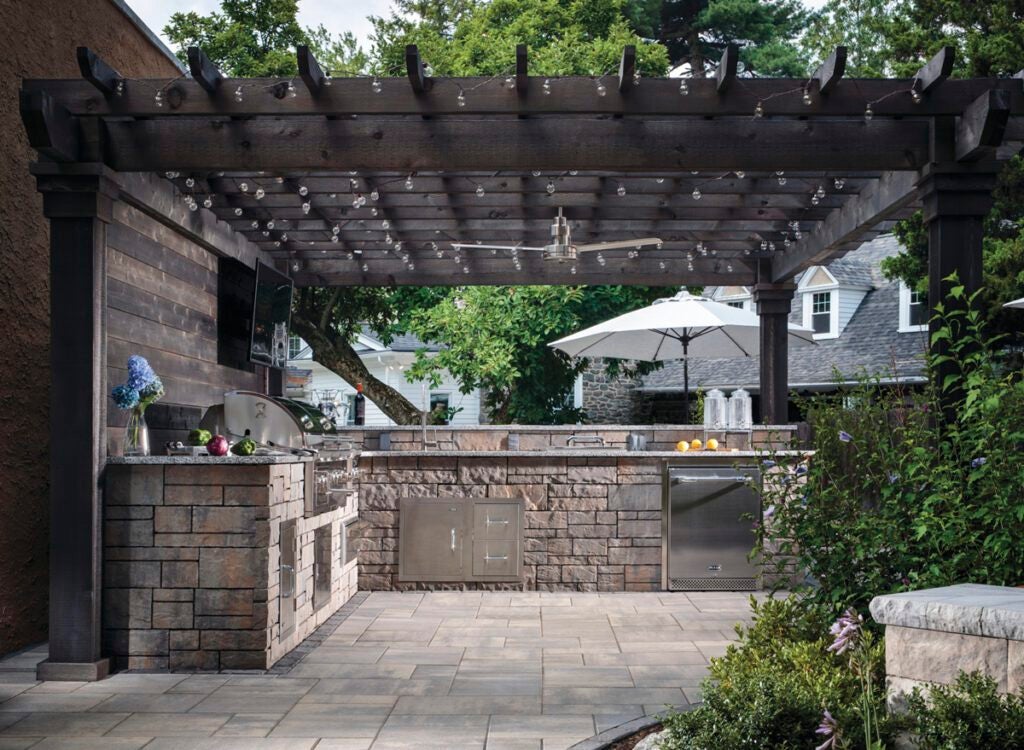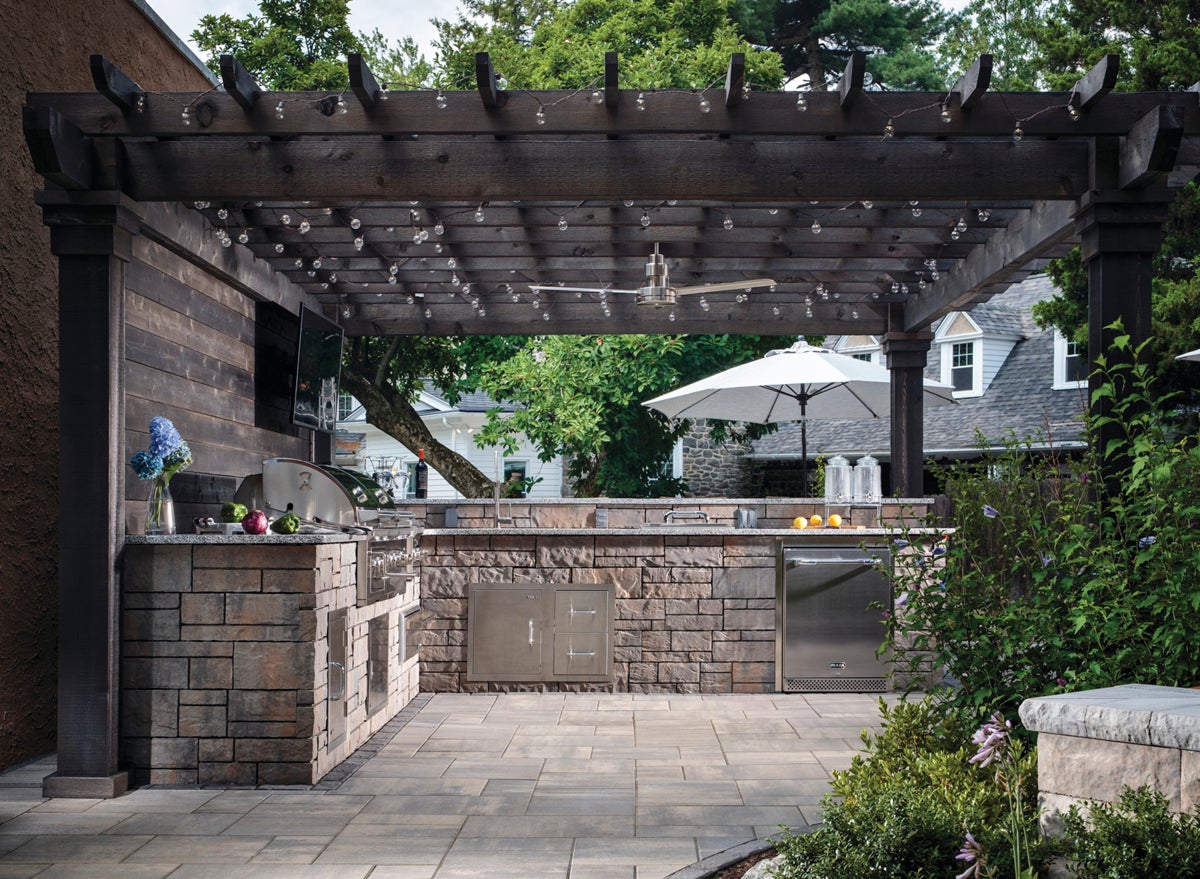 Learn more from Inside Out with Belgard
To hear Joe and Sara's full conversation, listen to episode 12 of Inside Out with Belgard. Inside Out with Belgard is available wherever you listen to podcasts.
This year marked the 25th annual Women in Construction Week. To learn how to get involved next year, visit www.wicweek.org. Women in Construction Week is organized by The National Association of Women in Construction.
As a contractor, one of the most important things you can do for your clients is to plan and execute an outdoor space to help them unplug. In today's fast-paced, technology-driven world, it's important to unplug and spend time connecting with friends, nature, and loved ones. Outdoor spaces that promote relaxation, creativity, and well-being are more valuable than ever before.
Planning a Relaxing Outdoor Space
To plan an outdoor space that helps your client unplug, it's essential to understand their goals, geographic location, and outdoor interests. Start by asking your client about their vision for the space and what they hope to achieve when spending time outdoors. This is a great time to discuss their outdoor patio ideas.
For example, if they're looking to create a peaceful and relaxing environment, consider incorporating an outdoor garden wall or outdoor planters with comfortable seating and soft lighting. If your client enjoys outdoor games, consider adding a bocce ball court, a horseshoe pit, or outdoor chess. It's also important to consider the climate and geographic location when selecting plants and hardscaping materials. By taking your client's goals, geographic location, and interests into consideration, you can create their perfect unplugging space.
Biophilic Design
Incorporating biophilic design principles into outdoor hardscape designs can help your clients feel more connected to nature and provide a calming, soothing environment. Biophilic designs like vertical gardens, built-in planters, and garden walls emphasize our innate connection with nature and seek to integrate natural elements into our built environment. By incorporating these natural elements into your client's outdoor hardscape design, you can create an environment that feels more organic and promotes more sustainable design. These elements can help reduce stress, increase focus and creativity, and improve overall well-being.
The Finishing Touches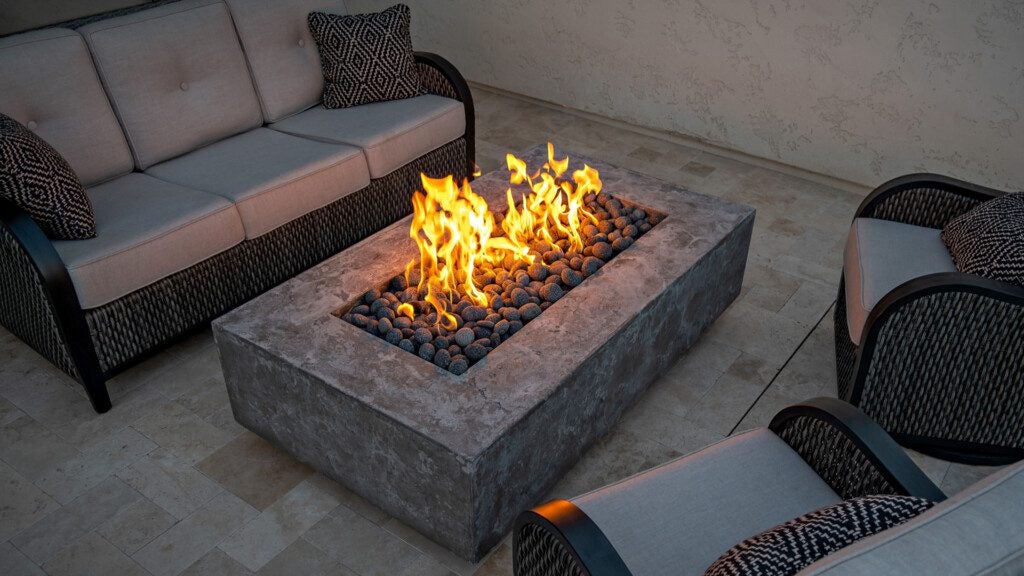 Sometimes it's all in the details. The smaller finishing touches can make a world of difference in your client's outdoor living space. For clients who enjoy staying outdoors into the late hours, integrating optimal lighting increases functionality, allowing them to use their space any time. Adding a fire pit or fireplace also serves as an extra lighting source – and makes the perfect gathering spot for fireside chats and s'mores.
Water features are another excellent addition to maximize serenity. The sounds of a bubbling fountain or water bowl have a calming effect – and mask noises from neighbors or traffic. Also, think about any privacy elements that will make your client feel more comfortable. Decorative screen panels can be used to create partitions to separate different outdoor rooms or provide added seclusion.
The Benefits of Unplugging
Unplugging outdoors provides numerous benefits for mental and physical well-being. Spending time outside is proven to reduce stress levels, lower blood pressure, and improve overall mood. Unplugging from technology encourages creativity and concentration, which can enhance productivity and mental clarity. Additionally, outdoor physical activities like gardening, swimming, or playing outdoor games can improve physical health, increase cardiovascular function, and reduce the risk of chronic diseases. Unplugging provides an opportunity to connect with the natural world, recharge, and prioritize self-care. By creating a unique outdoor space tailored to your client's needs, you can help them enjoy the many benefits of spending time in nature.
Now more than ever, having a space to unwind and decompress is essential. Helping your clients unplug and recharge in the outdoors has so many positive effects on their well-being. Learning about your clients, incorporating biophilic design, and customizing their projects allows you to create an inviting environment that can be the core of relaxation, rejuvenation, and some of life's most cherished moments.
Stone Angel Brewery
1875 Pembina Hwy Unit 9,
Winnipeg, MB R3T 2G7, Canada
Related Events
The Backyard
2426 Dudley St,
Saskatoon, SK S7M 5S9, Canada
Related Events
Okanagan Golf Course
3200 Via Centrale, Kelowna,
BC, V1V 2A4, Canada
Related Events
Local Market YQR
1377 Hamilton Street,
Regina, SK, S4R 2B6, Canada
Related Events
Four Points Sheraton
829 McCallum Road,
Victoria, BC, V9B 6W6, Canada
Related Events
Cascade Casino Delta
6005 BC-17A,
Delta, BC V4K 5B8, Canada
Related Events
Rajveer Banquet Hall
3961 52 Ave NE #1177,
Calgary, AB T3J 0J7, Canada
Related Events
Fort Edmonton Park
7000 143 St NW,
Edmonton, AB T6H 4P3, Canada
Related Events