During winter, take care of your pavers, decks, and patios to ensure they stay clean and protected from the cold. Don't skip out on winterizing your outdoor space so it's ready to weather the cold and remain in good shape for the spring.
1. Paver Care: Prepare Your Patio
If you have pavers, you've probably already noticed their durability and how they perform under a wide variety of weather conditions. Here are some steps to help winterize your pavers so they continue to maintain their color and texture well into the future.
Give Pavers a Thorough Cleaning—Organic matter like sticks, wet leaves, pine needles, and more can cause stains if left over time. Mold or mildew can also stain pavers. Clear your pavers of sticks and leaves. Use a broom, brush, or pressure washer to make them look brighter and cleaner after winter. You can also find specially formulated cleaning solutions that help tackle those tough stains.
Water Runoff Can be Damaging—The next time it rains, take a closer look at your gutter downspout. Water on pavers can lead to ice formation in cold weather, which may cause damage to pavers or joints. Purchase a downspout extension to send your water to your lawn or landscape border.
Remove the Heavies—If you have heavy furniture, flower pots, or large decorative items, these can cause rings, stains, and sunken spots during wet or freezing weather. Relocate these objects to a different place.
Give Your Pavers the Seal of Approval—To outfit your pavers with the ultimate weapon to withstand winter, use a hardscape sealant to prevent water and ice damage. These substances can degrade the surface of pavers over time. Techniseal® Sealant is a preferred choice to help keep pavers sealed away from water and ice and prevent damage. Applying sealers every three years is recommended.
Be Careful When De-Icing—Using the wrong de-icing agent on paver patios, walkways, and driveways can do more harm than good. Some salt-based de-icers can cause hardscapes to degrade at a faster pace. Choose a paver-safe product instead, such as magnesium chloride, or a safer solution, such as a sodium-free ice-melt product like Enviro-Thaw.
2. Wooden Decks & Winter Weather
Environmental elements can harm wooden decks, even if they are sealed, because of their porous nature. Wooden decks are a little more maintenance-heavy than pavers. However, many of the same steps for maintaining pavers pertain to wooden decks, as well. 
Declutter & Clean—First, remove all furniture, potted plants, and debris from your wooden deck, then power wash the deck to remove dirt and grime. Look for areas, especially shady and damp spots, where mold and mildew may be growing. Use a product like 30 Seconds Outdoor Cleaner to kill these growths and stop them from returning. Make sure that all gaps between boards are clear of dirt and debris so that water and snow melt can drain easily.
Time for an Inspection—Perform a thorough inspection of the deck, looking for damage like loose boards, nails, or screws. Make all necessary repairs to ensure the deck is safe and sturdy. Failure to perform repairs can put your deck on the path to severe disrepair after harsh snows or winter rains.
Seal it Up!— If you don't seal a wooden deck and reapply the sealant at regular intervals, the wood will eventually rot and fall into disrepair. Using a high-quality deck sealer like Behr or waterproof stain like Thompson's, you can protect the wood from moisture, UV rays, and the wear and tear of winter. Be sure you choose a product designed for your specific deck material.
Cover it Up—If you live in a region prone to high amounts of snow and ice, consider using a deck cover or awning to provide an extra layer of protection to help extend the life of your deck. For severe snows and ice storms, a securely anchored tarp is another option. Just be sure that you have the proper ventilation to prevent moisture buildup as the snow thaws.
Explore Composite Decking—If you love the look of a real wood deck, but don't care much for the maintenance, you should consider composite decking from MoistureShield. The proprietary production process offers an impermeable barrier that fights damage from moisture, rot, insects, and other harmful elements. MoistureShield guarantees no warping or rotting and has experienced zero structural field failures in 30+ years. Maintenance is low, consisting of simple cleaning to remove dirt, mold and mildew.
3. Pool Care in Cold Air
Winterizing your pool is a very important part of protecting this significant investment. When the temperatures get down to 65 degrees or lower, it's time.
Preliminary Planning— A week before closing the pool, test the water chemistry to make sure the alkalinity is between 80 and 150 parts per million (ppm), the pH level is between 7.2 and 7.6, the calcium hardness level is between 175 and 225 ppm, and the chlorine level is between 1 ppm and 3 ppm. It's ok to go a little higher for each of these measurements since the levels will naturally decrease as time passes.
Clean it Up—Begin your cleaning process by removing accessories like skimmer baskets, ladders, steps, and anything else from the pool. Hose off any dirt and algae, and make sure your pool is as clean as possible by removing all leaves, silt, and other debris. This process will make it easier to balance the water chemistry and prevent mold and algae growth, which will make a much happier pool when it's time to take your first dip next summer.
Manage the Water Level—You will need to lower the water level of your pool before closing it up if you live in an area where the water will freeze during the winter. If you live in warmer climates where water may not freeze at all, then you may consider skipping this step. If you are using a permeable, non-vinyl liner or mesh, you can bring the water down to two feet below your tile line or skimmer. If you are using a vinyl liner, you may bring it down one inch. For solid-non-vinyl liners, two feet is more suitable.
Drain Time—If you live in an area where freezing winter temperatures are common, it is very important to drain all the equipment (filter, pump, heater, etc.) so the water won't expand and cause damage. Also, clear the water from the pool lines using a blower, then plug them up with expansion plugs. If you want to be extra careful about preventing burst pipes, consider adding pool antifreeze.
Shock and Cover—The final step is covering your pool. First, add shock to kill bacteria and algaecide to kill algae. Follow the directions closely on these products and make sure you spread the chemicals around the pool evenly, instead of pouring them in just one area.
Get the Best—If you're thinking about installing a pool or need to upgrade your pool finish, consider PebbleTec®, the world's most trusted premium pool finishes. This product is not only beautiful but offers excellent long-term durability along with expert customer support.
4. When is it time to shut down the outdoor kitchen?
If you live somewhere with a more moderate climate, you may be lucky enough to use your outdoor kitchen throughout the winter. However, if you live in an area with extreme winter conditions, it may be best for you to shut down the outdoor kitchen in preparation for the frigid temps.
First, clean the kitchen area thoroughly, then cover your sink and built-in grill. Keep your refrigerator and ice maker uncovered. After you unplug, empty, and clean the fridge, leave it slightly open to let it dry. Leaving your outdoor refrigerator this way until spring helps prevent mold. Or, close it, but regularly check it to ensure nothing's growing on the interior. Don't forget to shut off the main water line to your outdoor kitchen and drain all the water lines to your refrigerator, ice maker, and sink.
5. Clean Patio Furniture and Cushions
If you do not plan to use your outdoor space for winter, it is best to clean and store furniture and cushions to ensure their longevity. If you have the room, store your outdoor furniture in a shed, the garage, or the basement. Prior to storage, wipe the furniture down to remove dirt, grime, and pollen, then use mild dish soap and water to clean it. Cushions can be cleaned with soap and water or a mix of water and white vinegar. Make sure that both the furniture and cushions are dry before storing to prevent mold and mildew. If you can't put your furniture away, you can use special waterproof covers to protect it from the elements.
Taking the time during fall to prep your outdoor space for winter is a wise decision. Although a bit of work, it will pay dividends in the long run, helping your outdoor investments remain in good condition and last for seasons to come.

The 2023 Hardscape North America (HNA) Conference was a milestone celebration, marking 25 years of bringing industry professionals together and fostering connections. Hosted annually in Louisville, Kentucky, HNA is a great time for industry professionals to get together to introduce new products and initiatives, and Belgard was proud to be a sponsor again this year.
See Belgard's highlight video below and continue reading for more from behind the scenes of the hardscape industry's top show of the year.
.
Showcasing the Oldcastle APG Family of Brands
HNA 2023 kicked off on October 18, where Belgard introduced the new Oldcastle APG booth, which is strategically designed to cater to the needs and interests of both outdoor professionals and customers. The indoor booth highlighted both Belgard and the Oldcastle APG family of brands. The booth also introduced Oldcastle's Live Well Outside philosophy that drives home the benefits of being outdoors.
Belgard also introduced the new Papyrus paver, which was a big hit among booth visitors! Joe Raboine, VP of Design for Belgard, and several other industry leaders also hosted educational sessions in the Pro Solutions Center, aimed to help hardscape professionals in their growth and development.
Day 2 of HNA 2023 boosted the atmosphere as groundbreaking technology stole the limelight. A collaborative effort between Belgard, Pave Tool, and Optimus showcased state-of-the-art tools employing advanced vacuum technology in Belgard's outdoor booth. These 'back-saving' tools revolutionize heavy lifting, making it effortless for both single and double-person operations. The advancements showcased innovation and addressed the physical strain associated with hardscaping, ultimately saving time and resources on job sites. Check it out in the video below.
.
The HNA Installer Championship
One of my favorite events during HNA is the Installer Championship, a highly anticipated competition in which teams show off their installation skills. HNA 2023 witnessed an impressive turnout from Belgard, with more than half of the participating teams proudly representing Belgard Authorized Contractors.
Among a roster of skilled and determined teams, two exceptional Belgard teams emerged triumphant landing in the top 3: Mike Darling Contruction, who took second place, with Epic Pavers Inc. taking third. Their exceptional teamwork, meticulous planning, and adept delegation during the completion of two advanced paver pads solidified their positions as industry leaders.
As the curtains drew on the 2023 competition, the industry is already abuzz with anticipation for the upcoming year. The promise of continued education and the prospect of witnessing the return of winning teams only add to the excitement surrounding the 2024 HNA event.
The HNA 2023 Awards
In addition to the HNA Installer Championship, the HNA Awards are an exciting time to celebrate the achievements of outdoor professionals.
Belgard and Oldcastle APG are proud to have received 11 recognitions during the HNA 2023 Awards ceremony. Belgard and Oldcastle APG received wins for projects in the following categories:
Concrete paver – residential
Concrete paver – commercial
Concrete paver – permeable
Combination of hardscape products – residential
Combination of hardscape products – commercial
Porcelain – commercial
Outdoor living features
In addition to the winning categories, Belgard and Oldcastle APG also received several honorable mentions:
Concrete paver – commercial
Combination of hardscape products – residential
Porcelain – residential
Porcelain – commercial
Check out the gallery of winning projects below!
Why You Should Attend HNA 2024
HNA is a great platform for networking and learning but also is a testament to the continuous evolution and innovation within the hardscaping industry. HNA continues to be an event of progress and inspiration for professionals and enthusiasts alike, driving the industry forward with each passing year.
We hope to see you there next year so you can see what Belgard and Oldcastle APG have in store!
Inside Out with Belgard is back for its third season! We are excited to kick off with Bob Thomas, President and CEO of the Concrete Masonry and Hardscapes Association, and Kris Kiser, President and CEO of the Outdoor Power Equipment Institute. Together, these two organizations each host the largest and most influential industry trade shows of the year, co-located on the same campus. Belgard is excited to attend their Hardscape North America (HNA) and Equip Exposition (Equip Expo) shows every year, and this year was no different. In episode #16, Joe sat down with Bob and Kris to talk about HNA and the Equip Expo and why the joint venture is such an important industry event.
A Hands-On, Immersive Experience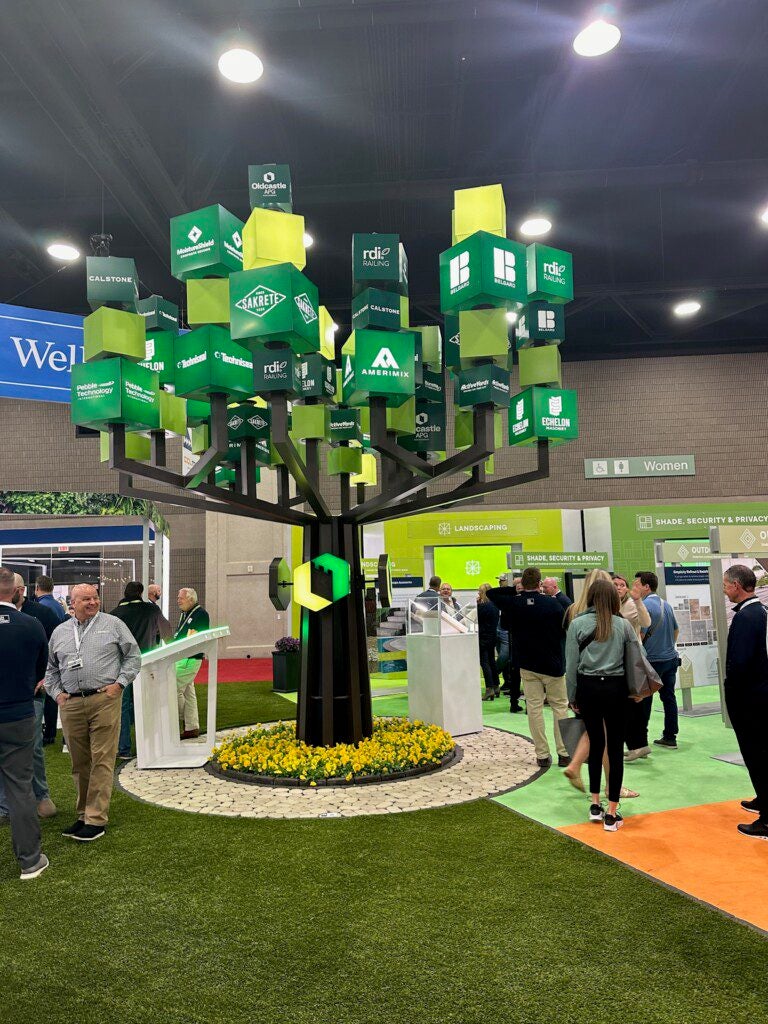 These shows don't just showcase the latest products and innovative equipment. There also is an incredible amount of educational training and networking among attendees and exhibitors. Professionals of all industries — such as tree care, pool and spa, landscape management, hardscapes and more — provide a unique hands-on experience unlike any other trade show, with educational training on-site.
HNA and Equip Expo offer immersive demonstrations, trainings, and peer-to-peer interactions that meet every attendee's needs and expectations. Attendees view exhibitors laying pavers, operating machinery, even cutting trees – just a few examples of happenings at HNA and the Equip Expo. There is no limit to what professionals can learn and take back to their local businesses, making it a wise investment for any outdoor living business.
Real World Learnings
In this episode of Inside Out, Bob and Kris share why they brought the two shows together to create unlimited value for outdoor professionals. They dive into how every event, competition and experience at the shows are designed to help attendees improve their businesses. They describe how professionals across the industry are looking for more ways to leverage their investments and expand their businesses and services. The episode explores how HNA and Equip Expo give contractors, landscapers, and hardscapers exposure to new products, educational services and more to learn and grow in their careers.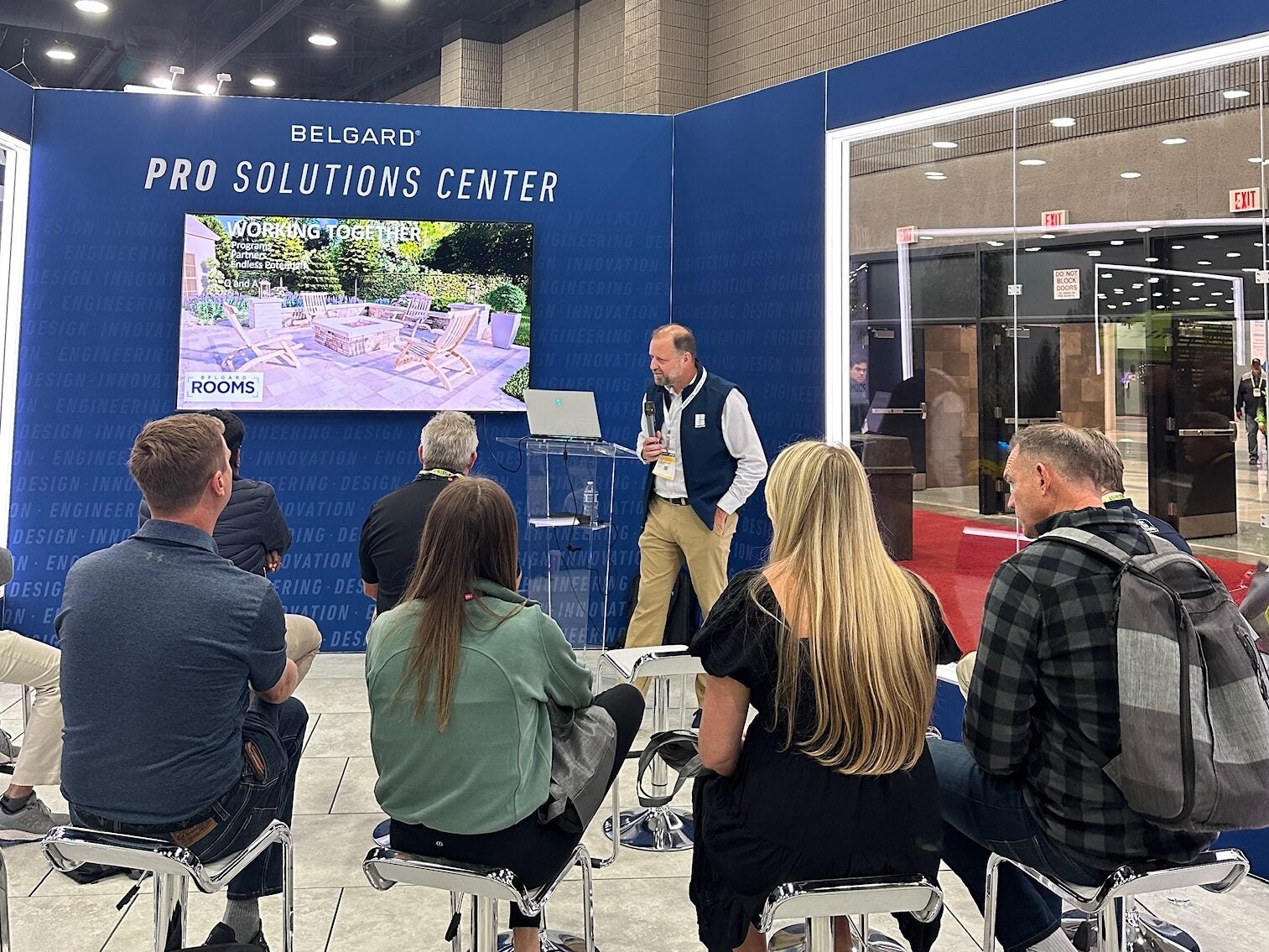 .
Evolving with the Trends
This combined trade show has evolved every year with trends and the outdoor industry at large. COVID-19 caused a reconnection and sparked interest in the outdoors. Outside was a safe escape to cook, relax and chat with neighbors from a distance. Homeowners are still utilizing their yards as an extension of the home but are now investing more in their outdoor spaces. HNA and Equip Expo want to arm contractors with the ability to design and create functional spaces for homeowners during this evolution.
Due to this shift, contractors need to be multifaceted and provide design, landscape, hardscape, irrigation services and more. Technology also has evolved, with Robotics and other mechanisms making installations and complex designs easier. Projects are getting bigger, too, and the collaboration of both shows offer helpful tools and tips for anything outdoor-related — whether it's a backyard, corporate campus, or even a golf course.
Stay Tuned This Season And Listen to More Episodes of Inside Out
You can hear the full conversation with Bob, Kris and Joe by listening to the latest episode of Inside Out with Belgard. Keep up with the series by downloading and subscribing today. Inside Out with Belgard is available wherever you listen to podcasts.
Megan Molten is an expert interior designer, store owner and lifestyle blogger based in Charleston, South Carolina. Her website and social media showcase her life as a designer, offer a peek into her life as a mom of two, and more. The Belgard team was thrilled to collaborate with Megan to incorporate our products and designs into her latest project, The Mod Pod Pool Pad, at her home in Charleston.
Building A Backyard Oasis Outdoors
After Megan bought her home in 2019, she and her family named it "The Mod Pod," which inspired the project name The Mod Pod Pool Pad. Megan's father-in-law, a retired architect, designed the outdoor landscape and pool house to create a space that was visually interesting but functional for their family. The pool house includes a fireplace, projection TV, dining nook, and lounging area. The project design was inspired by the detailed aesthetic inside Megan's home and the South Carolina Lowcountry with a touch of modern elements using Belgard pavers, turf and Belgard's 2023 colors of the year – Tidepool and Seagrass.
"After finalizing the plans for the pool pad, I knew I wanted premium products to withstand the test of time, and Belgard was the standout choice."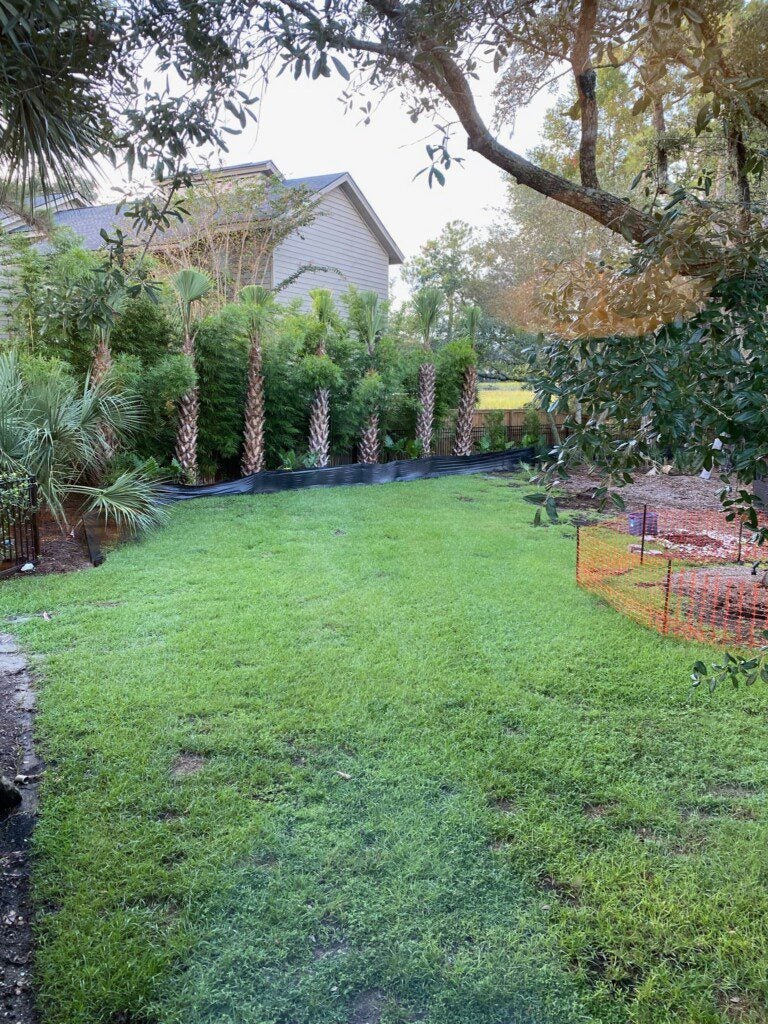 Complete the Outdoor Space with Belgard Porcelain Pavers
Taking inspiration from inside her home, Megan knew porcelain pavers would be the perfect choice for her pool house. She chose Quarziti 2.0 , which mimics the look of quarried quartz by gently incorporating a shading effect and subtle iridescence that resembles natural elements while creating a stunning modern aesthetic. Belgard's porcelain pavers offer the perfect foundation and finishing touch to the pool house and surrounding landscape. Porcelain pavers look similar to indoor porcelain tiles, only thicker and more durable, providing an indoor-outdoor feel.
"We decided to go with the Quarziti 2.0 style because I love how the Glacier color resembles sand and other natural elements you find by the sea. The added texture looks amazing with our design but also is slip-resistant. Perfect for our family!"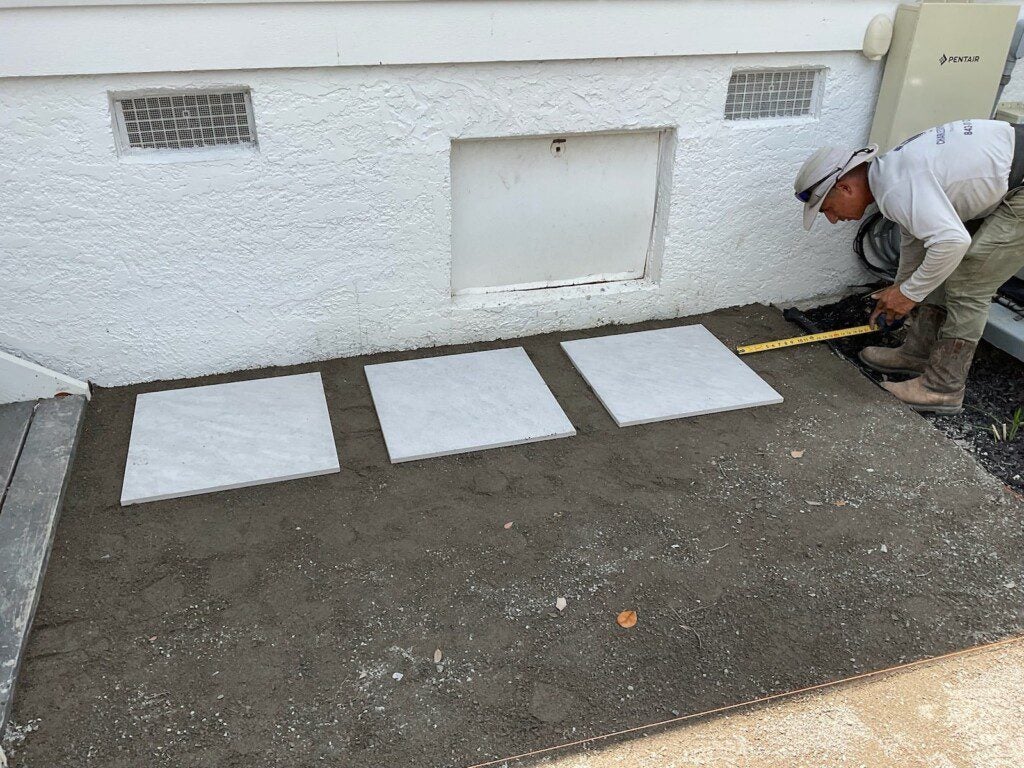 Porcelain pavers are perfect for a pool area because they are resistant to corrosion from salt, chlorine and saline water. You'll find these pavers are an ideal investment and will last a lifetime because of their durability and color preservation, meaning they won't fade.
"After pulling years of inspiration for this pool pad project, I had a vision," states Megan. "I knew I wanted to install pavers and turf not only for the aesthetic, but because they are low maintenance and durable to withstand constant exposure."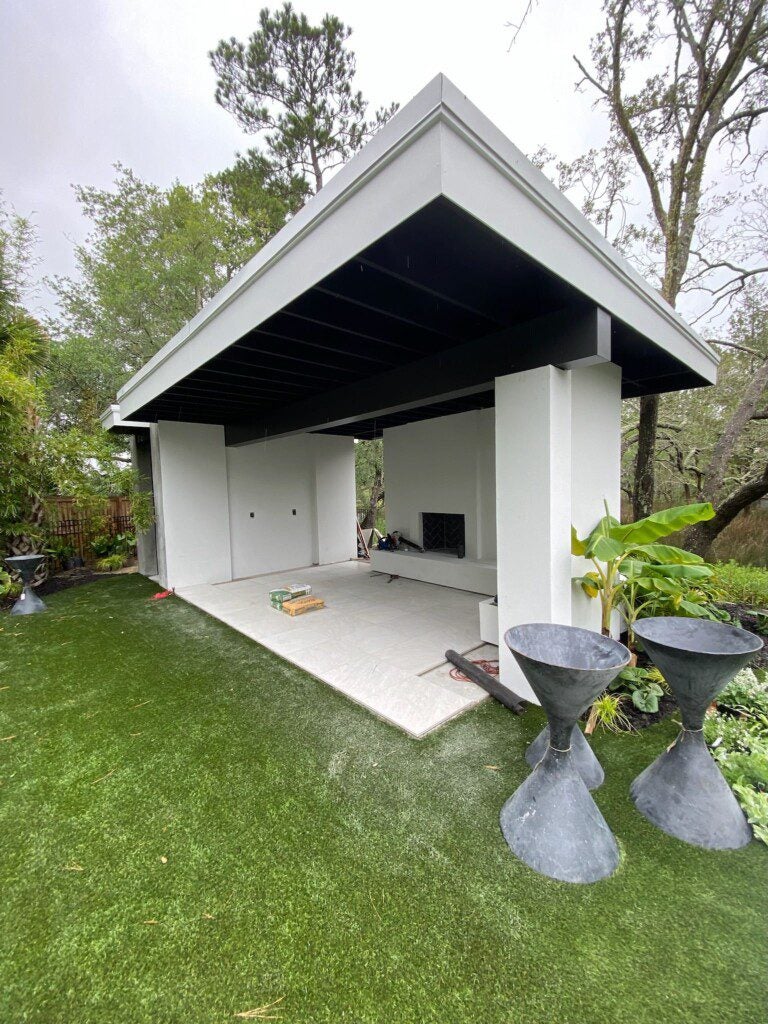 Incorporating Belgard's Colors Of The Year  
The Lowcountry region of South Carolina, where Megan's home is located, includes rich salt marshes and coastal waterways, which created the perfect opportunity to feature this year's colors of the year – Tidepool (a deep teal) and Seagrass (a soft sage green) that represent the connection between land and sea. You see these two colors throughout the pool house, from decorative pillows to greenery, throw blankets, and more.
"Choosing finishes and furnishings inspired by Belgard's 2023 colors of the year was a no-brainer," said Megan. "We wanted our pool pad to look chic and modern while also creating a soothing sense of calmness inspired by the lush greens and blues of the South Carolina coast, which is perfectly embodied by Tidepool and Seagrass."
More on The Mod Pod Pool Pad
You can see highlights from the project on Megan's Instagram, blog and YouTube.

Belgard is proud to be in the Oldcastle APG family of brands, offering industry-leading hardscape and accessory products that create beautiful outdoor spaces and help people Live Well Outside.
A Complete Collection of Outdoor Living Brands
Oldcastle APG's ecosystem of outdoor brands encompasses solutions for the entire backyard, encouraging contractors and homeowners alike to invest in outdoor living. Oldcastle APG offers the most complete collection of outdoor brands, which will be showcased in the HNA booth.
"Our main goal this year is to really show how all the Oldcastle APG products, including Belgard, work together cohesively to create beautiful, functional outdoor spaces," says our Vice President of Design, Joe Raboine. "We want contractors to know that they can use Oldcastle APG as a one-stop shop for all their project needs."
How to Find the Right Outdoor Living Products with Oldcastle APG
The Oldcastle APG brand is evolving to encourage people to "Live Well Outside" and help contractors find all the solutions they need under one roof through streamlined product categorization.
Under the new product categories, contractors can easily determine which Oldcastle APG products best fit the project at hand.
Oldcastle APG Outdoor Living Product Categories




Includes: Pool finishes & features, outdoor kitchens, fire pits & fireplaces, grills & accessories


Includes: brick, block & veneer; wall systems; composite cladding; retaining walls, pool finishes and tiles
Brands: Echelon, MoistureShield, Permacon
Visit us at Hardscape North America Expo 2023
Each year, Belgard displays its latest products and innovations at Hardscape North America, the hardscape industry's premier tradeshow. For 2023, Belgard and Oldcastle APG both take centerstage to show how homeowners can "Live Well Outside." The Belgard booth at HNA will feature all the Oldcastle APG brands, with displays and interactive demonstrations to show how our family of brands work together to deliver what contractors need for any outdoor living space.
Several Belgard products will be on display throughout, including:
Stop by Booth #20040 to see all the Oldcastle APG products in action!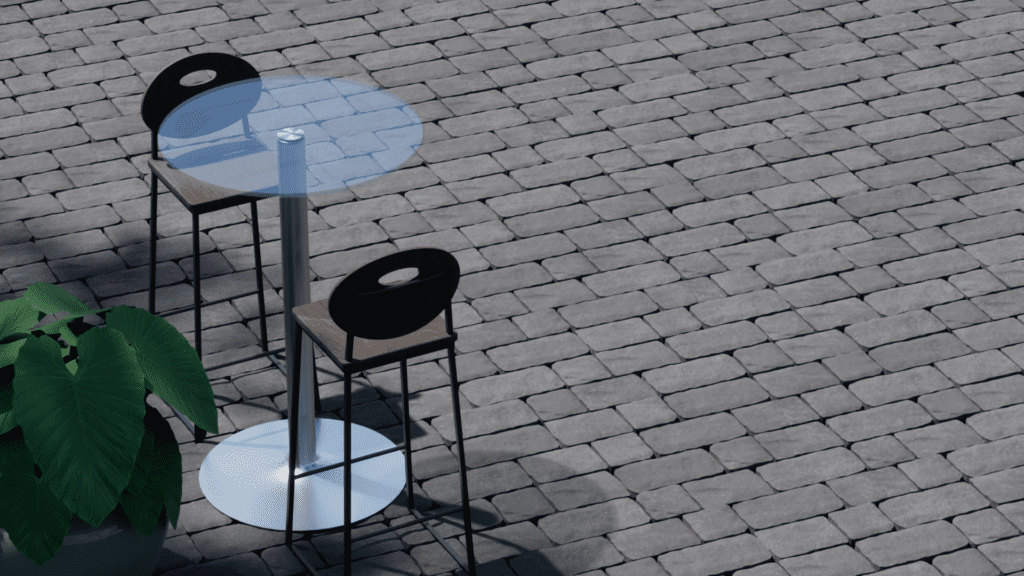 Belgard continues to push boundaries with product development, adding new textures and tones to concrete pavers. Belgard's newest paver, Papyrus™, is the latest addition to the Belgard Artisan Collection, which offers new and unique textures designed for elegant, contemporary outdoor living.
Effortless Biophilic Design for Your Outdoor Spaces
Reminiscent of handmade textiles or dried earth, Papyrus embodies the spirit of biophilic design, which is centered on incorporating organic elements and textures into the built environment. As the biophilic design trend increases in popularity, more homeowners are interested in organic design elements that create a cozier, more livable backyard space.
Finding stylish pavers with natural textures that seamlessly blend into an outdoor space can be a roadblock in the design process for contractors and homeowners. Whether you're creating a welcoming patio or a pathway in your garden, Papyrus has an upscale look that can infuse an organic textural experience into your design that not only coordinates with the surrounding landscape but elevates the overall look of the design.
Modular Design for More Paver Pattern Options
Papyrus pavers are the newest texture of Belgard's unique modular paver line, which are all sized in 3-inch increments to simplify the design and installation of pavers systems. Nationally available, the Papyrus™ 18 series of the Papyrus Paver line is a three-piece system that effortlessly blends with Origins™ stone textured pavers, Dimensions™ smooth face pavers, and other regionally available modular paver systems of varying textures and sizes. This modular format provides homeowners and contractors more flexibility and creativity in the design process to mix and match pavers to suit your style and vision, while reducing costs and installation timing.
Whether used alone or combination with other modular Belgard pavers, the innovative hand-tooled appearance of Papyrus provides an excellent opportunity for homeowners to add a unique, natural, timeless look to their outdoor space.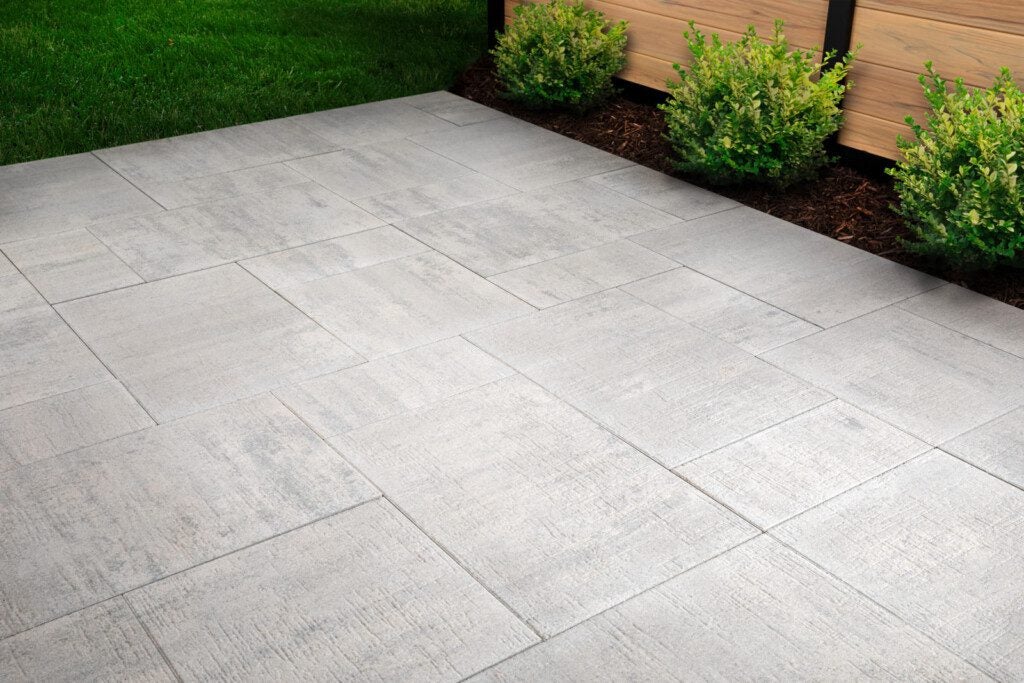 Find Papyrus Pavers Through Your Local Dealer
Belgard is excited to offer two trend-forward color options of Papyrus 18 nationally — Scandia Grey and Sepia. For more product details, click here or contact your local dealer to find Papyrus in your area. Papyrus will also be on display in the Belgard booth at Hardscape North America in Louisville, Kentucky on October 18-20, 2023.   
This training program is designed for both beginners & experts to enhance hardscaping skills & knowledge. 
Learn the latest techniques & best practices to create stunning outdoor spaces from design to completion.
Related Events
Key Note Speaker
Cureated Breakout Sessions
Breakfast, Lunch, Happy Hour
Raffle Prizes
Reach out to your Belgard Representative if you are interested in attending.

Cost: $75 per attendee – Space is limited!
(Note: PPE required – Steel Toe Boots, gloves)
Breakfast & Lunch Provided
*Continuing Education Credits available*
Contact Sheryl Cajas, sheryl.cajas@oldcastle.com or Christine Roszak, christine.roszak@oldcastle.com with questions.
Related Events
As a contractor, we know you're looking for ways to make your jobs more efficient while still delivering the highest quality to your clients. Belgard is here to help. With resources on design, laying pavers, modular systems, and a one-stop shop for outdoor kitchen accessories, we have the right tools to increase your efficiency. We've even provided a few links to other blogs we posted over the years on improving efficiencies (in case you missed them).
Belgard Rooms: The Tool to Dream
The Belgard Rooms tool creates efficiencies two-fold. First, it offers clients the ability to dream, with more than 100 different designs for outdoor spaces, so you don't have to spend time sketching or drawing your own. Second, getting this in front of your client sooner rather than later can help you close deals faster. And, with the Belgard Rooms augmented reality feature, you can actually project the designs into the client's outdoor space with the help of a tablet or smartphone. That's a game-changer!
Belgard Design Studio: The Tool to Create
Belgard Design Studio can adjust product selections and room features to create a space that fits each customer's specific needs. The finished design will also include a materials list for each room, which also simplifies ordering and estimating. Belgard Authorized Contractors report that using Belgard Design Studio can help increase closure rates, enhance communication, and improve customer satisfaction.
Get on Base with Techniseal's Paver Base Panel System
Here's a faster, lighter way to lay a patio base. Techniseal© offers the NextBase™ Paver Base Panel System, which consists of overlapping, expanded polypropylene foam panels that can be laid in place of a typical layer of aggregate. These panels eliminate the need for excavation equipment and reduce the amount of required material and associated costs. NextBase panels are a great option for a range of projects, from patios and pathways to pool decks.
Go Modular with Artforms™
Artforms is a modular high-strength concrete panel system consisting of two shapes that can be configured in various ways for unlimited outdoor living design possibilities. These panels can be quickly fastened together for fast and efficient construction of outdoor living structures like kitchens, bars, fire features, water features, seating, planters, and raised gardens. For construction details on a variety of design ideas, visit the Artforms idea page.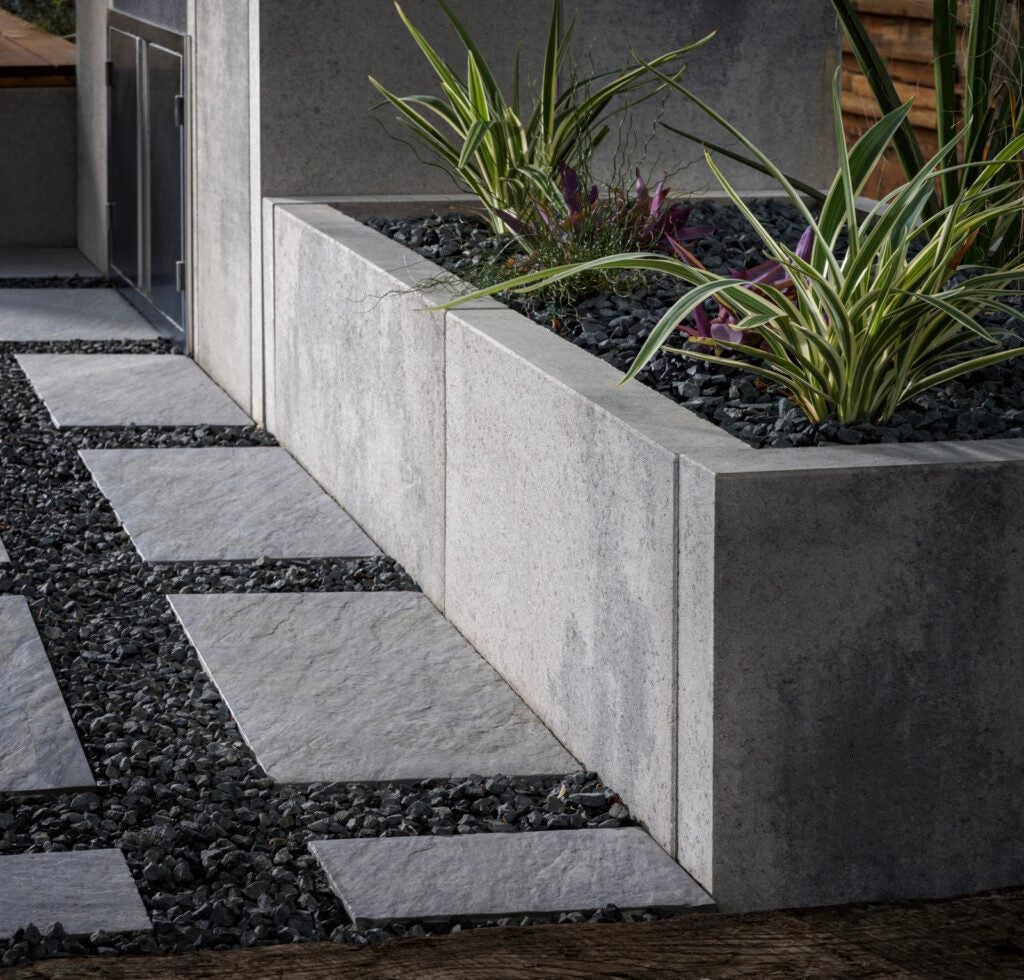 Finish the Job with Elements Outdoor Kitchen Essentials
Belgard Elements™, our line of outdoor kitchen essentials, is a one-stop-shopping spot for outdoor kitchen accessories like grills, side burners, storage cabinets, refrigerators, and more. All of these are in one place, so you or your client need not waste time searching the internet for options. Use these high-end, high-quality products to put the finishing touches on an outdoor kitchen that your clients will love!
The Right Tools Prevent Injuries and Enhance Efficiency
Use hardscaping tools that increase installation speed and potentially reduce job site injuries. Companies like Pave Tool Innovators, Probst®, Mquip® and PaveTech® offer vacuums, clamps, or even large machinery for commercial projects. Whether commercial or residential, turn these jobs faster and safer by utilizing some of these innovative tools.
Want more jobsite efficiency ideas? As promised, here are two past blogs for you to check out our Contractor's Corner blogs on Labor-Saving Ideas and Innovations for Jobsite Efficiencies. Now…go forth, be efficient, and may you have a great upcoming quarter!