by Guest Blogger Tallen Huges
Growing up and working in the hardscape installation industry, I learned that interlocking concrete pavers and retaining wall block pair functionality, durability, and style to create outdoor living areas guaranteed to catch the eye and last for years. They can be used in countless installations, from pool decks to patios and outdoor kitchens. Concrete pavers come in a variety of shapes and sizes to suit any design or style, as well as an array of colors and finishes to add dimension and texture to a space. In addition, concrete pavers are manufactured to hold up under extreme weather conditions, like snow and ice.
With all the benefits and flexibility concrete pavers offer, it's no wonder they are becoming the product of choice among the industry for any outdoor living project. Here are 11 project ideas for interlocking concrete blocks you can utilize with your customers.
1. Walkways
For a stunning walkway, choose a paver that offer a contemporary look with clean lines and a smooth finish. Multiple colors, patterns and finishes to choose from will draw your eye down the walkway and create visual interest. Belgard's Melville Plank is a great choice and offers a variety of options. Catalina Grana is also an excellent choice, as it has a contemporary feel and design flexibility.
2. Small Patios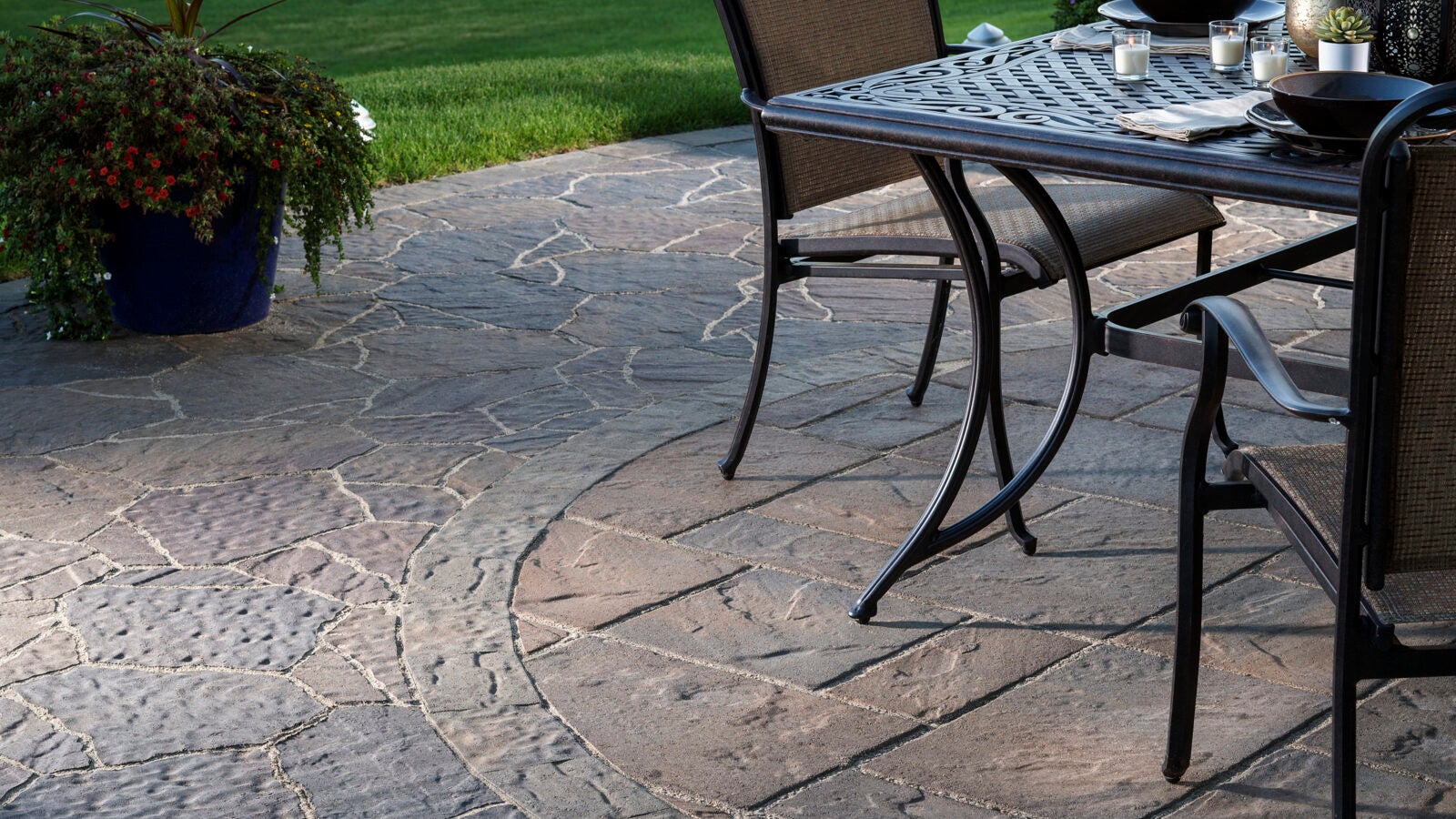 Small patios are at the center of some of life's most memorable moments. The strength of concrete pavers coupled with eye-catching textures complement any home's style. Lafitt Rustic Slab is used in many small patio applications given its clean, natural slate appearance. For areas with higher moisture, interlocking permeable pavers are essential for drainage. The Urbana Stone paver can be installed as a permeable system to provide drainage, interlocking strength, and a vintage stone appearance, along with a broad range of laying patterns.
3. Large Patios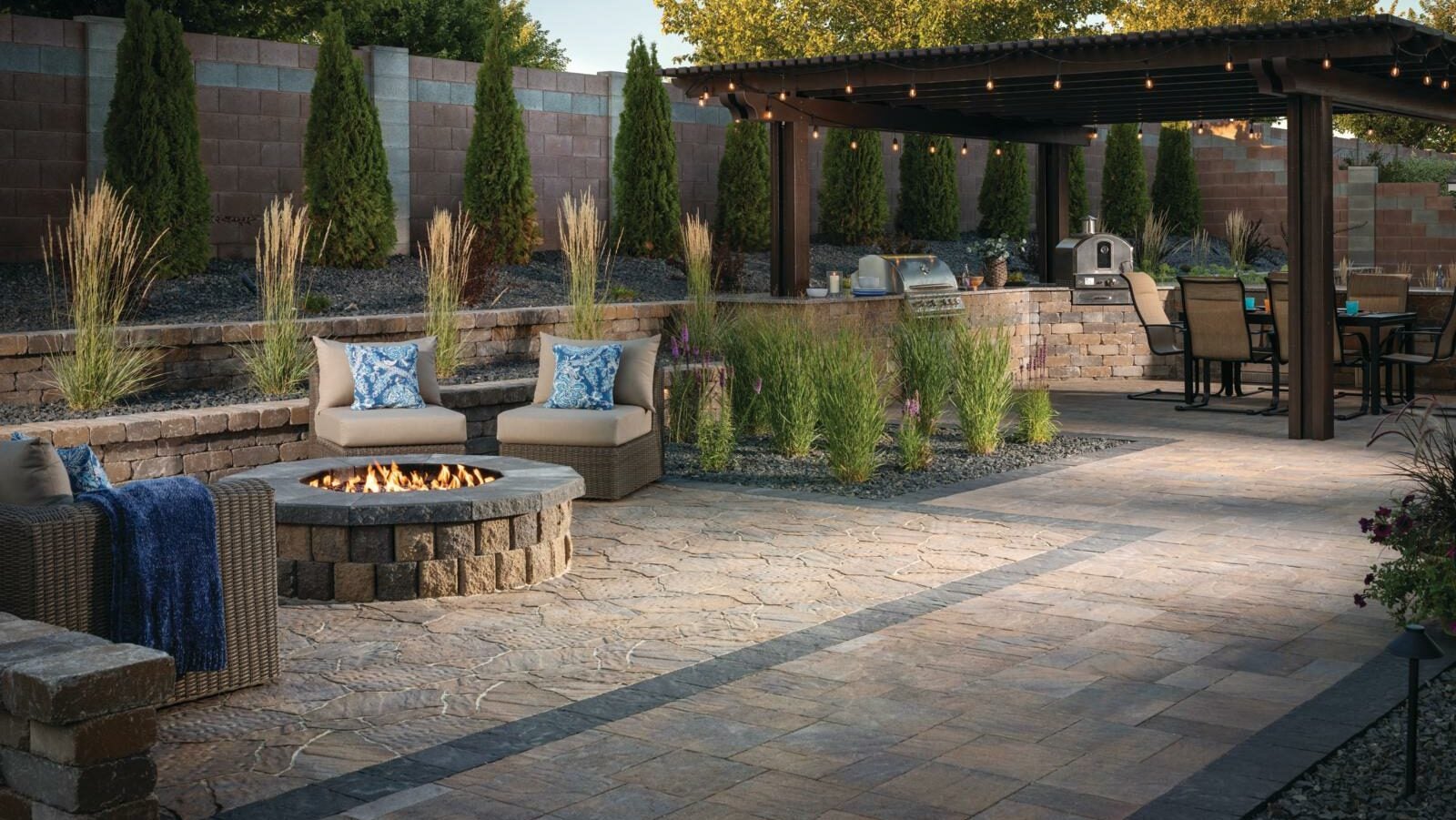 Large patios designed with irregular patterns and textured surfaces add instant appeal to any outdoor space. With interlocking pavers, you can achieve an interesting design pattern that's still easy to install. Belgard's Mega-Arbel provides unison with a natural flagstone look that is paired together with false joints to create an abstract look but is still easily installed. For the same natural look, but with a contemporary twist, the Avalon Slate Paver offers countless customization patterns with its three-piece system and 90-degree angles. Used together, you can create inlaid paver rug designs to reinforce the outdoor room concept.
4. Driveways
Permeable pavers are ideal for driveway applications in areas that receive heavy rain or snowfall. Newer modular concrete paver systems, like Urbana Stone Paver, simplify these applications. This natural, vintage-cut stone creates a beautiful driveway and offers various patters enhance the surrounding natural environment. In areas of less moisture, Urbana can also be installed as a traditional non-permeable driveway. Mega-Lafitt Slate is also a great driveway choice. The Mega-Lafitt Slate embodies the natural look of flagstone but does not compromise when it comes to long term strength, durability, and flexibility.
5. Concrete Overlays
Efficiency is vital for outdoor projects today. For any customer, you want installation to be as efficient as possible to maximize your workforce and minimize time on site for the customer. Using a product like Cambridge Cobble Overlay for a concrete overlay provides smooth surfaces, simple customization, and classic design. For a more textured, natural stone finish, Travertino Overlay is another great option for overlaying concrete. Travertino provides the look of natural travertine with the added benefit of enhanced durability and a multitude of laying patterns.
6. Pool Decks
Nothing completes an outdoor living project like a pool deck. There are a multitude of options with a pool deck – they don't have to be square or linear. You can add more interest to a traditional square pool deck or opt for curved, elemental designs. The use of interlocking concrete pavers in your pool deck is vital in avoiding movement around the pool and for clean, finished lines. Lafitt Grana Slab creates an aesthetically grand pool deck. The 3-piece modular slab collection provides smooth coverage to your pool area while complementing the surrounding elements. For a combination of contemporary and classic, Melville Plank is also a great option. Stylish rectangular shapes, clean lines, and a smooth face allow for a pool deck that is sure to appeal to all.
7. Seat Walls & Benches
Strength, durability, and seamless design are essential for any type of wall in an outdoor area. Segmental retaining wall blocks offer these qualities and are perfect for creating seating walls that add dimension, movement and increased functionality in an outdoor living room, kitchen, or fire pit area. Belair Wall 2.0 is ideal for constructing freestanding seating walls that adds natural dimension and movement to your outdoor space without sacrificing aesthetics. In a space that is more contemporary, Melville Wall, with a smooth linear face, is the perfect fit for a seating wall. Offering multiple installation patterns, matching caps, and 90-degree corners, Melville Wall's simple design complements other outdoor features with ease.
8. Decorative Landscape Walls
A decorative landscape wall is the perfect touch for any outdoor living area. Project ideas include raised planter beds, planter boxes, columns, freestanding walls. These wall projects blend the hardscape and landscape elements together to create a beautiful, serene backdrop for cooking, dining, or relaxing outside. Highland Stone wall provides a textured face that accents surrounding walls, allowing room for customization in any outdoor living area. The rear-lip locator of the block allows for quick, error-free installation. For a smooth, modern decorative landscape wall, Shelton Wall exudes a rustic finish with earth tone blends, allowing a consistent charm across the hardscape design.
9. Retaining Walls
Segmental retaining walls provide structure, substance, and stability for large-scale projects. Diamond Pro blocks allow for easy installation with a rear-lip locator that minimizes error and maximizes strength. The rough-hewn face of the block gives texture to a space while simultaneously blending into the natural elements. Tandem Modular Block offers multiple face options and allows for interconnected retaining walls that offer flexibility, stability during installation, and ease with limited job site space. This vertical wall perfectly accents contemporary outdoor living areas.
10. Custom Fire Features
Custom fire features add a stylish, timeless look to any outdoor living area. The Belgard Bordeaux Series offers a seamless, stacked block look that emphasizes the fireplace as the focal point of the space. The Bristol Series provides a rustic, textured, and customizable look to your outdoor fire feature. Both of these series belong to the Belgard Elements collection and offer a plethora of color and design options that fit organically into any unique space. They're also huge time-savers, as they come pre-constructed and ship in large pieces for quick installation.
11. Outdoor Kitchens
Customizing an outdoor kitchen is essential to create a space curated for a specific customer. The Belgard Elements collection simplifies creating that custom look. The Bordeaux Series grill island features a stacked-stone look and coordinates with the Bordeaux fireplace. The Bristol Series also offers a grill island to coordinate with the Bristol fireplace.
. . .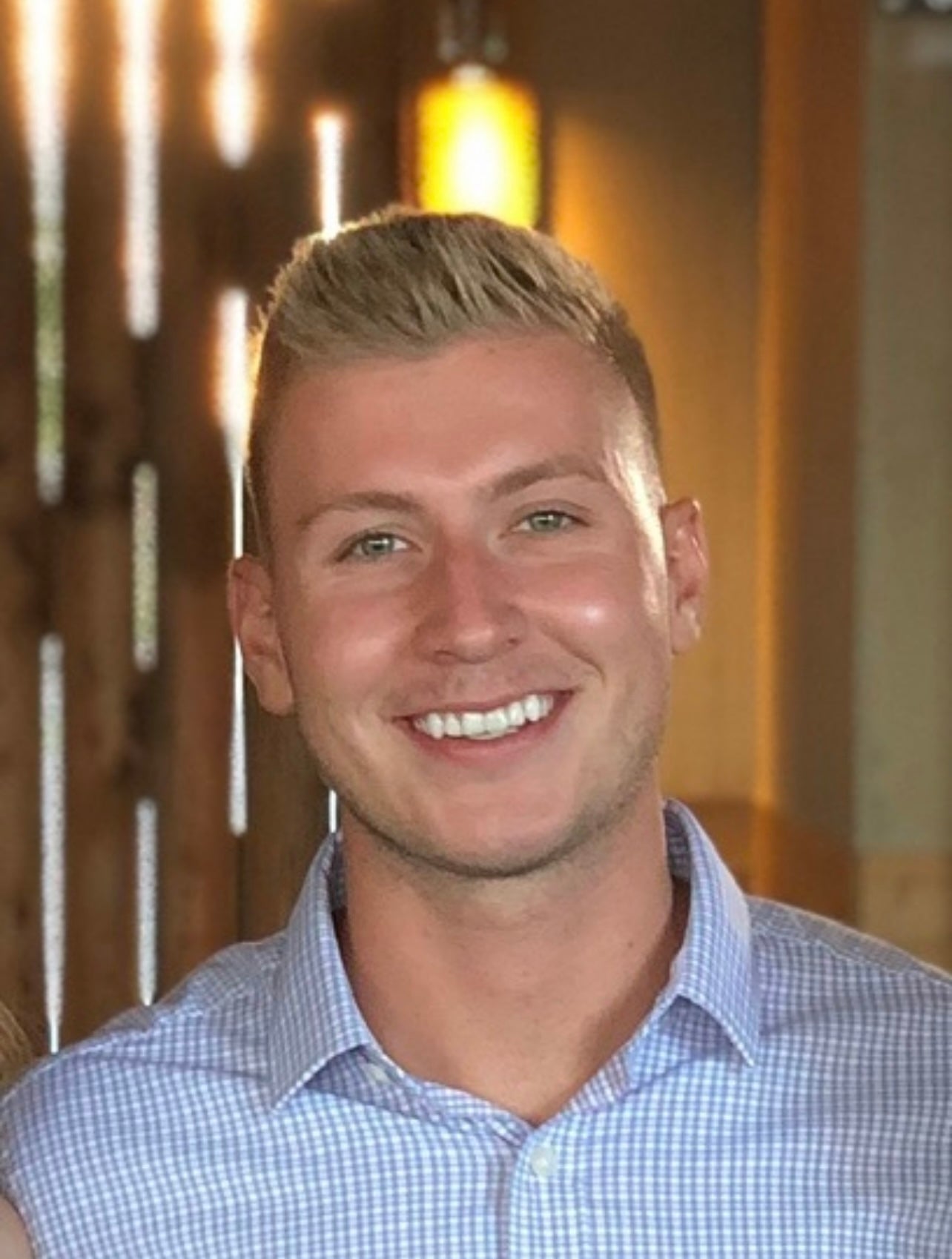 About the Author
Guest blogger Tallen Hughes is an unmanned aircraft pilot who has been flying drones for photography, videography, land surveying and real estate for 5 years. He grew up in the hardscape industry in Spokane, Washington where he learned all about the joys of outdoor living spaces. Tallen currently resides in San Diego, California and has a passion for the great outdoors. If you can't find him flying drones and editing on his laptop, you'll likely find him hiking, camping, or at the beach.