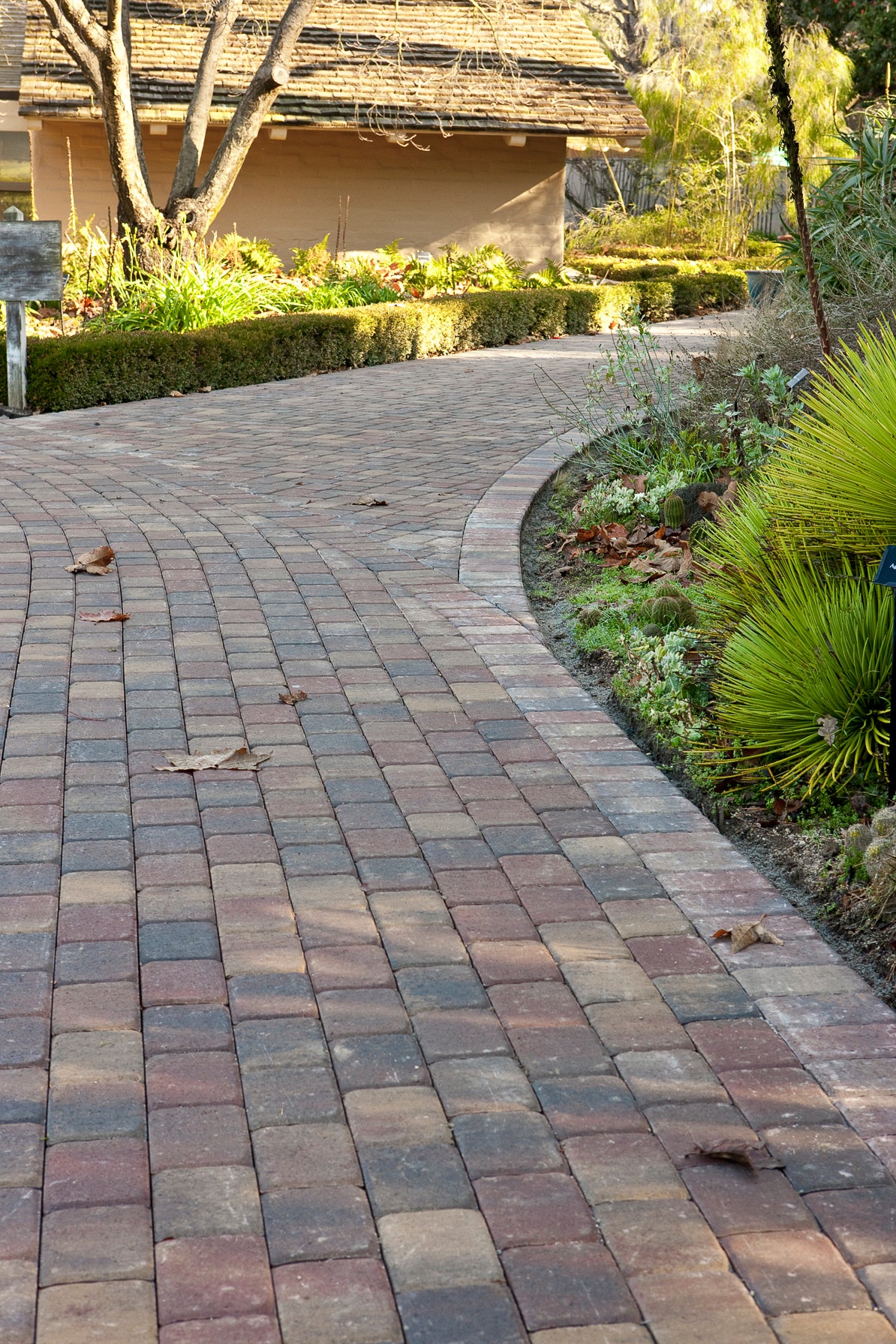 Can installing pavers versus concrete make a different in the look of your yard? This project gives a resounding "YES!" At Sunset headquarters in Menlo Park, CA, the aging and cracked concrete was a deterrent to the beauty of the gardens and rolling grassy areas. It is common for concrete to expand and contract in areas with varying climates. This causes unsightly and dangerous cracks, which with the addition of rainwater, or even water from sprinklers, will increase over time. To create a more inviting and visually appealing landscape, "Belgard's Cambridge Cobble pavers were selected to pave the garden walkways. More than 10,000 square feet of asphalt walkways were replaced in the Autumn Blend color. This color provides a rich accent to the lush green garden," states Sarah Smith of Sunset Magazine.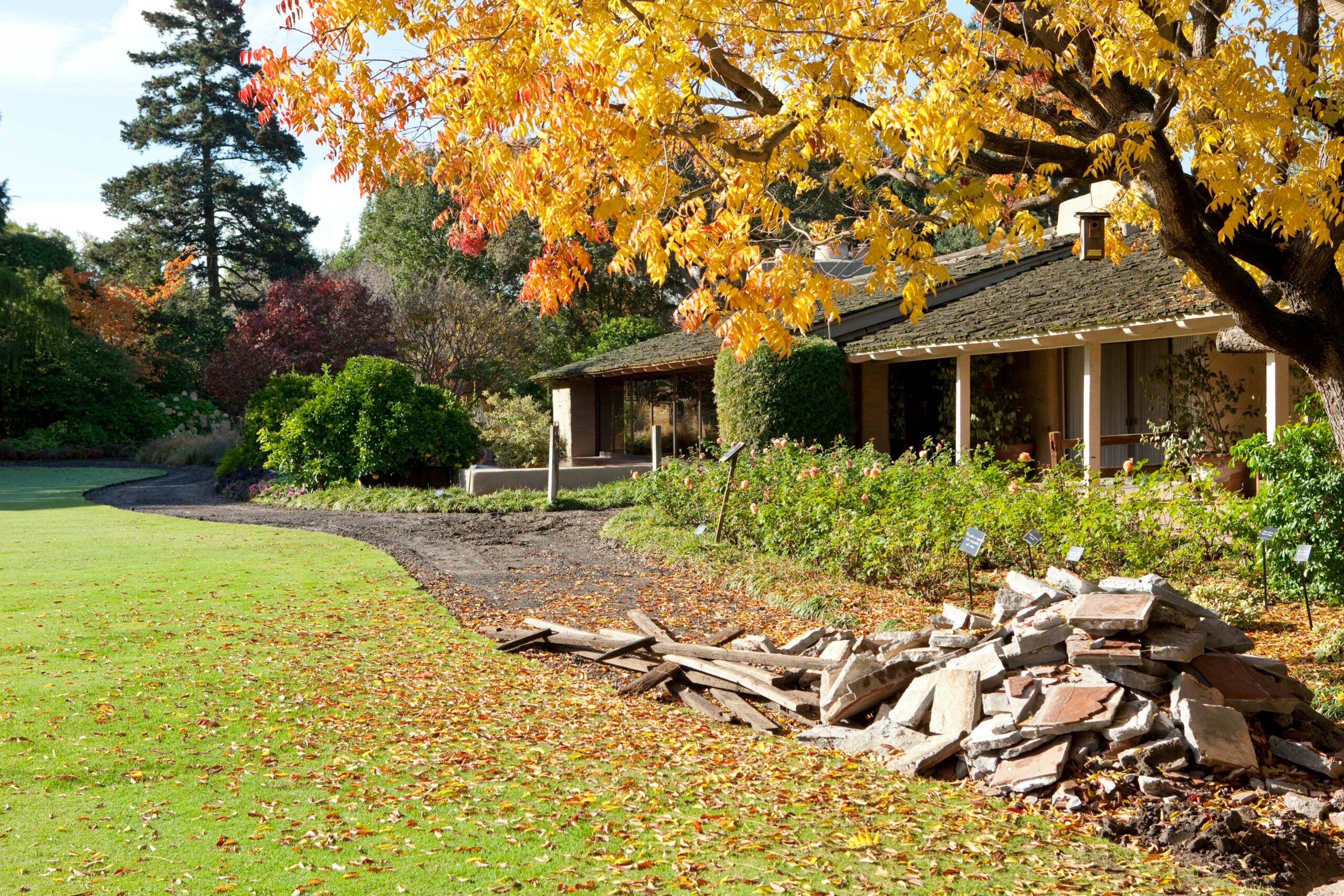 "Sunset Magazine is all about showcasing the best of the region's unique lifestyle, so much of which is related to the outdoors. Their gardens were intended to be an extension of that mission, but the asphalt walkways were detracting from the beauty," says Ken O'Neill, Vice President of Belgard Hardscapes. "Cambridge Cobble offers a tailored look that embodies their corporate image."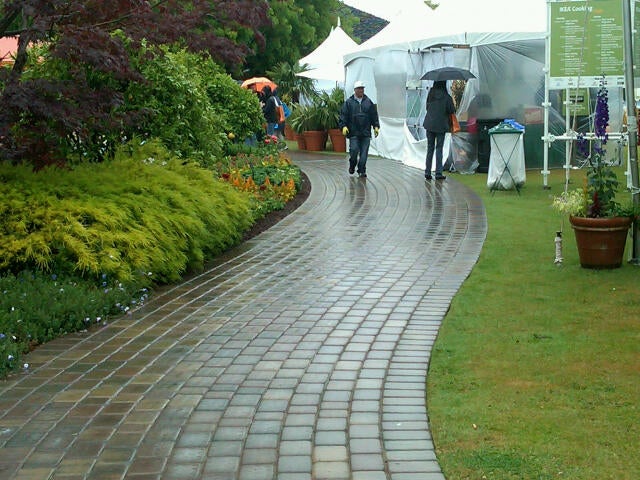 The high-traffic capacity of Cambridge Cobble was put to the test earlier this month when the magazine hosted its annual Celebration Weekend. Over 18,000 readers and travellers converged on the grounds for product demonstrations, food exhibits, gardening tips, artisan exhibits, and what the magazine called its "glam camping" exhibit showcasing ways of roughing it with style. Creating a New Walkway For the homeowner, replacing a walkway, no matter the size, requires knowledge and skill. Although many will take it on as a DIY project, others leave it to the pros. Belgard has contractors throughout the US trained in installation (click here to find one near you). If you are looking to replace your dirt, concrete or asphalt walkway or patio, Belgard's pavers are today's answer.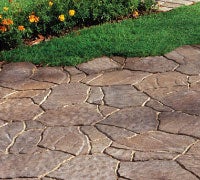 Paving stones are several times stronger than concrete.
Paths and patios can be installed in any weather.
Concrete is hard and "brittle" and thus prone to cracking and cannot be repaired without leaving "scar" marks.
Permeable pavers allow rainwater to return to the soil, eliminating runoff.
Paving Stones are set in a friction base sand mixture, thus they do not move around at all, but remain flexible. This flexibility allows cold and hot weather  expansion and contraction.
Paving stones are even earthquake resistant.
Paving stones can be easily replaced should the need ever arise.
Most importantly paving stones add beauty and aesthetics to your environment and value to your home.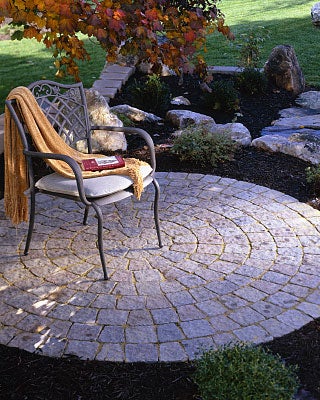 Picking your product can be fun and here are a few tips to keep in mind. Color. Ask your dealer what colors are available in your area. You will want to consider your home's color and landscaping elements. Shape. Depending on the product, Belgard offers squares, rectangular, and irregular/natural stone shapes. Textures and Patterns. Belgard offers numerous options with regards to texture and patterns. You can choose from smooth squares to the look of rough natural stone. Depending on the pattern you choose, the layout created can be a simple running bond, to circular, to multi-patterned.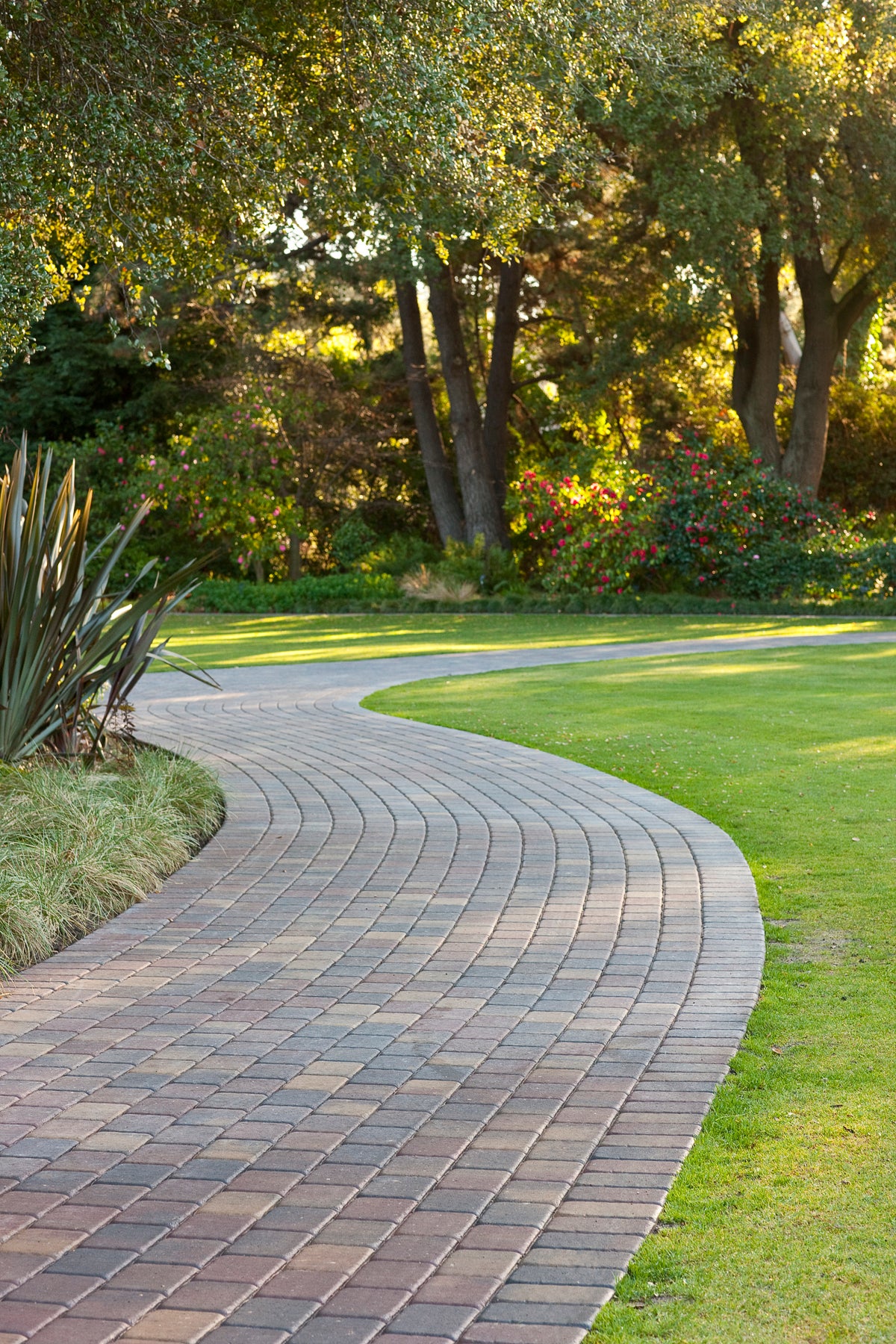 The choice of Cambridge Cobble for Sunset's project combines rich, earth tone colors with textured surfaces and creates an authentic "old world" appearance. Consider the patterns available with your product. Sunset's existing paths weaved around the landscape, so they needed a pattern with a serpentine flow. Once you have your plan and product, you can start getting your hands dirty.* This project started with extensive demolition. After removal of existing hardscape, you will need to prepare the area by staking out the path or patio. Then get excavating! The depth depends on the level of traffic and the size of the pavers. Compaction of the exposed surface is important – by machine or by hand.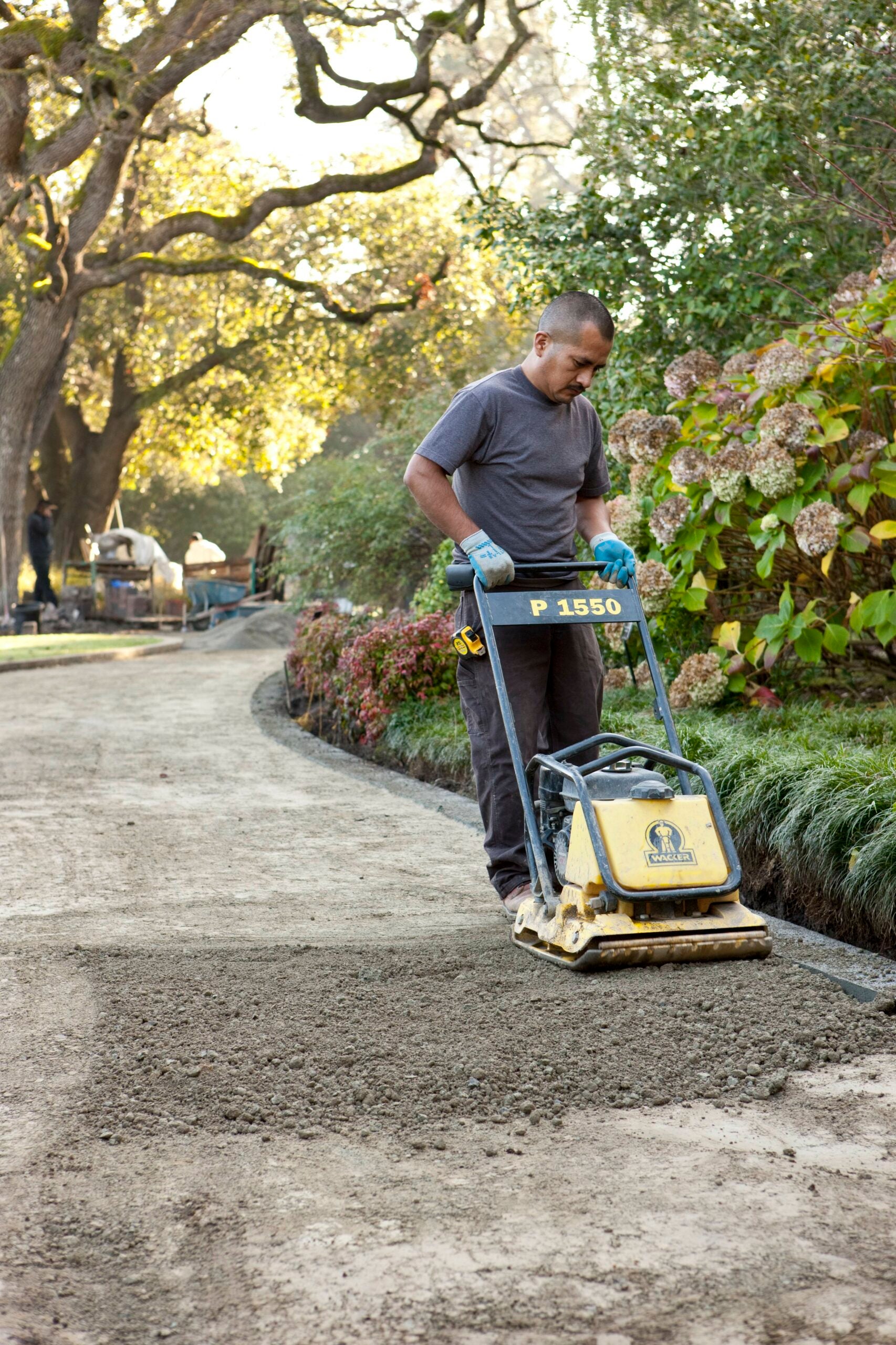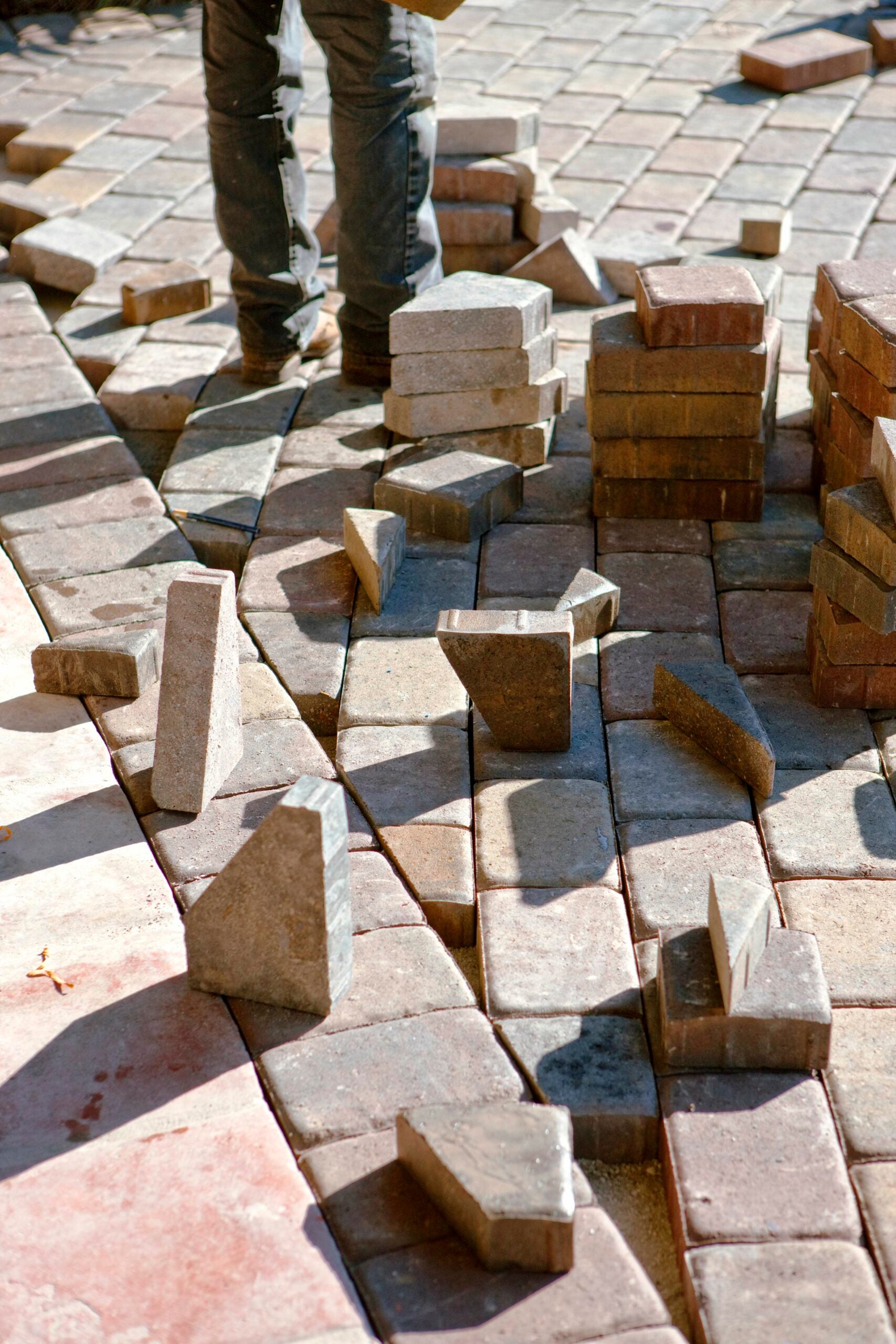 The addition of a base to create a level surface is a must. Use crushed stone or aggregate and compact. Start with a few inches and compact. You can move on to the next layer when you can walk on the surface without leaving footprints. Repeat until you are within the depth of your desired grade. Then add edging restraints, and start laying out the pavers. Cutting pavers will allow for a better fit and a more professional look. Then, enjoy! Visit the Belgard website for more ideas. We also offer matching products to create an entire outdoor living space. Belgard…be prepared for company. * the instructions listed here are generalized. Please consult a contractor or the Belgard site for more installation procedures.