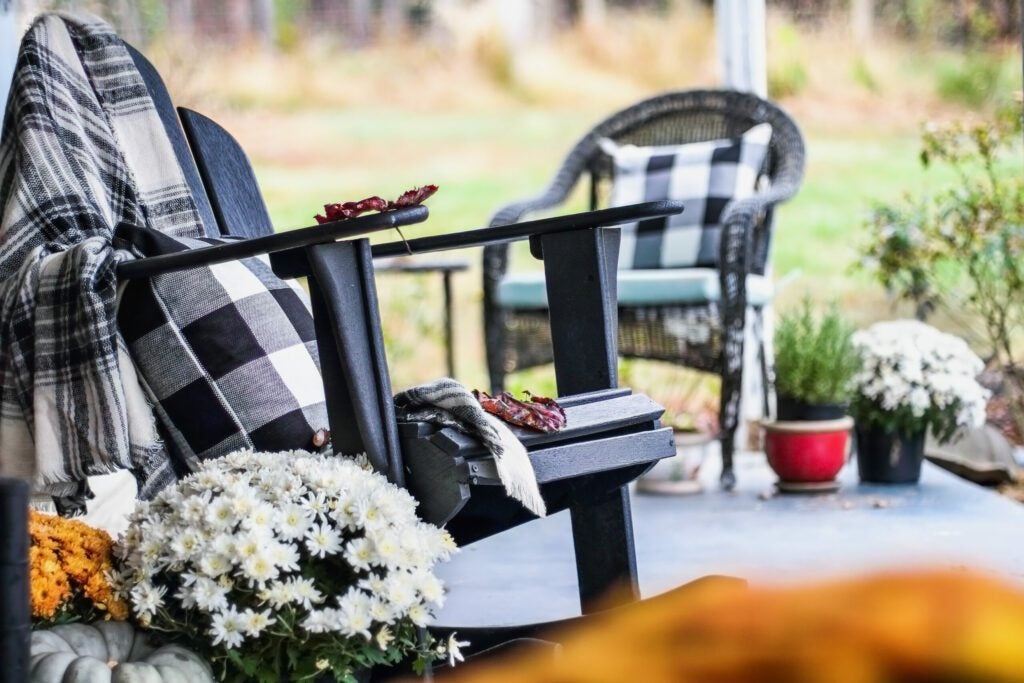 It's that glorious time of the year – football season is upon us. While millions of people will make it out to stadiums to catch live games, many more will be watching the action at home. Whether you're starting from the ground up or looking to add some features to what you have, we can help you create a game plan for the perfect outdoor space to host fall tailgate parties that will make your guests feel like MVPs.
Game Plan Your Outdoor Kitchen Design
Tailgates revolve around food (and the game), so it's best to start by planning your outdoor space featuring a kitchen area at its core. If you're starting with a blank canvas in your backyard, planning your overall design is similar to a football team defining its personality and strengths. Does the team have a veteran offensive line that can control the line of scrimmage and the running game, or a good quarterback who can deliver the ball to a speedy receiving corps?
Questions for designing your outdoor space include:
How will you use your outdoor space?
Do you plan to host large groups or smaller intimate gatherings?
Should you plan for a gas grill, charcoal grill or both in your grilling station?
Where will the Outdoor TV be placed so that it doesn't get a glare during day games?
Belgard Rooms is a unique planning tool that offers trending outdoor living space designs, including outdoor kitchens with outdoor bars and seating. You can even use our Augmented Reality (AR) feature to download existing plans you can project into your backyard space with the help of a mobile phone or tablet. Need further ideas? Check out our outdoor kitchens inspiration page for backyard ideas that can help create the perfect tailgate space.  
Belgard Artforms creates a beautiful modern outdoor kitchen, perfect for hosting the big game.

Belgard Elements has everything you need for the perfect outdoor cooking area!

With added storage outside, you can serve guests ice cold refreshments without making multiple trips.

Having an outdoor fridge from Belgard Elements lets you keep drinks cool during the game.
Score Big with Outdoor Kitchen Grilling and Cooking Accessories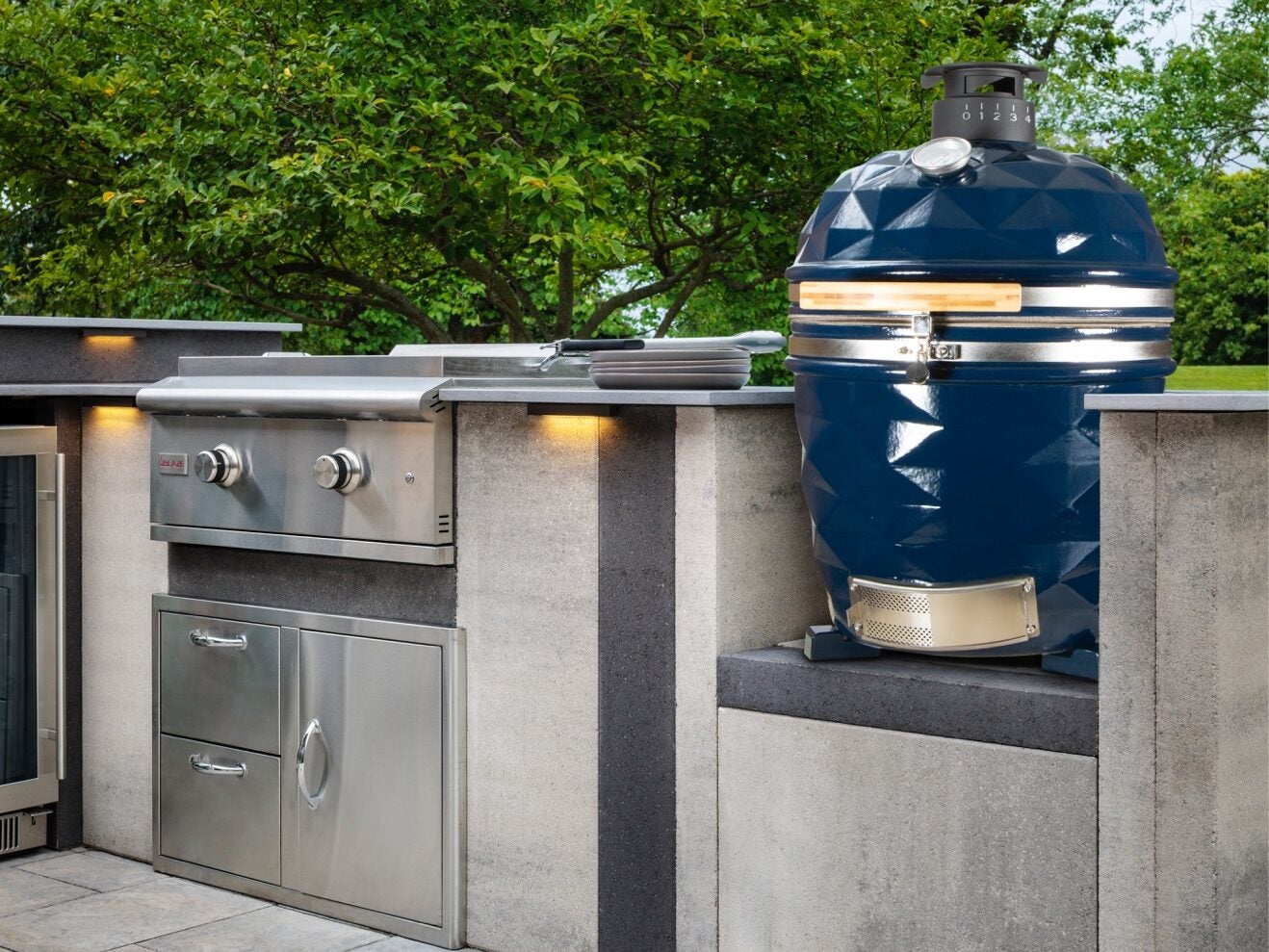 While you may rely on guests to bring appetizers and sides, you will most likely need to provide a main dish or more. A solid grill is a must for any tailgate.
If you specialize in slow and low specialties like brisket, Boston butts, or ribs, Belgard's Elements™ Blue Diamond Smoker is right for you. If you prefer the convenience of a gas grill for sliders, chicken, fish, and more, one of our commercial-grade, stainless steel grills is right up your alley. Adding a side burner to heat up sauces and cook side dishes enhances your meal prep abilities. And because nothing beats a homemade pizza, our Built-In Outdoor Oven can bring your tailgate game to the next level.
On the opposite side of the cooking coin is cooling. A Stainless Steel Compact Refrigerator is a great investment to keep drinks ice cold and close by so you don't miss any of the action, and the Elements™ Beverage Prep Station is a must for any outdoor bar. Budget and space will dictate what you can add to your cooking and chilling arsenal. But remember, if you feed them, they will come.  
Ride the Pine in Style with these Built-In Outdoor Seating Ideas
While some games may be so exciting guests are on the edge of their seats, the key takeaway is to provide enough places to sit. Undoubtedly, you will incorporate tables and seating into your outdoor space. However, here are a few other ideas for seating you may not have considered.
Belgard Artforms™ is a large-format modular panel system that can be used to create not only seating, but also grill areas, fire features and more. We also have a variety of products that can create patio seat walls for your space to accommodate more guests.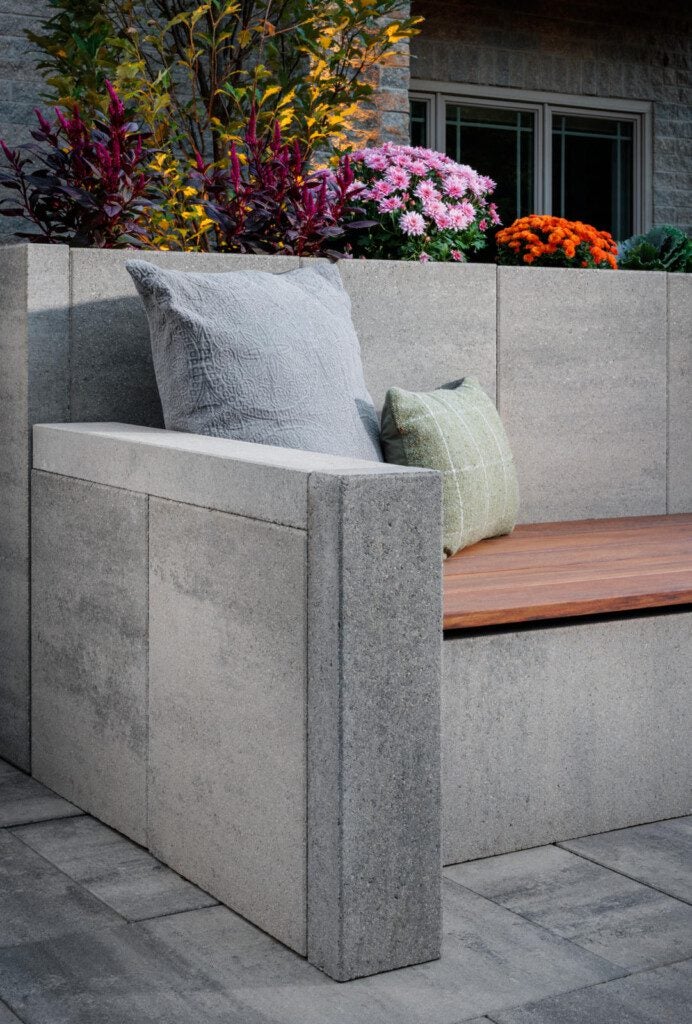 Bring the Heat with Outdoor Fireplaces & Fire Pits
Though the action on the field may be hot, the temperatures will begin to dip as it gets later in the season. A fireplace or fire pit is a fan favorite at any home tailgate. Belgard offers a wide variety of fireplaces using pre-built components that are both beautiful and easy to install. If a fire pit is more your style, there are a number of fire pit kits using Belgard pavers in both contemporary and classic styles. Either way, pre-game or halftime s'mores are always a big hit with the home crowd.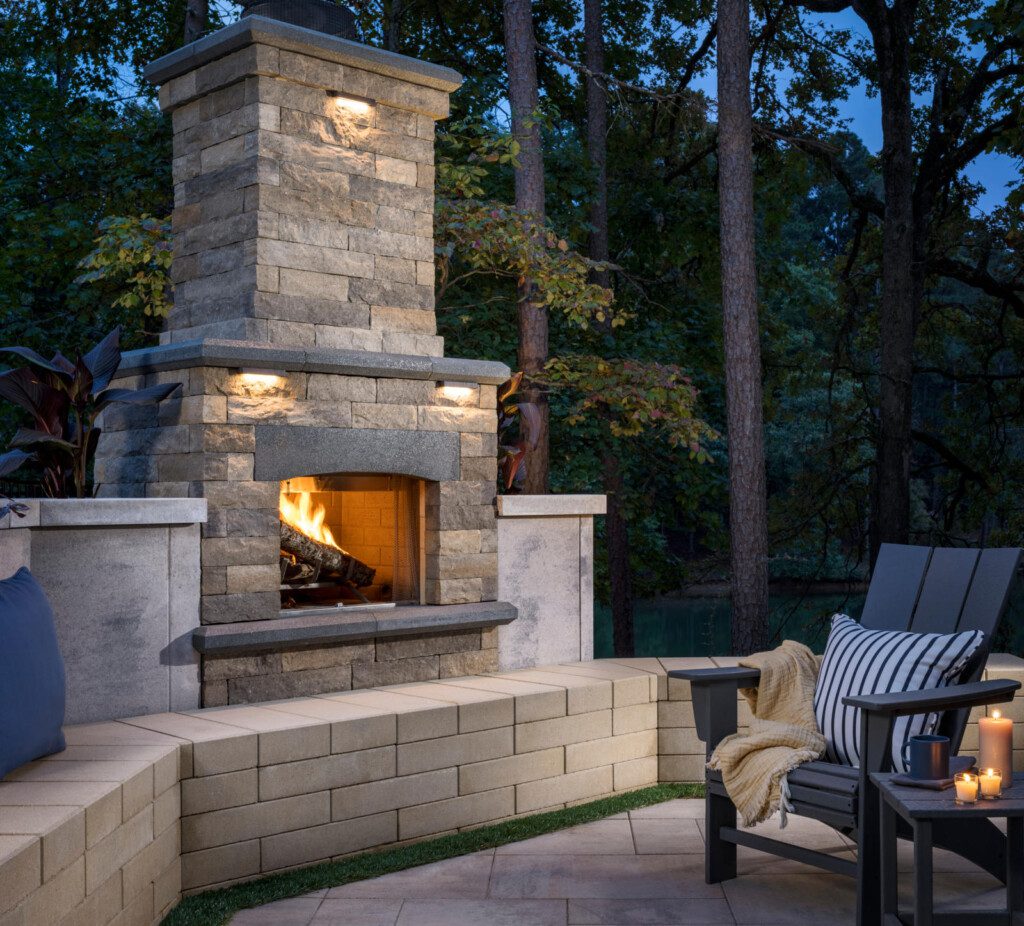 Light it Up with Outdoor Lighting Ideas!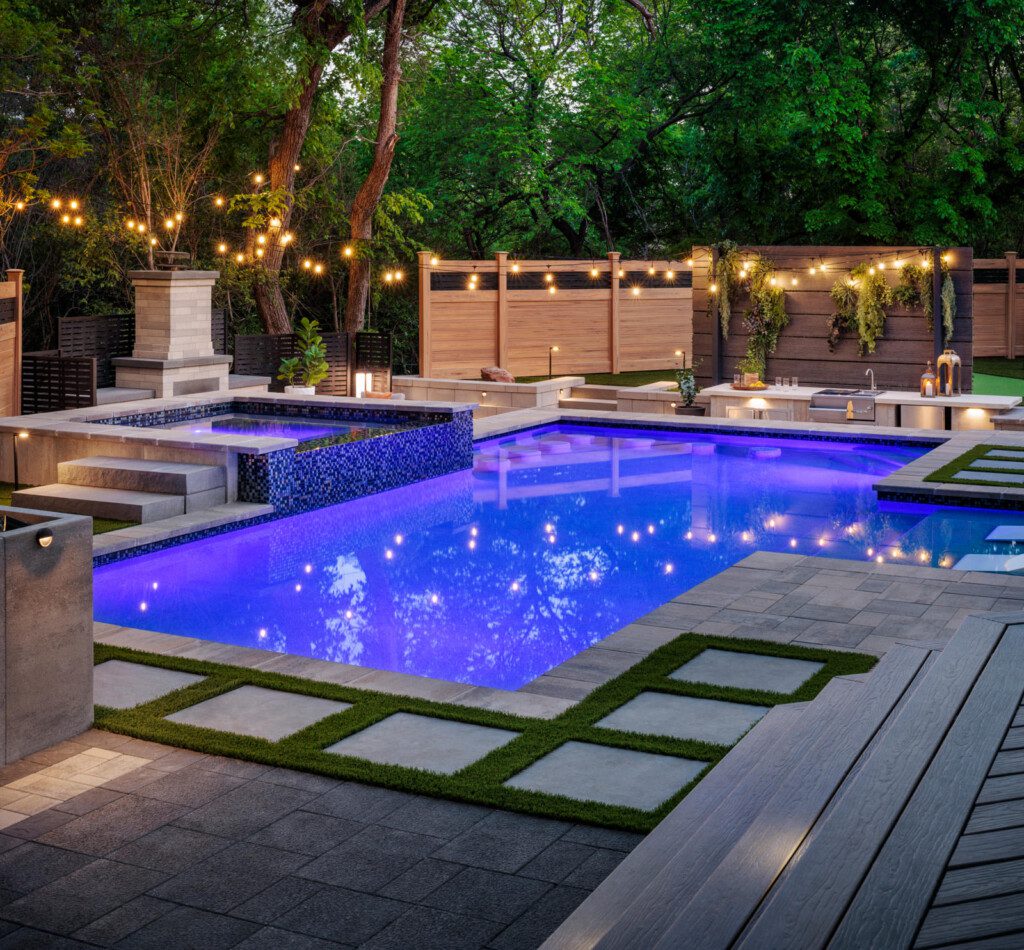 Many tailgating and game-watching experiences will take place after the sun goes down, so outdoor lighting is an important part of your playbook. In fact, if you can, planning your lighting layout prior to beginning construction allows you to run electrical wires where needed and hide them behind walls or hardscapes. Overhead lighting is important when you're grilling at night, but incorporating a dimmer switch for those lights allows your guests to better view the TV screen at night. Wall sconces, string lights, and hardscape lighting all add to the ambiance of a wonderful outdoor space, even after the season's over.
Cancel Out Crowd Noise with Outdoor Audio Equipment
Good sound from the TV is almost as important as a quality picture. You don't want to blow your audience away, but you do want to ensure the volume is loud enough to cancel out Aunt Beatrice, who's more interested in talking about her grandkids than watching the game. To amplify the sound coming from your TV, sound bars are a good buy. You can get high-end and more economical versions—these are also Bluetooth compatible so you can play music after the game. There are a variety of quality, outdoor speakers that can be strategically mounted throughout the space for a surround-sound feel and even weather-resistant Bluetooth speakers that blend with flower beds and landscaping. Whatever you choose, the sound of your team winning will be sweeter than ever.
Go For the Goal, Get Your Outdoor Kitchen Project Moving
Whether it's cheering on your alma mater or rooting for your favorite pro team, football season brings family and friends together, especially when they have a great backyard tailgating space to visit. Want to get more fired up about the possibilities? Check out these fantastic Belgard outdoor kitchen ideas, and best of luck to your team this season!