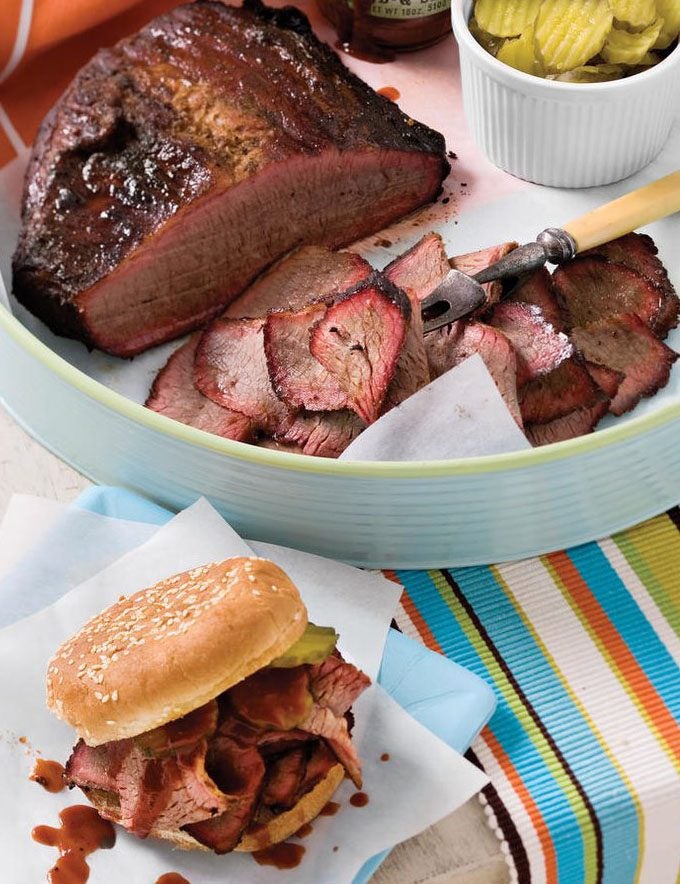 Brisket is a lean cut of beef that presents a way to inexpensively feed a crowd, making it an ideal choice for tailgating season. Because it is a tough cut of meat, it requires extended cooking (about 6 hours) — which is perfect for an all-day tailgating session. You can also do some precooking in an oven, if you need to reduce the amount of grill time. For perfect brisket every time, follow these steps.
Step 1: Trimming the meat
Buy a brisket between 10 and 12 pounds. If possible, have the butcher trim off any excess fat. If not, trim it yourself. Leave any marbling that is within the muscle itself. Marbling will add flavor and moisture to the meat. But there's typically a patch of fat that runs the length of one side of the cut, and you'll want to remove that.
Step 2: the marinade
Marinade your brisket overnight in your favorite marinade. If you don't have a favorite, try a simple marinade of Worcestershire sauce, soy sauce, and red wine, topped with a liberal coating of garlic powder and onion powder. Cover with foil and refrigerate for 12-24 hours.
Step 3: The smoke
Select your favorite wood (this blogger prefers cherry), and soak the chunks in water prior to cooking. The key is to cook the brisket over indirect heat. Never put your meat directly over the coals. Keep the temperature of the pit around 225 degrees for about 6 hours. Aim for an internal meat temp of 195 degrees. Try to avoid unnecessarily opening the lid while it's cooking, or you'll cause the temperature to fluctuate too much.
Step 4: Enjoy!
Let the finished meat rest for 10 minutes to allow the juices to redistribute. For that typical sliced brisket look, slice on the bias in the direction of the muscle grain. Have some barbecue sauce ready, for those who like to dip. To make your brisket feed more people, serve with slider buns. NEXT WEEK: Now that you have part of the menu planned, come back to the blog next week for ideas on hosting the ultimate backyard tailgate party.