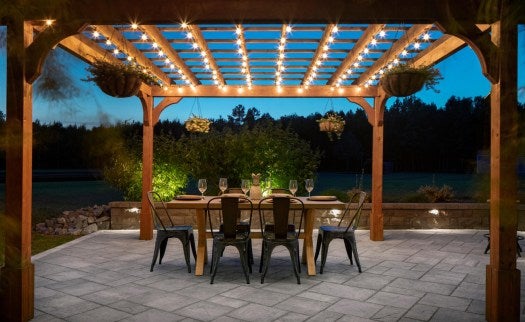 Lighting is an important aspect of the outdoor living experience. Not long ago, the basic outdoor lighting plan was to add flood lights to the corners of the house and call it a day. Maybe a wall sconce or two. If you wanted to get really fancy, you might add a lighting kit to a ceiling fan. Now that outdoor living has become more of a way of life, an integrated lighting plan is crucial to getting the most out of your outdoor living spaces.
Setting the RIGHT Mood
Think soft lighting with subtle shadows. Outdoor lighting can be festive, as long as it's not overpowering. Don't overlight your space with high wattage lighting unless it's dimmable. It's not a bad idea to have a brighter light where you park or over a meal prep space, but sitting areas should have more of an intimate atmosphere.
Safety Concerns
Proper outdoor lighting also adds to the safety of your outdoor spaces by helping people avoid injury. Landscape or hardscape lights along walkways, stairs and landscape walls will help people avoid tripping. Lighting on or near fire features will help you can see well enough to start a fire. Lighting over a grill island or meal prep counter will help the grillmaster avoid burns or cuts. Adequate lighting around parking areas and doorways will also decrease the likelihood of criminal activity.
Considering the Options
When planning an outdoor living space, it's important to make lighting decisions early in the process. That way, the needed electrical lines or outlets can be run and installed without have to retrofit the space later, which can be quite costly. If you're planning on phasing out a large outdoor living project, be sure to run the needed lines for your future improvements so that everything is ready when the time comes.
String Lights: String lights are currently a popular way to add a festive quality to an outdoor space. Just be sure to buy shatterproof bulbs if you plan to string them over hardscaped areas. For new construction, include electrical outlets in porch ceilings to avoid having to run extension cords. It creates a much cleaner look.
Overhead Lighting: Under porches, you can include recessed lights or hanging light fixtures. Pendant lights and chandeliers, in particular, help reinforce the "outdoor room" concept. You may want to consider making any overhead lights dimmable so that you can adjust the level as needed to create the appropriate mood.
Candlelight: Candles are an excellent way to add to the ambiance of an outdoor living space. When using traditional candles, be sure to keep fire safety in mind. Battery-operated candles are often the better choice. You can also get remote-controlled candles that allow you to easily turn them on or off or even set a timer to automatically go off after a certain time period. Just be sure to keep battery-operated candles under covered areas because moisture will cause the batteries to corrode.
Landscape Lighting: Path lights and landscape accent lights add an ethereal quality to outdoor spaces, especially in areas where the light filters through tree limbs or garden foliage.
Flood Lights: These safety lights do still have their place, especially for illuminating driveways or the dark side of a house. Motion-sensing flood lights are particularly helpful in conserving energy for areas that don't need to stay illuminated for extended periods. However, police often recommend keeping carports and entrance doorways illuminated for crime prevention.
Fire Features: Fire bowls, fire tables, outdoor fireplaces and fire pits will help illuminate your space with a welcoming glow when lit. You can also often incorporate low-voltage lighting to the outside of many fire features to help boost lighting as needed.
Pools and Water Features: Lighting can add a graceful aesthetic to pools, fountains and water features, creating a shimmering effect as it reflects off of moving water. Lighting can be installed underwater or directed at the water, depending upon the effect you'd like to create.
Hardscape Lighting: There are multiple types of hardscape lighting that can be integrated into a hardscape design, including wall lights, step lights, pillar sconces and paver lights. It's extremely important to plan hardscape lighting prior to installation.