Hardscape contractors from across the country competed regionally throughout the year to win travel packages to Hardscape North America in Louisville, KY to battle against the best of the best. Competing for over $15,000 in prizes, regional winners were pitted against one another — along with walk-on hopefuls — to race against the clock in a test of craftsmanship at the seventh annual HNA Installer Championship held on Oct. 17-18.
When the masonry dust settled, the Belgard Master Craftsman team from Segmental Systems Inc. of Spokane, WA emerged victorious for the second consecutive year. The team received a prize package valued at approximately $11,600. The package included a cash prize of $2,550, an iQMS362 16.5″ Masonry Saw with a diamond blade, a Weber MT CF3 forward plate compactor, their name engraved on the HNA Installer Championship Cup, and a return trip to HNA 2020 to defend their title yet again.
"I'm thrilled," said Dan Hughes, owner of Segmental Systems and member of the winning three-man team. "It solidifies that we excel in our craft. No one has ever won two years in a row. No one thought we could do it. Now, no one has won it three years in a row. Let's what happens."
The two-time national champion team of Hughes, Josh Brownlee and Jason Mucciaccio have been competing together in the HNA Installer Championship program for several years, winning the Northwest Region title every year since 2016. That title came with travel expenses and free entry into the national competition, where they competed strongly each year.
"The first year, we missed the championship round by one point. The second year, we missed it by three points. The third year (2018), we won with an exclamation point, setting a record high score in the preliminary round and beating the competition by more than 50 points," Hughes said.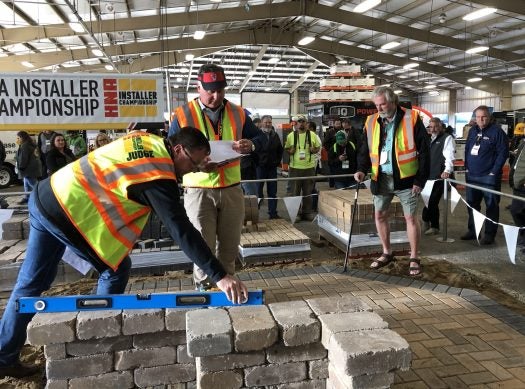 For the preliminary round of each competition, teams are all given the same design, which they don't see until the day of the competition. However, teams have creative control in the final round, which is where Segmental Systems shines due to strategy that begins months before the actual competition.
"Josh is a really good artist, so he creates the design," Hughes said. "While we're at work all day long together, we talk about what will set us apart. He understands pavers and can draw in CAD and freehand. He knows how many cuts we can get done in the amount of time we have. In his design, he makes sure we're using the other half of that cut somewhere. Our paver scraps won't fill up a one-gallon bucket. He plans so well, there's very little waste."
The team is a well-oiled machine, having worked together on a near daily basis for the last eight years. Collectively, they have about 60 years of installation experience, with Hughes having been in the industry for 30 years, Mucciaccio for 18 and Brownlee for 12.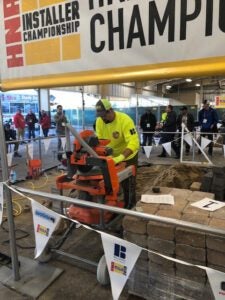 "Cumulatively, we're the oldest team there," Hughes said. "We have a lot of experience doing what we do and know how to work smoothly as a team. Before they say go, we have a good game plan."
Each member of the Segmental Systems team has a specific role. Hughes handles much of the heavy lifting while Mucciaccio focuses on making cuts and Brownlee focuses on safety, design and managing the team.
"Josh is our eyes and the voice of our team, like a director," said Hughes, who believes that strategy is a large factor in their success. "A lot of people don't utilize their third man like they should."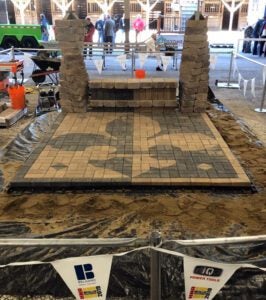 The final round was held on Oct. 18. In a nod to the hosting city, Segmental Systems' winning design included a large inlaid fleur-de-lis in the paver field, with a seat wall flanked by two spiral columns. Although the team did not practice installing the inlay, they did do a practice run on the columns before heading to HNA to determine which degree of twist to use at each level.
"Fleur-de-lis are everywhere in Louisville — street signs, cops badges — it's a symbol of Kentucky that's very recognizable. Plus, it photos well," Hughes said about the team's inspiration for the design. "No one else has come close to doing anything like this. We figured, if we could pull it off, we stood a great chance of winning: go big or go home."
Brownlee, who Hughes notes is passionate about art in many forms, has already begun formulating ideas for next year's competition.
"Josh was sketching ideas on the plane ride home. He started the fleur-de-lis on the ride home last year," Hughes said.
It remains to be seen whether any of this year's finalists will return for a rematch with Segmental Systems in 2020. However, event organizers did note that this year's competition was the closest scoring in HNA Installer Championship history. Although Segmental Systems had a healthy 15-point buffer with a score of 423, the race between second, third and fourth was extremely tight. General Pavers AOJ finished in second place with a score of 408, garnering a cash prize of $1,300 and an iQ 360XR 14″ masonry saw with fully-integrated dust collection plus accessories. General Pavers took third place with 405 and was awarded a cash prize of $650. First-time competitors, fellow Belgard Master Craftsman WaterQuest of Albuquerque, NM placed fourth with a score of 403.