The Hardscapes North America (HNA) and GIE Expo will once again combine forces to create one of the industry's top trade events next week in Louisville, KY. The three-day event from Oct. 27-29 at the Kentucky Expo Center will feature an indoor tradeshow and outdoor demonstration area drawing thousands of landscape and hardscape professionals. Belgard® Hardscapes has been preparing for the show for months. Here's an inside look at what to expect and why to add both Belgard booths—1216 inside and 7368D outside—to your itinerary. The Theme: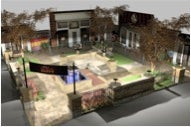 The Belgard Block Party provides the perfect opportunity to showcase great product and host interactive events. We have daily themes including Block Party Rocks with live concerts and an open mic hour, Block Party Street Carnival with carnival games and prizes and a Block Party Tailgate Extravaganza with football highlights on the big screens. Daily event details can be found on Facebook.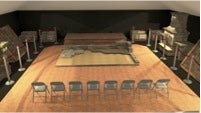 The Products: Our cityscape allows us to showcase some of our newest products to hit the market as well as a couple of products that won't be available until later in 2012. From new interlocking pavers, wall concepts and edgers to pre-built modular elements, we'll showcase the latest and greatest as well as some traditional favorites. Our outdoor demo area (booth 7368D) will also have a demo pit where you can interact with our products—laying paver patterns, building walls and learning about permeable pavers. This hands-on area is there for you to enjoy and our product experts will be there to answer your questions and jump in the pit with you. At 11:30 am each day in the demo area, Chuck Taylor will talk about using regular Belgard pavers to create permeable surfaces. And Al Pfannenstein will present our newest wall offerings at 2:30 pm each day.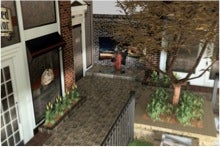 The Programs: Our cityscape is laid out to showcase Belgard's professional programs including the Belgard University, Authorized Contractor & Dealer programs, Belgard Preferred Payment and the Belgard Design Studio. In fact, we used Belgard Design Studio to design the layout of both booths and all the images you see in this blog. So if you have any questions about the professional resources Belgard offers, this is the place to find out more.
The Experts: Inside and out, we'll be interviewing some of the industry's top professionals. Ken O'Neill, VP of Marketing for Belgard, will discuss hardscape innovations and what to expect in 2012 at 10:30 am on Thursday, Oct. 27th in booth 7368D (outside). At 11:30 am on Thursday, we'll interview the winner of the Win This Space contest, Bob Streiff of Precision Pavers in Dallas, at booth 1216 (inside). The Win This Space contest was part of the Belgard University Sales Jam 2011. We'll learn Bob's secrets to success and growing his business. From outdoor living trends to permeable pavements and retaining wall construction, we'll have the Belgard experts on-site every day to answer your questions.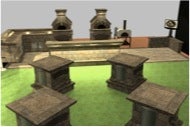 The Food:  It wouldn't be a party without great food and we'll have plenty of it. From 11 am until 1 pm daily, we'll be cooking outdoors in our brick ovens. And at 1 pm, we'll have cooking demonstrations from the chefs of 610 Magnolia, a Louisville restaurant, including a demo by Iron Chef Edward Lee. Don't miss Belgard Hardscapes at HNA + GIE Expo in Louisville, KY on Oct. 27-29. If you can't be there, make sure to follow the event on our Facebook page. We'll have daily updates, photos and videos. Find out more about the HNA+GIE Expo.