Punxsutawney Phil did not see his shadow this year, meaning spring is predicted to come early. Although America's most famous weather-forecasting rodent is often wrong, one thing is sure… If you want to update or augment your outdoor living spaces in time for that first beautiful weekend, now is the time to get started.
Top 5 Project Planning Tips
Develop a clear vision of your project goals: Before you get started, it's important to consider how you will use the space. Why do you want to do this project? Are you looking to resolving a problem, add functionality or improve aesthetics? Be sure to communicate this information to your contractor so you're both on the same page.
Determine your budget: For larger projects, you may want to consider building in phases or talking to a Belgard Authorized Contractor about financing options. If you do decide to build in phases, be sure to plan the entire project upfront so that you can place footings or run utility lines for future phases.
Prioritize: In order to stay within budget, decide which items you're willing to compromise on and which are the most important to achieving your project goals. Plan your dream scenario and then trim back where needed.
Research code restrictions: Your municipality or HOA may have rules that prohibit certain items. It's important to know guidelines and approval requirements upfront to avoid costly mistakes. Don't assume your contractor will have the information.
Get inspiration: Check out the Spring Outdoor Living Project Ideas section below. You can also visit the Belgard Inspiration Gallery and Pinterest boards for more ideas.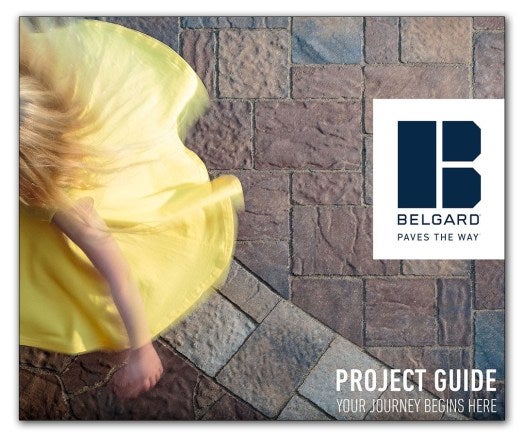 Spring Outdoor Living Project Ideas
Landscape Accent Walls
Landscape accent walls add definition, dimension and visual interest to your outdoor living spaces. Whether edging a patio, lining a walkway or simply adding a freestanding landscape element, accent walls can be purely aesthetic or can also function as additional seating, depending upon the design. For a tailored look, include landscape columns as an end cap or accent along the wall. You can also incorporate lighting into the column for both aesthetics and functionality.
Driveway and Driveway Overlays
Nothing brings new life to the front of your home like a new paver driveway. If your existing concrete is sound enough, you can overlay a cracked driveway with thin overlay pavers. An overlay saves a great deal of time and money from having to demolish and remove existing concrete.
Stone Edgers and Curbing
Dress up your existing hardscapes and landscapes with stone edgers or curbing, which can add a finished look to walkways, driveways and patios. They can also be used alone to add a touch of elegance and definition to gardens and flower beds.
Stone Grill Islands
On that first gorgeous spring day, who wants to cook indoors? Just drive through your neighborhood with the windows down, and you'll smell that everyone is outside grilling. This year, it's time to ditch the portable grill and build something that will last. A custom build will allow you to create exactly the dimensions and configuration that you want. Belgard also has a line of prebuilt stone grill islands that save on installation time and costs.
Stone Outdoor Kitchens
When a simple grill island won't satisfy the calling of your inner outdoor chef, it's time to plan a full-blown outdoor kitchen. For more ideas, check out our blog on 5 Tips for Better Outdoor Kitchen Designs.
Patios and Sun Decks
Ah, to see the sun again, bask in its rays and soak up some much-needed vitamin D. Spring evenings can still be a bit chilly, so if plan to include a fire pit, be sure to read 5 Tips for Designing a Patio around a Fire Pit. And, if you have little ones, check out our blog on Family-Friendly Patio Design Ideas.
Built-in Planters and Raised Flower Beds
Big box stores and plant nurseries are about to start beefing up their inventory of flowering plants and vegetation. Be ready for that first planting by constructing your built-in planters now. Planters and raised beds add dimension and organic warmth to patios and walkways. They can also add to the curb appeal of your home and create a more welcoming entrance.
Seating Walls
Permanent seating has been one of the leading trends in outdoor living design in recent years. Seat walls can help define the perimeter of an outdoor room and are particular effective in a dining area or adjacent to a fire feature. You can either build a freestanding seating wall or add functionality to a retaining wall with the addition of a seat ledge.
Walkways
Improve access to an area of your yard or add character to the front of your home with a picturesque walkway. When building a large paver patio, a faux walkway paver pattern within the patio design can be an excellent way to visually define the transition from one outdoor room to the next.
Stone Water Features
The look and sound of running water adds a natural relaxing aesthetic to an outdoor living space. For tips on designing a stone water feature, read our blog on The Latest Trends in Water Features.