Water is a soothing natural element that can add comfort and ambience to any outdoor space. Whether it's a pond, fountain, waterfall or bubbling rock, water features continue to be a popular design element for outdoor living spaces. As this practice continues to evolve, technology and contemporary design preferences are definitely influencing the trends.
Water Feature Technology Trends
Smart Features
More and more homes are becoming integrated with smart-home technology, and this is making its way into outdoor living spaces. One of the hottest trends is to incorporate "smart" technology into water features so that homeowners can use a smartphone app, Alexa or Google Home device to turn the feature on or off.
Solar Technology
Utilizing solar technology for a water feature offers multiple benefits. Not only does it eliminate the ongoing costs of electricity to power the water feature pump, but also eliminates the need to run electrical utilities to the water feature. This is especially helpful when installing a water feature to an existing outdoor living space. Retrofitting an existing space with electrical wiring can be a costly endeavor.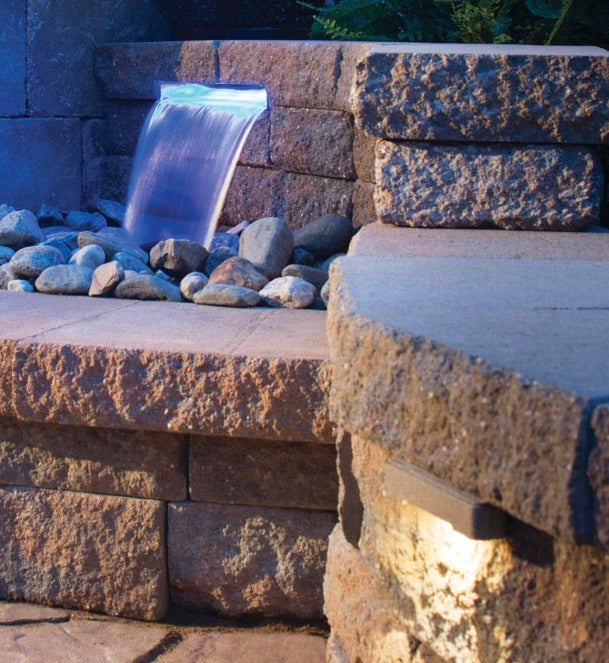 Water Feature Lighting
Adding lighting to a water feature enhances the ambiance and also allows the feature to be viewed at night. For ponds and brook-like features, it's popular to include lighting under the water or shining towards the water. For features that include a waterfall, incorporating an LED light into the waterfall itself adds an ethereal quality. It's also popular to affix low voltage hardscape lighting to exterior walls of water features.
. . .
Water Feature Design Trends
Interactive Fountains
Interactive fountains are not only beautiful, they are a great family-friendly patio design element. These types of water features can either be designed with a water-recycling permeable paver system, or by adding a drain system to standard pavers.
Fire & Water
There's just something primal about juxtaposing the natural elements of fire and water that appeals to humans at an instinctual level. As the fire pit and outdoor fireplace trends continues to grow, so does the trend to incorporate a nearby water feature.
Pondless Waterfalls
A pondless waterfall is simply a recirculating waterfall or stream without the presence of a pond. The water typically disappears into a basin or a bed of gravel to recirculate into the water feature. Trends in this style of water feature range from natural stone streams to wall fountains and contemporary stand-alone structures.
Poolscape Water Features
Modern pool design trends center on incorporating the pool as part of a cohesive design element with the surrounding outdoor living spaces. The pool itself is not just a place to swim, but an active part of the overall design. A great way to achieve this is to add a water feature that flows into the pool.
Artistic Water Features
Many of today's homeowners gravitate towards water features that act as a focal point of a design, like an interactive piece of modern art that makes a statement. That statement can be bold or simple, often reflecting the personality of the homeowner. Designs of this type add an element of zen to an outdoor space and can range from water walls to urn fountains and bubbling rocks.