A fire pit instantly becomes the spot where everyone wants to gather. If you're planning on adding this must-have element to your backyard, these tips will help you create a welcoming outdoor living space with a fire pit as a focal point.
Location, location, location…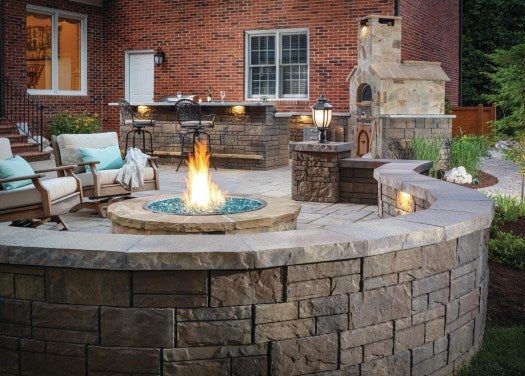 Unless you're going for a contemporary symmetrical look or you're working with a lot of space, don't place the fire pit in the center of the patio, but offset to one side. You can balance the design with other heavy elements, such as an arbor, tree, water feature or outdoor bar. You will also want to pay attention to the wind patterns in your yard to place the fire pit in the location that will most likely draw any smoke away from the center. This is particularly important with a wood-burning fire pit. It's also wise to investigate whether there are any regulations in your neighborhood or municipality regarding fire feature placement. It should be easily accessible, but not too close to the home. A good rule of thumb, especially with wood-burning pits, is to place the pit ten feet or more from any structure.
Make room for everyone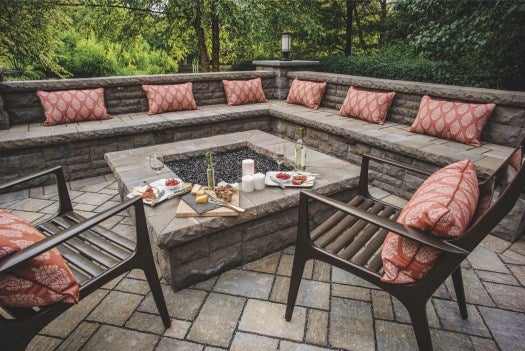 Once the fire is lit, people will tend to gather around it. In terms of space, you will want to plan for seating that will allow for both group settings or cozy, intimate one-on-one time. A fire pit itself is rarely larger than four or five feet across. The patio space around it should be an additional four to six feet on all sides. Seat walls are a great way to both visually define the space and allow for lots of seating. But don't enclose the space completely with walls. It's nice to leave room for chairs, standing and foot traffic. Also think ahead to how you plan to decorate. For example, if you're choosing low-slung seating such as Adirondack chairs, realize that they will take up extra real estate and plan accordingly.
Create conversation zones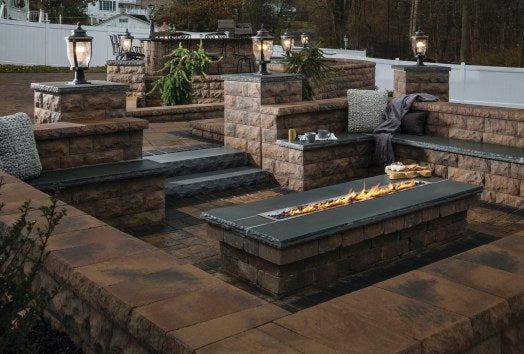 It's highly unlikely that people will sit around the fire pit to eat on a regular basis. You will want a separate dining space for that. Plus, for better entertaining, it's a great idea create multiple conversation zones around the patio where separate groups can gather for more intimate conversation. Some people will feel comfortable picking a spot where they can stay all evening, while the social butterflies will flit from zone to zone engaging in multiple conversations throughout the night.
Gas or wood? Why not both?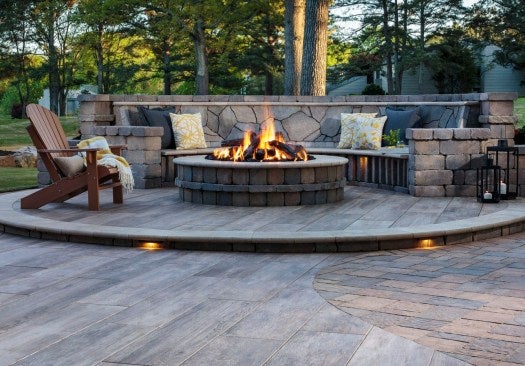 Some people prefer gas — fewer code restrictions on placement, no ashes to contend with, no smoke, no wood to buy or chop. Other's prefer wood — earthy smell, more robust flames, more warmth, more traditional campfire aesthetic. For those who enjoy the pros of both scenarios and live in a community that doesn't restrict wood-burning features, consider a hybrid fire pit that allows for both gas and wood. The gas can be used as a starter and can even be hooked up to a smart system, which makes it easier to get the party going. Plus, the fire doesn't have to go out when you run out of wood.
Soften the space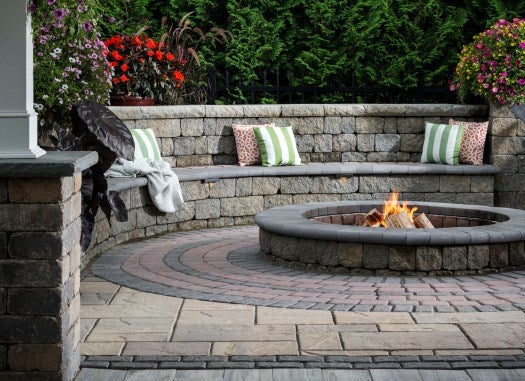 To make your space comfy and cozy, soften the space with pillows, throws, decorative accessories and organic design elements. Landscaping or a water feature behind seating adds wonderful dimensional texture to the design and adds a sense of privacy. Decorative elements add personality to the space and help create an outdoor living room aesthetic. Pillows and throws soften the space both visually and physically, also allowing you to tie in with the colors used elsewhere on your patio to make the overall design more cohesive. You can also use paver patterns to create a faux rug paver design.
. . .