Belgard is once again excited to be the exclusive hardscapes sponsor of the most fabulous horticultural event in the country — the annual Philadelphia Flower Show — which began on March 2 and runs through March 10, 2019. In honor of the event, Belgard is giving booth visitors a chance to enter to win a charming Weston Stone® Fire Pit to enhance their backyard. Those who can't make it to the show can still enter to win by clicking the image below!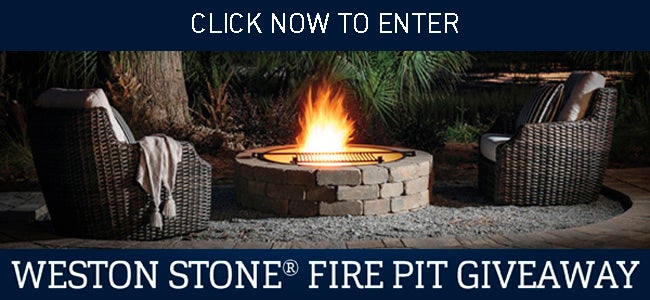 Those attending the show will be treated to amazing displays across the ten-acre Flower Show floor. The world's leading floral and garden designers used this year's theme of "Flower Power" to explore how flowers convey a wide range of messages in a universal language that transcends cultures and borders. Stunning landscapes, vibrant gardens, and breathtaking floral displays interpret flowers' power to inspire and enrich our lives. Through imaginative exhibits, concepts like community, healing, peace, transformation and hope have been brought to life in surprising, vibrant ways.
The Belgard display booth at the Flower Show was designed to emulate the experience of walking through the lush outdoor spaces of a beautiful home, from the front paver walkway and garden entrance through the Ultimate Backyard. This year's backyard design features raised planters, a vertical garden, an outdoor theater, and a fireside conversation area with two fire features: a Bordeaux™ Series Fireplace and a contemporary linear gas fire pit. In a nod to the "Flower Power" theme, the display showcases how flowering plants and lush greenery can be incorporated with a wide variety of pavers and landscape walls to create welcoming outdoor living spaces for both relaxation and entertaining.
In addition to use in the Belgard booth, Belgard paver and retaining wall products were used in displays throughout the show in a variety of creative ways. Click on the galleries below to peruse images from the show.
Image Gallery: Belgard's Ultimate Backyard Booth
VIDEO: Panoramic View of the Belgard Backyard
Image Gallery: Philadelphia Flower Show Displays