Outdoor remodeling season has officially begun! There's an old adage about fishing when the fish are biting. Well, that time is now. Homeowners have recovered from the spending frenzy of the holiday season, and their minds are turning again towards home improvements. With mortgage rates at all-time lows, some have the goal of putting the house on the market, hoping to turn heads and get top dollar. Others simply want to get the most out of the increased time spent at home. Here are tips for connecting with these homeowners and closing more deals.
NETWORK WITH REALTORS
According to the National Association of Realtors, 94% of realtors suggest upgrading curb appeal before putting a home on the market. A paver driveway or built-in planters can make a big impact on curb appeal. Since you only get one opportunity to make a first impression, that first impression must cut through the clutter of homes on the market. It's also important for home sellers to not neglect the backyard, which is often what truly sells a house once a potential buyer takes a tour. According to a Kiplinger report, 87% of homebuyers want a patio. And, a paver patio makes a better impression than a standard concrete patio, presenting opportunities to promote concrete overlay projects.
SAVE PLANNING TIME WITH THE NEW BELGARD ROOMS PROGRAM
To maximize profits, you need to work efficiently and make the most of your selling and construction time. Most homeowners don't have the vision to see what could be and delay starting the process due to uncertainty. Belgard recent launched the Belgard Rooms program, which includes a style planner and a robust gallery of outdoor rooms searchable by style and features. Directing your clients to the Belgard Rooms Planner will help you save a significant amount of time in the design phase, allow you to turn projects faster. Once the homeowner selects their room design(s), you can get a copy of each room design that includes measurements, product selections and quantities — also saving you time in the planning and ordering phase.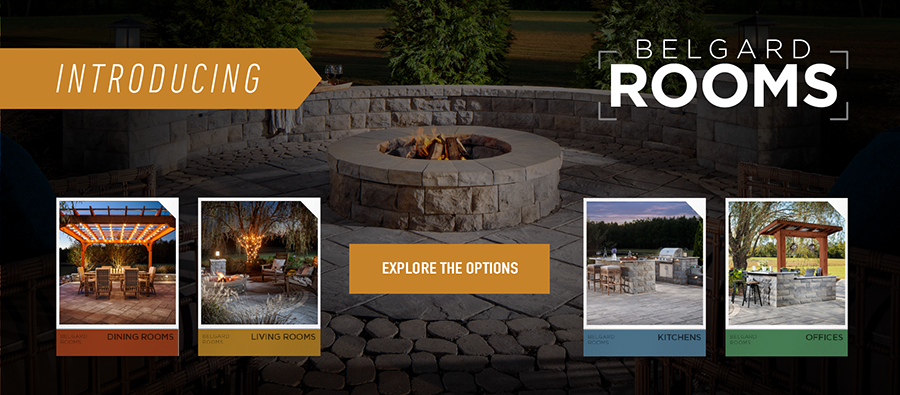 TAP INTO THE SELLING POWER OF 3-D VIRTUAL REALITY DESIGNS
Contractors who present designs using 360-degree virtual reality views from the Belgard Design Studio are reporting significantly higher closure rates and increased upgrades. The Belgard Design Studio can build a 3D design using selections from the Belgard Rooms gallery or from custom design sketches. You can also share photos of the actual home to be incorporated into the rendering. When homeowners are visually immersed in the design and can see lifelike imagery from every angle with their own house in the background, they are sold and look no further. Click here to see what contractors are saying and to view a sample VR design. Plus, the service is completely free for Belgard Authorized Contractors!
CONDUCT DIY CLINICS
Reach out to local big box hardware retailers and offer to conduct DIY clinics. You could do simple projects like building a mailbox or fire pit with retaining wall block. You could also do a maintenance clinic on cleaning, rejointing or sealing pavers. Be sure to have professionally printed signage, flyers and business cards to promote your business.
REACH OUT TO FORMER CUSTOMERS
Any marketing professional will tell you that companies typically spend significantly less time and money attracting an existing customer than finding a new one. Keep accurate records of each job. If the homeowner initially planned a larger job and scaled it back, reach out to see if they're ready to expand with the next phase. If it's been three or more years since a paver installation, reach out with a promotion on cleaning and sealing pavers. Even if the job is a small one, a happy repeat customer can be a great referral source.
OFFER SERVICES AS A SUB-CONTRACTOR TO GENERAL CONTRACTORS AND POOL BUILDERS
Even if you must offer a discount to make it work, it's in your long-term best interest to create a mutually beneficial program for working with general contractors and pool builders that allows them to offer your services as part of their project packages. Your company will benefit from the repeat business and referrals. Plus, working on residential renovation projects gives you a foot in the door for new construction and commercial construction projects.
RAMP UP YOUR CONSUMER MARKETING EFFORTS
Now is the time to execute any marketing campaigns with the media that is the most efficient in your market. Ideas include postcards, door hangers, coupon magazines, and radio. Belgard Authorized Contractors have access to a library of free professional designs, as well as discounted print materials, through the Belgard Marketing Agency. In addition to traditional marketing efforts, your company should have a robust social media marketing program. Click here for tips on how to take your social media marketing and online presence to the next level.