Research shows that one of the top ways of increasing the value of your home is to boost your home's curb appeal. Anything that can make a home stand out in a positive way will automatically increase the perceived value by others, but can also affect the homeowner's own personal sense of fulfillment and create value for the homeowner as well. Even simple changes can make a difference. Dramatic changes can be a bit more costly, but can also pay bigger dividends in the long run.
ADD SPLASHES OF COLOR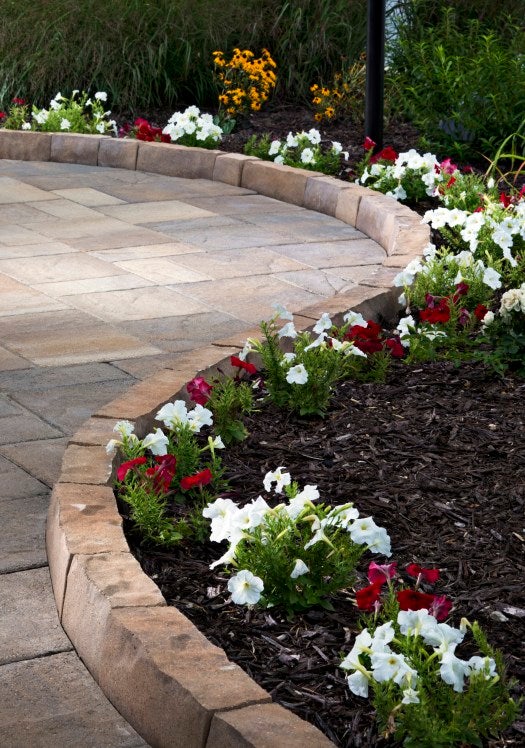 One of the easiest ways to add character is to add color. Landscaping, whether do-it-yourself or professionally installed, is a quick and easy way to add color to your curb appeal. The options are literally endless and can range from simple flower gardens to multidimensional vertical gardens. Pathways and paver walkways also add a charming element. Other garden ideas that will boost your curb appeal include container gardens and built-in planters. For a low-maintenance landscape option, consider using a combination of hardscapes and synthetic turf to create a stepping stone look.
UPDATE AND UPGRADE
Curb appeal literally starts at the curb. Few things will detract from the perceived value of your home like a crumbling driveway or walkway. It's the first thing people see. A paver driveway or walkway is a solid investment that will not only improve the look of your home, but also the value. For those who have cracked concrete that is still sound, a paver overlay can quickly transform curb appeal without the added cost of concrete demolition and removal. Also consider updating other architectural aspects of the front of the home. Ideas include replacing worn or dated doors and light fixtures. You can also add a touch of elegance by wrapping porch columns with stone wall veneer. Small touches can make a big difference.
SHOWCASE YOUR PERSONALITY
When guests arrive at your home, they should immediately get a sense of the type of person who lives there. Are you carefree or conservative? Whimsical or stylish? From clay pots to antique doorknobs, every element you choose can combine to illustrate your personal sense of style. The following image shows a home with a unique sense of curb appeal. All of the biophilic design elements combine to create an earthy feel, including the natural wood shutters and door, the stacked stone wall veneer, and the man-made creek. The eclectic plant and flower selections in the garden create a random look that appears both natural and manicured. The paver walkway and stone porch steps are both concrete products, but emulate natural stone textures and combine with the landscaping and architecture to create a country-cottage atmosphere.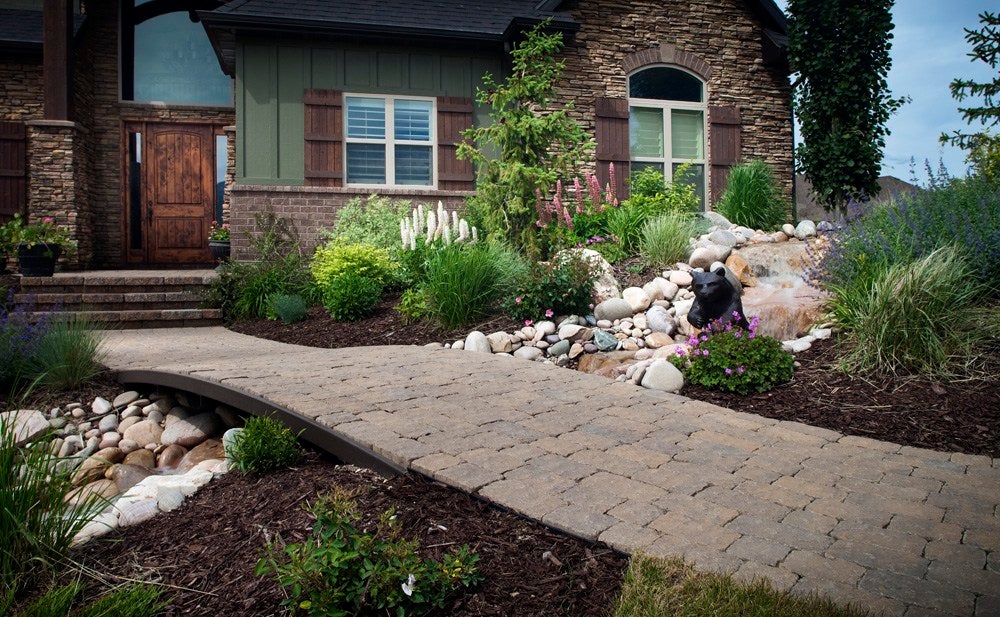 The right accent item can go a long way in adding that personal touch. The objective of using an accent piece is to create a focal point to your landscape design that will draw the eye and add dimension and character. This accent item doesn't need to be grandiose, like a fountain or gazebo. Inexpensive ideas include building a stone mailbox, picket fence, or wooden arbor.