Fire features continue to rise in popularity in outdoor living design. There's just something about the primal nature of fire that attracts people from all walks of life. When adding a fire pit, fireplace or fire table to an outdoor living space, these best practice tips can help improve the efficiency and quality of your installations.
Start with a good foundation.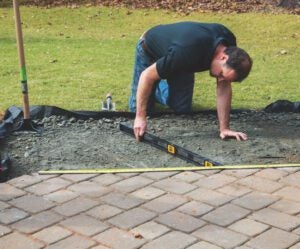 When installing something smaller like a fire pit or fire table, a standard paver base will do the trick. However, an outdoor fireplace may require a base with more reinforcement to prevent shifting. Click here to see a sample cross section of a preliminary design intended for use with the installation of products from the Belgard Elements™ Collection. For larger custom projects, it's often wise to consult a landscape or civil engineer.
Remember that fire is hot.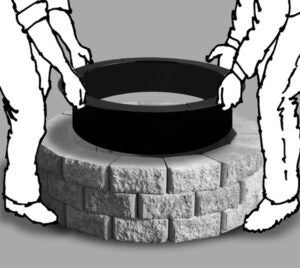 As simple as it sounds, it's important to protect hardscape materials from heat damage. For fire pit construction, a steel fire ring insert not only helps protect the wall block, it's a handy tool to help arrange the stones during fire pit installation. It also ads a finished look to a fire pit. Another option would be to line the interior of the fire pit with fire brick. For fireplace construction, there are many companies that offer fireplace inserts and flu kits. However, do your research and be sure that elements are engineered properly for your specific project and rated for outdoor use. A wood-burning fireplace must include fire brick or refractory cement panels, screens and a spark arrestor termination cap. If not, there may be issues with drafting, and local permitting may be tough to acquire.
Know a good plumber.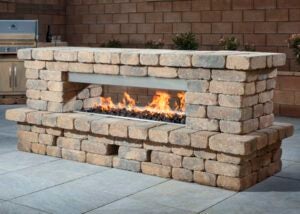 Consult with a certified plumber for any gas fire feature installations. You may want to also consider including a gas starter for wood-burning pits and fireplaces. Also, make sure you are using high quality outdoor-rated products from a reputable manufacturer. Belgard uses FireGear burner systems for our Belgard Elements™ Fire Table and Weston Stone® Outdoor Living Kits.
Know your codes.
Check with HOAs and municipalities regarding local codes. In most cases, a wood-burning feature will need to be placed 15 or 25 feet from any structure. Gas fire features will not require the same setback, and in many cases can be installed directly adjacent to another structure. Also, find out if wood-burning is even allowed. In many cases, gas may be the only option.
Use labor-saving fire features.
Unless a custom build is required, you can significantly reduce installation time, cost and waste with products like our pre-built Belgard Elements™ outdoor fireplaces and our ready-to-install fire pit kits. Belgard Elements™ fireplaces come shipped on pallets in two prefabricated pieces and are quickly installed with the use of a skid steer pallet loader. Fire pit kits typically come shipped with the exact materials needed, with stones that are specifically designed for efficient on-site fire pit installation, eliminating the need for masonry cuts.
Use quality products.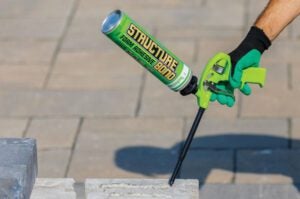 Techniseal® Structure Bond is by far the best outdoor masonry foam adhesive on the market. Using a good adhesive will ensure the strength and longevity of your project. It should also be noted that Belgard provides the highest quality and most durable landscape wall products on the market, backed by a lifetime warranty.
. . .