Belgard will be giving away an Ashland Fire Pit Kit as part of our annual upcoming National S'mores Day celebration, which begins on August 10. Last year's fire pit winner, Elaine Pitenis, just so happens to be a chef! So, we asked her to help us prepare for this year's celebration with some new gourmet s'mores recipes. She was excited to oblige us and gave us some super yummy new gourmet s'mores recipes with varying levels of difficulty. Try them yourself!
Phyllo S'mores
Thanks to her Greek heritage, Chef Elaine specializes in Greek cuisine. As a result, her family often makes s'mores with phyllo dough using the following recipe:
Take 10 sheets of phyllo and layer with melted butter.
Cut into 3" squares and bake at 350º F for 7-10 min.
When cool, place 4 squares of Hershey's chocolate and one roasted marshmallow on top of a square of baked phyllo, and top with another layer of baked phyllo.
Allow the chocolate to melt, and eat!
To make indoors, simply use un-toasted marshmallows and place back in the oven until melty.
Chocolate Chip Cookie S'mores
Who doesn't love a good chocolate chip cookie? Plus, this recipe is easy enough for kids to make by themselves (with adult supervision, of course…especially near the fire). For this recipe, you'll need Pepperidge Farm® Farmhouse™ Thin & Crispy Milk Chocolate Chip Cookies or large homemade chocolate chip cookies.
Cover one of the cookies with Hershey's chocolate pieces to fit your cookie.
Carefully toast marshmallows in fire pit.
Take one toasted marshmallow that is still on the skewer and place on top of the Hershey's chocolate.
Take another cookie and cover the hot marshmallow by pressing down firmly enough to pull out the skewer.
Allow the heat from the hot marshmallow to melt the chocolate.
Wait until s'mores cools before eating.
Baklava Truffle S'mores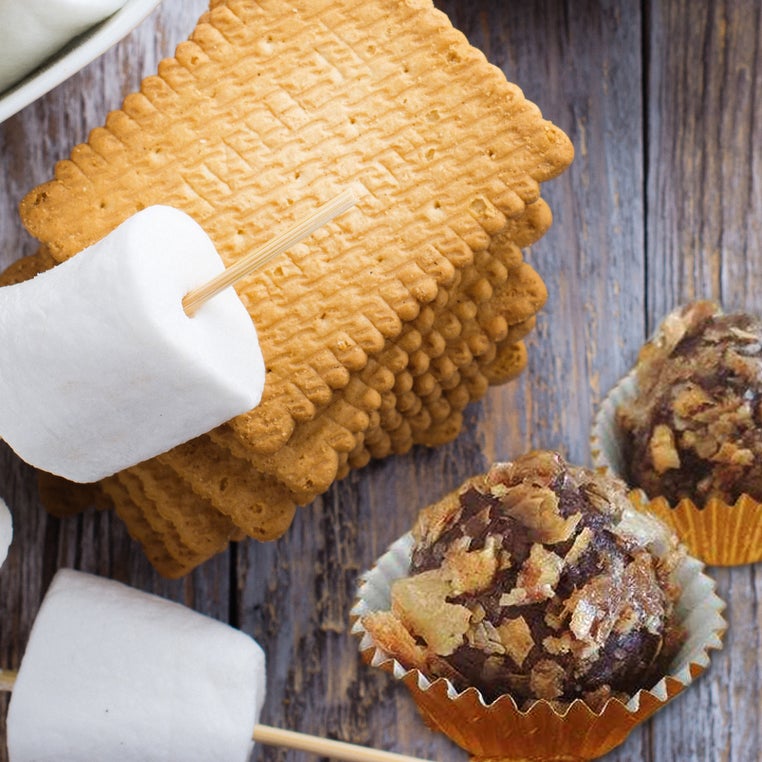 This gourmet s'mores recipe is the most difficult, but also the most delicious. Baklava is a rich Greek dessert of layered phyllo dough filled with chopped nuts and held together with syrup on honey. You can make it from scratch or purchase pre-made baklava in many local grocery stores and bakeries. To make the Baklava Truffles, you will need the following ingredients:
8 ounces of semi-sweet or bittersweet chocolate (high quality or Ghirardelli 62% cacao)
1/2 cup of heavy whipping cream
1 teaspoon of vanilla extract (optional)
Cocoa powder
8 servings of Baklava, crumbled
TRUFFLE PREPARATION: (Yield: 30 Baklava truffles)
In a small, heavy saucepan bring the heavy whipping cream to a simmer (stir and scrape down the sides with a spatula every few minutes).
Place the chocolate pieces in a separate bowl. Pour the scalding cream carefully over the chocolate, add the vanilla and allow to stand for about 10 minutes, then stir until smooth. (This chocolate base is called ganache.)
Allow to cool, then place in the refrigerator for two hours. Remove and use a teaspoon to roll out balls of the ganache. Roll in your hands quickly (as it will melt from the heat of your hands) and place on a baking sheet lined with parchment paper. Place in the refrigerator overnight.
Roll balls in cocoa powder first, then roll in broken baklava and serve in small baking papers, or place in the refrigerator until needed. Baklava Truffles can be frozen in a sealed container for up to 3 months.
NOW, FOR THE S'MORES: To use a truffle to make a Baklava Truffle S'more, roast a marshmallow on a long skewer. Take one truffle and one roasted marshmallow (still on the skewer) and place between two graham crackers. Remove the hot marshmallow by pressing down firmly enough to pull out the skewer, which will also press the truffle to get it warm and melty.
. . .