Happy National Grilling Month! Last August, we sponsored a contest to win a Belgard fire pit. Selected completely by random, we were pleasantly surprised to learn that the winner (Elaine Pitenis) is a working chef specializing in Greek Cuisine! To help us celebrate our National Grilling Month Giveaway, we asked Chef Elaine to share some of her favorite grill recipes. Celebrate with us by enjoying these recipes and enter for your chance to win our Grilling Month prize package of a Belgard Weston Grill Island Kit, Omaha Steaks® for a year, plus grilling accessories!
. . .
GRILLED OCTOPUS
The most popular appetizer in Greece during the summer is grilled octopus. Octopus can be purchased fresh or frozen and is tenderized before grilling with olive oil, lemon juice and Greek seasonings, then grilled to perfection in under 10 minutes. In Greece, it's usually served with a cool glass of ouzo on ice.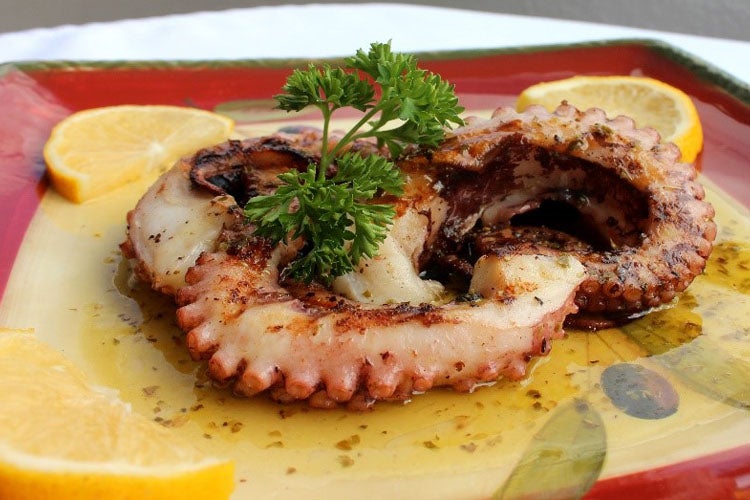 INGREDIENTS
1 large octopus (about 3 pounds)
1/2 cup olive oil
1/3 cup lemon juice
1 teaspoon Greek oregeno
1/2 teaspoon black pepper
2 garlic cloves, peeled and minced
Wash and clean the exterior of the octopus by peeling any outer skin.
Place the octopus in a large pot and cover, simmering over low heat with no liquid in the pot, for about an hour, until the octopus is tender and bright pink. The octopus will exude its own juices while cooking.
Remove octopus from the pot and drain. Allow to cool.
Cut the octopus into smaller pieces by its tentacles. Combine marinade ingredients and allow the octopus to marinate 4-5 hours, or overnight.
Grill octopus over medium heat, brushing it occasionally with the marinade, until it is slightly charred and crisp, approximately 3-4 minutes on each side.
Serve immediately.
. . .
PAITHAKIA (Grilled Lamb Chops)
One of the favorite dishes in Greece is lamb, and Grilled Lamb Chops are simply the best and quickest way to enjoy lamb. The most tender lamb chops come from baby lamb. These juicy, tender and delicate lamb chops are prepared with plenty of olive oil and Greek seasonings to bring out all the glorious flavors.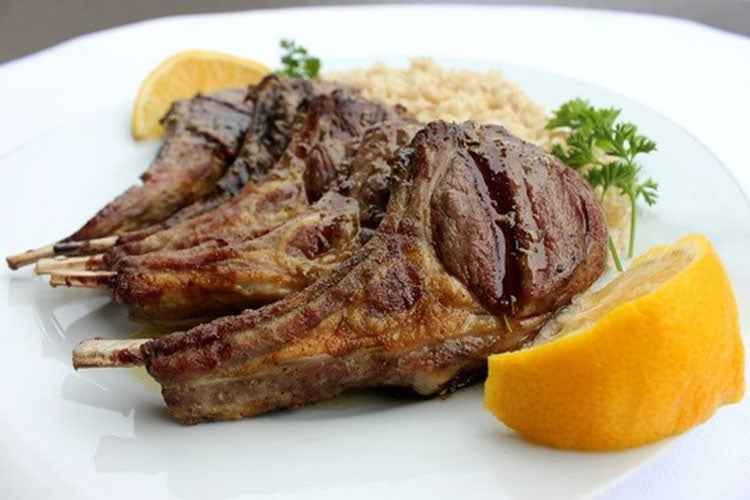 INGREDIENTS
5 lamb chops
1/2 cup olive oil
1/2 cup fresh lemon juice
2 teaspoons Greek oregano
Salt and pepper, to taste
Brush lamb chops with olive oil and season lightly with oregano, salt and pepper.
Grill on medium-hot grill for 3 minutes on each side.
Mix olive oil, lemon juice, oregano, salt, pepper in bowl and pour over grilled lamb chops, and serve.
. . .
CHICKEN SOUVLAKI
A summer treat in every Greek home is Chicken Souvlaki. Delicately prepared with free range chicken, the breast meat is cubed, skewered, and then marinaded for several hours to intensify the flavor.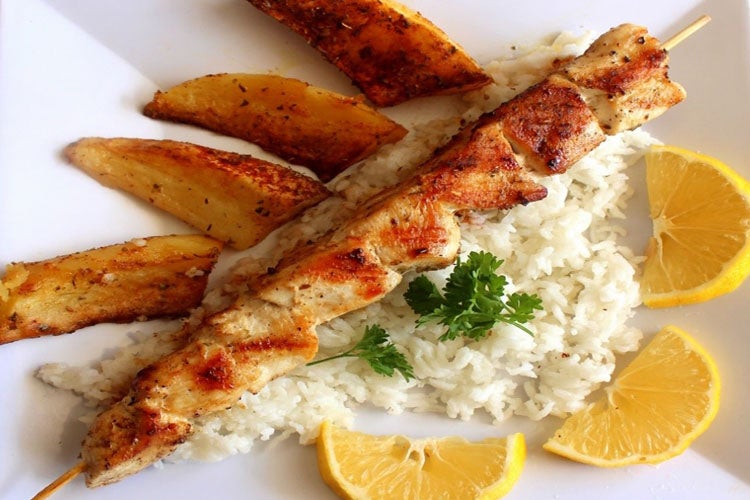 INGREDIENTS / MATERIALS
3-4 pounds boneless, skinless, free-range chicken breast, cubed
12 wooden skewers
large plastic container
MARINADE
1 cup extra virgin olive oil
3/4 cup lemon juice
2 cloves garlic, minced
2 teaspoon salt
1 teaspoon pepper
2 teaspoon Greek oregano
Skewer cubed chicken. Place in a plastic food container and add marinade. Cover container and refrigerate at least 4 hours.
On medium heat, grill for 10 minutes on each side until meat has a nice char and all pink is gone.
Serve with rice pilaf or on warm pita bread with a dollop of tzatziki sauce.
. . .
MELITZANOSALATA (Greek Eggplant Dip)
There is no more delicious appetizer for entertaining guests than Greek-style Eggplant Dip. Grilling the eggplant is easy and gives it a delicate and smoky flavor. Eggplant is a low-fat food that's high in potassium, and when combined with olive oil and garlic, it's a heart-healthy way to boost your nutrition.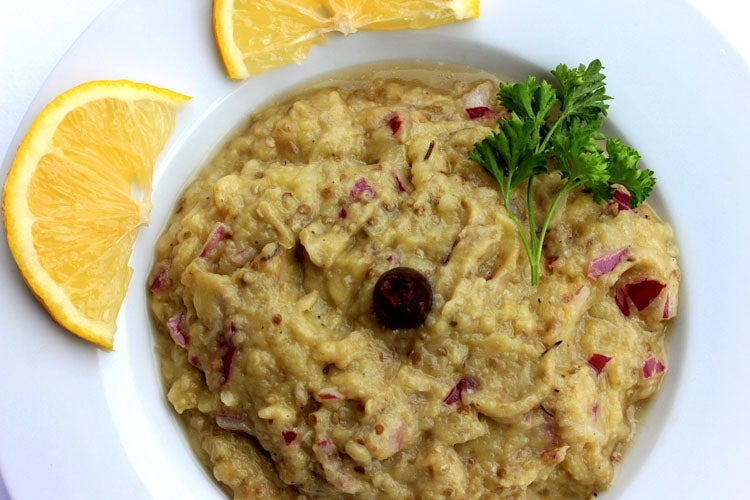 INGREDIENTS
1 large eggplant
1 red onion
1/2 cupc olive oil
1/4 cup lemon juice
2 cloves garlic
Salt and pepper to taste
Garnish: kalamata olive and lemon slices
Grill whole eggplant on medium heat for 30-45 minutes, depending in the size of the eggplant. Turn eggplant on the grill every 10 minutes using long tongs. Grill until the eggplant is slightly charred and has collapsed. Allow to cool before peeling the skin.
In a food processor, combine the eggplant flesh with the chopped onion, garlic, and lemon juice, pulsing while adding the olive oil gradually. For a more textured consistency, use a fork instead of food processor to combine all the ingredients.
Chill in the refrigerator for at least 1 hour, allowing the all the flavors to mingle.
Season with salt and pepper to taste. Serve with pita bread.
. . .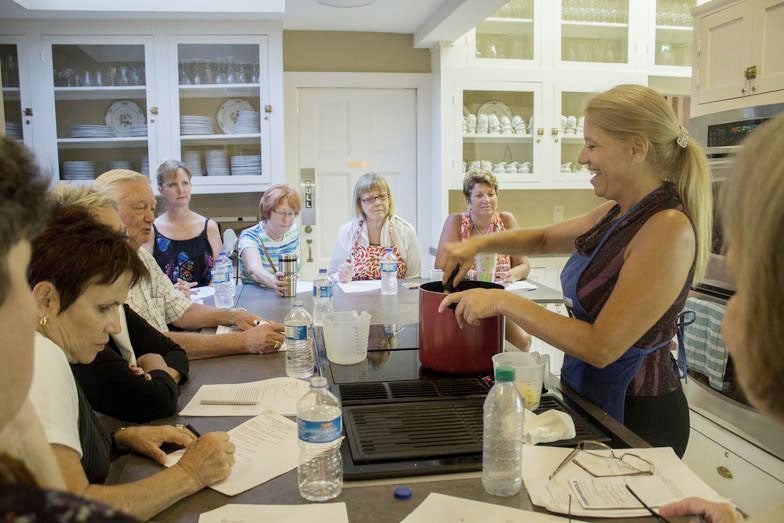 About Elaine Pitenis and My Big, Fat, Greek Cooking Class!
Elaine Pitenis grew up in Cambridge, Massachusetts and did her graduate work in Microbiology at Harvard University. She worked in the fields of Microbiology and Cancer Research before marrying and having four beautiful children. The family moved to Greece and lived in Athens for a short time before relocating to Daytona Beach, FL in 1999 and opening her Greek Cooking School. While in Greece, Elaine learned cooking techniques from several acclaimed Greek chefs from Corinth, Kastoria, and the islands of Samos and Salamina. Elaine began teaching Greek Cooking in 2004 at The Casements in Ormond Beach, FL and has used the acquired techniques from Greece in addition to her prior knowledge of the culinary arts through her mother Connie Spinos, who was an exceptional Home Economics teacher before she retired. My Big, Fat, Greek Cooking Classes elicit a fusion of both "old world" traditional cooking techniques blended with her own flavorful and innovative methods to offer her students a unique, hands-on cooking class that creates delicious, heart-healthy Grecian delicacies.