As the exclusive hardscape sponsor of Sunset Magazine's 2018 Idea House in Los Gatos, California, Belgard is excited to offer our readers a virtual tour of the outdoor spaces on this lovely 2,900 square foot 3-bedroom home that offers a modern take on traditional craftsman style architecture.
Landscape designers Tamura Landscapes and Sycamore Design took the contemporary-meets-traditional theme to heart and took a number of novel approaches to the outdoor design elements. Instead of a traditional brick or cobble driveway, the designers chose to use a staggered running bond pattern of Melville™ Plank pavers. Another unique design choice was to eliminate the traditional border and incorporate asymmetrical garden insets with low-maintenance drought-tolerant plants.
Another design theme used throughout the home was the concept of seamless indoor/outdoor living. This was facilitated in a number of ways and is immediately evident in the transition from the driveway to the front walk, which was constructed using Sundeck Porcelain Pavers. These durable wide-plank outdoor pavers emulate the look of wood and mirror the current trends in indoor flooring. Asymmetrical garden insets and a staggered running bond pattern create a coordinated look with the driveway.
Branching off from the entrance walkway around the front porch and along the side of the home, the designers transitioned to a stepping-stone walkway of Stones 2.0 Porcelain Pavers interspersed with gravel. The gravel extends towards the home into a rock garden to facilitate adequate drainage from downspouts. Angular landscape light fixtures and warm woods add to the juxtaposition of traditional and contemporary design elements.
Folding glass doors create open flow between the indoor and outside spaces on both the front and back of the home. The front parlor completely opens to the front porch, and the living room completely opens to the back porch, allowing the residents to take full advantage of the temperate California climate.
A contemporary fire pit patio flows from the porch like a natural extension of the home. Sundeck Porcelain Pavers on the patio and Quartziti Veneer on the gas fire pit help emulate the look of an indoor space.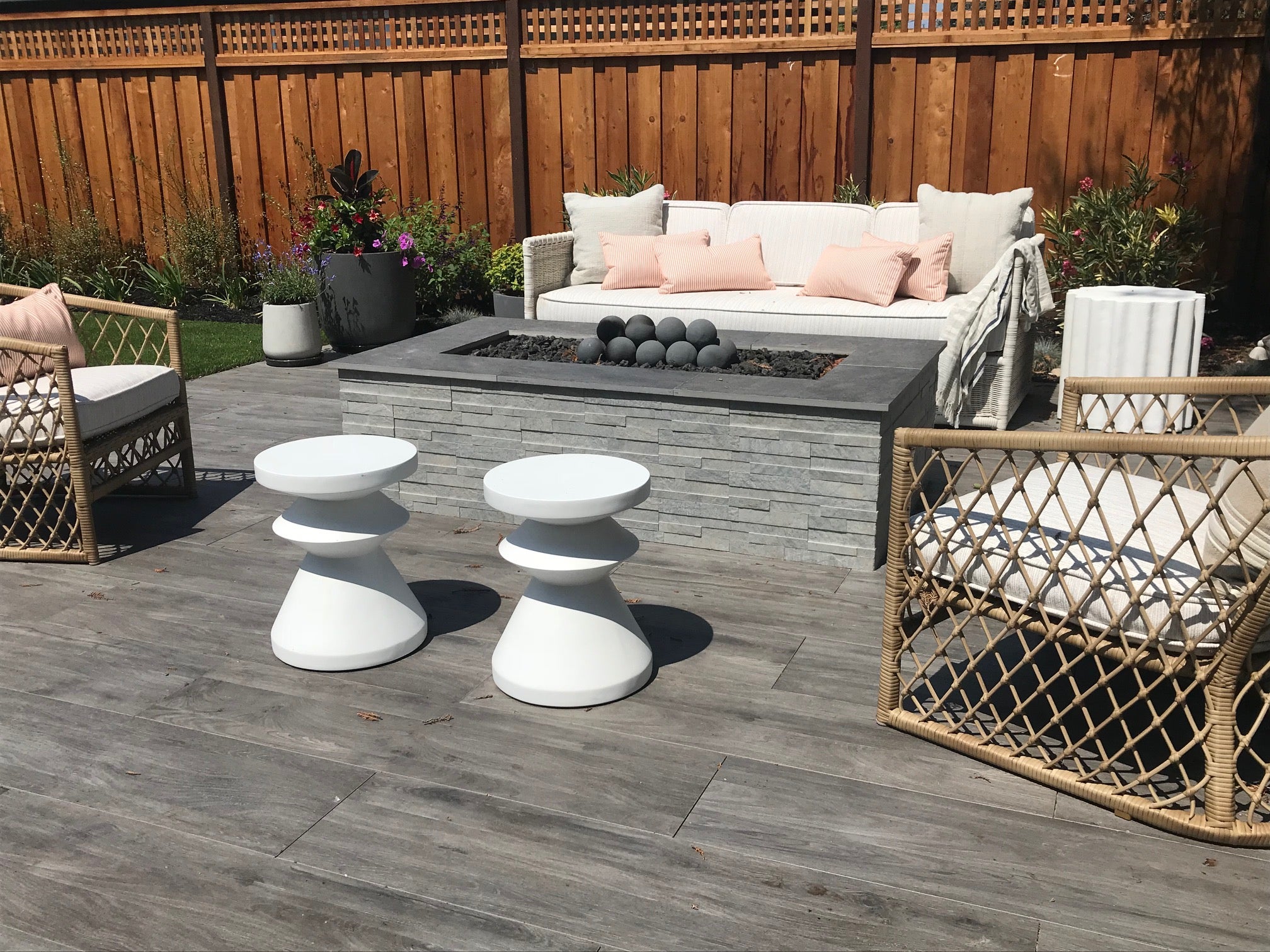 Similar in concept to the asymmetrical insets on the entrance walkway and driveway, the patio incorporates a staggered transition into the yard, which is constructed of artificial turf to minimize water usage.
In addition to the contemporary outdoor living design choices, a number of ultra-contemporary touches were used throughout the interior of the home, including glass staircase rails, a minimalist kitchen design and smart-home technology that is integrated throughout the home. The Sunset 2018 Idea House has been open for tours throughout September and will be featured in the October issue of Sunset Magazine.
. . .
All photos copyright 2018 Sunset Publishing Corporation, photos by Thomas J. Story. SUNSET is a registered trademark of Sunset Publishing Corporation and is used with permission.