After viewing over 35 homes with an agent and combing neighborhoods for any "For Sale by Owner" sign, the design team settled on a fixer-upper located in the Northwest Hills area of Austin, Texas, for the 2018 Southern Living Idea House.
"I was so flattered to be asked to work on this project," said landscape designer Julie Blakeslee of Big Red Sun. "They gave me a lot of freedom in the design, and it was lovely to be trusted in that way."
As the official hardscapes sponsor of the Idea House, Belgard is thrilled to give you a tour of the outdoor living renovations of this Texas-sized makeover project.
Front Yard Makeover
Although the house was chosen for its "good bones," it was definitely in need of modernization both inside and out. The front of the home had decent curb appeal, but a dated, formal look with boxy landscaping, undersized shutters, and a nondescript concrete walkway and porch.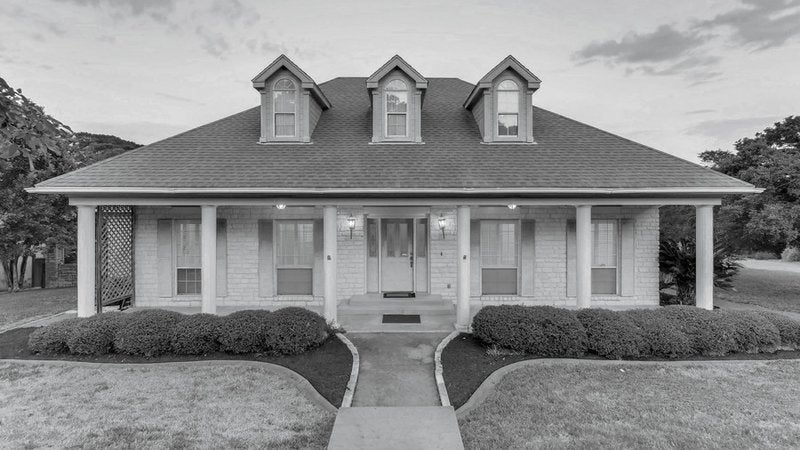 The curb appeal was modernized with new working shutters, squared columns, updated light fixtures and fans, more informal and colorful landscaping, and a new paver walkway and porch.
"We had a limited budget and were stressed out about having to use the original walkway, but the Oldcastle products allowed us to work with that restriction," Blakeslee said.
Techniseal® DriBond™ was used to overlay the existing concrete walkway and porch with pavers, saving the design team a tremendous amount of time and expense over demolishing and removing the existing concrete — a much-needed shortcut for the project. Holland Stone pavers were overlaid in a herringbone pattern, which paired well with the classic West-Indies architectural style of the home. Copper lantern light fixtures, wooden rocking chairs and a lush container garden added a welcoming southern touch.
"Everything blended together to give the front of the house an elegant, finished look," Blakeslee said.
Back Porch Makeover
The existing porch was in poor shape, with a good deal of rotten wood and an old hot tub, plus an outdated look of heavy limestone columns, ornate wrought iron railings and "star of Texas" light fixtures.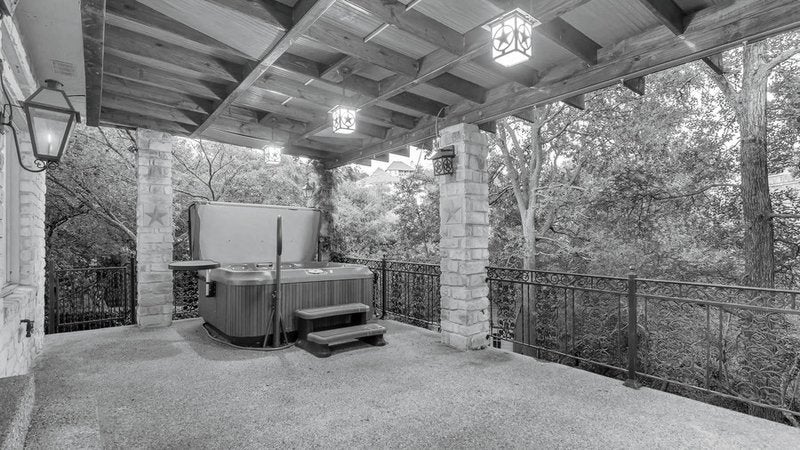 The hot tub was removed, and the remodeled bright and airy southern-style porch included new weather-resistant ChoiceDek Foundations™ composite decking, skylights, ceiling fans, copper light fixtures and a welcoming sofa-sized porch swing.
Backyard Makeover
Plainly stated, the backyard was a hot mess and was basically unusable due to the slope and rocky quality of the terrain. "We wanted as big a terrace as possible to provide some outdoor flat space and create a funnel to a natural path at the foot of the property that leads down to an arroyo (dry creek)," Blakeslee said.
Blakeslee designed a multi-level terraced Dublin Cobble® paver patio to turn the sloped yard into a highly functional space with multiple entertainment zones. "The smaller format of the cobbled pavers gave us the vintage look we were going for and allowed us to create a sophisticated entertainment space," she said.
Extra-wide steps and landings throughout the design serve as additional seating space for large gatherings. Built-in Weston® Stone planters provide the medium for dimensional gardens throughout the space. Additional container gardens add an eclectic, informal touch. Curved transitions between the terrace levels add an elegant look to the design.
"It was a challenging installation, but we were very happy with the look and quality of the products and the end result," Blakeslee said. "The curves make the space feel more gracious."
The 2018 Southern Living Idea House will be open for tours through November 8, Wednesdays through Saturdays from 10 a.m. to 4 p.m. For ticket information, click here.
. . .
All photos used with permission from Time Inc., including its Southern Living division. SOUTHERN LIVING is a registered trademark of Time Inc. and is used with permission.