As we all migrate to the outdoors for evenings of cool breezes and casual conversation, lighting is essential. Lights that are too bright attract bugs and nasty mosquitoes. But, subtle low voltage lighting at ground level adds character, a sense of elegance and the feel of relaxation at the end of the day. Don't forget the safety and security measures lighting an area adds, particularly to steps, pool decks, driveways, and paths. It is an investment that will add value to your home.
  Adding lighting at the start of your project makes installation simple. Belgard recommends that all electrical installations be left to the professionals (click to locate a Belgard contractor in your area). Planning is always the best place to start. Rule of thumb is lighting should be five to eight feet apart. Consider how the lighting will turn on, via a switch, timer or automatically.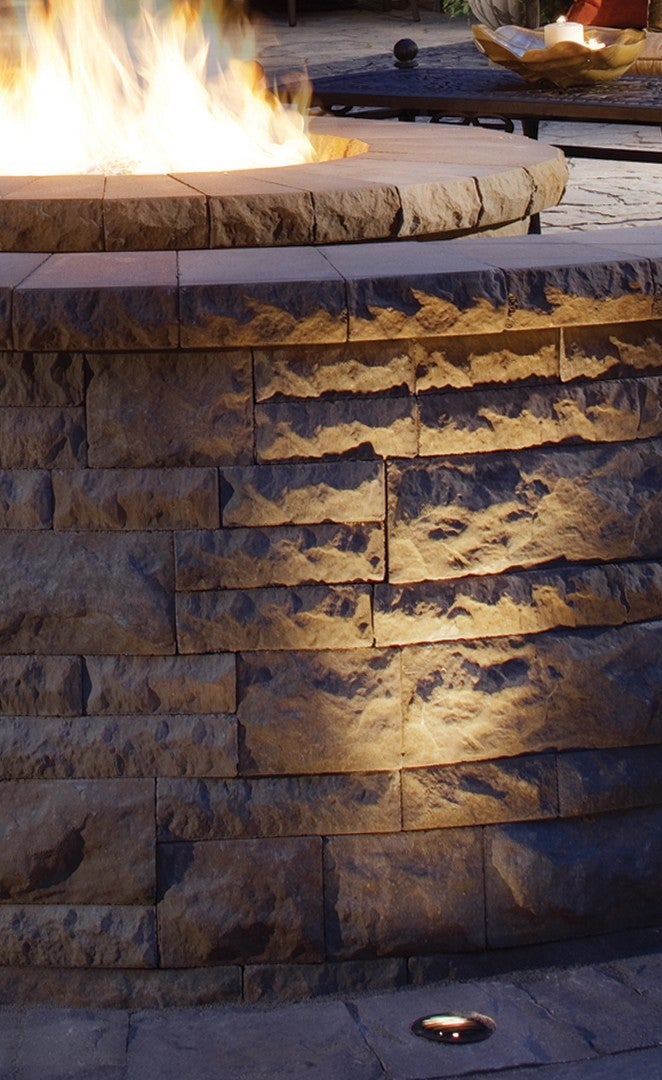 Select lighting to highlight the existing hardscape and surrounds. You will want to coordinate the light size and shape with the paver size. But, Belgard doesn't stop at paver lighting! If you are installing lighting off the ground, Belgard's Elements Collections offers lighted columns to add to the drama of your yard. You could consider up lighting, which provides highlights to a feature. Up lighting can be built into the pavers to show off a Belair wall, garden or tree.
When you add a wall, firepit, or one of the Elements Collections popular outdoor kitchens, lighting should be part pf the planning process. With the Elements Collection, there are many lighting placement options: pillars, chimney, seat walls, and within the cooking areas. No one wants to cook outside with a flashlight in hand. If you have ever dreamed of cuddling up with a new book to the sounds of the evening crickets – ambient lighting from a pillar will keep you turning pages. Nighttime outdoor living doesn't have to leave you in the dark! Here are examples of some of Belgard's paver lighting systems.