November 6th marks the end of Daylight Saving Time, when it's once again time to turn the clocks back an hour. With darkness falling earlier in the evening, it's time to explore a variety of outdoor lighting ideas that add ambiance, increase safety, and most of all allow you to get more use out of your outdoor living spaces. Whether you're lighting an existing outdoor living area or planning a new one, here are a few ideas on how to light up your space.
• • •
This lovely outdoor living room uses lighting techniques inspired by nature. The focal light emanating from the fire is enhanced by votive candles and low-voltage hardscape lighting that's built into the walls of the outdoor fireplace. In the surrounding landscape, ambient in-ground lighting reflects throughout the picturesque waterfall. Uplights used for the shrubbery and trees add an ethereal glow.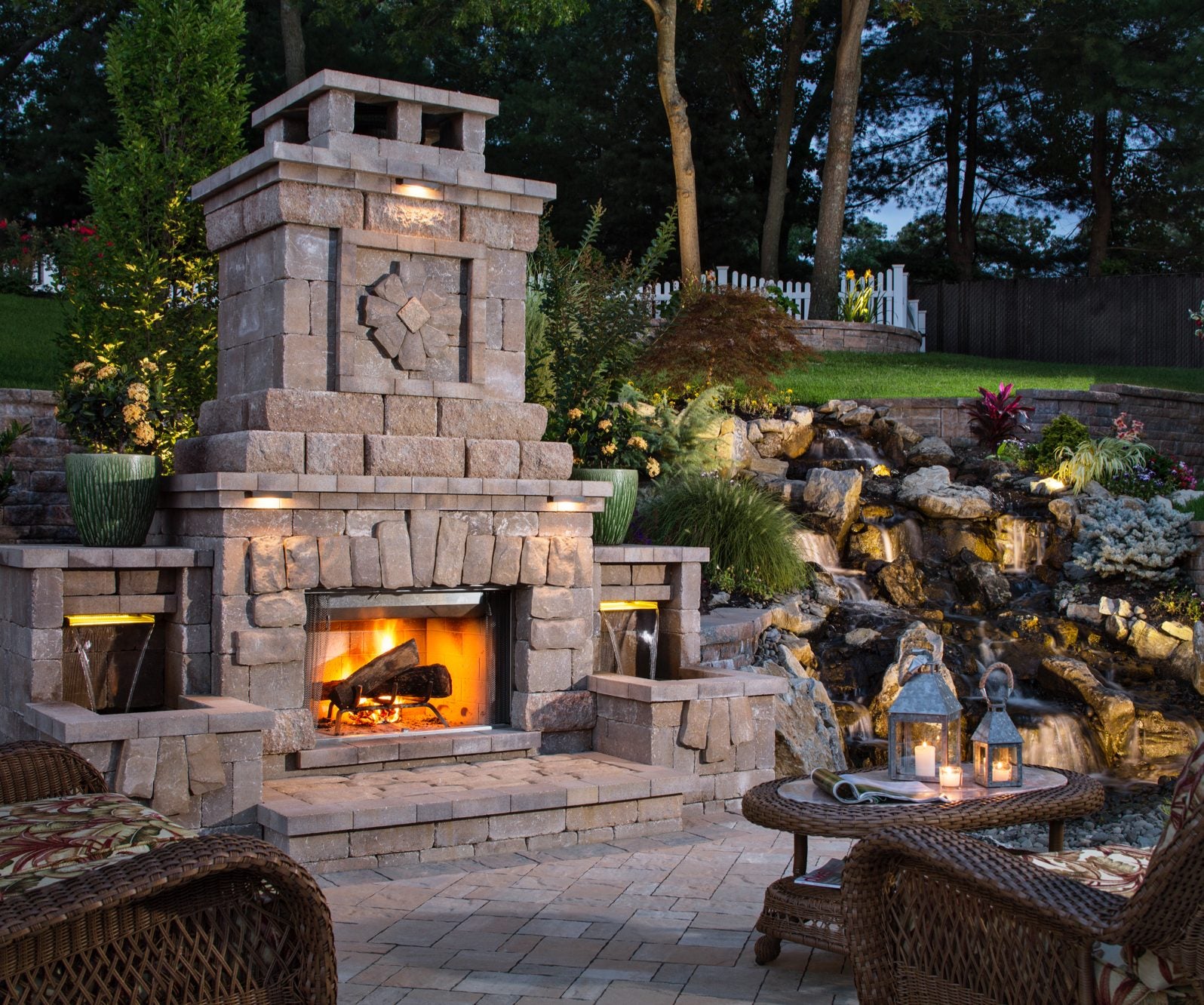 • • •
Fire can be used in a number of creative ways. This outdoor living room uses a European style fireplace and fire bowls that are all operated off of gas and can be turned on remotely. For additional fire elements, tiki torches are placed around the backyard to add a festive design element that coordinates with the "fire" design scheme.
• • •
This design incorporates a variety of antique brass light fixtures, including attractive pathway lights in the planter beds and coordinating low-voltage hardscape lighting along each wall.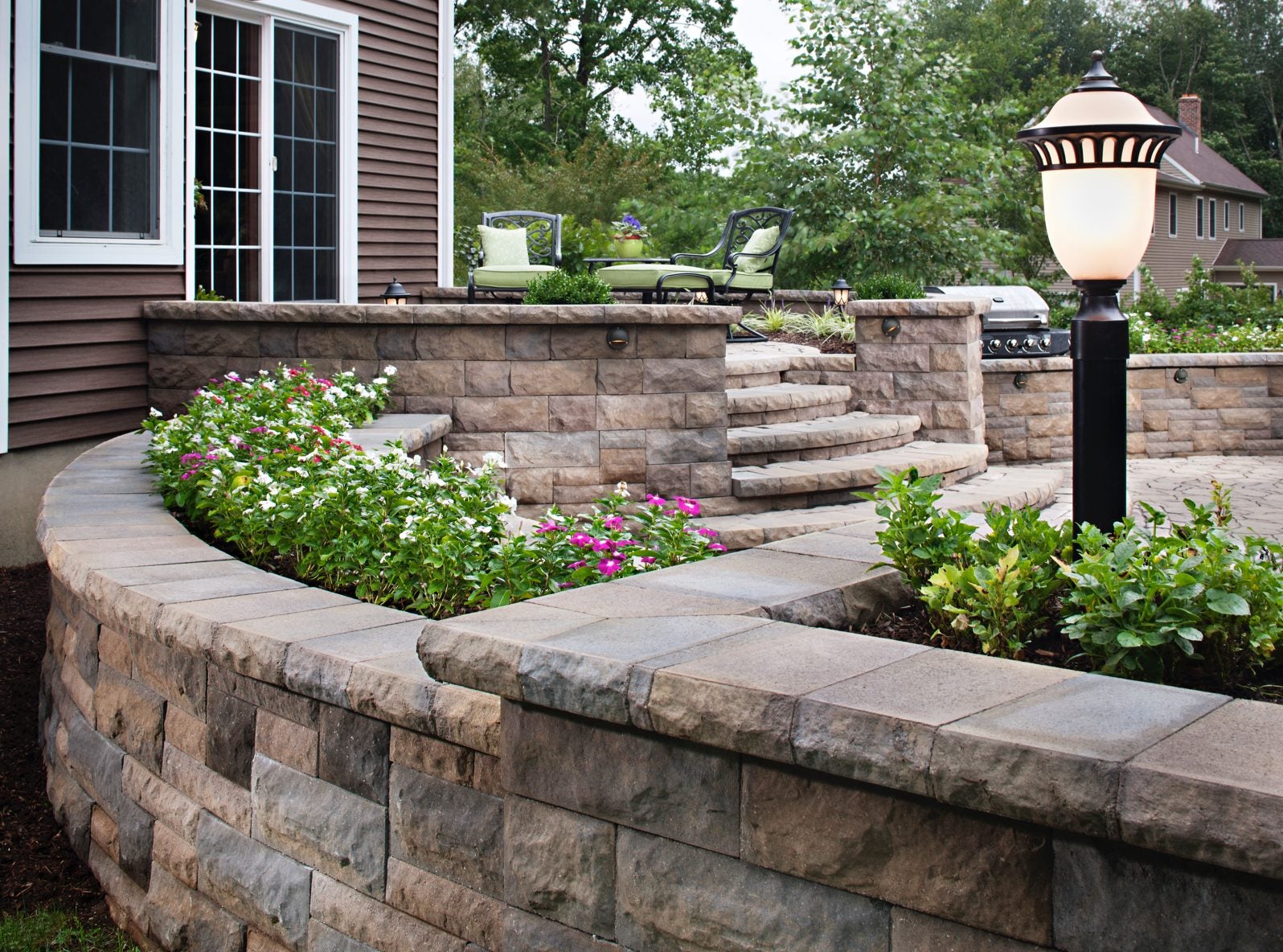 • • •
Columns lights will both dress up a wall and provide additional lighting, as illustrated with the seat wall pictured below. This design also includes hardscape and overhead lighting in the bar area that allows for increased visibility behind the bar, without overpowering the fire pit area.
• • •
Strategic use of pathway lights adds both character and an element of safety for a walkway or patio. The color of the light fixtures selected below incorporates complementary tones to those in the pavers, creating a cohesive design.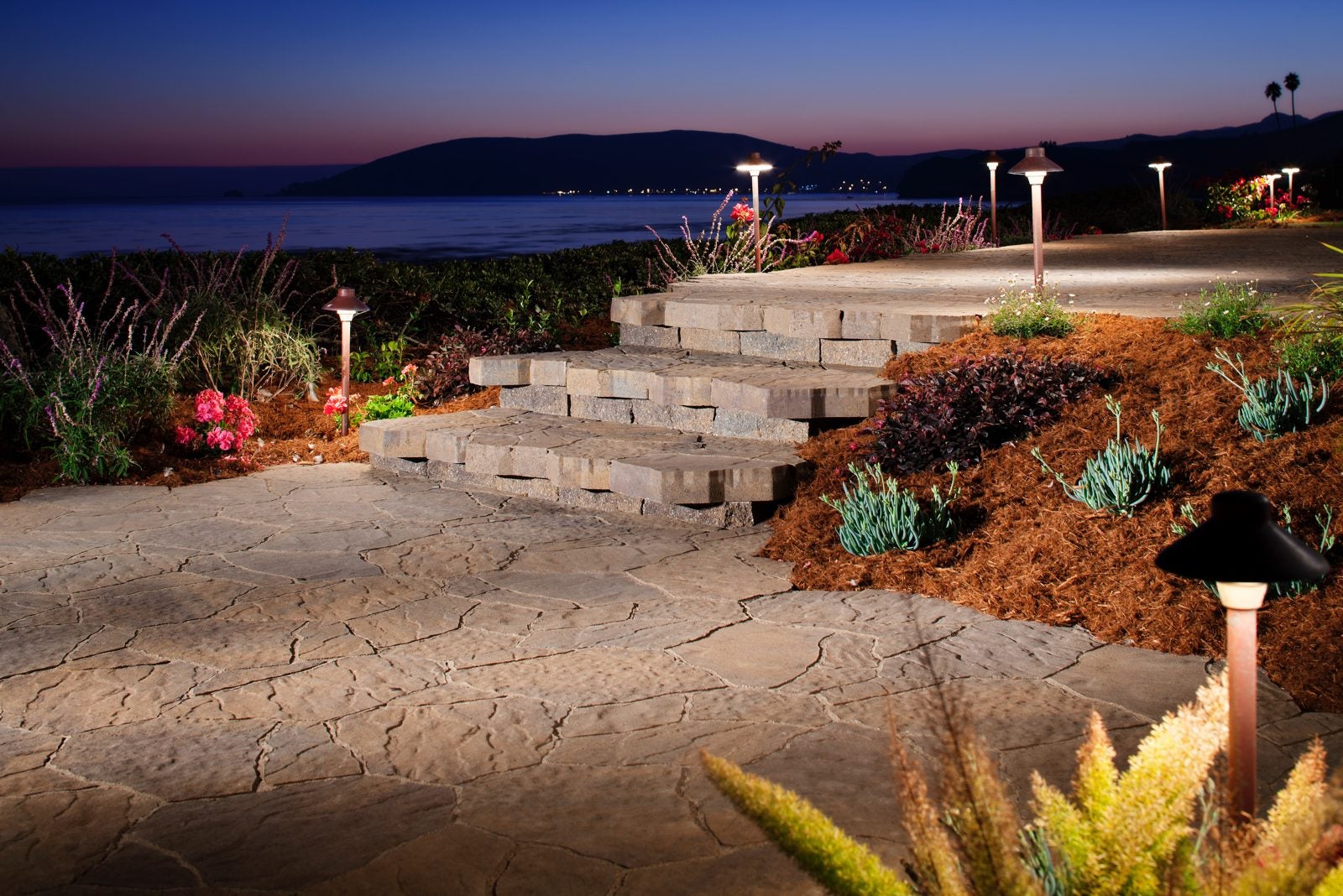 • • •
In the poolscape below, low-voltage hardscape lighting was installed in a pattern that complements the sweeping arches throughout the design. To improve the safety, lights are installed on all steps and elevation changes, in addition to the seat walls. All lights in the hardscaped areas face downward, with upward lights facing the trees. The combination creates a subdued and cozy atmosphere.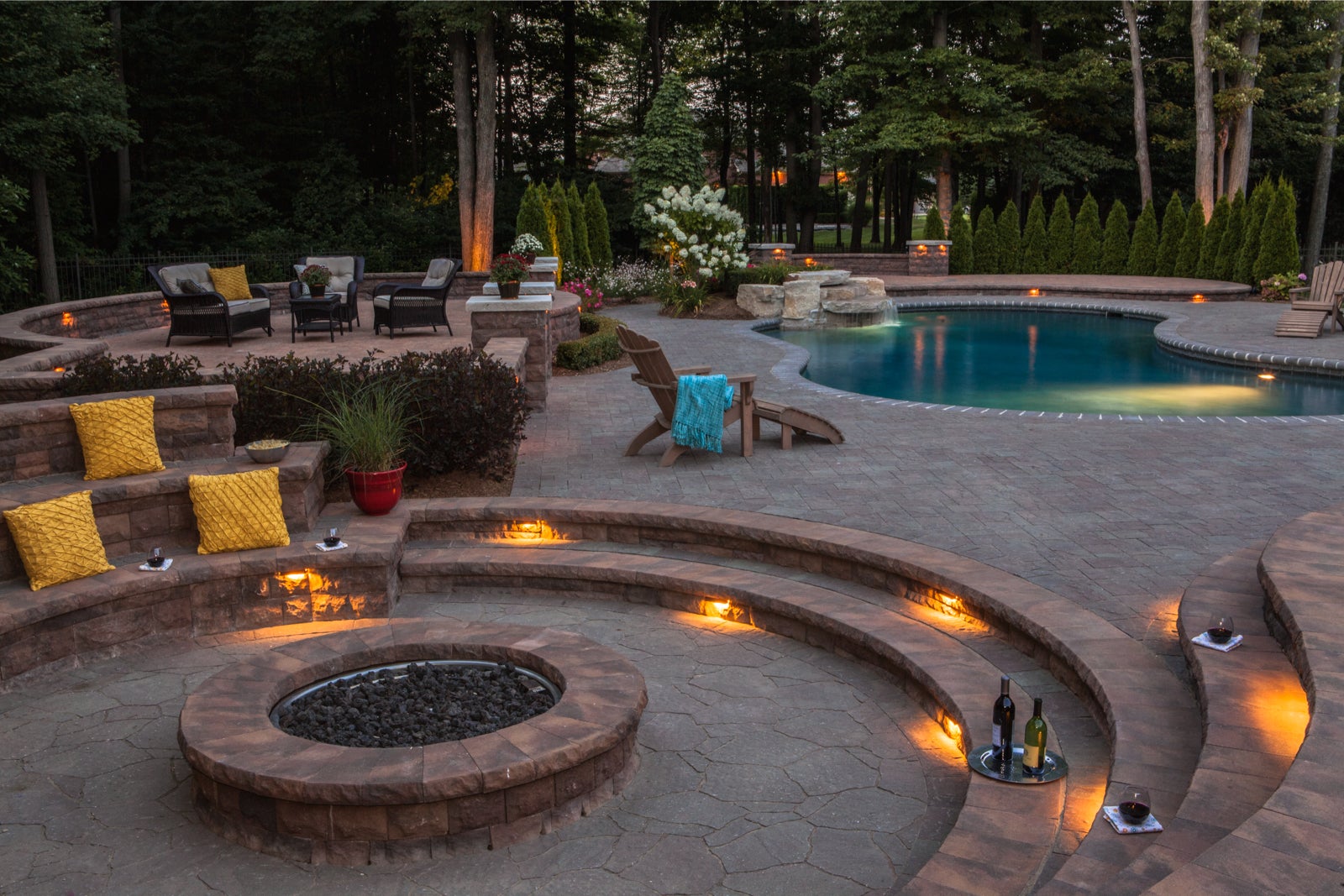 • • •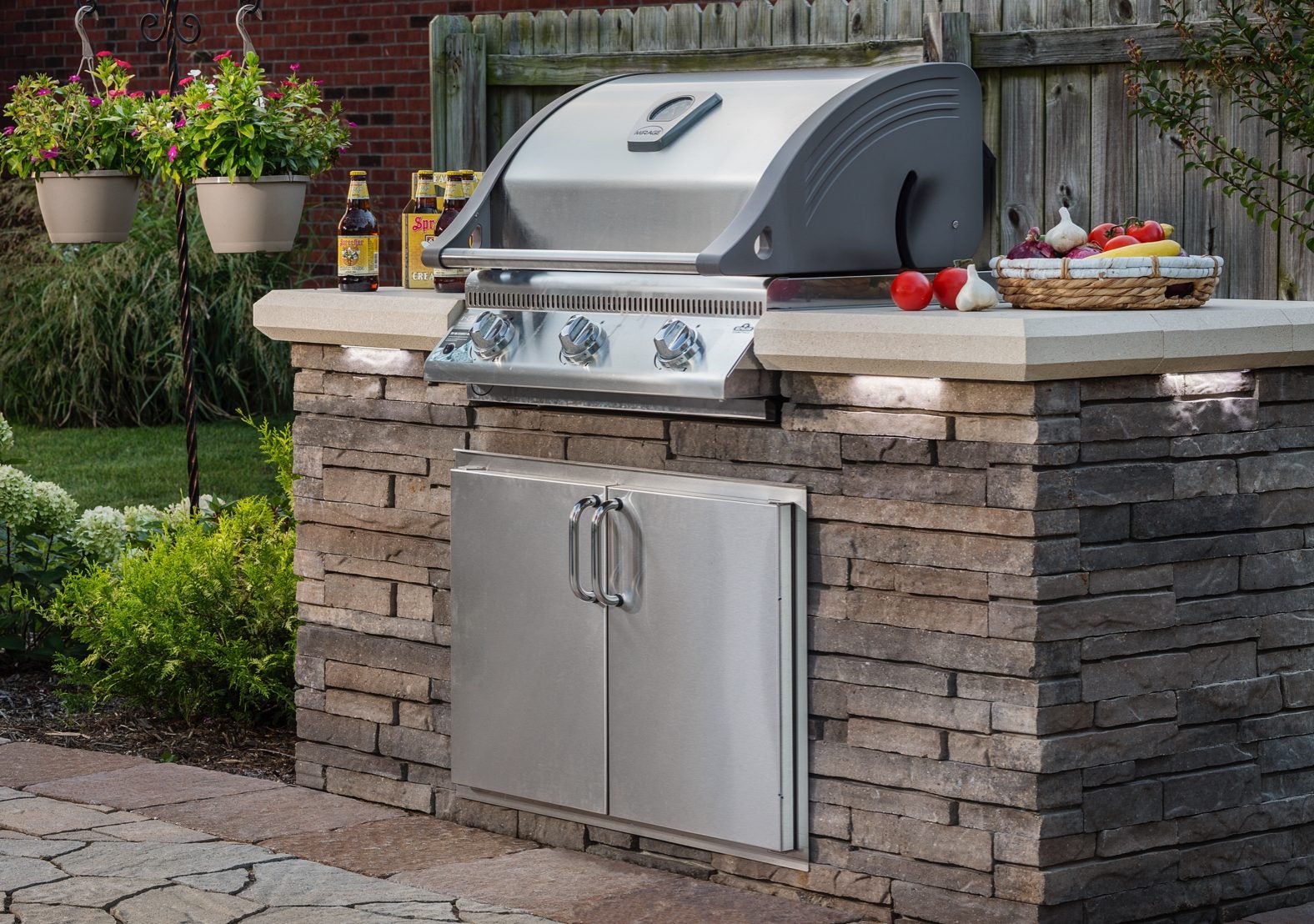 Belgard Elements, like the Bordeaux Grill Island pictured below, can be ordered with low-voltage hardscape lighting pre-installed, which adds to the look of the piece and also fulfills a utilitarian purpose.
• • •
String lighting can be a festive way to add additional lighting and comes in a variety of styles to complement a wide range of design schemes. The outdoor pavilion below incorporates simple string lighting that creates a festive atmosphere without detracting from the richness of the rustic design elements. Additional lighting comes from pendants, sconces and hardscape lighting.