Your patio looks great. Your furniture is spiffy and your outdoor cushions compliment each other. Your garden has grown into a green goddess of gardening perfection.
The only thing missing? The lights!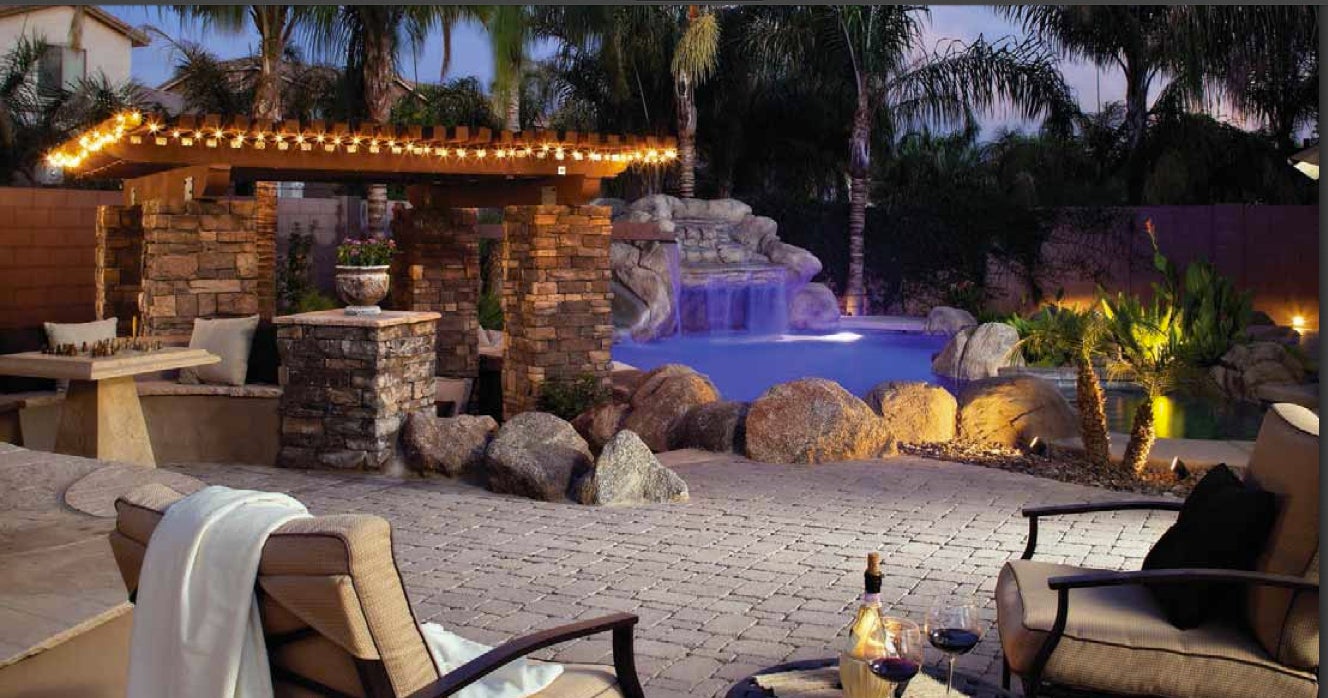 What good is your outdoor paradise if you can't enjoy it on a beautiful summer night? With so many big features to focus on—brick layout, grill options, fireplace structure—many outdoor enthusiasts forget that lighting is a key feature in creating the ultimate backyard living experience.
Why are lights so important? Well, besides making sure you don't trip on your way to your Belgard Brick Oven, lighting can enhance your hardscape. It's all about what you're in the mood to do. Do you want to show off your perfectly pruned garden? Are you having an evening soiree with friends and family?
Don't worry. Whatever your desire, we've got all you need to know about setting the mood in your hardscape.
If you're in the mood to… Highlight Your Garden
Just because it's dark outside, doesn't mean you shouldn't show off your garden! Canopy lights are a perfect way to illuminate your plants and flowers once the sun goes down. These lights sit on an 18-24 inch post and can add a decorative element to your garden. Use low voltage lights, which are easy to install. You can even bury the cable beneath the dirt! Don't want to deal with cables? Use solar lights!
If you're in the mood to… Highlight Your Hardscape
Your garden isn't the only thing that needs showing off! What about that great patio? For general landscape and hardscape lighting, spotlights can be very useful. Spotlights are used for a number of lighting techniques, including highlighting and uplighting. Highlighting is often used to illuminate trees by placing a spotlight near the base. Uplighting involves placing spotlights close to the base of a fixture (like a home or special hardscape feature) and creates a dramatic yet welcoming effect.
If you're in the mood to… Light the Way
Lighting up your pathway is both a practical and aesthetic way to enhance your hardscape. The good news about path lighting? There are so many options. The bad news about path lighting? There are so many options! Perhaps you'd like to create a backyard beach paradise with tiki torches. Or maybe you're more into the rustic, medieval look with lanterns. Or you love the traditional, tried and true canopy path lights. Whatever your style is, think about the mood you're trying to create and use variety. For example, if your pathway is lined primarily with green, try using a bamboo path light to add some contrast. Avoid placing lights in a straight line or too close together. You wouldn't want your path to look like a runway!
If you're in the mood to… Have a Party
Who isn't in the mood to have a party when the weather is warm? Don't fret about complicated decorations – use lights instead! Lighting is an easy way to give your hardscape a festive atmosphere. Once again, it's all about your mood. Use paper lanterns for a pop of color and a fun loving, youthful vibe. Or, have a southern soiree by placing candles or twinkling lights in mason jars for your backyard barbeque. Use your tiki torch path lights for a Luau! Want to take the romantic route? Candles are the way to go. Also, string lights can spruce up your hardscape, too. They come in several designs—butterflies, twinkling, standard Christmas style—and can be used for a variety of occasions.
If you're in the mood to… Feel the Fire
We can't talk about lighting without talking about fireplaces! What better way to light up the night than basking in the warm, natural glow of your fireplace? Fireplaces go with every occasion – pool parties, romantic dinners, family barbeques, or just relaxing and enjoying the outdoors! Cuddle up with your honey, tell ghost stories with the kids, and indulge in some s'mores, all the while taking in your landscape in the firelight. Don't have a fireplace? See what we have to offer!
As you can see, lighting is all about your mood. What's the occasion? The theme? The energy? Whatever you're trying to accomplish with lighting decor, have fun when using this versatile method to set the mood in your landscape!
. . .
Have more hardscape lighting questions or suggestions? Share them in the comments! We'd love to chat about it with you.