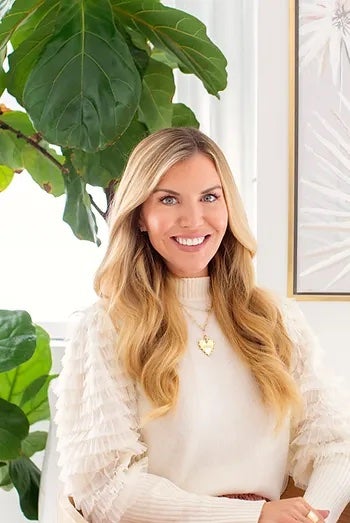 Megan Molten is an expert interior designer, store owner and lifestyle blogger based in Charleston, South Carolina. Her website and social media showcase her life as a designer, offer a peek into her life as a mom of two, and more. The Belgard team was thrilled to collaborate with Megan to incorporate our products and designs into her latest project, The Mod Pod Pool Pad, at her home in Charleston.
Building A Backyard Oasis Outdoors
After Megan bought her home in 2019, she and her family named it "The Mod Pod," which inspired the project name The Mod Pod Pool Pad. Megan's father-in-law, a retired architect, designed the outdoor landscape and pool house to create a space that was visually interesting but functional for their family. The pool house includes a fireplace, projection TV, dining nook, and lounging area. The project design was inspired by the detailed aesthetic inside Megan's home and the South Carolina Lowcountry with a touch of modern elements using Belgard pavers, turf and Belgard's 2023 colors of the year – Tidepool and Seagrass.
"After finalizing the plans for the pool pad, I knew I wanted premium products to withstand the test of time, and Belgard was the standout choice."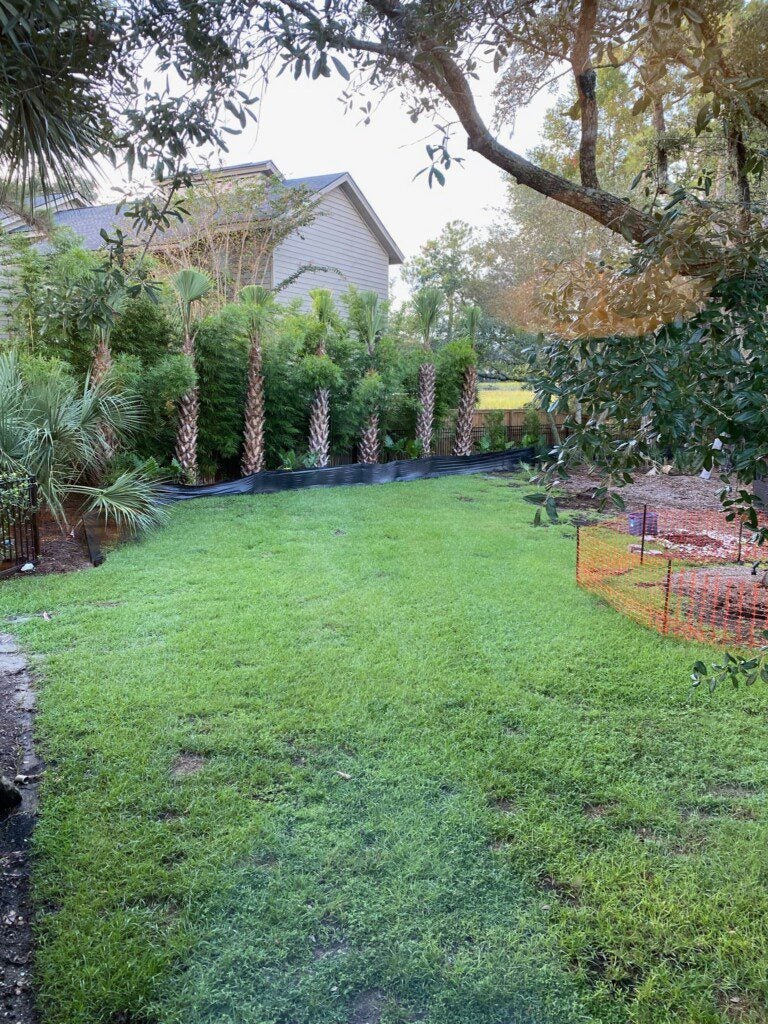 Complete the Outdoor Space with Belgard Porcelain Pavers
Taking inspiration from inside her home, Megan knew porcelain pavers would be the perfect choice for her pool house. She chose Quarziti 2.0 , which mimics the look of quarried quartz by gently incorporating a shading effect and subtle iridescence that resembles natural elements while creating a stunning modern aesthetic. Belgard's porcelain pavers offer the perfect foundation and finishing touch to the pool house and surrounding landscape. Porcelain pavers look similar to indoor porcelain tiles, only thicker and more durable, providing an indoor-outdoor feel.
"We decided to go with the Quarziti 2.0 style because I love how the Glacier color resembles sand and other natural elements you find by the sea. The added texture looks amazing with our design but also is slip-resistant. Perfect for our family!"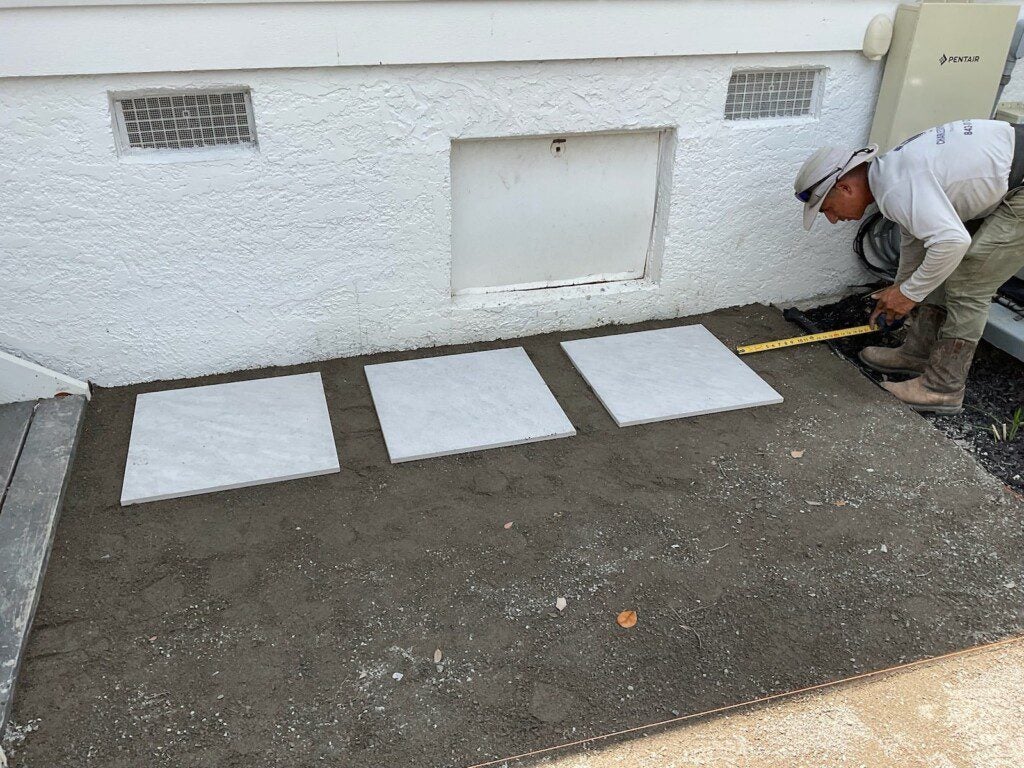 Porcelain pavers are perfect for a pool area because they are resistant to corrosion from salt, chlorine and saline water. You'll find these pavers are an ideal investment and will last a lifetime because of their durability and color preservation, meaning they won't fade.
"After pulling years of inspiration for this pool pad project, I had a vision," states Megan. "I knew I wanted to install pavers and turf not only for the aesthetic, but because they are low maintenance and durable to withstand constant exposure."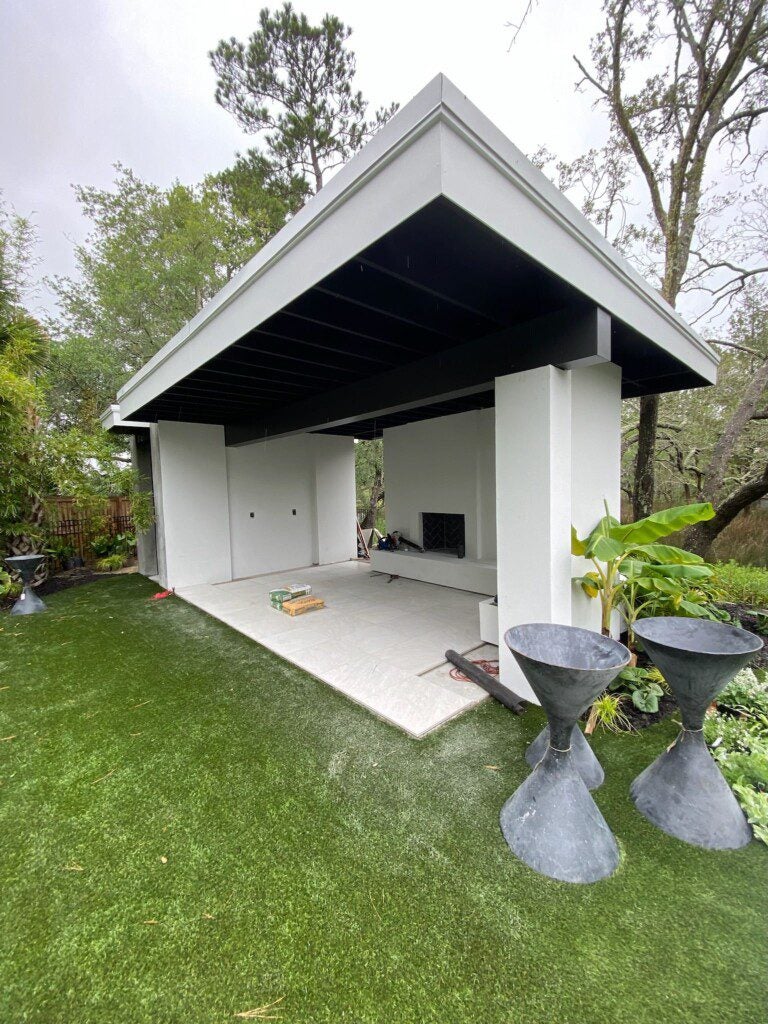 Incorporating Belgard's Colors Of The Year  
The Lowcountry region of South Carolina, where Megan's home is located, includes rich salt marshes and coastal waterways, which created the perfect opportunity to feature this year's colors of the year – Tidepool (a deep teal) and Seagrass (a soft sage green) that represent the connection between land and sea. You see these two colors throughout the pool house, from decorative pillows to greenery, throw blankets, and more.
"Choosing finishes and furnishings inspired by Belgard's 2023 colors of the year was a no-brainer," said Megan. "We wanted our pool pad to look chic and modern while also creating a soothing sense of calmness inspired by the lush greens and blues of the South Carolina coast, which is perfectly embodied by Tidepool and Seagrass."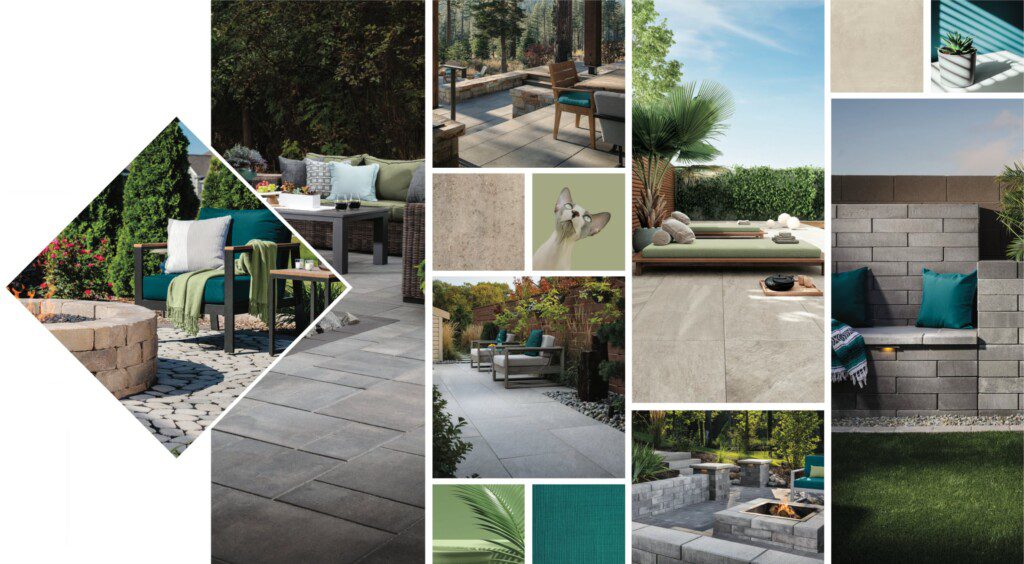 More on The Mod Pod Pool Pad
You can see highlights from the project on Megan's Instagram, blog and YouTube.