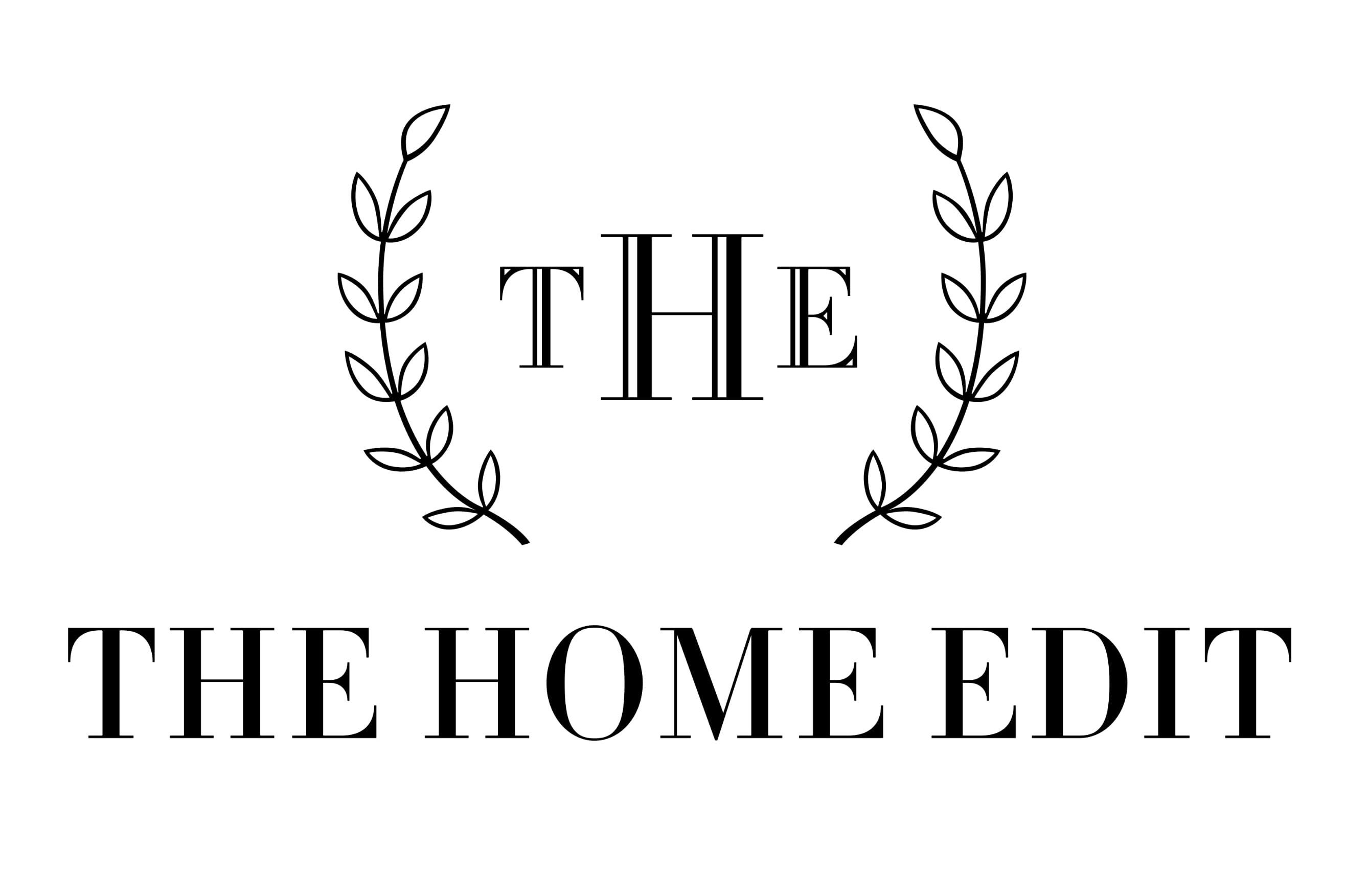 You may have heard of The Home Edit from the Emmy-nominated Netflix show Get Organized with The Home Edit or their two New York Times bestselling books, The Home Edit and The Home Edit Life. The brand has reinvented traditional organizing, merging design and interior styling to create a signature look that is known across the globe. Belgard's team was thrilled to partner with The Home Edit to transform the backyard of their brand house into a functional space they can use to relax, entertain and work.
Reimagining Small Outdoor Spaces
The Home Edit's brand house is located in a popular neighborhood in rapidly growing Nashville. When Belgard first met with their team, they wanted to maximize their outdoor space to its full potential to work, film content, socialize and take a moment to relax during their busy workdays.
"The Home Edit brand house has a great backyard, but it needed a bit of finesse to meet their specific needs," says Joe Raboine, Vice President of Design at Oldcastle APG. "While their outdoor space is slightly smaller, given its location in a major city, that didn't mean we couldn't give them a perfect and functional outdoor living area."
Backyard Design, Creating The Home Edit's Outdoor Space
The Belgard design team worked to create a space perfectly suited for their small backyard. Designing a smaller space is all about curating a thoughtful design plan and creatively using materials like patio pavers and outdoor accessories to maximize space and still add functionality. Upgrades like paver flooring can create a cohesive, clean aesthetic and can almost double the size of your patio.
Pergolas are another effective and easy option to transform your backyard into an oasis. Pergolas add style but are also highly functional to add shade and section parts of your patio. Belgard outfitted the Home Edit patio with Barrette Outdoor Living's easy-to-assemble pergola with decorative screen panels that added an element of design while providing privacy and shade. 
Joe and Mike Miles, Designer Services Manager for Belgard Design Studio, designed and converted The Home Edit's smaller yard into an amazing and multi-functional outdoor living area.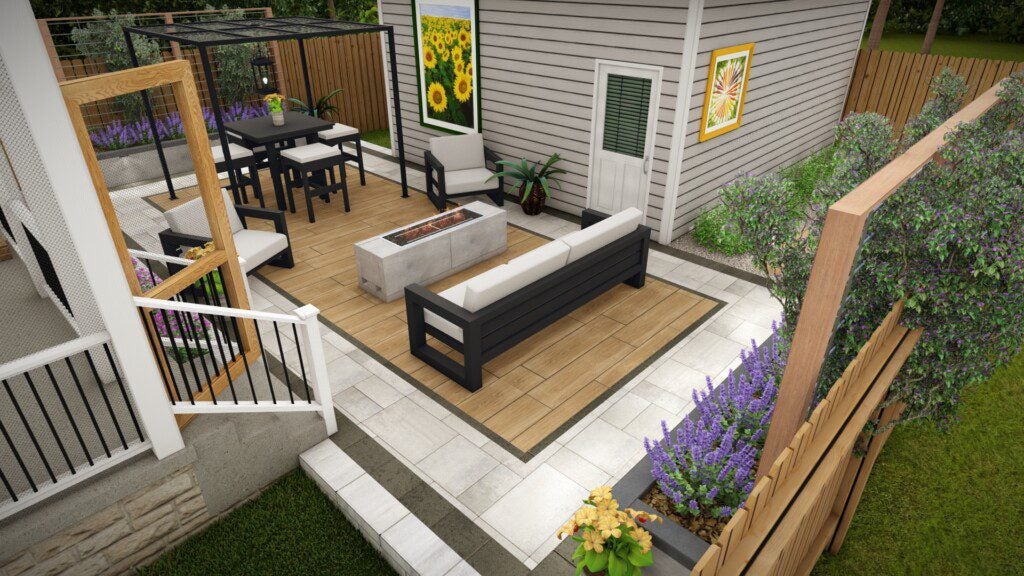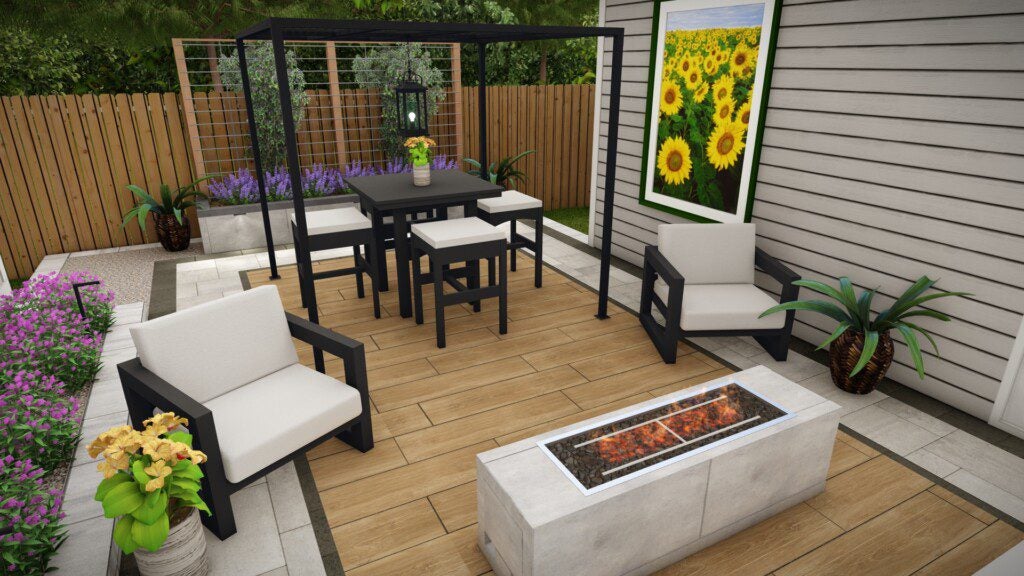 Navigating a Small Backyard Build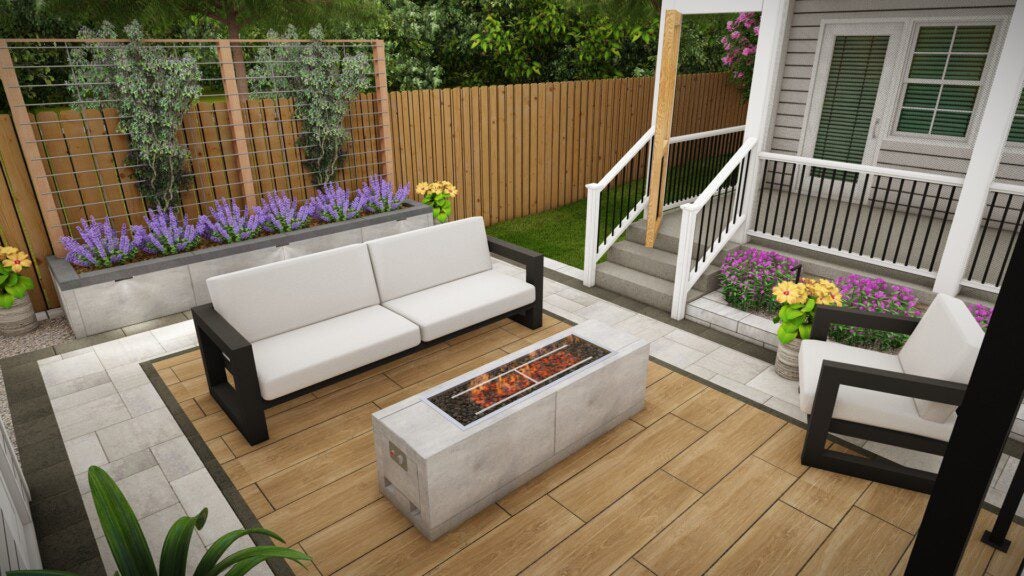 After working around Nashville building codes and permits, it was time to break ground in the backyard. Before starting a project, if you have a smaller yard, double-check to ensure all your products and materials can be easily transported into your backyard. Your contractors should be conscious of this factor, but it's a crucial element that the space is fairly accessible for the site crew and their equipment needed for the project.  
Bring Your Small Backyard Ideas to Life
Although The Home Edit's brand house is modern, it still feels like home, unlike your typical workspace, which we hoped to translate into the design. At Belgard, we believe in and have seen the benefits of biophilic design on mental and physical health. That's why having an outdoor space that you love and caters to all your wishes is important, which we wanted to accomplish for the Home Edit's team using our top-quality products.
Belgard's Melville Series provides a seamless aesthetic and complements any project, which was perfect for the retaining wall and planter connected to the house, creating a modern feel and custom appearance. The design also includes Artforms, a modular panel system that can quickly and efficiently construct outdoor kitchens, seating, and more. In this project, Belgard opted to build the panels into raised beds to bring The Home Edit's backyard to life. We included native plants and shrubs into the landscaping to enhance elements of biophilic design.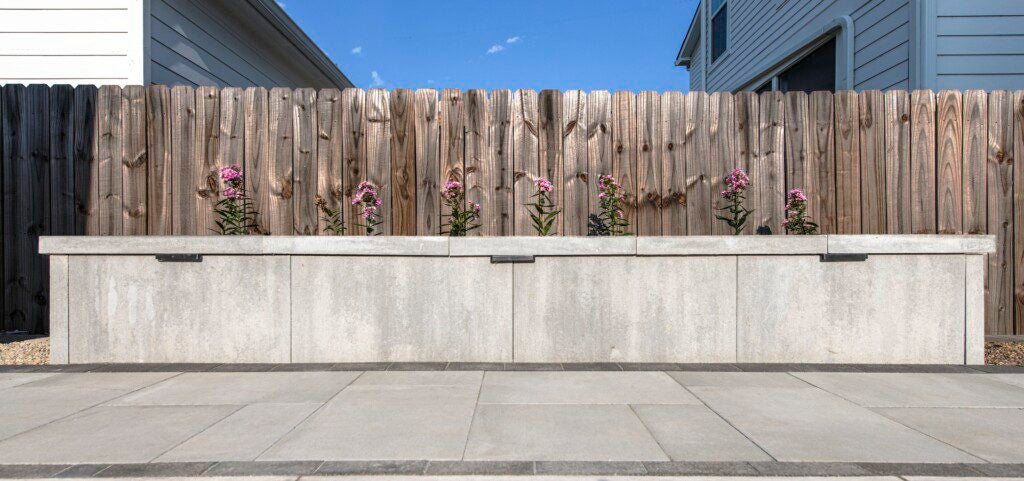 The Elements Linear Gas Burner Kit is the main focal point of the space, allowing the team to enjoy the fire pit at the click of a button using its battery-powered electronic ignitor. Belgard picked this stainless-steel system option for The Home Edit, not only for convenience but also due to wood burning restrictions and regulations of the home. The smokeless kit's thermocouple aspect is an added safety feature that stops the flow of gas if the flames go out. It's the perfect option to get the fire pit you dreamed of that meets protocol, is easy to use, and still complements your space's design.  
"We loved working with Belgard to transform our backyard into a dreamy outdoor oasis. They offer infinite design options and work closely with you every step of the way. Thanks to Belgard, we now have the perfect space to host team happy hours or just unwind after a long day."
The Noon fire pit is perfect for day or night entertaining. Coworkers and guests can use it as a gathering space at The Home edit brand house.

When powered on, the Noon fire pit lights up The Home edit patio space.

The Noon fire pit and Mirage pavers provide modern elegance to The Home Edit outdoor space.

The Noon fire pit adds warmth and a modern touch to The Home edit patio.
See this Space in Your Backyard with Augmented Reality
See The Home Edit's newly designed backyard in your space by using your smartphone to visit Belgard Rooms. With Belgard Rooms' augmented reality (AR) technology, you can project this outdoor living design onto your backyard and walk through the space to see how it looks from all angled. Belgard Rooms also offers more templated AR rooms to inspire you and help your outdoor living dreams become a reality.
Click here to learn more details about The Home Edit's project, including detail descriptions of each design element and the products that brought the space to life.