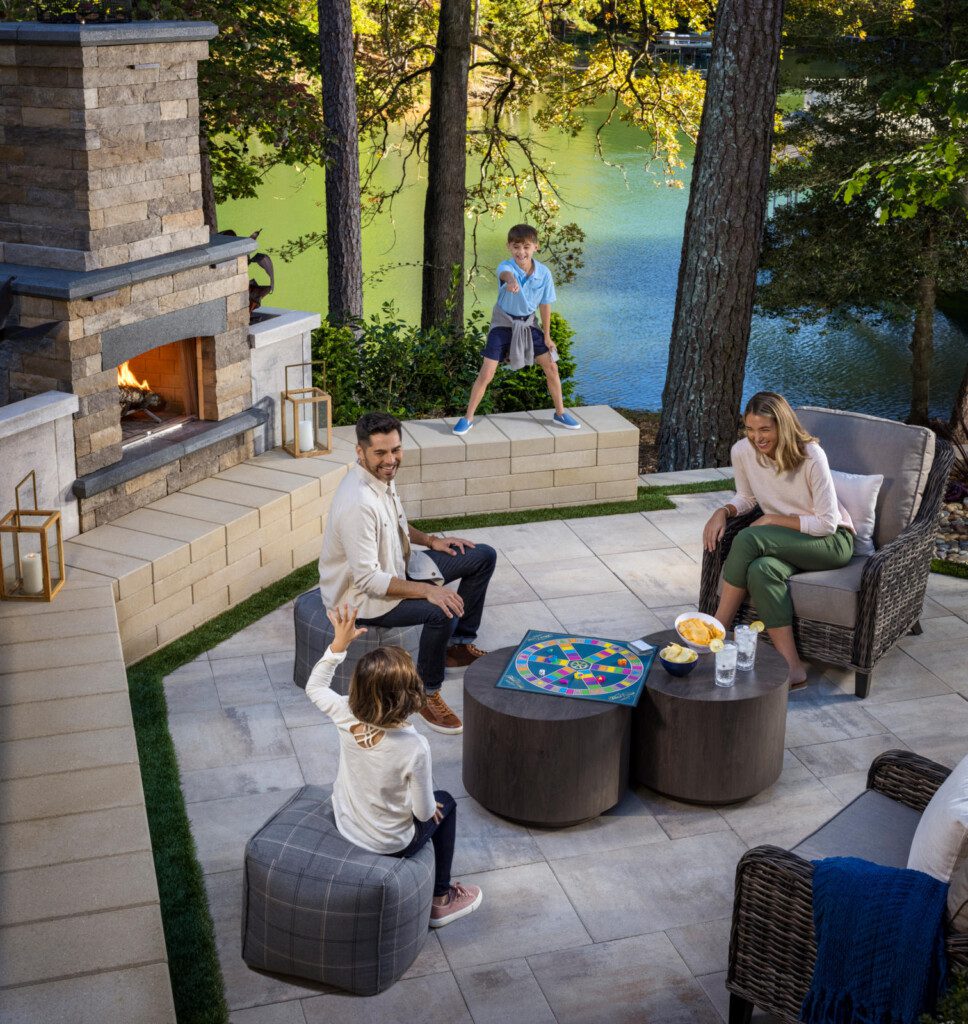 It makes sense that our last full month of summer is National Wellness Month. Nothing recharges the body and mind like spending quality time outside. That's why prioritizing how an outdoor space can benefit your health and wellness is important. Studies show that spending time outdoors has many physical and mental health benefits.
So, whether you're a homeowner designing your own outdoor space or are a contractor designing for a client, why not design a space that helps people live well?
Proof: Being Outside Makes You Feel Better
Spending some quality time outside boosts mental and physical health in a variety of ways. These are just a few of the health and wellness benefits that can be reaped from being outdoors.
Improving breathing: A 2016 study showed that people who lived in spaces with more greenery had significantly better respiratory health. Also, air pollutants are actually often higher indoors than outdoors – so why not retreat to the patio?
Catching some Zzz's: Getting direct sunlight often helps you sleep better by making you feel more tired at night, shortening the time you need to fall asleep, and improving the quality of your rest overall.
Improving your mental health: While experts don't fully understand the effects of sunlight on mental health conditions like depression, it can help reduce the symptoms, boosting mood and lessening fatigue.
Boosting your immune system: Spending time outside is shown to help improve immune function. To get scientific, being outdoors helps you come in contact with microorganisms that can bolster your immune system to fight off infection.
Motivating you to move: Outdoor exercise tends to be more motivating than going to your average gym. Exercising outside is often found to be more enjoyable, and many people find their workouts less strenuous. And you don't have to be sprinting up a mountain for it to count as exercise. Simple things like walking or gardening help you move your body and spend time in nature.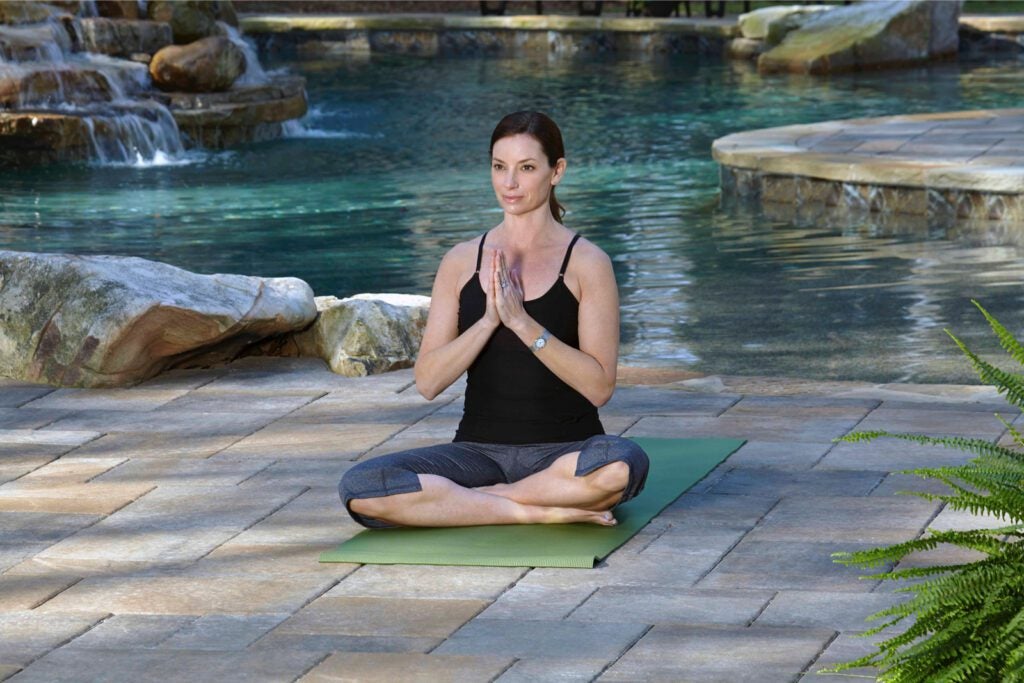 Fostering Wellness through Outdoor Design
A home outdoor space should be a sanctuary. Incorporating biophilic design concepts in an outdoor designs is a great way to not only add beauty, but ensure the space promotes health and well-being.
Biophilic design meshes natural and man-made materials to create an organic look and feel. This design style helps the space feel more connected to the natural world and can be tailored to your specific needs.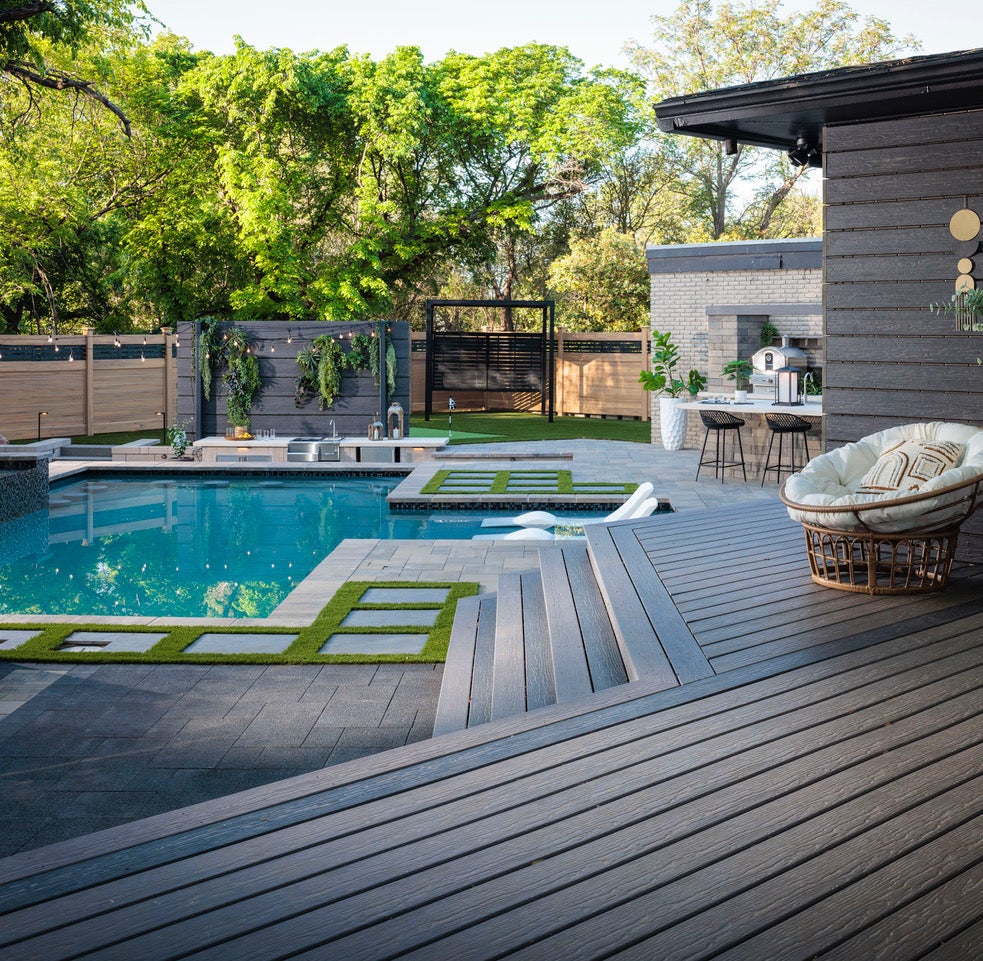 Considerations when designing for well-being.
Mix Up Your Materials: Using a mix of different materials in an outdoor space adds texture and depth and can blur the lines between different elements in the space. Entangling pavers is a popular style, which blends concrete pavers with grass, turf or landscaping. It creates a beautiful effect, and there are several different techniques to achieve different entangled designs. You also can add contrast with the use of several different materials, such as glass or stone, alongside traditional building materials like pavers and decking.
Plants, Plants and More Plants: There's nothing more natural than plant life and greenery. Adding various plants into a space will help balance out the natural elements and add pops of color, especially in more monochromatic designs. You can create a living wall with climbing vines that run along a pergola, retaining wall or fence, or add a vertical garden for height and extra privacy. Built-in planters are another great option to add flowering plants or even small fruits and vegetables.
Harnessing the Elements: Earth, air, fire and water make up our planet. Why not add some fire and/or water to a backyard? Fire pits are always a popular addition to many yards, offering a central gathering place with cozy appeal. If budget allows, an outdoor fireplace makes a dramatic focal point. For a more subtle addition, fire bowls offer a striking aesthetic while taking up less space. Water features like water bowls and bubbling fountains can add a sense of peace to a backyard space. The sound of water features has a calming effect that is also proven to reduce noise pollution and can help drown out sounds from nearby neighbors.