Fire features are a popular element in outdoor designs. They bring an element of literal and metaphorical warmth, extend the use of outdoor spaces and provide unique gathering spots. Advancements in outdoor design mean there is a variety of fire features that accommodate all designs, needs and spaces.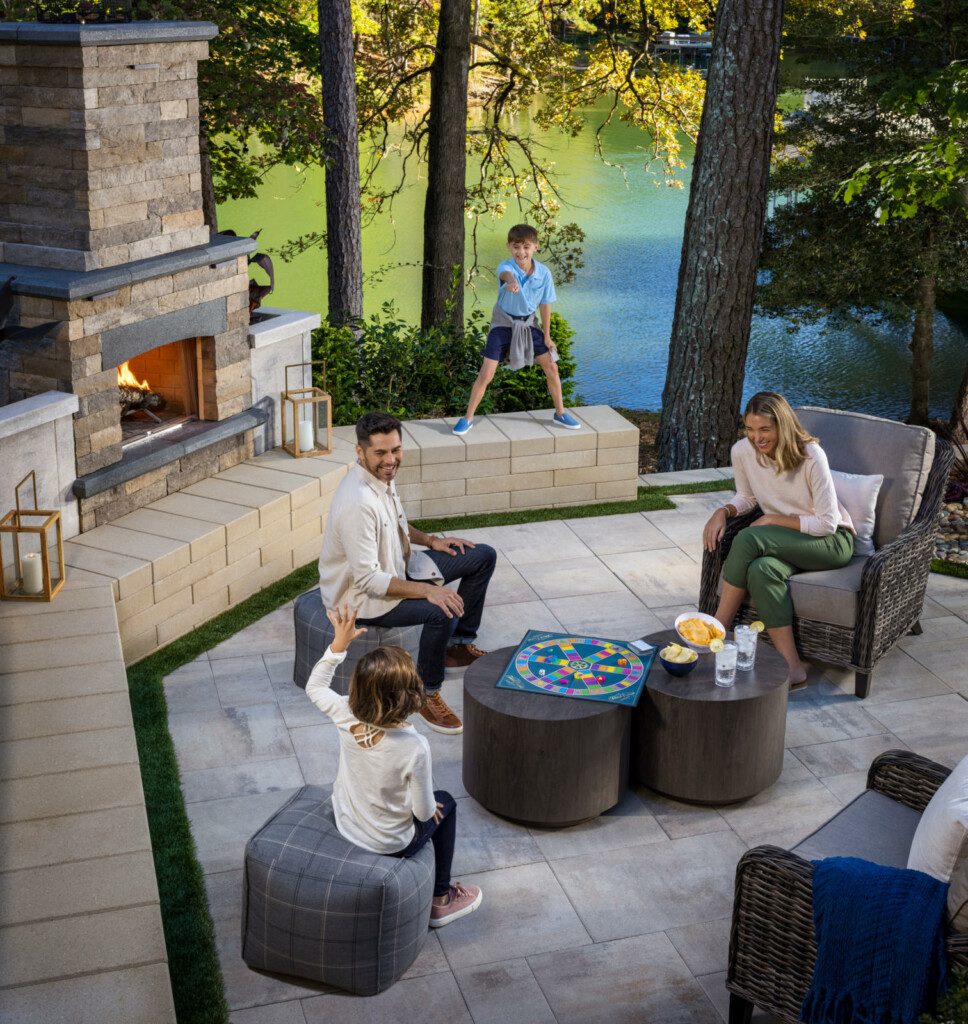 There are several considerations to make when narrowing down your fire feature options. Here are five questions to ask yourself when deciding which one is right for you and your space.
How do you use your outdoor space?
Function is the foundation of design. You want to design a space that looks good, but that is usable for your daily life. Start by establishing what you want to do in your space and allow that to guide your design decisions.
For example, if you dream of hosting big, backyard bashes, then a fire pit is the way to go. The open design is perfect for seating large groups and encouraging conversation. Adding a fire insert to your tabletop elevates a dining experience, while an outdoor fireplace is a cozy retreat to enjoy a glass of wine.
What does your outdoor living area look like?
Taking in the size and shape of your space is important to determine which feature works best for your yard. Fire features should be located at least 10 feet away from your home and flammable structures (like sheds, carports and trees).
Small and Narrow:
An outdoor fireplace or a compact fire bowl is best for smaller yards. Fire pits require space around the entire structure, whereas fireplaces do not. Fire bowls are great decorative fire features that offer the same flickering glow in a smaller space.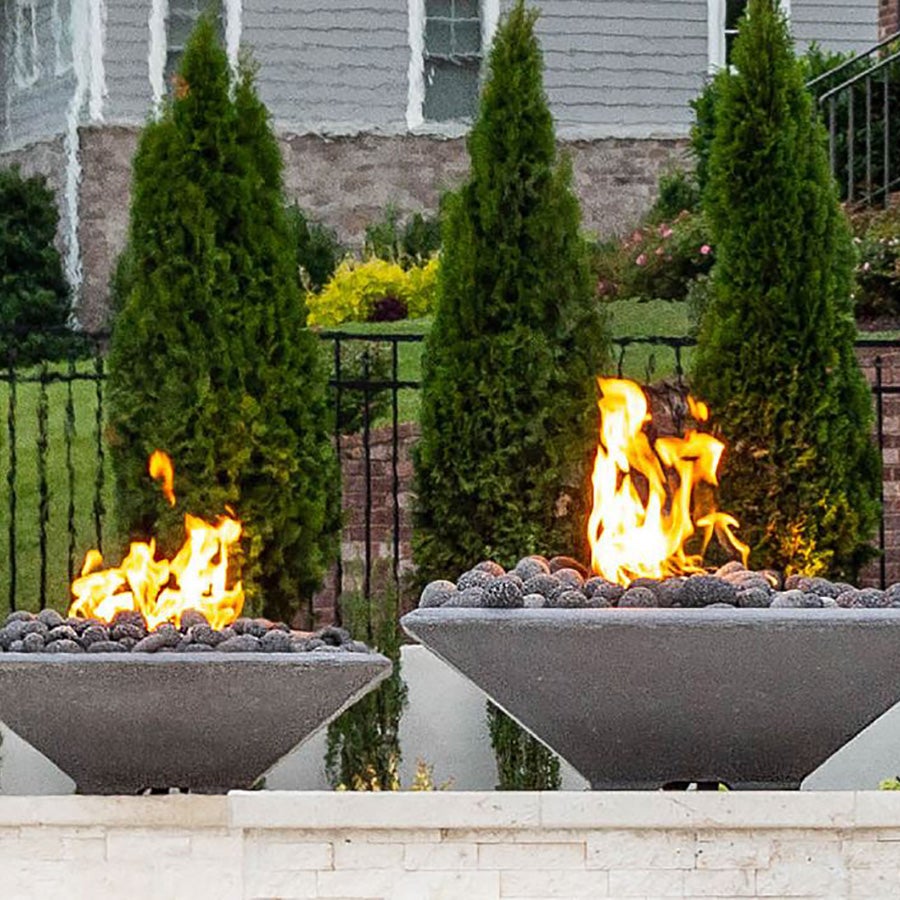 Open to the Scenery:
If your space has a view to enjoy, a fire pit is a perfect option. They won't obstruct your sightlines, so you can enjoy your mountaintop view or artful landscaping.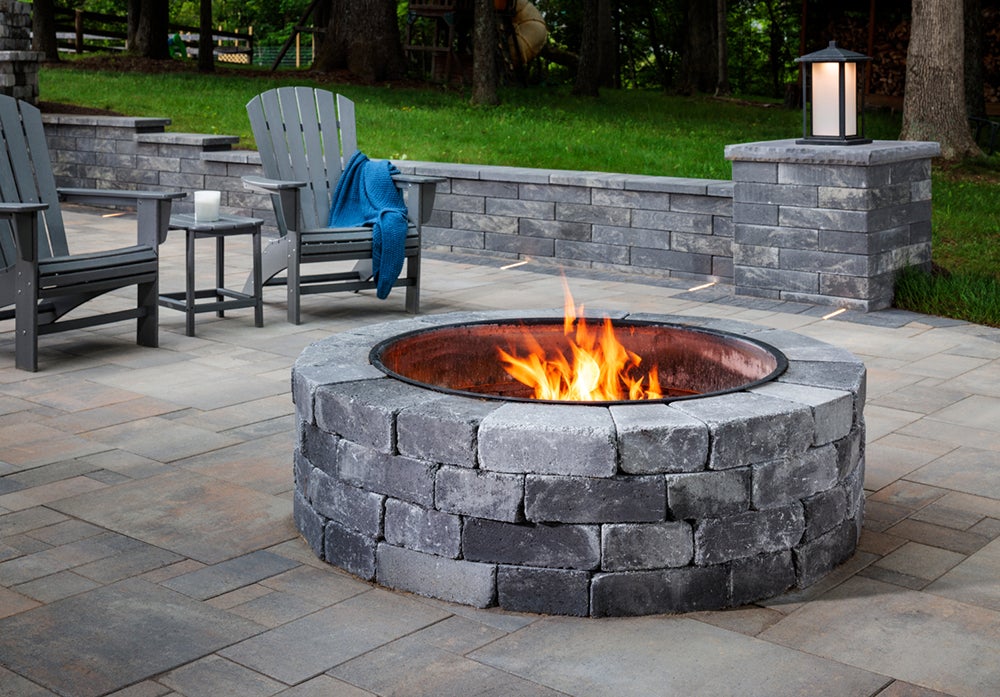 Covered Structure:
You don't have to sacrifice the heat just because your porch or pergola has a roof. Like indoor fireplaces, outdoor fireplaces can be placed under a covered structure – the chimney directs smoke and sparks safely away.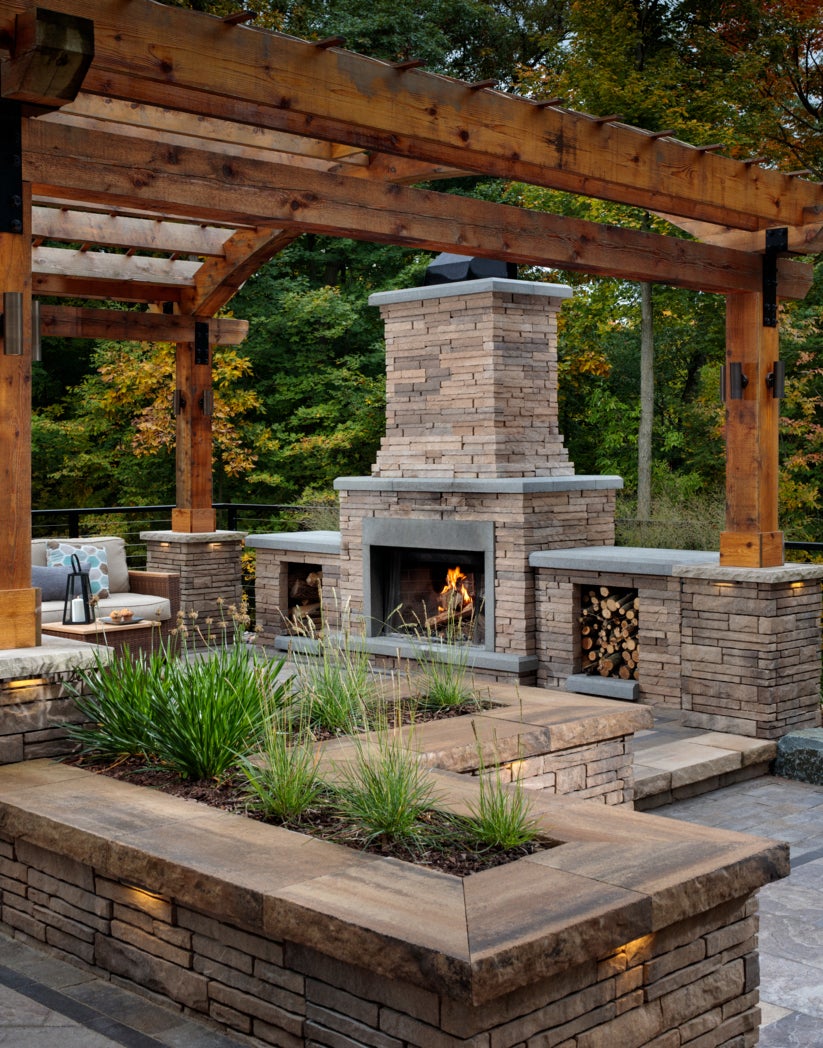 Wooded:
Gas fireplaces and fire pit inserts do not produce smoke or sparks, making them safer for wooded areas. But never leave fires unattended and always keep sand and a hose nearby for safety.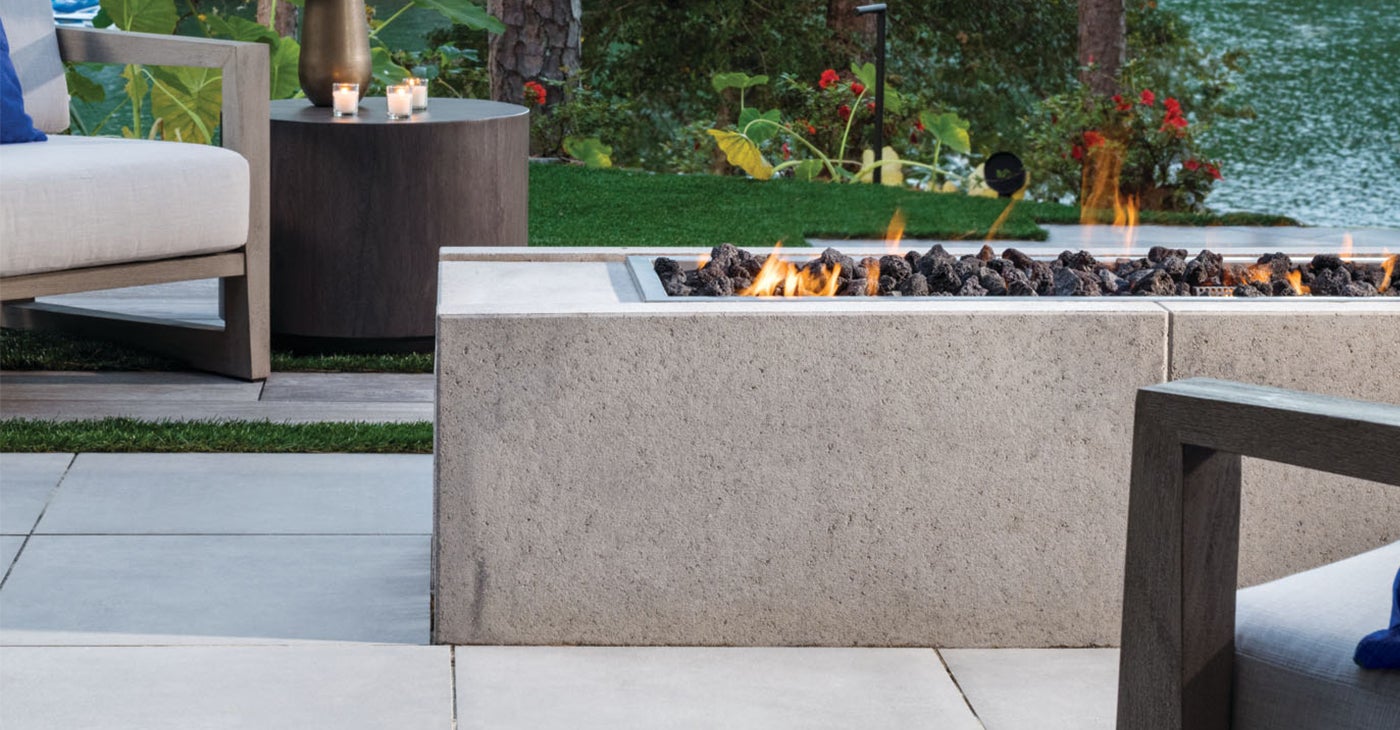 What's your outdoor style? 
Style is an integral part of design; your aesthetic is the expression of yourself within a space. You can further your style with color and material and match your fire feature to any style.
Formal Elegance

A fire table is the perfect choice to add luxury to your space. Using gas fire pit inserts, these features can be incorporated into different elements of your design. Consider a linear insert placed on a long dining table or a cozy conversation pit with a wide lip for setting drinks or snacks.

Rustic

There's a reason fire pits are often found near cabins and summer camps. They have a rustic vibe that makes you feel in touch with nature. Fire pits are a good choice if you are looking for a design that skews toward a rustic log cabin or uses lots of natural materials.

Cozy

To evoke a small feeling in a larger space, put in an outdoor fireplace. The familiarity makes any space feel more like a room, and the output warmth draws people closer for quiet conversation.

Modern

If you want a high-impact look without much space, look no further than a fire bowl. A smaller version of a fire pit but self-contained, fire bowls come in several different shapes and bring a pop of elemental brightness to a design. Use them to highlight outdoor features like stairs, pools, or other areas.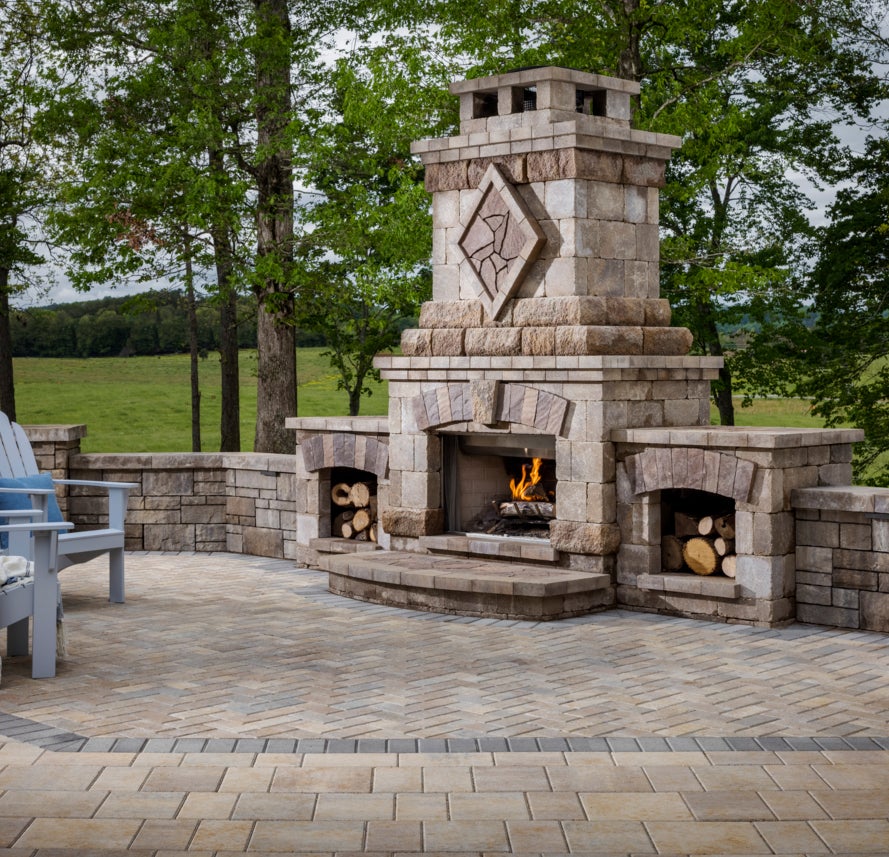 How much maintenance do outdoor fire features require? 
Yard maintenance is a part of having a usable space, but different features have different needs. Decide if the feature you want is worth the required maintenance.
As little as possible – fire bowl or fire table, they use gas and don't need as much upkeep, but do need to be covered. However, they do cost more upfront.
Some maintenance – Fireplaces need to be cleaned out every six months to a year and have their chimneys cleaned, just like they do indoors. While you can clean and sweep the firebox yourself, a pro needs to handle the chimney.
Moderate maintenance – Fire pits have the most maintenance, but the trade-off is you can do it yourself. Debris needs to be cleaned out of pits every few fires or so, but this can be done with a shop vac and strong hands.