Traditional outdoor design – think straight lines and defined edges and borders – remains a standard in the outdoor living industry. But this design approach is evolving due to the increased demand for outdoor living spaces that foster a deeper connection to the surrounding environment.
Outdoor living is now a staple in many people's lives, making the design even more of a focus. Creating a quality, functional design not only makes your client happy in the end but also showcases your team's skills. One way to create a truly unique space that reflects the client's personality is creatively using a mix of different materials.
Here are a few different applications for incorporating mixed materials in your next project.
More Interesting Mixed Material Patios + Decks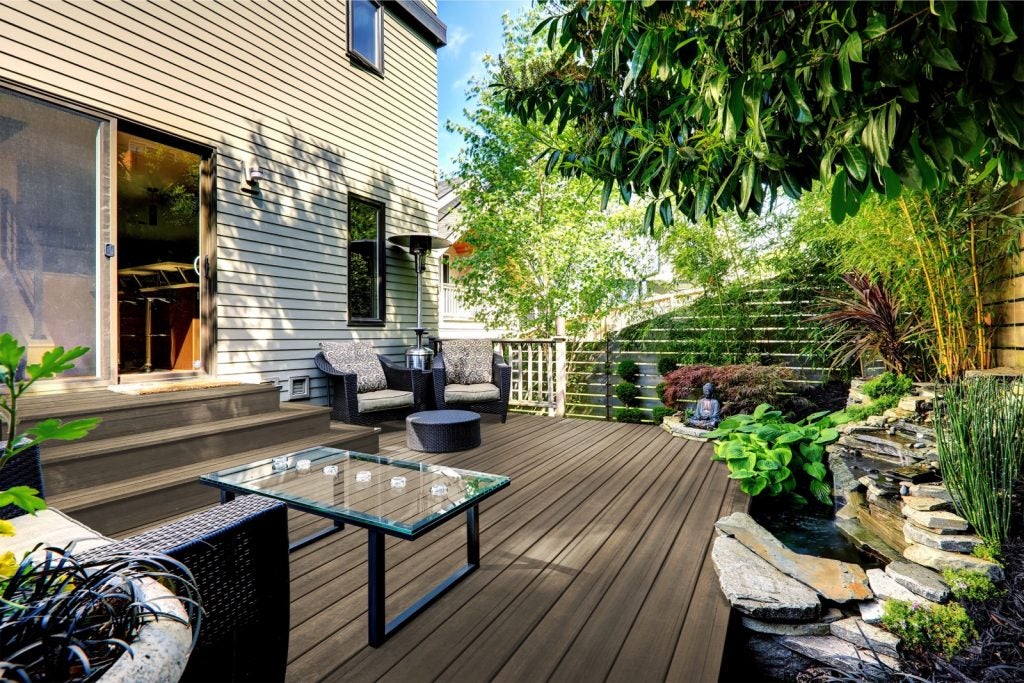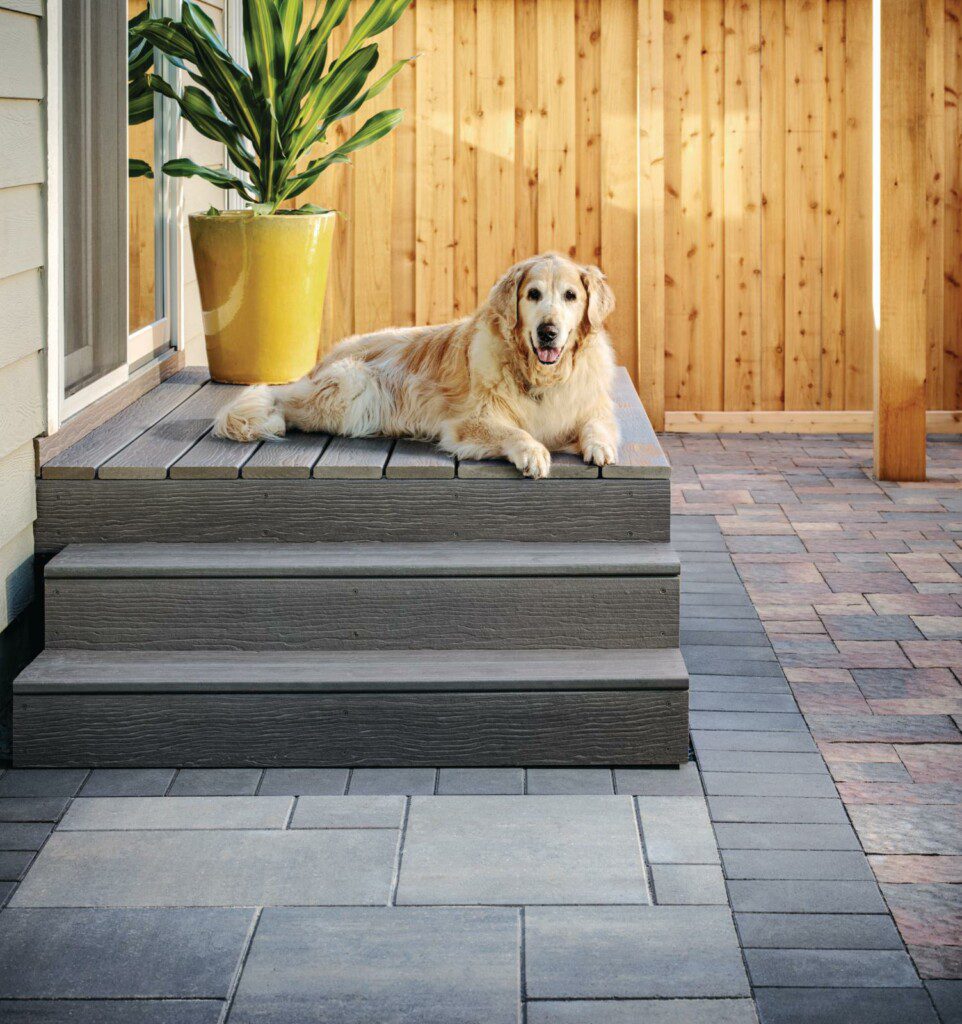 Homeowners today see the value in having both a deck and a patio as part of their outdoor living area, which opens up the possibilities for mixed material designs. You can use a variety of Belgard pavers for the patio while incorporating composite decking that imitates the finish of natural wood for the deck. MoistureShield offers a variety of composite decking products with different textures and tones that perfectly complement – or contrast – Belgard pavers.
Implementing more organic deck designs and incorporating them into landscaping adds more visual interest to an outdoor space. Composite decking can create curved edges or even circular decks that veer away from traditional deck design. These designs allow for more organic incorporation of the surrounding landscape, following the curving lines of garden beds with no defined break. You can also utilize decorative gravel to add more texture.
Outdoor Biophilic Design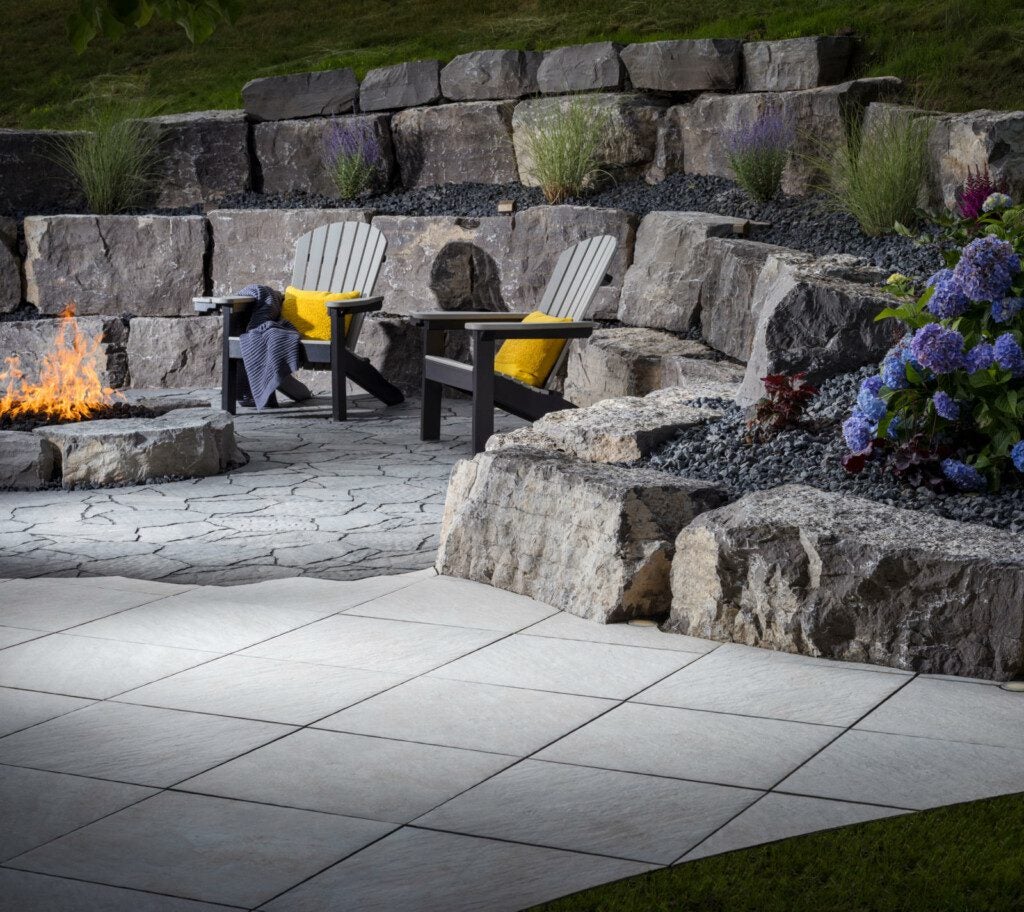 Speaking of plant life, biophilic design is the perfect way to achieve a harmonious balance between hardscapes and landscapes. There are a variety of techniques that can be used to blend hardscapes into grass, turf or other plants. You can create the illusion of pavers entangling with a lawn or plant bed or create a stepping-stone effect.
This design style lends itself to a more organic look and feel, as it doesn't use defined breaks between elements. You can use rougher, irregular edges and natural stone boulders as transitions.
Accessories + Water Features Using Mixed Materials
Accessory features also play a part in mixed material designs. Formal water features are becoming more popular, and even pools are being used as a design element. Water is a natural fit for biophilic design plans. Popular designs include vanishing edge pools, integrated fountains and spillways. These features can also be created with a variety of pavers and other materials, like PebbleTec pool finishes, to add additional texture and color to an outdoor living space. Even a small water feature, like a simple fountain or water bowl, adds to the overall ambiance of the space.
Striking a Balance
When planning a project with your client, talk to them about their preferences and tastes to identify where to incorporate mixed materials in their design. This will produce a more cohesive design and, in turn, an outdoor space where they feel truly comfortable.