The Philadelphia Flower Show, organized by the Pennsylvania Horticultural Society (PHS), is the longest-running horticultural event in the United States. Every year, thousands of people flock to the City of Brotherly Love to see breathtaking floral displays and experience colorful gardens at the peak of their blooming season – including Belgard.
The year's theme is "In Full Bloom" and focuses on the positive and restorative effects of nature. We know there's no better way to enjoy nature than from the comfort of your own backyard. So, this year we are showcasing Belgard Rooms during the show along with ideas for pairing Belgard products with products from our sister brands MoistureShield composite decking and EP Henry hardscapes.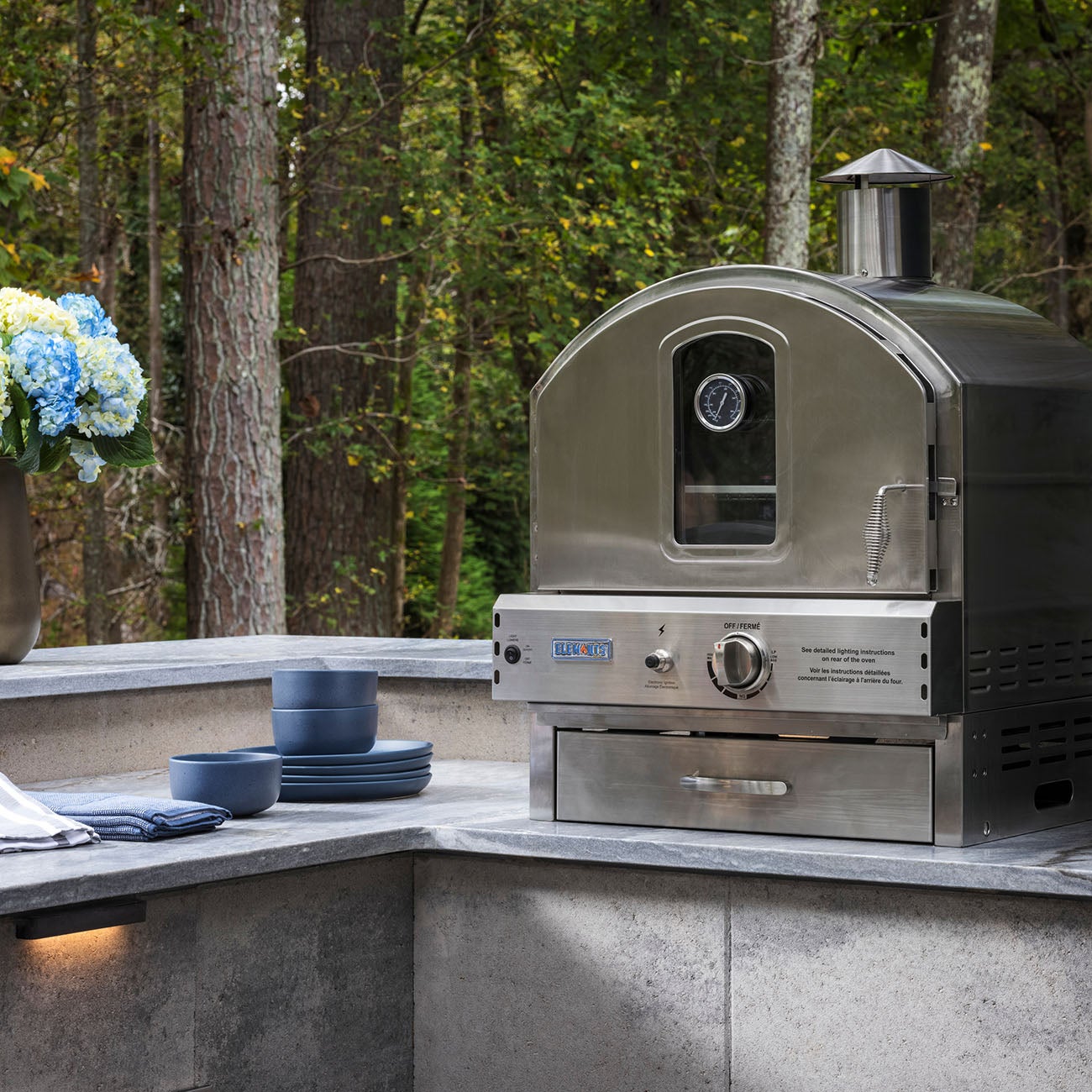 To celebrate the show, we're giving away an Elements Outdoor Oven. This 16,000 BTU oven can be installed as a counter-top oven or built into an outdoor kitchen. Add functionality to your outdoor space with the ability to cook pizzas or anything else that you would cook in an indoor oven.
Nestled among the brilliant blooms, visitors will be able to walk through a model showcase of Belgard Rooms designs that includes an outdoor kitchen, living room and two gardens. The spaces are designed through our interactive Belgard Rooms approach and use a variety of Belgard products to demonstrate their range in design and versatility, including:
Artforms, which brings a clean, modern aesthetic to any outdoor space. This revolutionary system utilizes a large-format modular panel system to create infinite design possibilities with ease. High-strength concrete is mechanically fastened with stainless steel hardware creating little to no mess or disruption. Artforms was used for the outdoor kitchen cabinets, several built-in containers and as built-in seating for the outdoor living room.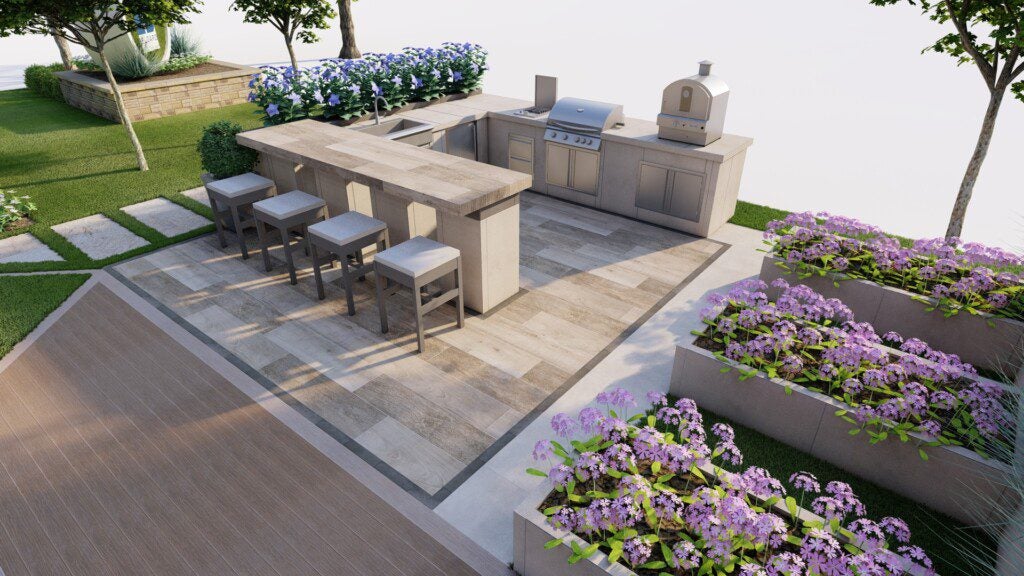 Frost-resistant, skid-resistant, durable and easy to clean, Porcelain Pavers. These are an excellent material for high-use spaces, and the variety of sizes and textures makes them a perfect fit in any design. Flexible installation options allow porcelain to be easily installed in almost any situation. Lay them over grass, dirt, gravel or even existing concrete slabs. Mirage was used in Noon for the outdoor kitchen flooring, Quarziti 2.0 for the mixed-material path and Glocal for the kitchen countertops.
Our new Elements line of outdoor living accessory products. The Elements range includes stainless steel outdoor cooking features, such as grills, ovens and burners, as well as bars, sinks and storage. They are the perfect finishing touches for any outdoor living area.
Lafitt Grana Slab brings sleek contemporary style with modern durability and design innovation. The three-piece modular concrete slap features large-scale units and a smooth finish, providing increased area coverage with fewer pieces and giving every outdoor space a grand appearance. Lafitt Grana was selected for the flooring in the outdoor living room.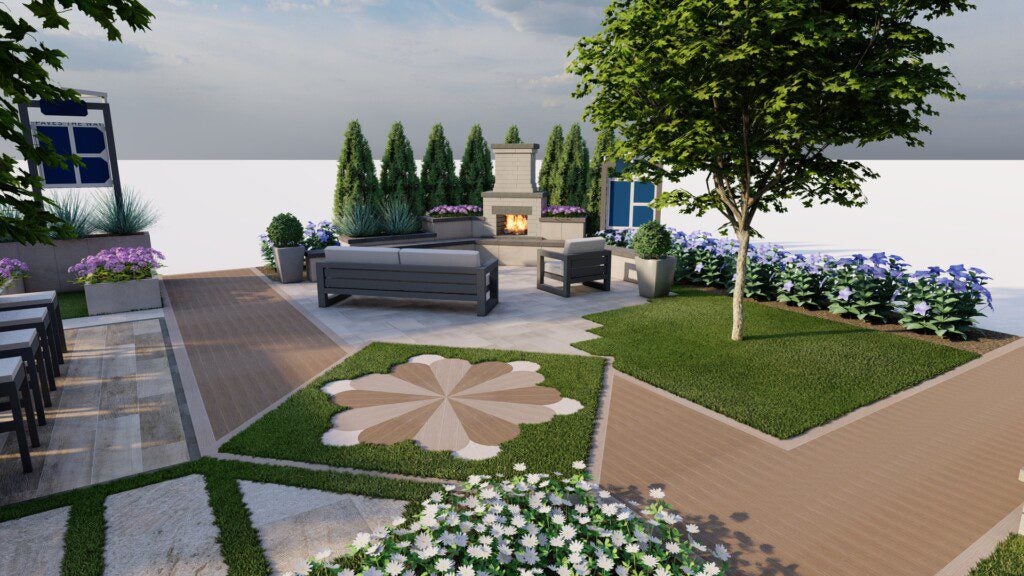 The Philadelphia Flower Show takes place Saturday, June 11, through Sunday, June 19, at FDR Park. Stop by the Belgard booth – located behind the Food Bazaar and in front of the PHS Member's Lounge – to find inspiration for your next project and start planning with Belgard Rooms. You'll even get the opportunity to try out the new Belgard Room augmented reality function.
. . .
Check out some behind-the-build footage of our display in construction!