Belgard Design Studio turns a contractor's sketch and job-site photos into 3D digital renderings
A clearer vision of the finished project saves both contractor and homeowner time and money
Members of the Belgard Authorized Contractor program use the service for free
Smartphone and tablet apps make it simple to manage and revise a project from anywhere, anytime
Arizona contractor John Traynor used to consider himself a bit old-fashioned when it came to designing the elaborate outdoor living spaces his company, Stone Creations, is known for. Having been in business for more than two decades, he was leery of using digital design tools, saying "To be honest, I was pretty skeptical … I am old school, I prefer to sketch my designs."
All that changed when he tried out Belgard Design Studio (BDS) to create a realistic vision of his multi-level segmental retaining wall project. John was hooked after his first use of the service. "This was the first big job that I used the Belgard Design Studio for. Due to the size and scale of this job, having the Design Studio really made a huge difference for me and for the homeowner."
TRAYNOR'S TERRACED LANDSCAPE PROJECT RENDERINGS
Product: Celtik® Retaining Wall & Freestanding, Dublin Cobble

Product: Dublin Cobble, Celtik® Retaining & Freestanding Walls with lights

Product: Dublin Cobble, Celtik® Retaining & Freestanding Walls

Product: Dublin Cobble

Product: Dublin Cobble, Celtik® Retaining & Freestanding Wall

Product: Dublin Cobble

Product: Dublin Cobble, Celtik® Retaining & Freestanding Walls with lights

Product: Celtik® Retaining & Freestanding Wall, Dublin Cobble

Product: Dublin Cobble, Celtik® Retaining & Freestanding Wall
BDS is one of several perks available to members of our Belgard Authorized Contractor (BAC) program, allowing them to offer the service for free to their clients. The program aims to save contractors time and money, and to sell more jobs by helping their clients to preview a true vision of what their project will look like.
How Belgard Design Studio Works
Whether it's a multi-level landscape, a pool deck, a fire pit, or whatever your client dreams up, the first steps of a BDS project actually look a lot like those of a traditional project: meet with the client, walk through the space, talk through their needs – it's the next steps that revolutionize the process.
Contractors can submit a design sketch or choose from a library of existing outdoor room plans, along with a series of photos of the house and surrounding landscape. Then our BDS design experts work with the contractor to bring their design vision to life in a photorealistic, interactive model. Add-ons like fly-through animation and virtual reality views allow clients to virtually walk through the space before ever breaking ground.
That ability to bring a client's vision to life sold John Traynor on BDS after his very first project. "The renderings of day/night and the 3D walk-through video let [my client] see their own home with the specific products and colors that they were interested in," he says. "From there, we were able to add in additional lighting throughout their hardscape install. Initially they weren't interested in lights, but once they saw the nighttime renderings, they said 'Oh wow that is great!'"
"AFTER" PHOTO OF MULTI-LEVEL RETAINING WALLS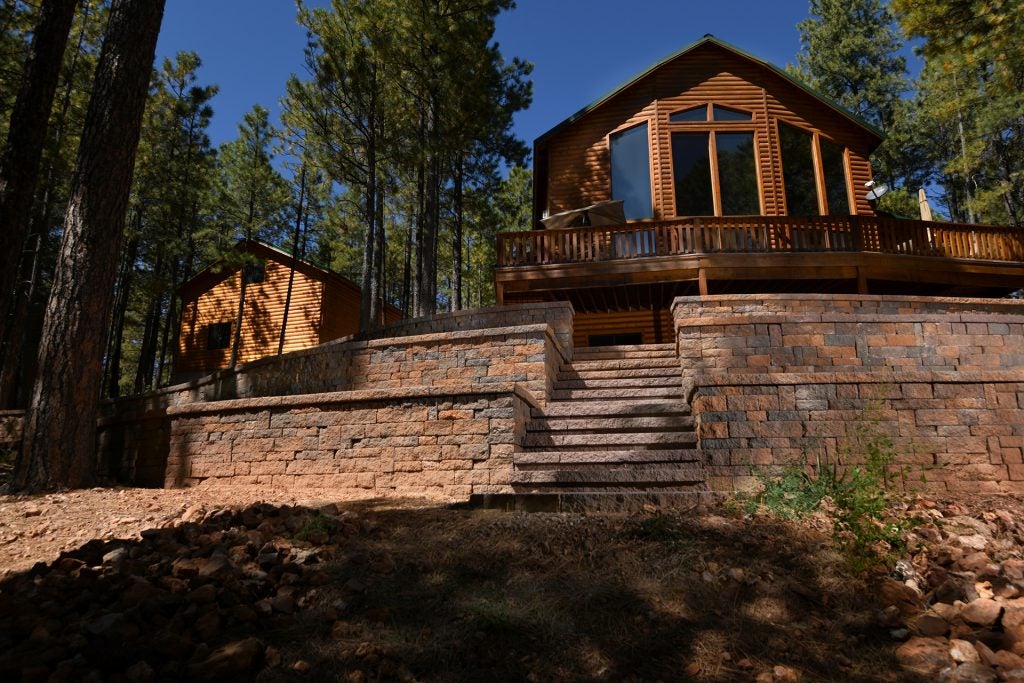 Why Use Belgard Design Studio?
Happy clients, of course, make every job go more smoothly, but there are many other benefits to designing a project with BDS:
Benefits to the Contractor
– Increased closure rates: the average job closing rate for a BDS-designed project is 75%
– Higher rate of customer satisfaction: BDS ensures you and the homeowner have the same outcome in mind, right from the start
– Cost-effective material ordering: the software assists with materials quantities for more efficient ordering
– Improved communication: referring to a 3D rendering lets you discuss project elements in concrete terms
Benefits to the Homeowner
– Clear visualization of end product: the client gets a realistic vision of the look and functionality of their future space
– Eliminate miscommunications: client and contractor can both clearly see the end product
– Catch revision needs early in the process: 3D renderings make it clear when changes are needed, before the first stone is laid
– Cost savings: avoid costly mid-construction design changes
Belgard Design Studio Manager Shawn Fink sums it up: "Contractors are not only able to win more jobs, but also save time. Instead of spending 10+ hours working on designs, they are able to easily send a rough sketch and then we produce all of the virtual assets they need." He adds, "It also leads to happier homeowners who receive full customized renderings instead of a written work order with product descriptions and square footage."
One added benefit to both contractor and client is the ability for BDS to serve as a no-contact collaboration method, during a year when in-person meetings have been discouraged by health officials. With so many people now accustomed to the Covid protocol of video meetings and digital documents, the BDS design process is uniquely positioned to help you collaborate with clients – even after face-to-face meetings become commonplace again.
Getting the Most Out of Belgard Design Studio
Although any contractor can use BDS, the most effective way is to apply to become a Belgard Contractor Member. In addition to other perks like business-building tools and customer leads, becoming a Belgard Authorized Contractor entitles you to free, unlimited project renderings with BDS. Non-member contractors are eligible to use BDS on a pay-per-project basis.
And whether you're a BAC member or simply an occasional paid user, you'll get the best experience with BDS by downloading our smartphone or tablet app for use throughout your project. From uploading pictures to collaborating with your BDS design expert, the app streamlines the entire process to deliver a seamless experience for both contractor and client. Simply contact your Belgard Representative to request a Belgard Contractor App account.
John Traynor's only regret with Belgard Design Studio is that he didn't discover it sooner: "Why haven't I been using [BDS] the whole time?!" But now the old-school sketch artist has happily turned in his paper and pencils in favor of a tablet and the BDS app. Learn more about how Belgard Design Studio can revolutionize your own design process.