Belgard is excited to announce the release of our new Belgard Contractor Programs app. Currently available for iPhone and iPad only, this new app makes it easier than ever for Belgard Authorized Contractors to submit and manage requests for 3D Virtual Reality Design Renderings from the Belgard Design Studio, as well as share and archive renderings.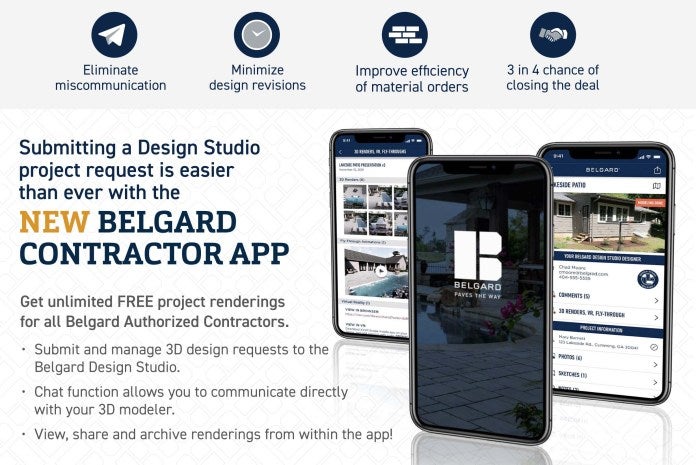 Automate Your Hardscape Design and Review Process From the Field!
The Belgard Contractor app is offered exclusively to Belgard Authorized Contractors and provides the freedom to submit, manage, view, share and archive Belgard Design Studio 3D rendering projects. The app gives contractors the ability to submit design requests while on site with a client, reducing time away from the field and speeding design and review turnaround time. All projects can be viewed and managed within the app.
App Features:
Upload project information, notes, site photos and design sketches all from within the app (no PC or office time necessary)
Integrated chat function to communicate directly with the 3D modeler assigned to your project
View, download and stream your 3D renderings and virtual flythroughs right from within the app
Export 360-degree Virtual Reality views for immersive design presentations
Archive function allows you to carry a digital portfolio of your work wherever you go to show off to prospective clients
Easily share completed renderings with clients, vendors and team members
Integrated with HOVER® 3D Modeling Technology
HOVER® 3D modeling technology allows homeowners to get a photorealistic view of how your design will look with their actual home. This not only helps improve communication between the contractor and the homeowner, it increases the homeowner's desire to get started.
Easy Steps to Submit Your First Project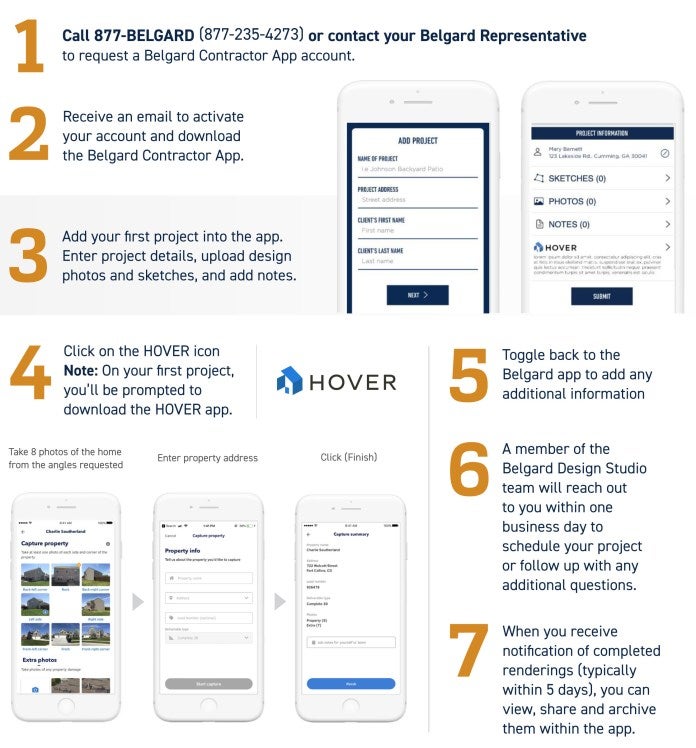 More to Come!
The Belgard Contractor Programs app will soon be available for Android users, too. In addition, more app features are in development to access and manage additional programs and benefits available to Belgard Authorized Contractors. Stay tuned for app upgrade announcements!
. . .
NOTE: The new Belgard Contractor Programs app is exclusively for Belgard Authorized Contractors using iPhone or iPad only. For all other contractors, click here for step-by-step instructions on how to use the HOVER app and Design Studio portal to submit design requests.