When most people think of the value of their home, they think in terms of monetary value — in other words, how much a buyer would be willing to pay for it. But there's more than one way to look at a home's value. You should also think in terms of how much you value the time you spend there. A home is typically a person's largest single investment. Unless you are embarking upon a home improvement project with the sole purpose of listing your house afterwards, you should look at your expected return on investment from both a monetary and an emotional point of view.
With that in mind, research shows that although outdoor living renovations do improve the monetary value of your home, there is also an emphasis on improving the emotional value of your home. When looking at the top 5 backyard trends, it's easy to see that these trends all relate to getting more enjoyment from outdoor living. Homeowners are gravitating towards backyard spaces that allow them to spend less time maintaining their outdoor living areas and more time enjoying and relaxing in them. Investing along these trend lines will also make your home more attractive to a buyer when the time come to sell, adding to both the current emotional value and the future monetary value.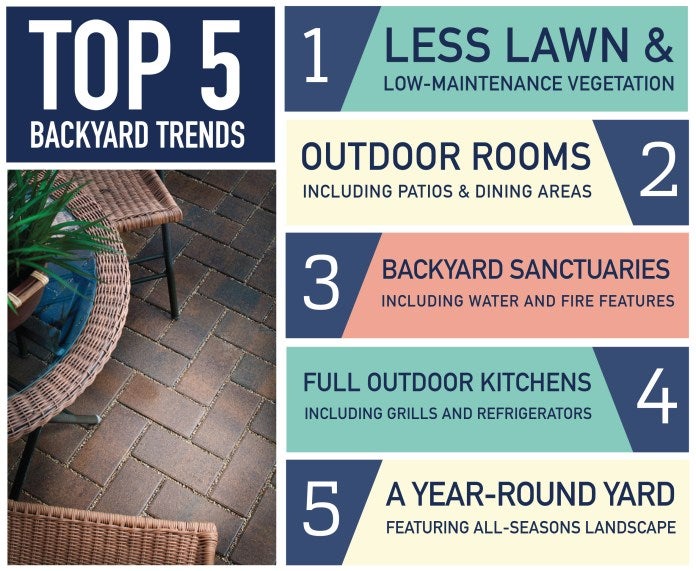 In terms of monetary return on investment, 94 percent of realtors recommend upgrading curb appeal before putting a house on the market. After all, first impressions are extremely important. Curb appeal upgrades that fare well with buyers include picturesque walkways, new landscaping and outdoor lighting upgrades that add to both ambiance and safety. But you should also put a high priority on investing in backyard spaces that have the highest appeal to buyers, including fire features, patios and decks. Upgraded outdoor living spaces with amenities like a fire pit or outdoor kitchen can get a high return on investment because these upgraded spaces offer additional functional living area without the price tag of a large-scale home addition.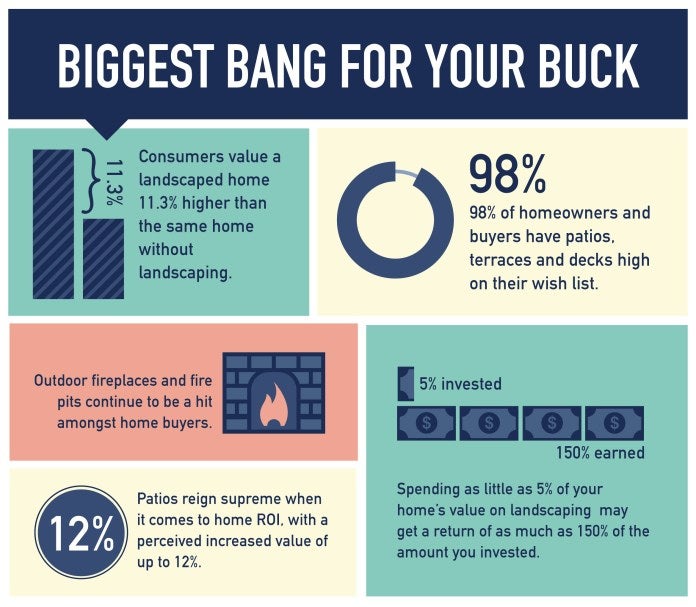 A recent study co-sponsored by the National Association of Realtors and the National Association of Landscape Professionals ranked outdoor living improvements on what they called the "joy scale," which took into account the increase in the homeowner's desire to be home after completing the project. Fire features earned a perfect 10 on the joy scale. New decks, water features, statement landscapes (like a zen garden) and new patios all earned a 9.7 joy score or higher. Improvements that indicated the highest boost to both a home's value and buyer appeal included new decks, new patios, landscape lighting, fire features, irrigation systems and outdoor kitchens.
. . .
Resources: Kiplinger, National Association of Realtors, National Association of Landscape Professionals, Realestate.com, SmartMoney.com, University of Michigan, Gallop, Allstate, Society of Real Estate.