The need to maintain real human connections in the digital age has greatly influenced the design elements of the outdoor living movement. A simple patio with weatherproof chairs and portable grill just won't do the trick anymore. People want a comfortable spot to connect with family and friends that replicates, and in many cases exceeds, the comfort of their indoor gathering spots.
With that in mind, here are some of the prevailing outdoor living space trends that are expected to gain popularity in the coming year.
Contemporary Outdoor Design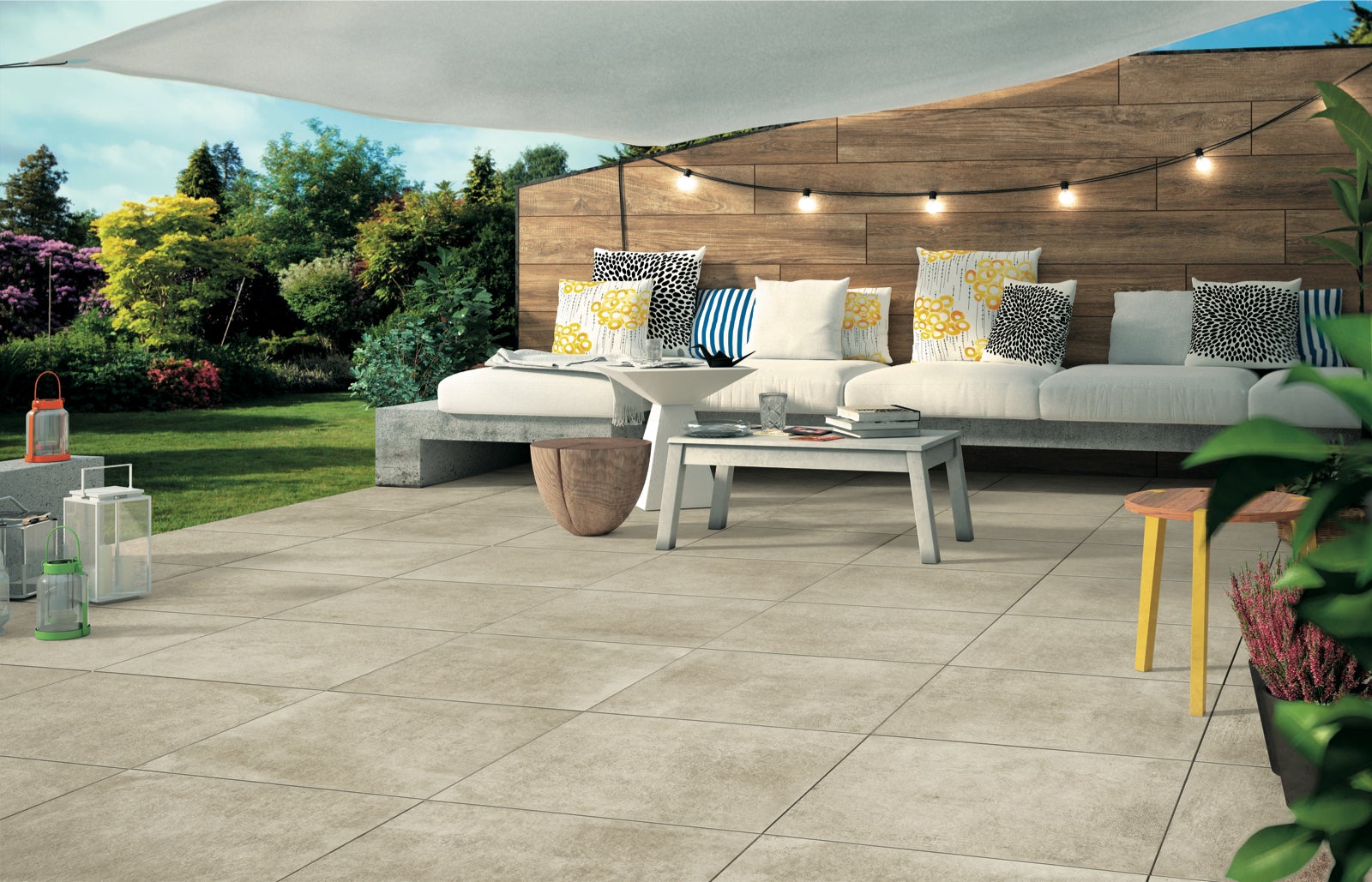 Current outdoor living spaces are definitely following the interior design trend toward the clean lines of contemporary design. People normally associate modular-shaped pavers with contemporary design, but that isn't necessarily true. The textures and colors used can also sway a look towards a more contemporary feel. Although modular-shaped pavers are expected to continue to rise in popularity, expect to see an increase in smoother textures in various styles of pavers. The contemporary trend also leans towards monochromatic color schemes with pops of color.
Pantone Color of the Year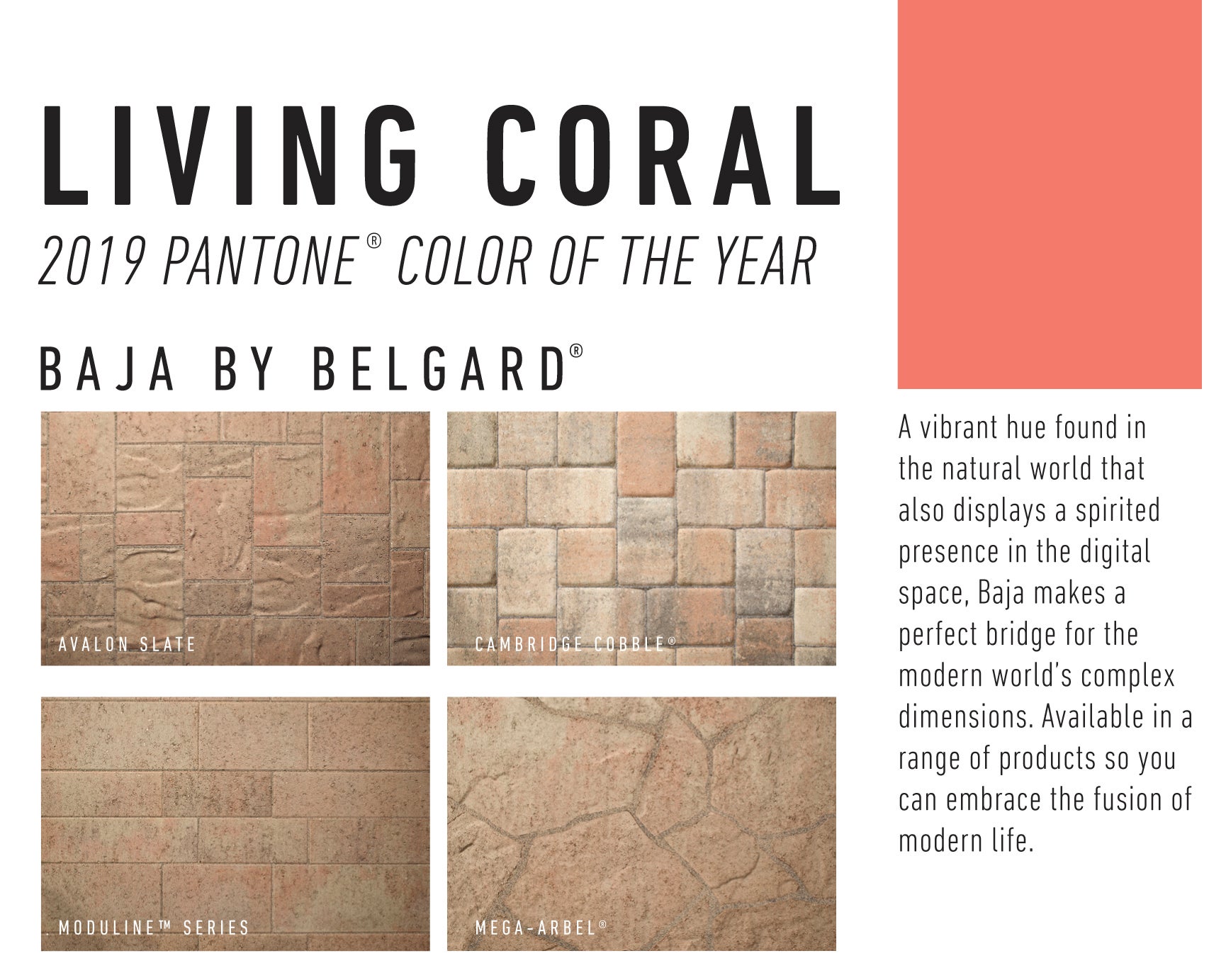 Each year, the Pantone® Color Institute declares an official Color of the Year, which influences many of the design trends. The company recently announced "Living Coral" as the 2019 Color of the Year. This color can be incorporated into outdoor living design in a number of ways. Some pavers have hues of coral incorporated into the color blend. There are also many paver styles with complementary colors that can work well in conjunction with Living Coral. Living Coral can also be used as an accent color for pillows, umbrellas and decorative accessories.
Entanglement with Nature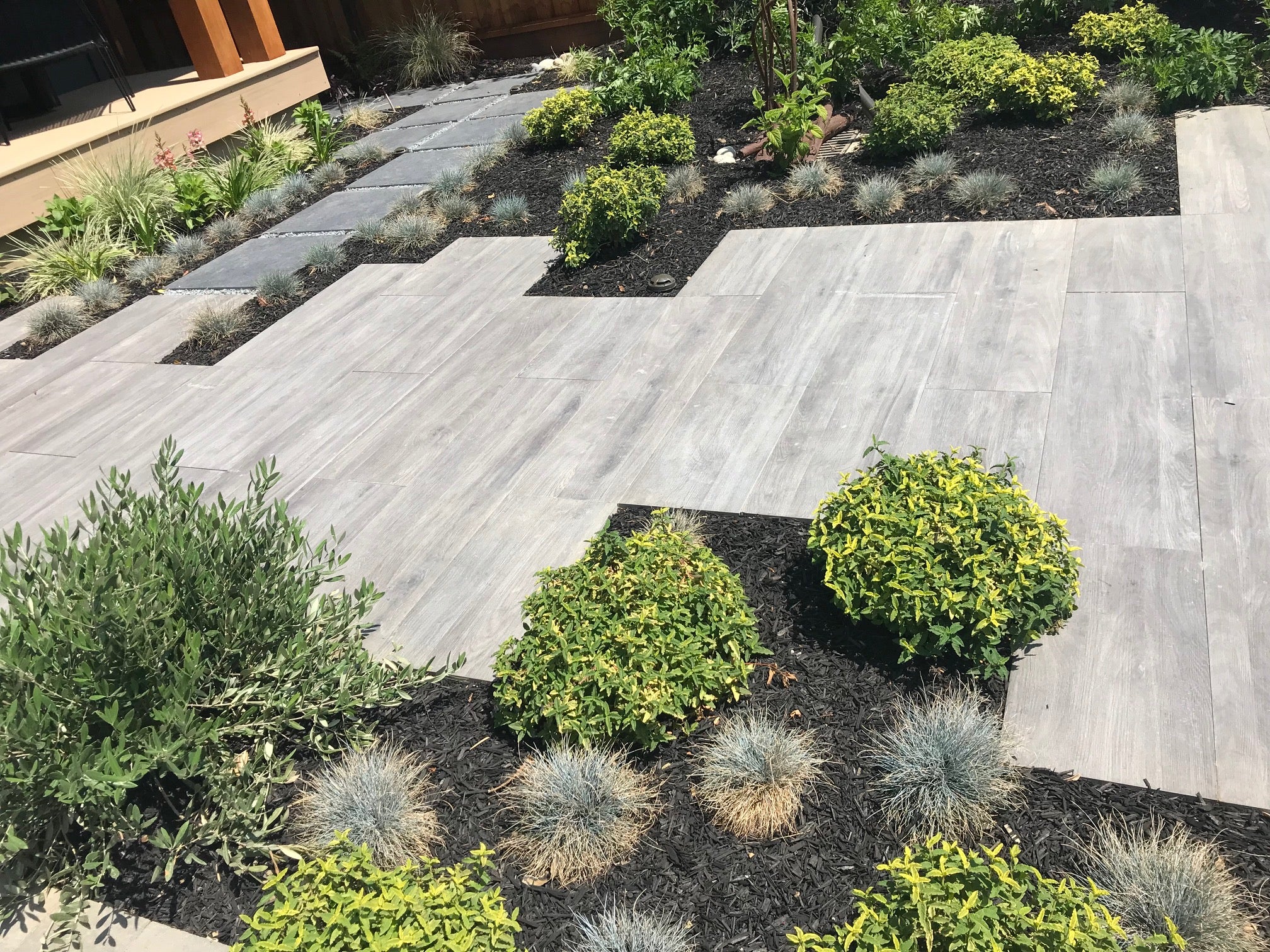 One of the hottest up-and-coming trends is to "entangle" hardscape installations with the surrounding landscape. This can be done in several ways. Pavers can be entangled with adjacent grass or gardens in a "fade away" effect. This effect is even more dramatic when used with plank-style pavers. Another, more formal application of this trending idea is to use porcelain pavers spaced out with strips of grass to create a checkerboard or stepping stone pattern.
Natural Textured Walls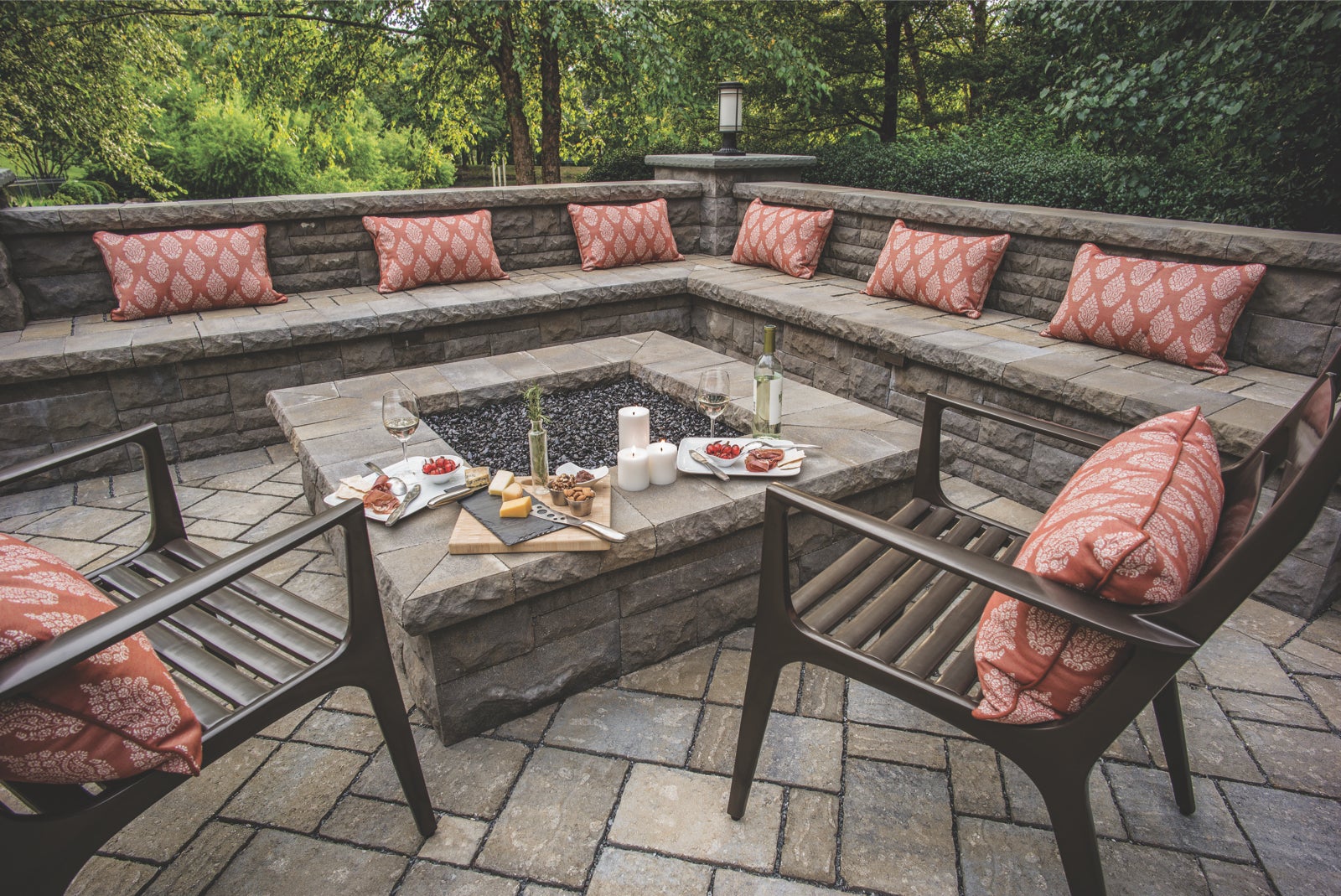 More and more homeowners are requesting retaining and free standing walls that have natural stone textures. Trending styles include walls that offer the look of tumbled stone or chiseled stone. Homeowners are also increasingly drawn to wall installation patterns with clean, contemporary lines.
Gray and "Greige" Tones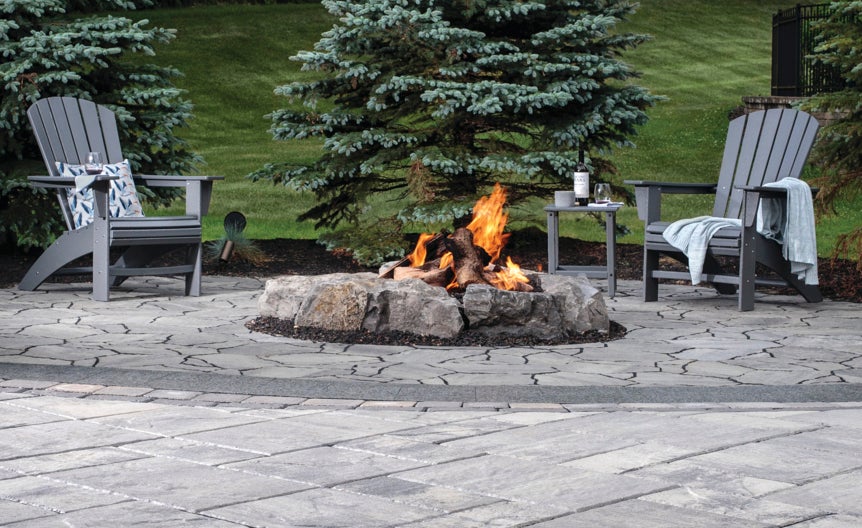 From light gray to charcoal, gray tones continue to dominate current hardscape trends. However, an up-and-coming trend is starting to lean back toward warmer tones. This transitionary color phase is coined "greige"… a blending of grey and beige tones. Homeowners across the country are currently looking for these muted gray/tan color blends in hardscapes for their ability to work well with both warm and cool design palettes.
Blurring Transitions from Inside to Outside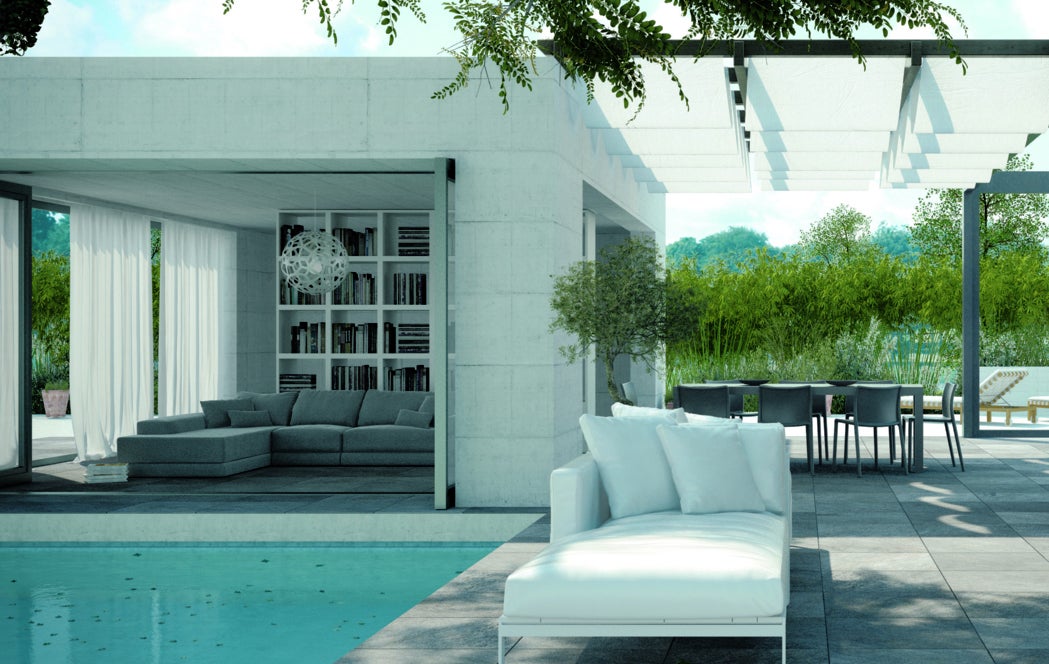 One of the biggest trends in new home and remodeling is the blurring of the line between the indoor and outdoor. This involves much more than windows and patio doors. Fully folding walls and screens are being installed that allow spaces such as a family room to open and create a seamless transition into the outdoor space. Or, a standard kitchen can become an outdoor one in warmer months with the flip of a switch.
Linear and Large Format Pavers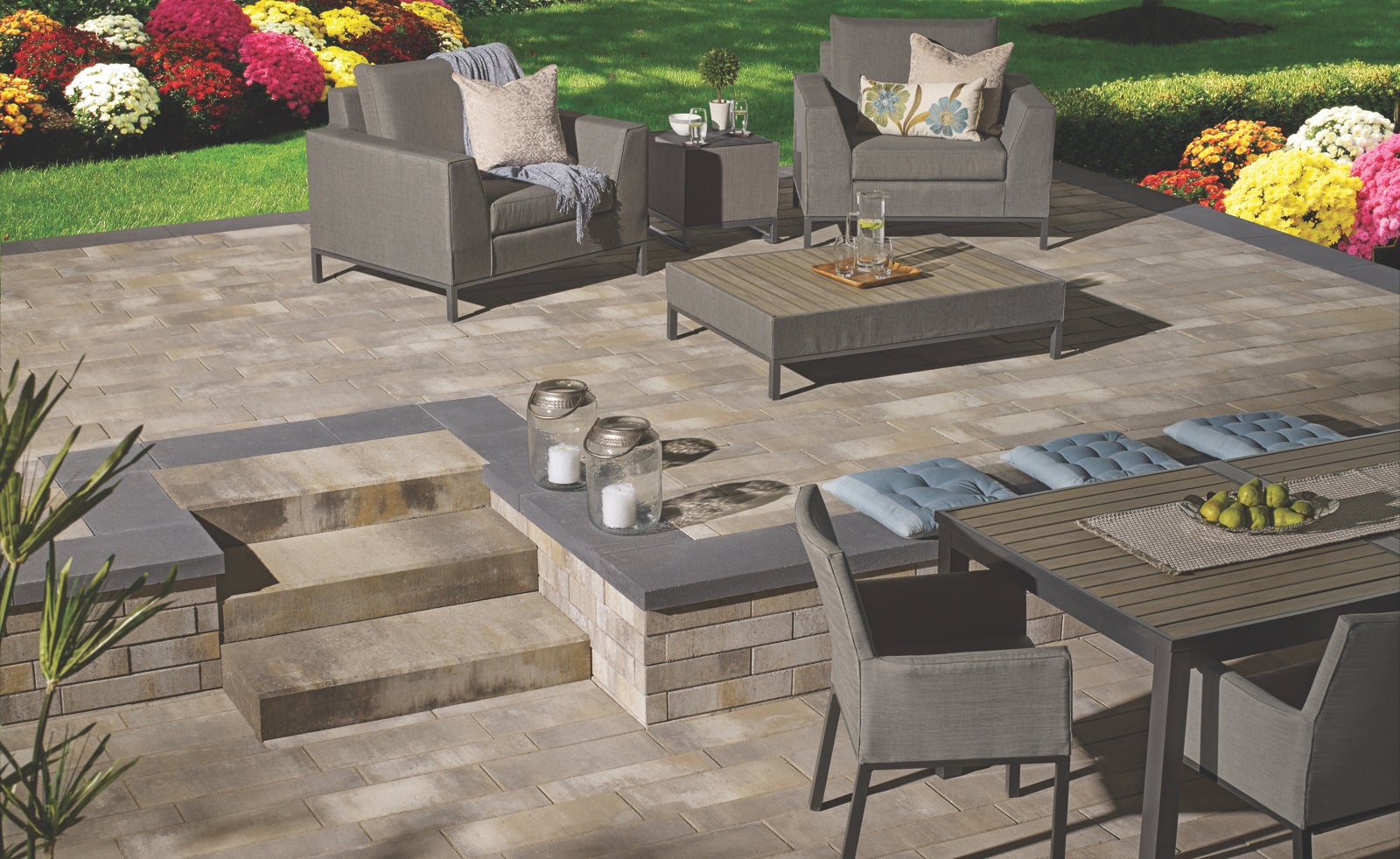 The trend toward larger and more linear pavers continues to grow at a rapid pace. Not only are consumers looking for clean, modular textures, they are leaning toward plank-style pavers, and very large format slab pavers.
Formal Water Features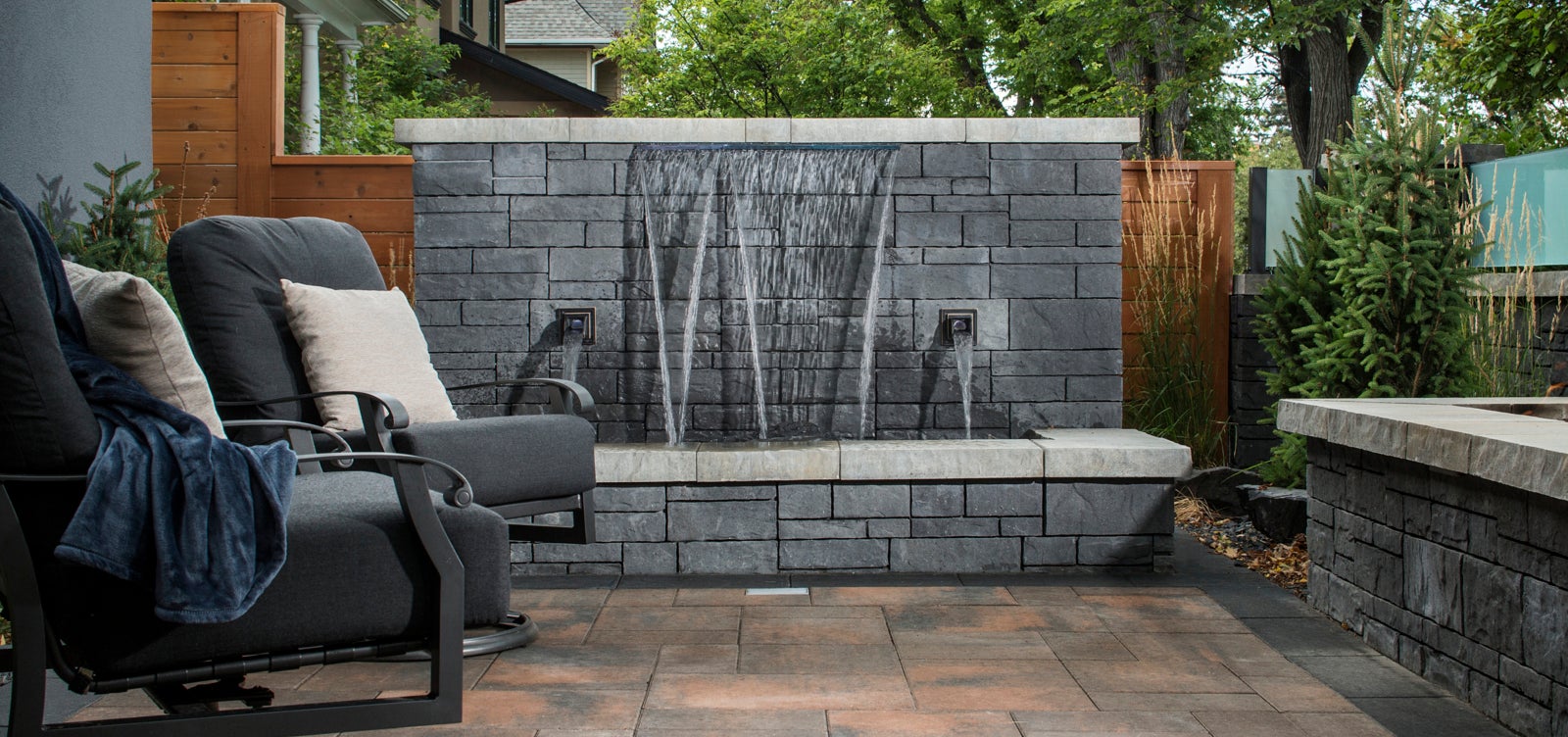 People love the soothing sound of running water, and the trend of incorporating formal water features into outdoor designs is growing at an exponential rate. With our busy lifestyles, however, consumers also want a water feature that is simple to take care of — adding beauty, ambiance and value to the outdoor living space without additional maintenance time and cost.
Outdoor Lighting Trends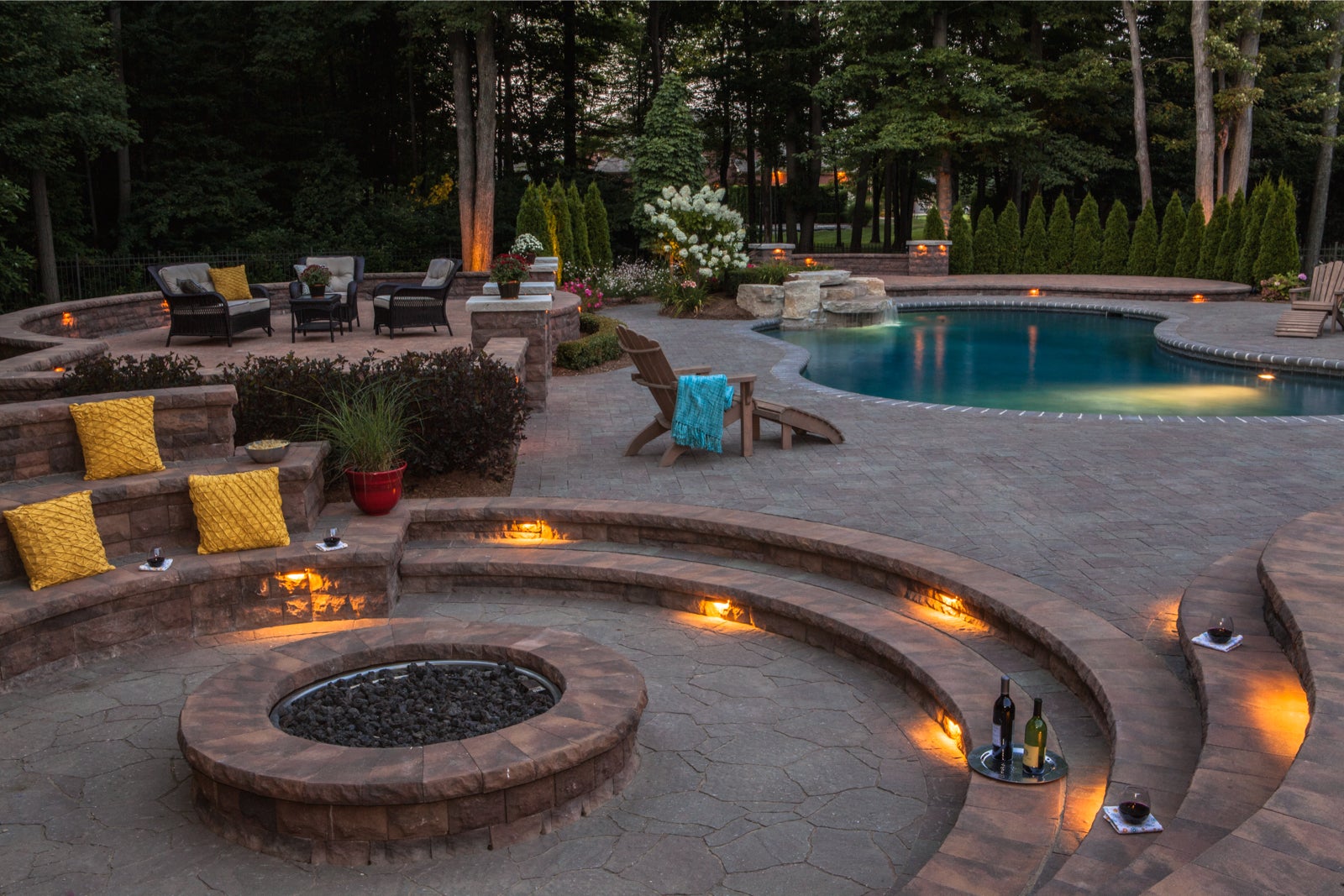 The vast majority of time spent in most outdoor spaces is in the evening and on weekends. Because of this, outdoor living trends are moving towards well-designed built-in lighting systems.
With today's LED technology and smart phone apps, installing an automated lighting system has never been easier. However, this type of system is not very easy to retrofit after-the-fact and is more common in new construction. For existing outdoor living spaces, expect to see a continued increase in landscape lighting and durable string light options, like commercial grade Edison-style LED string lights.