In August, we reached out to our audience and asked you share your personal fireside memories and unique s'mores recipes as part of our annual National S'mores Day Fire Pit Giveaway. We had an overwhelming response and received more than 3,000 stories and recipes from across the nation!
CONGRATULATIONS TO:
Elaine P. from Daytona Beach, FL

Winner of a beautiful Belgard Ashland Fire Pit Kit and a year's supply of delectable artisan chocolate from Chuao Chocolatier®.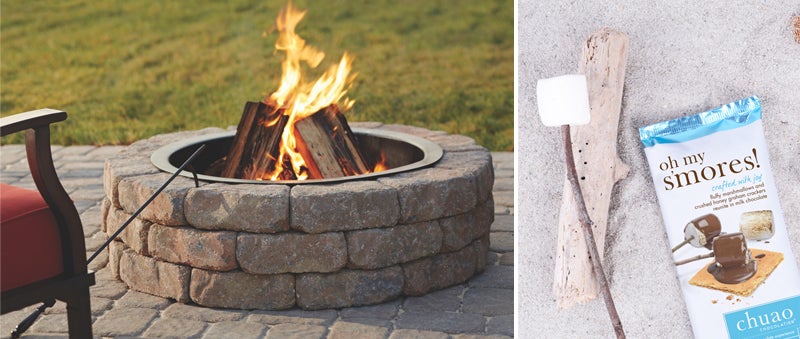 Thanks to Elaine for sharing her family recipe for Greek S'mores:
Being Greek, our family always make s'mores using Phyllo dough. Take 10 sheets of Phyllo and layer with melted butter. Cut into 3" squares and bake at 350º F for 7-10 min. When cool, place 4 squares of Hershey's chocolate and one marshmallow on top of a square of baked Phyllo, and too with another layer of baked Phyllo. Allow to melt, and eat! Kali orexi! (Bon appetite in Greek!)
. . .
We'd also like to thank the thousands of others who shared their special memories and recipes with us. Here are a few of our favorite submissions. For more stories and memories from our contest, be sure to visit the Outdoor Living by Belgard Facebook page, where we'll be sharing more of these throughout the month.
FIRESIDE MEMORIES

Although I'm pretty sure I had s'mores prior to going to 4-H camp, it was at 4-H camp around a campfire with s'mores that I got my first kiss. –L. Cobb (Phoenix, AZ)
My late husband and I finally after 40 years of hard work were able to build a beautiful new home on our farm! My then 9-year-old grandson really wanted to build a fire pit, so he and his Papa made one — very primitive because it was my grandson's "design"! His Papa passed away a few months later! 3 and 1/2 years later, it's still there — a sweet memory, but not too functional! –Anon (Tulelake, CA)
When we were little, my mom's parents would often have family BBQ nights with our family and cousins. Our grandparents had bamboo growing wildly in their backyard and had an open fire pit. When we would arrive, we got to select a bamboo stalk, and my grandpa, dad or uncle would cut our choices down and sharpen one end with a large knife. All of us cousins would then huddle around the fire pit to roast hot dogs. Then we would move on to roasting marshmallows and making s'mores. Fun times! –Anon (Rancho Santa Margarita, CA)
My favorite s'mores memory was traveling from the city in New York (Harlem) to the mountains with my family and grilling s'mores by the campsite. My Dad died when I was 9 years old, and this was one of the very few cherished memories of him I had left. My mom raised the 8 of us by herself and always tried to maintain this campsite visit and s'mores tradition throughout our childhood. –G. Clarke, Atlanta GA
We used to go to a hayride every year, and at the end of the night, we would sit around a fire and sing songs and eat s'mores with the marshmallows toasted to a crisp so that they were super gooey. –Anon (Rock Glen, PA)
On my birthday a few years ago, we were camping and didn't have a cake. We did have candles, so we put one on a marshmallow and tried to light the candle in the campfire! We went through several candles before one was lit long enough to sing "Happy Birthday!" –R. Drew (Reserve, KS)
My cherished memory was when my boys wanted to start making s'mores on their own. I was like, they don't need mom anymore. They were like, we want to make them for you mom, so just let us treat you, but you can still buy the items :). I felt needed again, lol. –K. Jefferson (Arlington, TX)
Every summer we rent a cottage and take the grandchildren up North for a week. We have a bonfire almost every night, we make s'mores, and then play campfire games. One of our newest recipes is a "walking s'more." Take a small bag of teddy grahams, crush the bears, then slice open the bag. Drop in a Hershey's bar that's been broken into pieces, and finally, a hot toasted marshmallow. You need to eat this treat with a spoon or a fork, but you can take it down to the dock while you eat and listen to the loons. Wonderful summer fun and hopefully a lifetime of memories. –K. Lewis (Sandwich, MA)
MORE S'MORES RECIPES
Graham crackers, strawberry marshmallows toasted golden brown and semi-sweet chocolate. –Anon (Monroe, MI)
1 coconut shortbread cookie, 1/2 pineapple ring, 1 chocolate bar, 1 melted marshmallow, 1 coconut shortbread cookie. Layer as above and enjoy! –Anon (Spanish Fort, UT)
Heat oven to 350°F. Place 9 graham squares in single layer on bottom of 8-inch square pan; top with 36 marshmallow halves. Sprinkle with chopped chocolate. Top with remaining marshmallow halves, cut sides down. Bake 9 to 11 minutes or until marshmallows are puffed and golden brown. Let stand 5 minutes and cut into squares. –Anon (Nashville, TN)
Graham crackers, dark chocolate, marshmallows, 4 blackberries. Yum! –D. Griffin (Farr West, UT)
Graham crackers drizzled with caramel, then chocolate, topped with a roasted cinnamon marshmallow. –Anon (New Richmond, OH)
Chocolate graham cracker, Hershey's mint chocolate bars, Smash Mallow mint chocolate chip marshmallows. –S. Coleman (Cottonwood Heights, UT)
Regular s'mores, but put peanut butter on the graham cracker. It's great! –T. Campbell (Northville, MI)
We used to roll our marshmallows in Jello powder before roasting them! Chocolate strawberry s'mores! –B. Westfall (Rochester, MN)
Try using a peanut butter cup with a chocolate graham cracker. –R. Kinkaid (Ballston Lake, NY)
S'more Pie: Graham cracker pie crust, cold chocolate pudding filling with chocolate chunks — set in fridge to chill. Add Marshmallow Creme topping spread on top and return to fridge to chill. Ready to slice and serve after 1 to 1.5 hrs. —H. Hansen (Desert Hot Springs, CA)
Hollow out the toasted marshmallow and drizzle in some Bailey's liqueur. –J. Cloward (Bar Nunn, WY)
. . .