Guest blog from Chuao Chocolatier® artisan chocolates.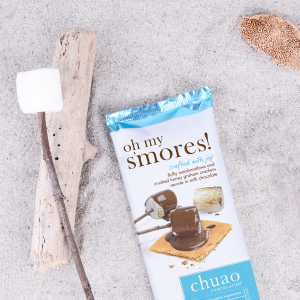 We're Chuao Chocolatier, a San Diego-based chocolatier known for our innovatively delicious chocolate bars, and we're excited to share our recipe for Homemade S'mores with the Belgard family. We know the name of this recipe sounds ridiculous – of course all s'mores are homemade. Is there really any other way to s'more? Actually there is! We have a fun portable version of s'mores that you can eat anytime, anywhere, with no flame required: it's Oh My S'mores! chocolate bar, and yes it's delicious.
BUT we're here to tell you about a different kind of s'more – one where the graham crackers and marshmallows are all homemade from scratch.
Oh yeah, we're going there.
It sounds difficult, especially if you aren't one to enjoy baking on the regular. But we promise, it's so delicious that you will never want to use store-bought ingredients again! Plus, it's so easy. Yes, homemade marshmallows are easy. You barely have to do anything! And you get soft, sticky, sweet marshmallows as a result.
Graham Cracker Recipe
Ingredients
1 cup graham flour
¼ cup all-purpose flour
1/3 cup dark brown sugar
3/4 tsp aluminum-free baking powder
1/2 tsp baking soda
1/2 tsp kosher salt
1/8 tsp ground cinnamon
1/3 cup unsalted butter cut into 1/4-inch cubes and chilled
¼ cup molasses
2 tbs ounces whole milk
1 tbs honey
1/2 tsp vanilla extract
Directions
Place both flours, sugar, baking powder, baking soda, salt and cinnamon into the bowl of a food processor and pulse several times to combine.
Add the butter and pulse until the mixture resembles cornmeal.
Add the molasses, milk, honey, and vanilla extract and process until the dough forms a ball — approximately 1 minute.
Press the ball into a 1/2-inch thick disk, wrap in plastic wrap, and refrigerate for 30 minutes.
Preheat the oven to 350 degrees F.
Unwrap the chilled dough and place it onto a large piece of parchment paper and top with a second sheet of parchment paper. Roll the dough out until it is 1/8-inch thick.
Slide the rolled dough and parchment paper onto a half sheet pan. Remove the top sheet of parchment paper and cut the dough, using a rolling pizza cutter into 2-inch square pieces, by making vertical and then horizontal cuts all the way across the dough. Trim off any excess.
Using a fork, poke holes all over the top of the dough.
Leave the crackers on the pan and bake on the middle rack of the oven for 25 minutes or until the edges just start to darken. Remove from the oven, set the sheet pan with the crackers on a cooling rack and allow to cool completely.
Once completely cool, break into individual crackers.
Marshmallow Recipe
Ingredients
3 packages unflavored gelatin
1 cup cold water, divided
1 1/2 cups granulated sugar
1 cup light corn syrup
1/4 teaspoon kosher salt
1 tablespoon pure vanilla extract
Confectioners' sugar, for dusting
Special Equipment Needed: Candy Thermometer, Electric Mixer
Directions
Combine all three packets of gelatin and ½ cup of cold water in the bowl of an electric mixer fitted with the whisk attachment. Allow to sit while you make the sugar syrup.
Combine the sugar, corn syrup, salt, and ½ cup water into a sauce pan and cook over medium heat until the sugar dissolves. Raise heat to high and cook until the sugar syrup reaches 240º F on a candy thermometer (about 7 minutes). Remove from heat.
With the mixer on low speed, slowly pour the sugar syrup into the dissolved gelatin.
When all the syrup has been added, put the mixer on high and whip until the mixture is very thick and shiny, about 15 minutes.
While the mixture is whipping, generously (and we mean really generously) dust an 8×12 inch nonmetal baking dish with confectioners' sugar.
When the marshmallow fluff has reached the desired texture, add the vanilla and mix thoroughly.
Pour the marshmallow mixture into the prepped baking dish. Smooth out the top, and add either more confectioners' sugar, or desired decorative toppings. Let the marshmallows stand uncovered overnight until they're dried out.
Once the marshmallows have dried out, turn the marshmallows out onto a board that has also been dusted with confectioners' sugar. Cut them into squares and dust with more confectioners' sugar.
The Final Component: Chocolate
Ok, so now you have your base layer and your sticky, smoky layer. Next you need a rich, melty layer to make everything come together. We have a few pretty delicious options for you (though you really can't go wrong with any of our chocolate stuffed into a s'more).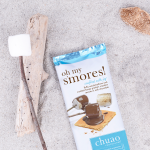 Oh My S'mores!: It's basically doubling down on your s'more game. The most fun part about this is the marshmallows, because they stay slightly soft and chewy, instead of ooey gooey like the blazed up marshmallows. The texture is killer and the creamy milk chocolate makes for the perfect combo.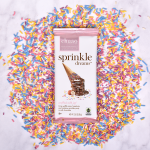 Sprinkle Dreams: Imaging combining a trip to your favorite ice cream shop with an gooey and delectable s'more, all in one fabulous bite! The sprinkles in this chocolate bar keep things colorful and fun, while the bits of waffle cone and hazelnuts add a delicious crunch that brings the whole s'mores experience together!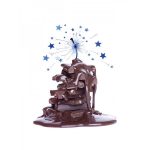 Firecracker: Get ready for a totally unique s'mores experience! Rich dark chocolate makes this sumptuous and heavenly, but then a surprising kick of chipotle tickles your throat while popping candy explodes in your mouth. Trust us, you're going to want to try this one! It's like a party in your mouth.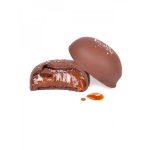 Joy-Filled Caramels: This is NEXT LEVEL s'mores. If you want to make your s'mores totally and completely indulgent, throw a Joy-Filled Caramel in your s'more and let the rich, sweet caramel take your taste buds to flavor town.
There are countless other fun s'mores recipes to create with our chocolate – what would you try first? Or is there another chocolate bar you're checking out? Well don't be shy, tell us in the comments! And then go ahead and give it a try – you won't ever regret eating this deliciousness.
-Team Chuao
If you enjoyed this recipe, head over to the Chuao recipe page and try your hand at all the fun and delicious treats we have there!
. . .
COMING SOON: National S'mores Day is coming up on August 10! Come back to the Belgard blog on that day to celebrate with us, and you'll have a chance to enter to win a Belgard fire pit.