Imagine this scenario: a special occasion is nearing. It's your significant other's birthday, or perhaps a distant relative is coming in. The point is that you want, and in some cases need, to treat them to something special. What is the first thing that comes to mind when the ole "special" word is tossed out? Why, it's steak of course! Doesn't just reading the word "steak" bring you to a happy place? Anyone who is a fan of steak probably already knows his or her favorite place in town to get a quality steak. Unfortunately, having a fancy chef at some restaurant cook this steak will not work for this special occasion. This one must be made from the heart by Chef You. Although grilling a steak properly can be tricky, it is well worth the effort for that special occasion. Here are a few tips to consider. For the sake of brevity, we'll just focus on two of the most popular steaks to cook: the Tenderloin and the Ribeye.
Tenderloin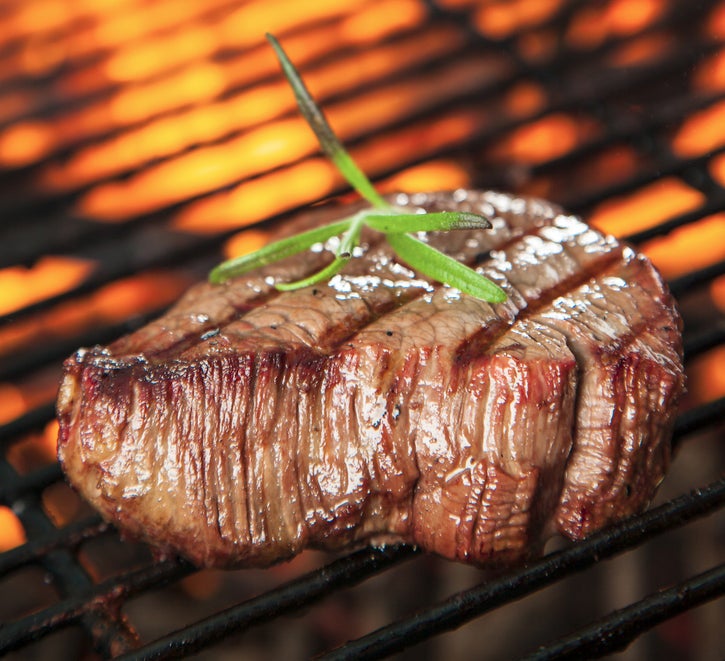 Also called a filet, this will be your most expensive piece of meat. However, this steak is most definitely worth the price because it is considered by many, this writer included, as the most delicious steak that can grace your palate. Sometimes with these steaks, less is more. Heat your grill to high heat, add some black pepper and coarse salt to the top of your steak, then throw it on the grill. You want to cook these steaks over high heat until they are brown, which will take about five minutes per side, depending on how "done" you prefer your steak. For a particularly thick piece of meat, you may also want to brown the sides a bit. While some people prefer their steak rare or well done, there is nothing quite like a medium-rare steak. In fact, most chefs agree that medium-rare steaks give you the maximum amount of tenderness and juiciness while ensuring that the center of the steak is actually warm. To test if your steak is medium-rare, press your finger in the middle of the steak. If your steak gives ever so slightly then bounces back, you have yourself a medium-rare steak. A mushy steak will tell you that it is still rare. Keep going until you get that bounce-back. To get that restaurant-quality flavor, before the steak is finished, liberally baste it with garlic-infused butter. Garnish the top of the steak with a sprig of one of your favorite herbs, and proceed to blow the mind of your special guest.
Ribeye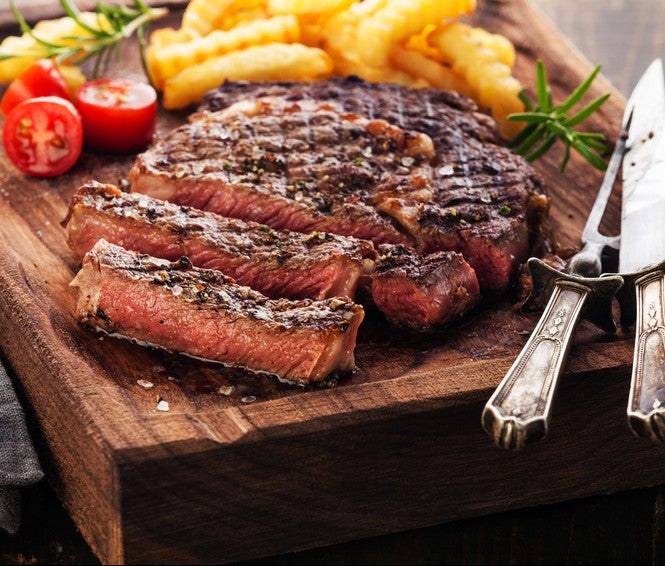 This next steak can be one of the most flavorful and juicy steaks you can find. Where most the flavor comes from is up to you. If you prefer a simple flavor, liberally applying coarse salt and black pepper to your steak, and even some garlic powder if you choose. However, to get the most out of your ribeye, make sure to marinate it in a plastic bag for a couple of hours. Once it is in the bag, pour in plenty of balsamic vinegar or red wine. Another tasty addition to a ribeye marinade is Parmesan cheese. Feel free to marinate your steak with whatever your heart desires, or whatever the person you are cooking for desires. These are only suggestions. Just remember to allow plenty of time to let the flavors sink in. Once done marinating, throw that baby on the grill over low flame for about five minutes. Flip to the other side where you will most likely cook a little longer than the first side. Again, test the doneness by pressing the meat with your finger. Ribeyes are a little harder to judge than filets because they're not as thick, but with a little practice, you'll quickly get the knack. Once you think it is ready, pull it off and let it rest for about five minutes. This is very important to do for all steaks! Cut in too quickly, and the juices all run out, leaving the meat a little dry.
Charcoal vs. Gas
Ah, the classic grilling debate. In this writer's opinion, always go for charcoal over a gas grill. With charcoal, it is a slower process, but it tends to give your steaks a more distinct flavor. Also, do not be afraid to experiment with wood chips. Cherry or pecan are both particularly good choices. But don't throw the chips directly onto the charcoal, which will cause them to burn off too quickly. Wrap the wood chips in some tin foil and place them next to the fire. This will deepen the flavor profile of your charcoal-grilled steaks. Happy Grilling!