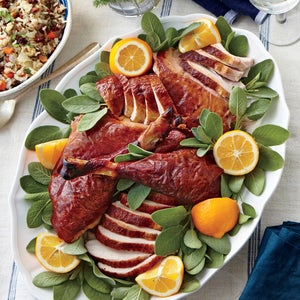 Believe it or not, it's already time to start talking turkey. If you're looking for a new Thanksgiving tradition this year, here's a recipe that's worth the time and effort. If your turkey is frozen, give yourself time to thaw it in advance. This recipe calls for a 12 lb. turkey, which should take 2 to 3 days to defrost in the refrigerator, plus an extra day to marinate per the recipe below. Please adjust defrost and cooking times as needed for a larger bird. Also, please note that the bird will need to stand at room temperature for 1 hour prior to placing on the pit, which will add to your prep time. Here's what you will need for your cherry-smoked turkey:
.  .  .
INGREDIENTS
3 tablespoons kosher salt
1 1/2 teaspoons dried sage
1 1/2 teaspoons freshly ground black pepper
1 teaspoon dried thyme
1 teaspoon ground coriander
1 (12-pound) turkey
2 cups cherry wood chips, divided
Cooking spray
.  .  .
Preparation
Whisk together the dry seasonings (first 5 ingredients) in a small bowl. Trim excess fat from turkey. Remove giblets; set aside for another use. Loosen skin from breast by inserting fingers and gently pushing between skin and meat. Rub dry seasoning mixture evenly under and over skin. Place turkey on a pan and refrigerate, uncovered, 8 hours or overnight.
After the marination period, remove turkey from refrigerator; let stand at room temperature 1 hour.  Meanwhile, soak wood chips in water 1 hour; drain well.
Light one side of grill, heating to medium heat (350°); leave other side unlit. Place 1 cup wood chips in an aluminum foil packet, and place over charcoal or heating element. Place a disposable aluminum foil pan under grill rack on unlit side. Pour 2 cups water in pan. Coat grill rack with cooking spray, and place turkey on unlit side of grill.
Grill turkey, covered with grill lid, 2 hours and 30 minutes or until a thermometer inserted into the thickest part of the breast registers 165°, turning turkey and adding remaining 1 cup wood chips halfway through cooking time. Remove turkey from grill; let stand 30 minutes before slicing.
.  .  .
Photo and recipe courtesy of time, inc.