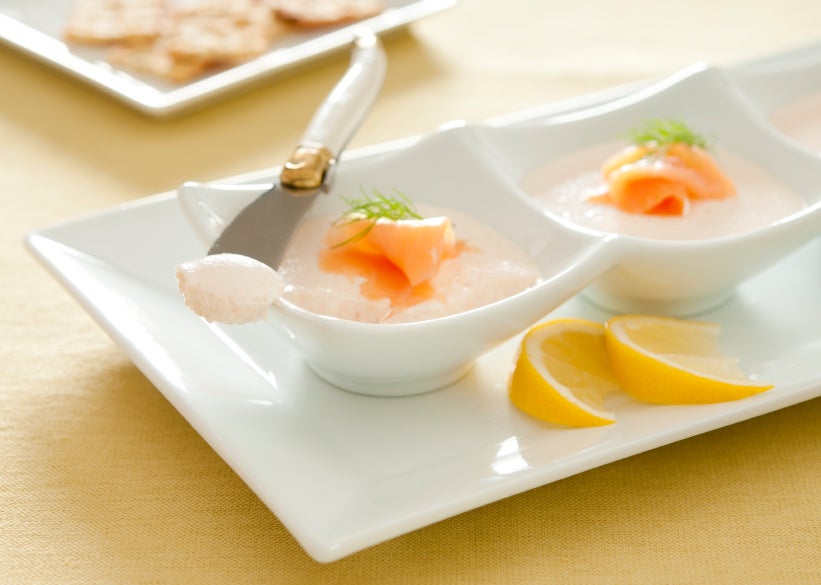 Our recipe of the month is back, and this month it's a savory smoked salmon dip! This dip takes a mere five minutes to whip up and makes a great party appetizer or a decadent snack.
Here's what you need and how to make it:
16 oz. cream cheese, softened
12 ounces smoked salmon, chopped
3 dashes Worcestershire sauce
1 teaspoon chopped fresh dill weed
2 tablespoons chopped green onion
In a medium-sized bowl, stir the cream cheese until it's pliable and yielding. Add the salmon, Worcestershire sauce, dill and green onion and stir well until the ingredients are distributed evenly throughout the cream cheese. And that's it!
If you want to add a bit of kick to it, add a few drops of hot pepper sauce into the mix. If you're not a fan of smoked salmon, you can substitute smoked rainbow trout or another smoked fish. If you're watching calories, substitute some of the cream cheese (though no more than half) with fat free or 2% milkfat plain Greek yogurt (it sounds weird, but it's basically sour cream without the fat and it's loaded with protein!).
Serve with crackers and if you still have leftovers and you're feeling adventurous, spread some on a bagel.
And there you have it. Now you've got something new to bring to a party or to debut at a get-together of your own.