Contractors play a pivotal role in helping homeowners bring their outdoor living visions to life. Each month, we'll offer a Contractor's Corner post to share tips to help our contractor partners offer even more to homeowners and their landscapes.
Staying ahead of the learning curve is essential to growing your business and Belgard University offers contractors an opportunity to expand their hardscape knowledge with both classroom and hands-on industry training.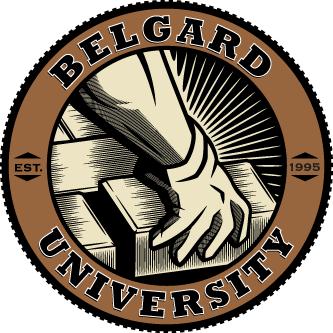 Benefits include:
• Learn about innovative new products
• Earn industry certification
• Network with other industry professionals
• Participate in hands-on demonstrations
• Get insider tips on installation and industry trends
• Learn about business and marketing programs to help you succeed
New this year, a number of Belgard University events will feature Design Workshops hosted by industry leading expert and television personality Haig Seferian. Presentation topics include Design Principles and Elements, Form Composition, "Do's and Don'ts," and the "Golden Rules of Landscape Design." Gain a thorough understanding of the design process and put those skills to work by creating individual designs while working directly with Haig and Belgard reps.
Registration is open for Belgard University events across the country:
Belgard University – Phoenix, AZ
Date: February 19, 2013
Venue: The Waterfront
5350 South Lakeshore Drive
Tempe, AZ 85283
Belgard University – Las Vegas, NV
Date: February 21, 2013
Venue: University of Nevada Cooperative Extension
8050 Paradise Road, Suite 105
Las Vegas, NV 89123
Belgard University – Southern California
Date: February 26, 2013
Venue: Sierra an Oldcastle Company
10714 Poplar Avenue
Fontana, CA 92337
Belgard University – Northern California
Date: February 28, 2013
Venue: Sierra an Oldcastle Company
4202 Gibraltar CT
Stockton, CA 95206
Belgard University – Overland Park, KS
Date: March 5, 2013
Venue: The Ritz Charles
9000 West 137th Street
Overland Park, KS 66221
Belgard University – Cleveland, OH
Date: March 14, 2013
Venue: Cuyahoga Community College
TBD
Cleveland, OH 44115
Belgard University – Addison, IL
Date: March 21, 2013
Venue: Medinah Banquets
550 N. Shriners Drive
Addison, IL 60101
Belgard University – Chaska, MN
Date: March 26, 2013
Venue: Minnesota Landscape Arboretum
3675 Arboretum Drive
Chaska, MN 55318
Belgard University – Menomonee Falls, WI
Date: March 28, 2013
Venue: Wacker Nueson
N92 W15000 Anthony Avenue
Menomonee Falls, WI 53051
Visit Belgard University for more information.