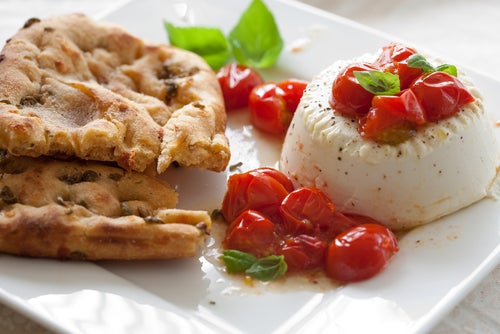 Fresh Herb Focaccia
Using fresh herbs from the garden intensifies the flavors of any dish. Try this bread with your favorite garden herb. Serve with a dipping bowl of extra virgin olive oil mixed with sea salt and pepper, or mix the oil with a fine balsamic vinegar for a sweeter taste. For a heartier option, slice and top with a tapenade, thin-sliced cold steak, buffalo mozzarella or finely-chopped marinated eggplant. For added color, you can add whole fresh cherry tomatoes on top before cooking, or even olives.
Ingredients:
2 tablespoons yeast
1 tablespoon sugar
2 cups lukewarm water
5 1/2 cups flour
1 teaspoon salt
1 teaspoon fresh chopped garlic
1 teaspoon fresh chopped rosemary, basil or herb of preference
1 teaspoon chopped chives
2 tablespoons olive oil, plus more for oiling bowl and tops of loaves
Preheat your CBO oven as instructed in the "User's Manual" to 400°F or your oven to 450°F.
In large bowl, dissolve yeast and sugar in water. Combine flour and salt. Add to yeast mixture, stirring well with wooden spoon. Add garlic, herbs and oil. Knead dough on lightly-floured board until smooth; about 5 minutes. Place dough in oiled bowl and brush top of dough with oil. Let rest and rise until twice its original size; about 30-45 minutes. Punch dough down and shape into 10, 4″ x 1″ loaves. Make diagonal slashes with sharp knife across tops of loaves and place on ungreased baking sheet that has been lightly sprinkled with cornmeal. Let loaves rise for 10 to 15 minutes. Bake until golden brown in the brick oven for 10 to 15 minutes (15-30 in a kitchen oven depending on thickness). Remove to wire rack to cool and serve while warm. Makes 10 loaves.
For more recipe ideas, visit our brick oven recipe blog.