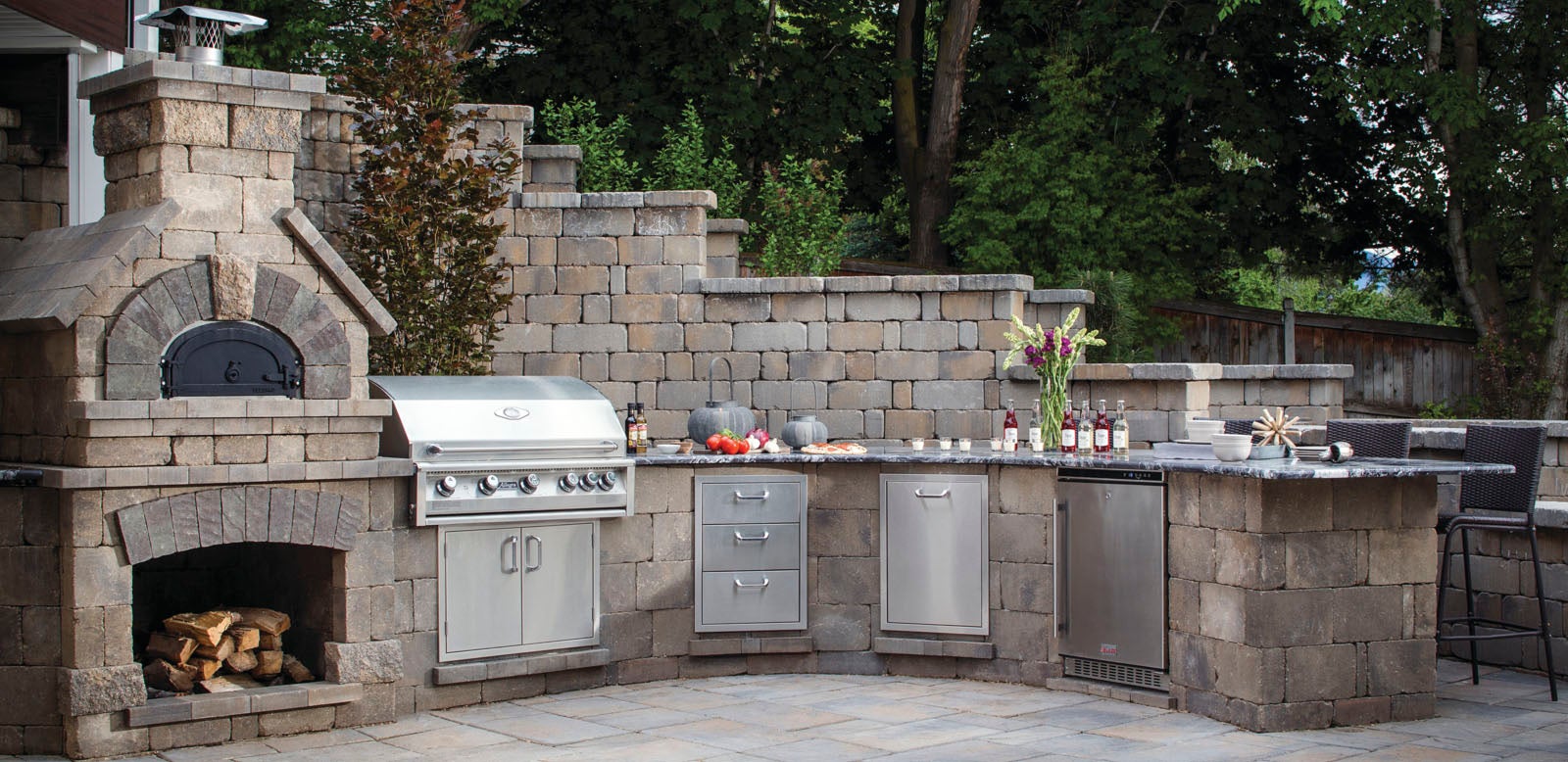 A growing trend in outdoor kitchen design is to incorporate multiple cooking surfaces, which adds to a kitchen's functionality. Wood-burning brick ovens make a stunning addition to an outdoor kitchen, yet some shy away under the mistaken assumption that brick ovens can only be used for cooking pizza. Although, wood-fired pizza recipes have a far superior flavor to pizza cooked any other way, the truth is that brick ovens create even temperatures for balanced cooking and add an amazing layer of flavor to practically any dish that can be prepared in a standard indoor oven. Here are a collection of brick oven recipes to get you started.
BABY BACK RIBS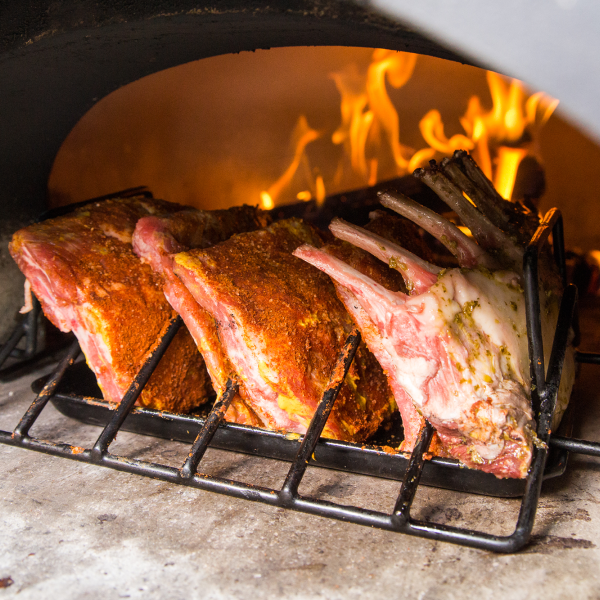 Baby back ribs are typically a crowd favorite. The down side is that they normally take hours to cook, since the standard method for getting the right texture and moisture level is to cook them "low and slow." However, the high consistent temperatures that can be created in a brick oven seals in the meat's natural juices and cooks ribs in a fraction of the time.
Ingredients
3 Racks of Baby Back Ribs
French's Yellow Mustard
Dry Rub – your favorite recipe or store-bought
Preparation
Fire up your brick oven to 450-500°F — use an infrared temperature gun to check temp when ready.
Cut full rack of ribs in half (to fit a rib rack). Coat both sides of ribs with mustard.
Rub in dry spices on either side. Place ribs in rack with drip pan underneath in middle of hearth.
Roast ribs for 35-40 minutes. Spin the rack around (front to back) midway through the cooking process.
NOTE: Cooking times will vary with size and thickness of ribs.
FRENCH ONION SOUP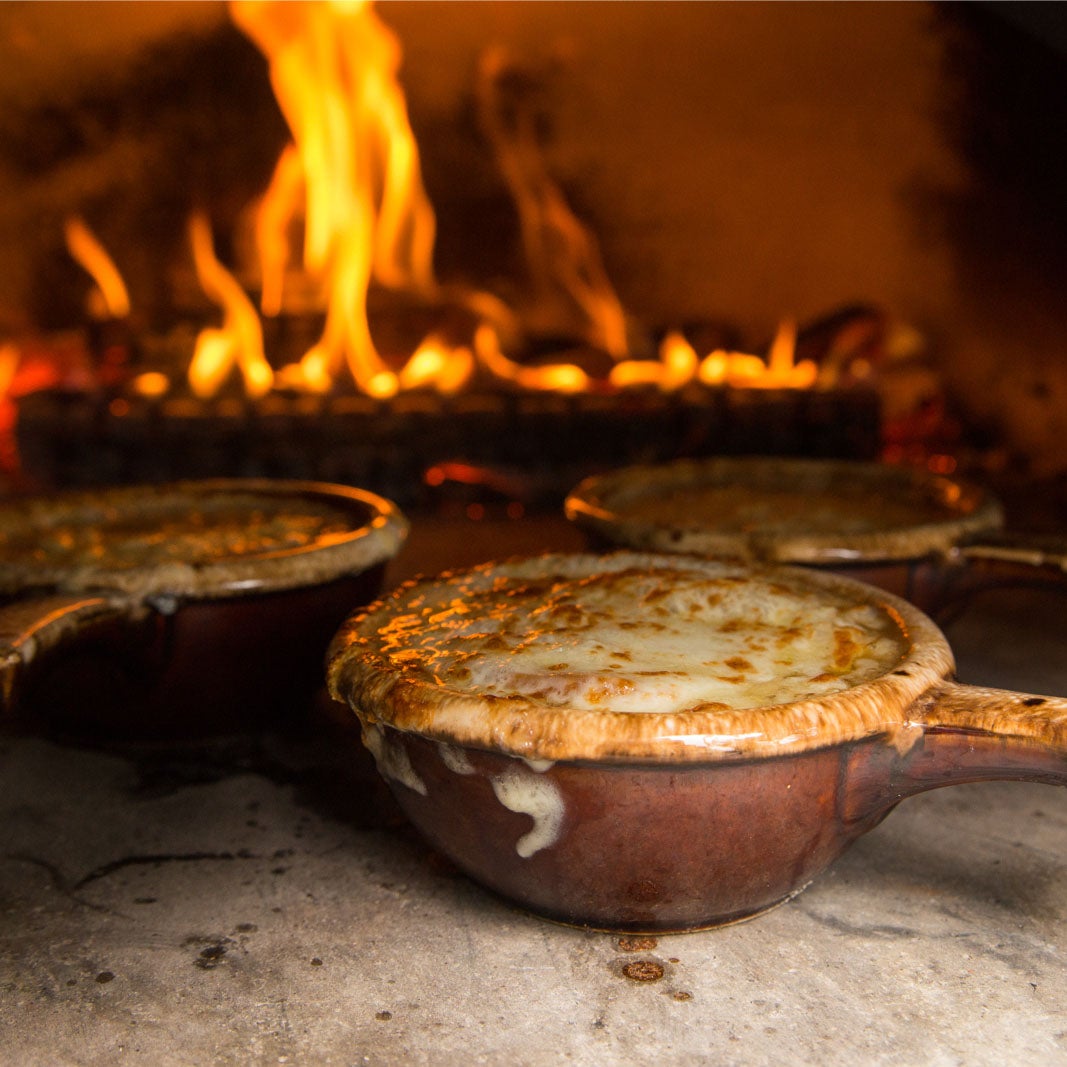 French onion soup is one of those comfort foods that just warms the soul. Savory, cheesy, brothy goodness in a bowl. Just make sure the bowls you use are rated to withstand 500-degree temperatures. The directions call for the first few steps of this recipe to be prepped on a stove, but you could also use a gas grill. The soup will, of course, be finished in the brick oven.
Ingredients
1/2 Cup Unsalted Butter
4 Onions – sliced
2 Garlic Cloves – chopped
2 Bay Leaves
2 Fresh Thyme Sprigs
1 Cup Sherry (or your favorite wine)
3 Heaping Tablespoons All-Purpose Flour
2 Quarts Beef Broth
1 Baguette – sliced
1/4 Lb. Each: Grated Gruyere & Swiss Cheese
Kosher salt and fresh ground pepper
Preparation (serves 4)
Fire up your brick oven to 500°F — use an infrared temperature gun to check temp when ready.
Melt butter in a large pot over medium heat on stove. Add the onions, garlic, bay leaves, thyme, salt and pepper and cook until onions are caramelized — about 20 minutes. Add the wine and bring to a boil. Make sure to reduce heat and simmer until wine has evaporated and the onions are dry — about 5 minutes. Discard bay leaves and thyme sprigs.
Dust the onions with flour and give them a stir. Cook on medium heat for 10 minutes. Add beef broth and bring back to a simmer. Cook for 10 minutes more and season with salt and pepper.
Arrange baguette slices on the very front of the oven hearth and cook for 3 minutes to toast.
Pour soup into 4 oven-safe bowls with the ability to handle 500-degree heat. Add baguette slices on top of soup bowls and load each with cheese. Place soup bowls at the very front of the oven hearth and watch the cheese melt!
FIRE ROASTED VEGETABLES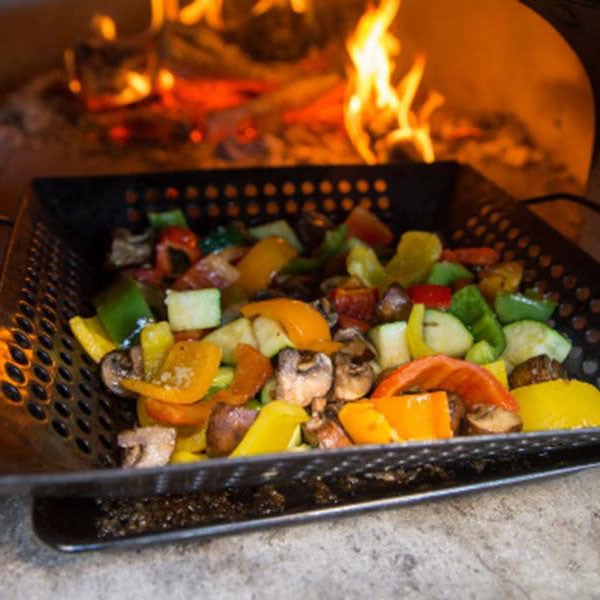 If you like roasted veggies and typically cook them in the oven or on the grill, wait until you taste the difference! Using this brick oven recipe, you'll never want them prepared any other way. The super-high temperature used for this recipe optimizes the flavor, sealing in moisture and adding a slight crispy texture to the exterior of each vegetable.
Ingredients
Red, Green, Orange and Yellow Bell Pepper
1 Small Spanish Onion
1 Zucchini
8 Small Portabella Mushrooms
Olive Oil and Sea Salt
Preparation
Fire up your oven to 700°F – use an infrared temperature gun to check temp when ready.
Cut vegetables to desired size and thickness and place in vented grill pan with a drip pan underneath. Drizzle olive oil over vegetables and add sea salt to taste.
Place in middle of hearth. Roast veggies for 5-10 minutes. Make sure to stir from time to time while cooking; watch closely to avoid burning. Cooking times will vary per desired crispiness.
NOTE: When cooking with oil, marinades and sauces, always use a griddle, skillet or drip pan.
BASIC PIZZA DOUGH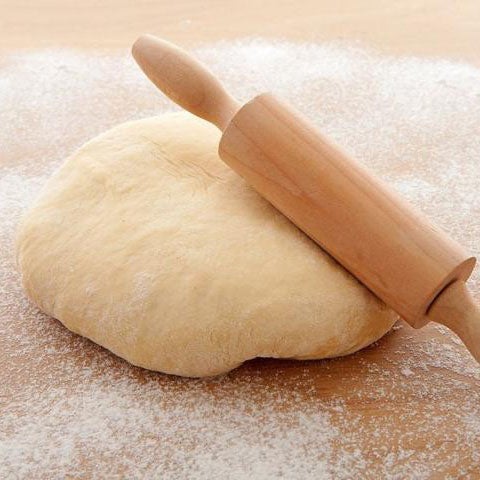 Yes, this blog post is about the fact that brick ovens are not just for cooking pizza, but since a wood-fired brick oven is the absolute best way to cook a pizza, we just had to give you a dough recipe. And although you can certainly make wonderful pizzas using prepared crusts or store-bought dough, if you want an authentic brick oven pizza experience, homemade dough is the way to go.
Ingredients
1 1/2 Cups Warm Water (about 110°F to 115°F)
1/4 Ounce Active Dry Yeast
1 teaspoon Sugar
3 1/2 Cups All–Purpose Flour
1/2 Cup Semolina Flour (or fine ground yellow corn meal)
1/3 Cup Olive Oil (and extra for coating the bowl)
1 teaspoon Salt
PREPARATION (makes 2 pizza crusts)

Combine yeast, water and sugar in a mixing bowl and stir. Let sit until foamy on top.
Add 1/2 cup flour, the semolina, and 1/3 cup olive oil with the salt. Mix and continue working in the flour a 1/4 cup at a time until completed.
Put the dough on a lightly-floured work surface and knead until smooth and tacky.
Prepare a large mixing bowl coated in olive oil and place the dough in it. Cover the bowl with wax paper or wet towel. Place in a warm area and let double in size; usually takes over an hour.
Knead the dough a little and separate into two equal portions. At this point, store in airtight bags; it's ready to use as directed in recipes.
Note: You can freeze and store this dough up to four months. Make sure before using to thaw for several hours at room temperature or in the refrigerator.
FOR MORE RECIPE IDEAS: Visit the Recipes for Company section of the Outdoor Living by Belgard blog.
Brick oven recipes and photos courtesy Chicago Brick Oven®.
. . .