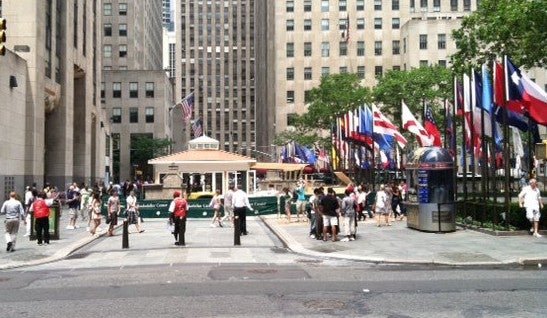 Belgard® is excited about their progress on the House Beautiful's Kitchen of the Year, opening Monday, July 18th in NYC's Rockefeller Plaza. The area went from a plain plaza to an indoor/outdoor chef-inspired entertaining space. Chef Tyler Florence has made the design in such a way that you can't help but want to linger, smell the cooking and enjoy friends. They say the most popular place when entertaining is in the kitchen – and this set-up has both indoor and outdoor ones!
The outdoor space is designed around Belgard's Bristol Elements Collection, including a U-shaped kitchen with a Chicago brick oven and a living area with a fireplace. To keep the design cohesive, the Bristol line's coordinating kitchen pieces are used as design elements for the counters and cooking spaces. Medium Rare grills and accessories are integrated with this kitchen and come standard with the Elements line.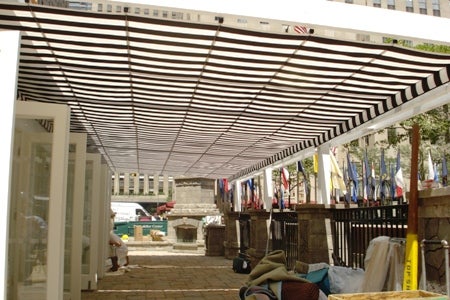 For the covered outdoor living room, the Element's Bristol line outlines the living space using planters, columns and walls. In this space, seating will be abundant and the smells of Chef Florence's cooking waft through the air. Visitors can relax and sip a glass of wine alfresco. Adding an outdoor space to your home is like adding on a new room.
The senses will have so much to take in, but not to be overlooked is the transformation of the grey road and sidewalk from drab to fab! The look now includes lively colors of the natural collection's popular Mega Lafitt with its look of cut flagstone yet with the strength and long-term durability of a paver. Natural looking Mega-Arbel is used on the patio entrance and as accents, while Urbana pavers, also part of the natural collection, are used as trim throughout the project. Below are some pictures of the building process. Using Belgard products makes installation a breeze! The Element's items arrive in pre-made components, so they are set into place. All Belgard pavers are designed with the simplicity of installation in mind. Come back next week to see photos of the final product! Click here for the schedule of events. Read previous posts.