The popularity of outdoor living spaces is on the rise – and with good reason! A well designed and installed outdoor living feature offers one of the highest return on investment for homeowners when remodeling. Homeowners and trade professionals across the country are asking about the Belgard Outdoor Kitchen Elements (by Harmony Outdoor Living, Inc.). This new product line creates a cohesive and seamless look as the elements are constructed with the same materials as your outdoor hardscape. They come with a warranty that is unmatched in the outdoor kitchen industry, and are available with MediumRare and OCS grills and accessories. The wood fired brick ovens feature an interior cooking dome constructed by Chicago Brick Oven. These pre-built modular kitchens can be ordered as individual cabinets or as pre-designed layouts. Other options such as wine cabinets, display niches, fireplaces, water features and much more are also available. The combination possibilities for custom layouts, colors and accents materials are endless.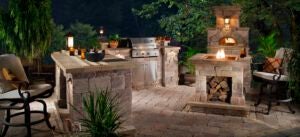 We asked Joe Raboine, President of Harmony Outdoor Living, Inc. to share a few tips on creating a successful outdoor kitchen. He offered these items for consideration:
Initial Planning
How is the kitchen going to be incorporated into your existing outdoor living spaces? You want to ensure that it blends into the rest of the hardscape area.
Take time to consider the placement of your brick oven or grill. Prevailing winds may force the smoke into your house or exterior dining spaces – not a good situation and difficult to remedy.
How many people do you typically cook for – this will determine the grill size, work space, etc.
Do you want the kitchen to be fully functioning with a sink, natural gas, etc? If so, make sure you check codes and find a qualified installer who can coordinate those aspects.
Try to locate the kitchen near your house – preferably near your existing kitchen or family area. If located too far away, it will not be used often.
What type of materials do you want to use to build/face your outdoor kitchen? Make sure that whatever you chose blends in well with your home and hardscape.
When considering kits, site built, full mansonry, pre-built, etc. make sure that you are choosing a product that will hold up well for the long term in your climate. Extreme temperature swings can wreak havoc on outdoor structures if not designed, installed or planned properly.
Selecting Features
What features do you want most in your outdoor kitchen (ex. Grill, bar, refrigerator, etc)?
If you want to incorporate a bar, you may want to consider a sink, bar station, larger refrigerator, speed rail, ice chest and/or a keg cooler.
Have you considered a wood fired brick oven? They are extremely popular right now and provide an element that is both interesting and entertaining.
What type of countertop do you want? The standard Belgard top features an inlay of polished granite based concrete, but you can also have someone install a granite or concrete counter on-site.
Regulations & Safety
Make sure that your rear landings are large enough that when bringing food in and out of the house, you are safe.
Make sure to check local building codes for kitchens – especially setback requirements.
Make sure your kitchen comes with a warranty!
According to Belgard's Vice President, Ken O'Neill, planning is the key to satisfaction. Ken says, "All projects that result in a happy customer start with good planning. Ensuring that the project's budget and scope are well defined are important steps in the planning process. Selecting a good contractor also helps. A Belgard Authorized Contractor can help set the table for your design. They can provide design options using Belgard products and in some cases provide a 3D rendering of the design to allow the customer to visualize the completed project."
Visit our website for inspirational outdoor kitchen photos or to locate a Belgard Authorized Contractor in your area.