Kitchens are definitely one of the hottest trends in outdoor living design, and the centerpiece of any outdoor kitchen is the cooking station. Whether you have a gourmet outdoor kitchen, a modest grill island, or you're planning to build something in the future, we have some fiery ideas for outfitting your outdoor cooking station to improve the functionality of your space.
1. Lots and Lots of Prep Space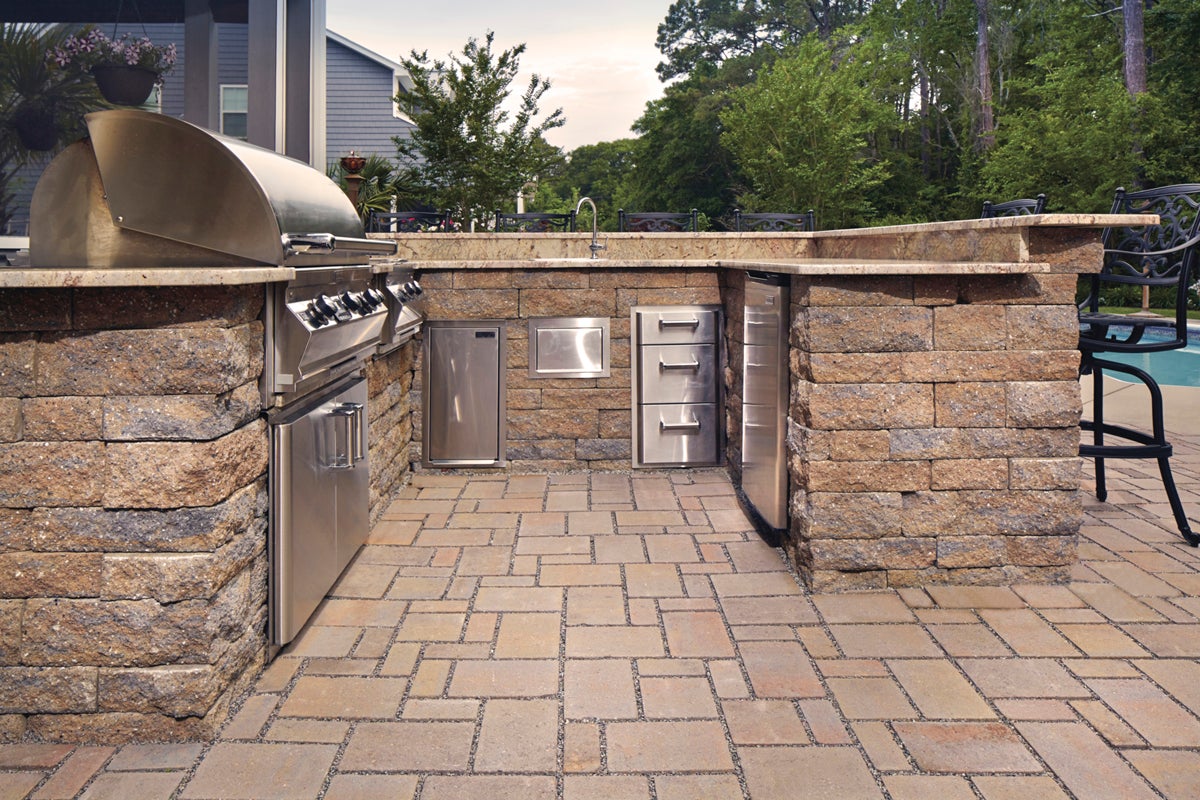 Any home chef needs room to breathe if he or she is to succeed in making their culinary masterpieces. Regarding outdoor kitchens, this is no different. With an expansive prep space at hand, your kitchen is optimized for efficiency at any and all stages of cooking. You can never have too much countertop space, which will keep you from having to run back and forth inside during meal prep. Plus, countertops can also function as serving tables and bar-style dining areas once the meal is ready. If you're working with a grill island, or you simply don't have the square footage for more countertops, considering using a rolling cart that you can move when not in use.
2. A Spot for Every Cook in the Kitchen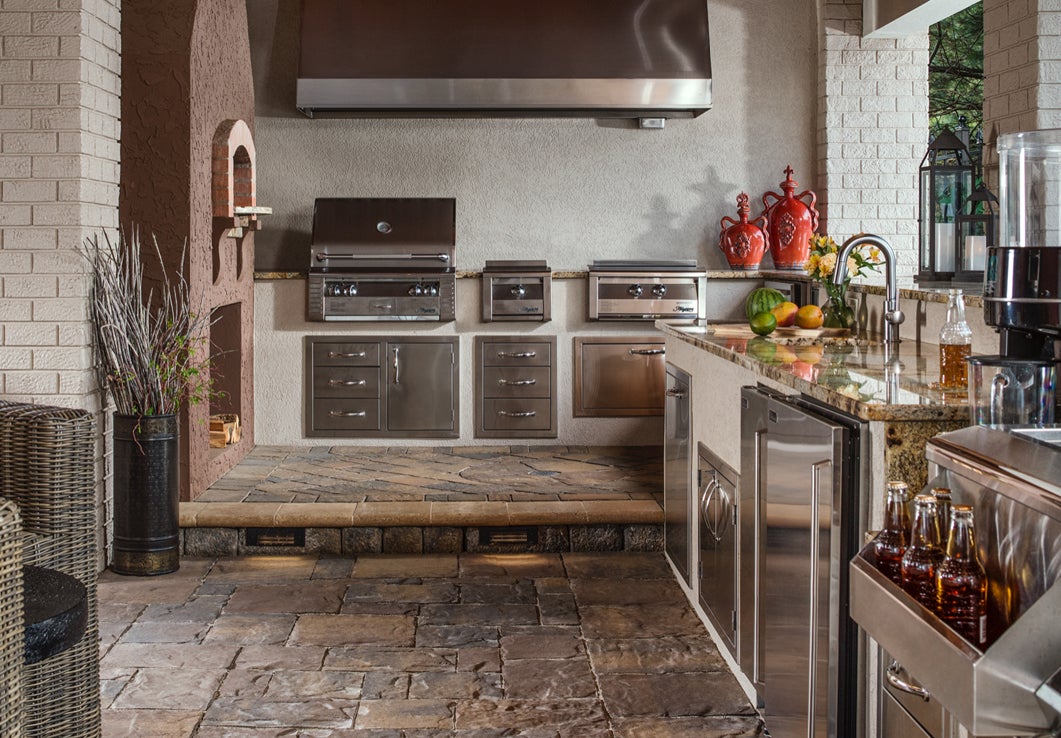 A summer pool party can easily bring in upwards of 25+ people. The guest list always seems to grow somehow. No matter how many guests show up, it helps to have multiple cooking surfaces in addition to the standard built-in outdoor grill. Plus, although charcoal enthusiasts will swear the flavor is superior (this blogger agrees), you simply don't always have the time to wait for the coals to be "perfect" and sometimes just need to be able to turn on the gas and get to grilling. And if you talk to anyone who has a griddle or a brick oven in their outdoor kitchen, be prepared for a lengthy conversation on how they don't know how they ever lived without it. Other popular cooking surfaces include ceramic kamodo-style grills and gas burners for large pots or frying.
3. Throw Some Shade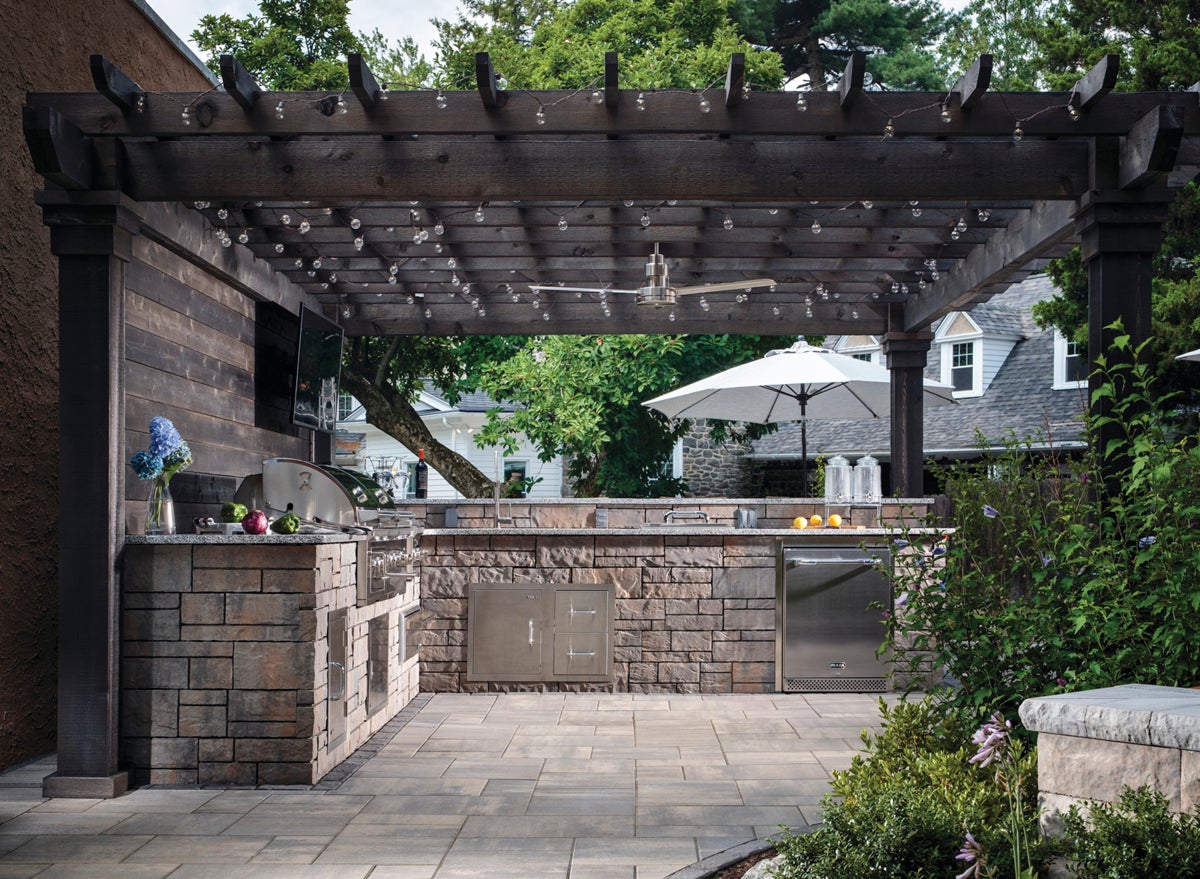 Unless you live somewhere where it rarely rains and the temperature is always mild (a.k.a. California), you're going to need your cooking station to be covered. It gets HOT standing in front of a grill. And no one wants to hold an umbrella while flipping burgers. Keep in mind that shaded areas do not have to take away from the beauty of your patio entertainment area but can become a design element in itself. This can be accomplished with an earthy pergola, a farmhouse-inspired pavilion or a colorful canopy. For a more natural aesthetic, consider integrating some flowering vines, ivies or other climbing plants. To add a festive atmosphere, you can never go wrong with edison-style string lights.
4. Be that Person with the Outdoor Brick Oven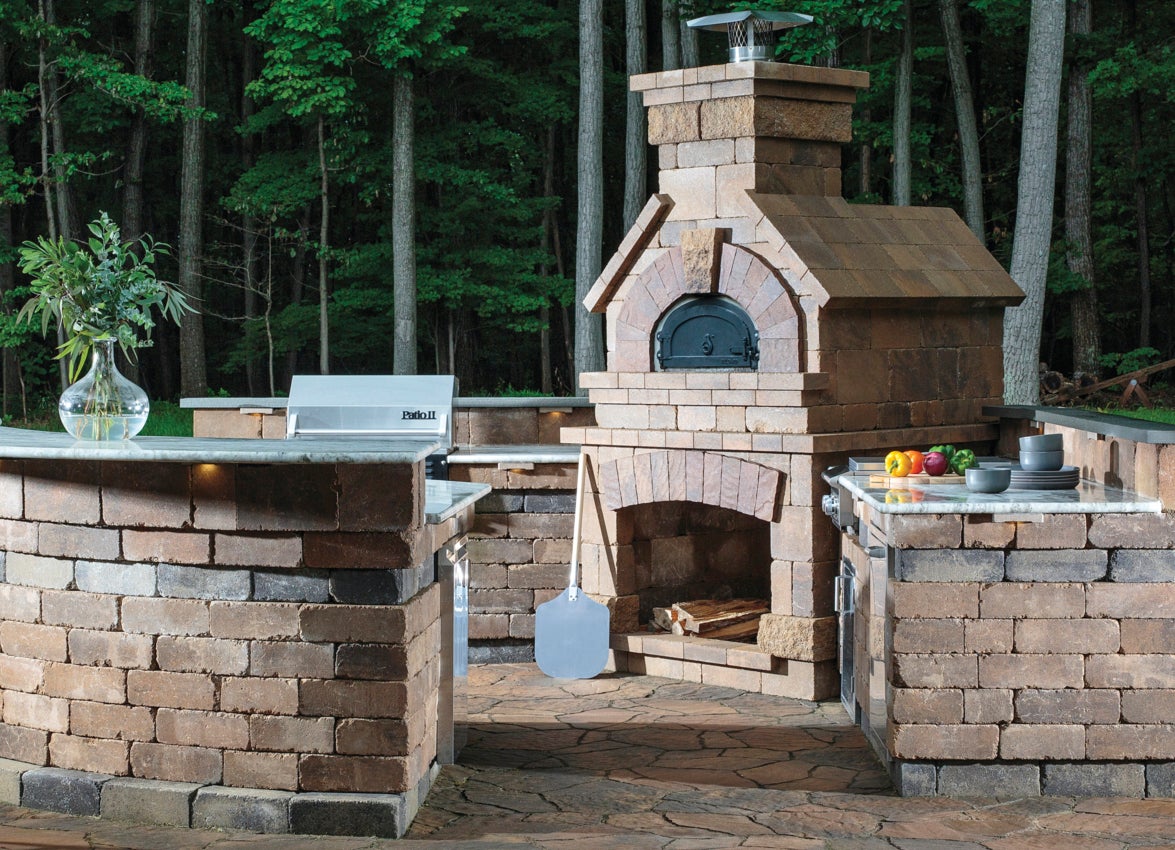 Yes, we've already mentioned brick ovens, but they are so worth mentioning again. There are two prominent benefits of cooking in a wood-burning brick oven versus a traditional oven: the better dispersion of temperature and the additional level of flavor. And there are more options than you might think. Belgard offers a full line that range from mobile and countertop brick ovens to gorgeous stone-clad brick oven kits for a custom built-in look. Aside from the swagger that accompanies having one, a brick oven presents numerous cooking opportunities for amazing wood-fired meals. Even though an outdoor brick oven is often referred to as an outdoor pizza oven, it is not just for cooking pizza. Here are a few brick oven recipes to get the creative juices flowing!
5. Seating for Your Audience… (umm, guests)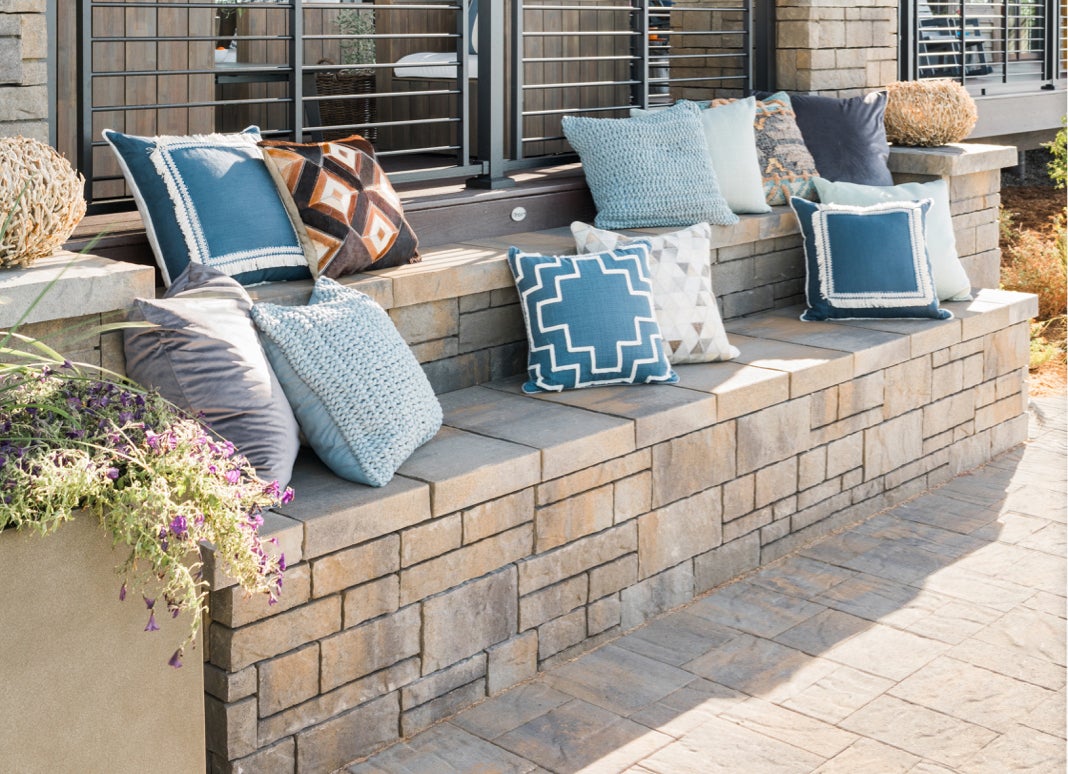 Preparing dishes in the kitchen is a visually stimulating affair. With you home chefs out there putting on shows, why not give your audience a front row seat? Bar seating or built-in seating near the cooking station creates a cozy atmosphere to enhance the outdoor cooking experience. An additional bonus to constructing permanent seating is that you won't have to fuss at your kids for leaning too far back on the chairs. With no chair legs to break, rust or unravel, the only things you'll need to change out each season are the throw pillows.
. . .