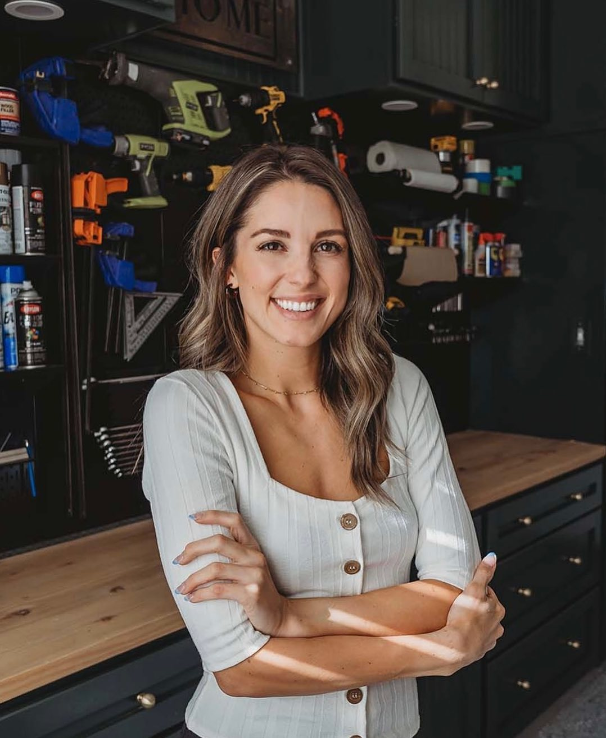 Lauren Beavers is the talented Texas-based DIY-er and design enthusiast behind Hand Makes Home. Her Instagram and website showcase her many home projects, mom life and more. The Belgard team had the exciting opportunity to partner with Lauren to help revamp her backyard and patio area, turning it into a stunning outdoor kitchen and entertaining space for her family to enjoy together.
Outdoor Kitchen Design Made Easy
Lauren fell in love with the outdoor kitchen at the HGTV Dream Home 2022 in Vermont. The sleek design features Artforms concrete panels, giving it a modern look and feel, and the Elements line of built-in grills and outdoor kitchen accessories. Lauren wanted to bring that same design concept to her backyard ideas so she could cook with and entertain family and friends.
"I absolutely loved the outdoor kitchen at the HGTV Dream Home in Vermont, and it sparked the vision for what I wanted to bring to my own home," says Lauren. "My husband, Phil, and I had been talking about adding an outdoor kitchen to our home for a while. Seeing how beautiful Artforms looked in person, especially integrated with the Elements stainless steel products, really sealed the deal for us."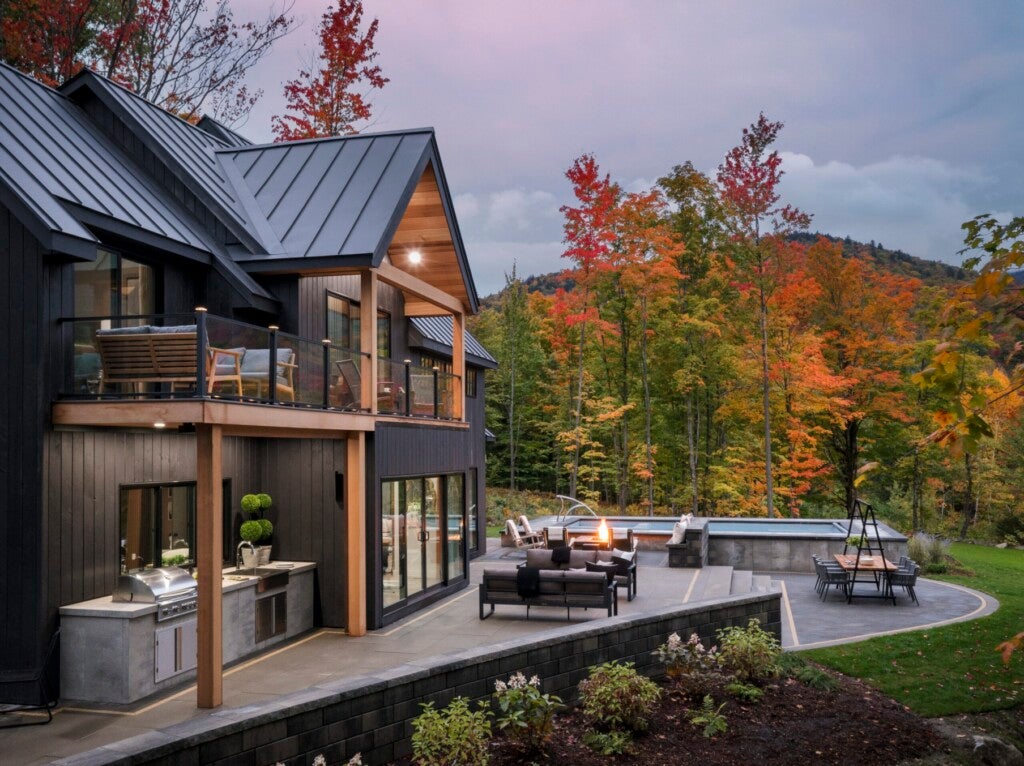 Working with the Belgard Design Studio and the Belgard Rooms planner, Lauren and the Belgard team brought her own outdoor kitchen ideas to life.
"We loved the minimal, modern look of the Vermont kitchen, and we were able to use the Belgard Rooms planner to start with a templated design and then customize it through the Belgard Design Studio," adds Lauren. "The process was seamless and really allowed us to create exactly what we wanted. We enjoyed working with the Belgard Design Studio team so much!"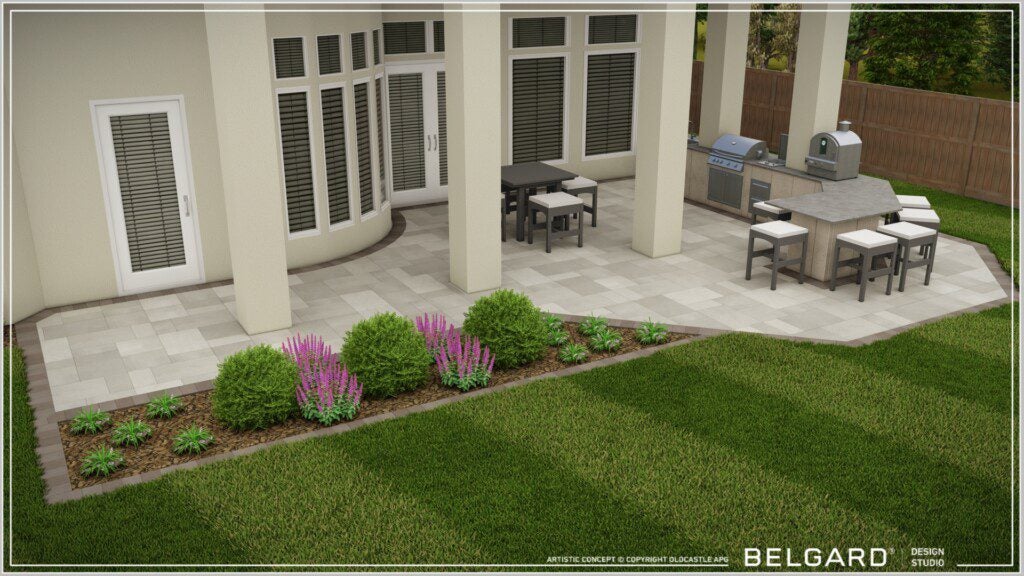 Belgard Elements Outdoor Kitchen Equipment, Artforms and Pavers to Bring It to Life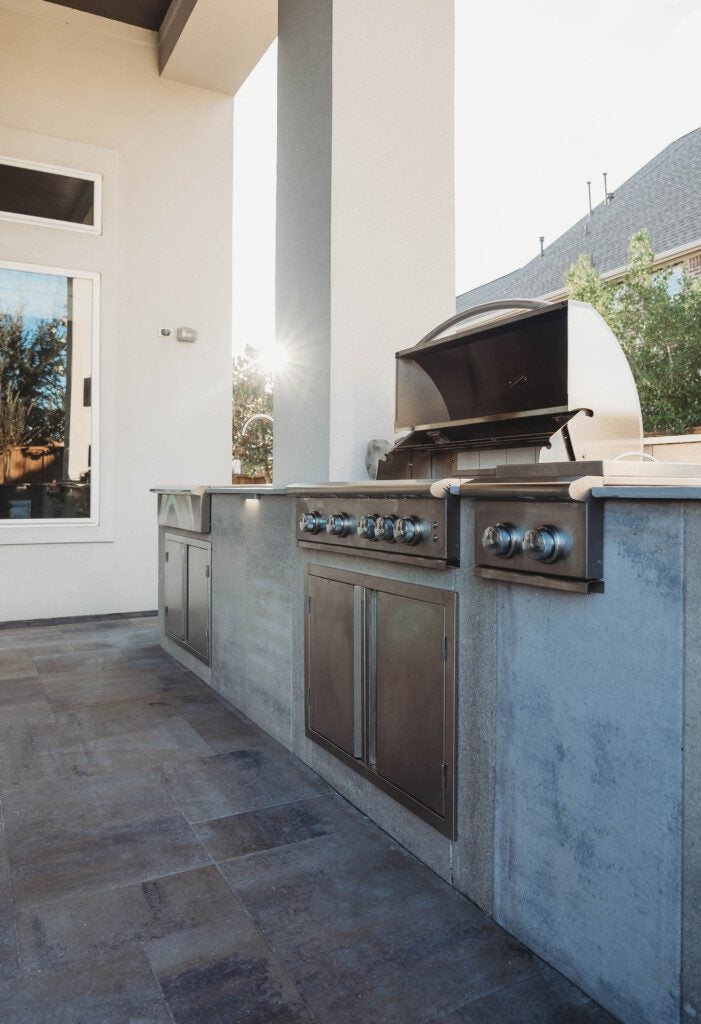 Belgard Artforms is the star of the show in Lauren's outdoor kitchen. Artforms is made of non-combustible material and is the industry's first modular concrete panel system, making it ideal for outdoor use and installation more efficient. They are delivered in large, modular panels and affixed with stainless steel hardware. As Lauren describes it, "It's basically like a huge Lego set."
Artforms created the central island in Lauren's kitchen, which houses an Elements built-in gas grill and side burner, 304 stainless steel farmhouse sink, refrigerator, access doors and outdoor kitchen storage drawers for maximum functionality. Lauren's contractor, Villa Hardscapes and Construction, seamlessly fit the Artforms panels around existing columns in their outdoor area, as their modular format allows them to be cut to any specification.  
"Artforms and Elements really are the standout pieces of our outdoor kitchen," says Lauren. "Even though we did make some modifications and customizations to our design, the materials were still incredibly easy to work with for our contractor."
To complete their outdoor kitchen and dining area, Lauren opted for the Dimensions pavers in Leuders gray, along with the graphite border to add depth.
"The pavers blend right into the rest of the kitchen, so everything looks very modern and cohesive," notes Lauren. "Having the paver patio along with the full kitchen really creates a space where we can come together. My husband and I, as well as our three little ones, are making amazing memories cooking, eating and playing outside."
Elements Built-in Gas Grill in the Hand Makes Home Kitchen in Texas

The Elements Built-in Gas Grill and storage in Lauren's kitchen enhances functionality

The Elements Stainless Steel Farmhouse Sink extends the indoors out in Lauren's outdoor kitchen

The Elements Stainless Steel Farmhouse sink and double access doors are a perfect combination

The Elements refrigerator lets Lauren store anything for dining al fresco

The Elements line of outdoor kitchen grills and accessories fit seamlessly with Lauren's Artforms concrete counters, creating a beautiful combination

It's safe to say Lauren thoroughly enjoys her outdoor kitchen!
TruScapes landscape and patio lighting added the finishing touch so Lauren and her family can enjoy the outdoors any time.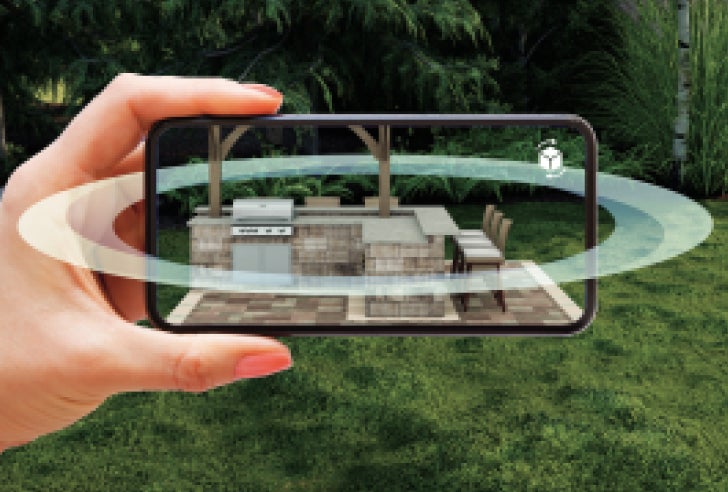 Create Your Own Outdoor Living Oasis
Like Lauren, you can use the Belgard Rooms Planner to start designing your own outdoor living space – whether it's an outdoor kitchen, living room or fire pit area. Using our Augmented Reality (AR), you can see exactly how one of the Belgard Rooms designs would look in your own yard.
To download plans for the HGTV Dream Home 2022 kitchen from Belgard Rooms, click here.