Time really does fly! HNA 2022 has come and gone – but we are still reeling from the excitement of the show. With record-breaking attendance, this year's show was packed full of talent and innovation.
We showcased a variety of new products this year and used the show as a platform to tell the full Oldcastle APG story, featuring all of our sister brands in the booth – MoistureShield, PebbleTec, and Barrette Outdoor Living.
Read on for a recap of the highlights from the show floor – and check out to our podcast mini-series recorded live from HNA.
New Belgard Products
HNA is always a prime time for us to debut new products and get feedback from our contractors on the floor. We showcased several new products that are rolling out regionally and nationally over the next year, including:
Brooklyn – a new modular paver with a warm tone and weathered appearance that is perfect for a variety of applications and complements rustic styles
Empire – another modular style paver with alternating angles that can be used to create a variety of patterns; this style was utilized throughout our booth to create a herringbone pattern in the walkways
Basalt – this new style mimics the texture of natural volcanic rock, adding visual interest to modern or rustic designs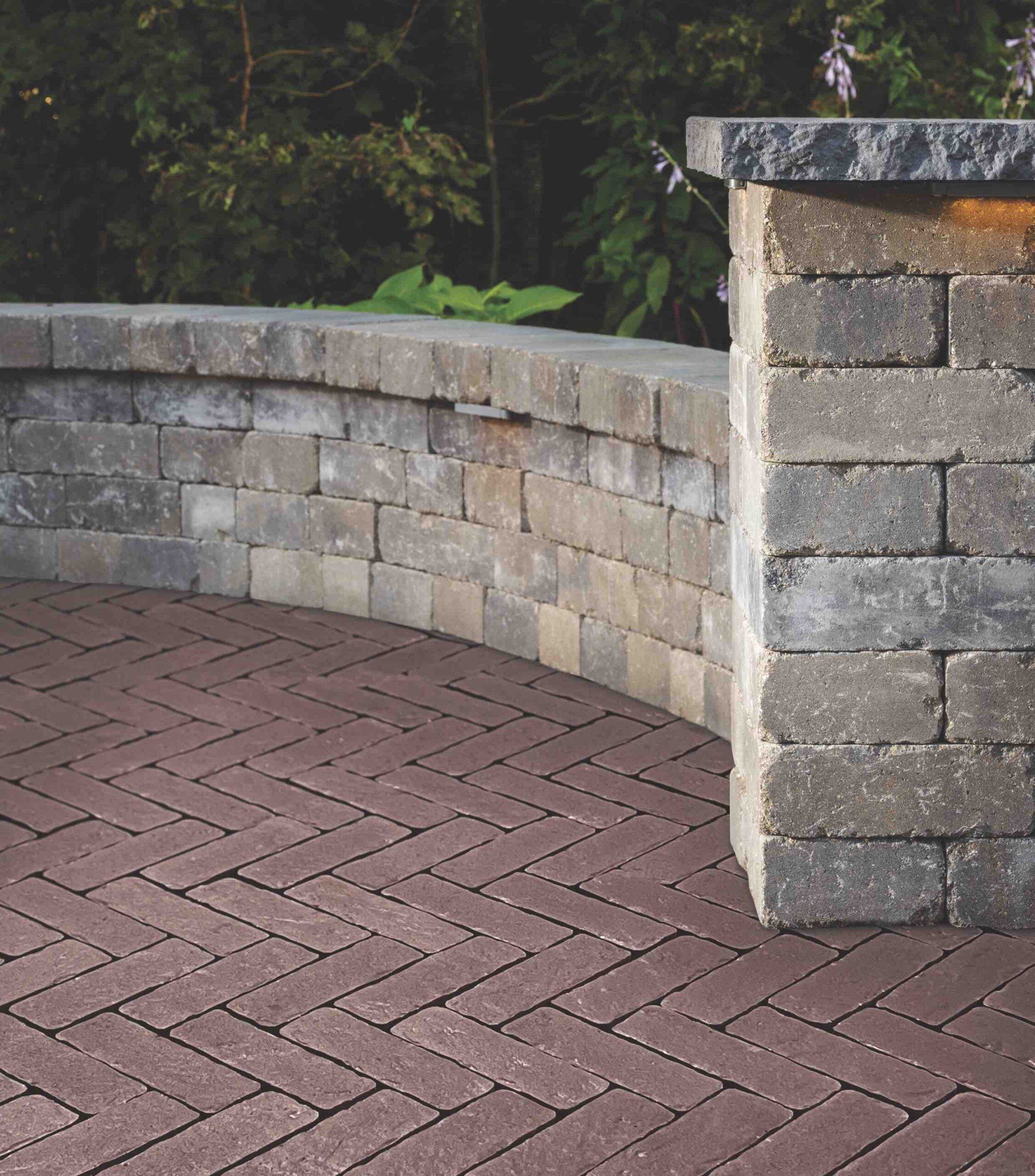 These were a focal point in the booth and part of the Artisan Collection, which focuses on unique textures that play a crucial role in outdoor design. These are just the first in this Collection, and we can't wait to see how our contractors use them in their designs.
New this year to Belgard Rooms was the debut of our AR feature. QR codes were placed throughout the booth for attendees to scan and reveal a full augmented reality setup of the exact space. These AR capabilities allow contractors to give clients an even more realistic representation of how a design will look in their backyard.
Check out Inside Out with Belgard, HNA Edition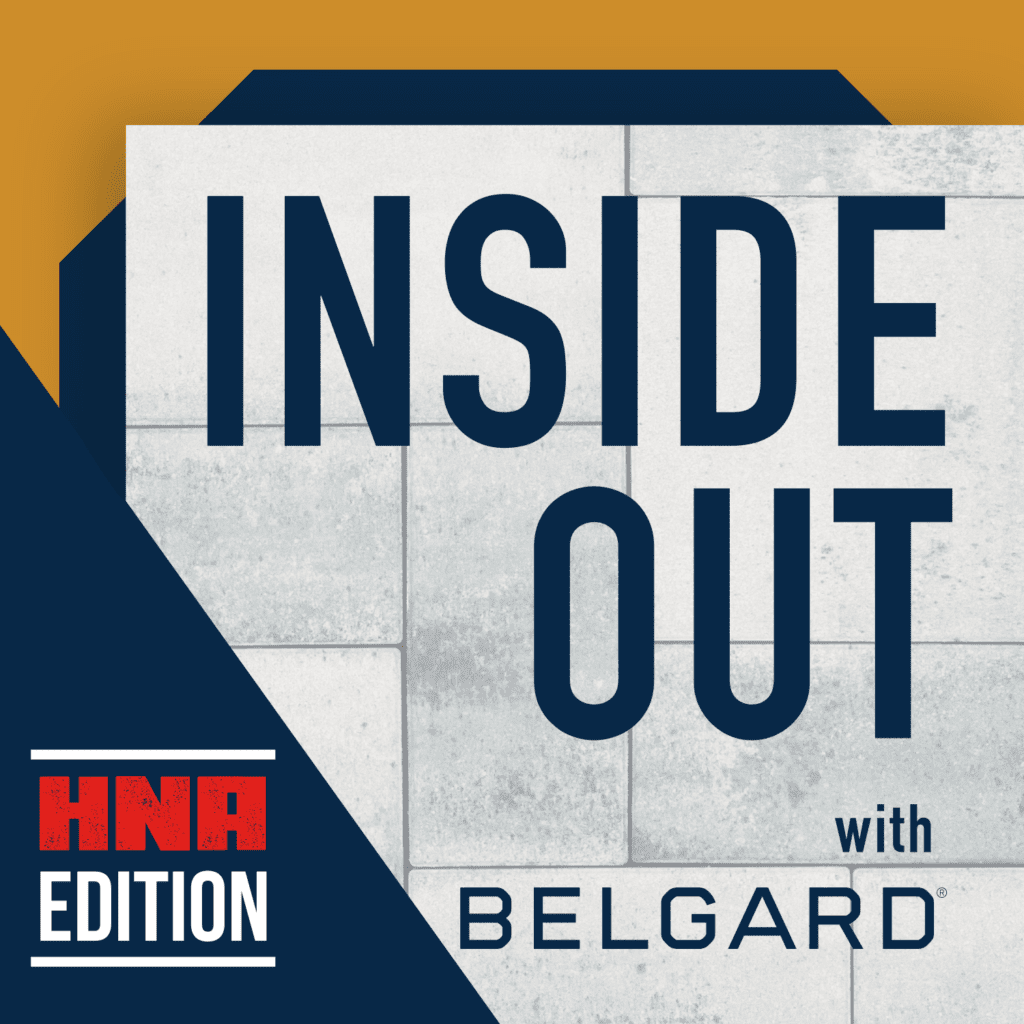 We also did something we've never done at HNA before – we recorded our podcast! We got to speak with amazing folks live on the show floor to talk about all things outdoor living.
To kick off the mini-series, Director of Residential Hardscapes at Belgard and HNA expert Joe Raboine spoke with Mike Miles, Design Services Manager for Belgard Design Studio, about expectations for this year's show and gave a sneak peek into the Belgard booth.
Listen to the full episode here.
Part I of our two-part "live from the booth" episode arc gave us the chance to speak to leaders from Oldcastle APG and all of our sister brands:
Jenny Earnest, SVP of Sales and Marketing, Oldcastle APG
David Altom, Regional Sales Manager, and Kari Paulson, VP of Marketing, PebbleTec
Patrick Ianni, Director of Product Management, Barrette Outdoor Living
Matt Bruce, Vice President of Sales, MoistureShield
Listen here to get the scoop on how we are all working together to make outdoor living more cohesive and accessible for contractors and their customers.
Part II from the show floor features some of our contractor friends and Belgard Advisory Council Members, offering their perspectives on the show, describing what they are observing in their businesses and regions, and sharing overall trends in the industry at large:
Cohan Fish, Co-Owner, Shovel & Thumb, Advisory Council Member
Jay Beswick, Owner, Majestic Outdoors, Advisory Council Member
Leo Moreira, President, Tucano Stones, Belgard Authorized Contractor
You can listen to the full episode here.
Our HNA mini-series wraps up with an episode featuring Matt Lynch, SVP, APG Retail at Oldcastle APG, and Ginger Ablitt, Product Manager, Oldcastle APG. Matt and Ginger spoke with Joe about the Oldcastle APG portfolio and where the brands are headed next year.
Listen to Matt and Ginger's episode here.
HNA Installer Championship 
It was an exciting year for Belgard during the HNA Installer Championship as well! One of our Belgard Master Craftsmen and a Belgard Advisory Council member won this year's competition.
You can read more about this year's Championship and winner in this blog.
See you at HNA 2023!