This year is flying by and it's almost time for the annual Hardscape North America (HNA) trade show! We've been a proud sponsor and exhibitor at the industry's premier tradeshow for many years, and we can't wait to return to Louisville this month. While the show doesn't begin until October 19, here's a preview of what Belgard has in store for indoor booth #20040.
The APG Ecosystem
The whole Oldcastle APG Family is taking center stage at HNA 2022. This year's trade show booth focuses on what we've dubbed the "APG Ecosystem." Each brand in the Oldcastle APG portfolio is represented – Belgard, MoistureShield, PebbleTec, Barrette and EP Henry.
You'll see all these brands represented in the booth's construction – it's the most mixed materials we've ever used in our HNA booth before!
This tells the story of how all Oldcastle APG's outdoor living brands work together to create the most cohesive and beautiful outdoor spaces.
A look at new Belgard Pavers and products
As always, you'll see a host of Belgard pavers represented in the booth – many of which just launched this year or are new additions to the product line coming in 2023. We love giving attendees a sneak peek of our latest innovations!
These products include Origins and Dimensions, introduced this year, as well as two new paver styles that are sure to be crowd-pleasers. As has been our focus over the past year, all our new paver products are built with modularity in mind, as well as creativity with a variety of geometric shapes (see our blog on these new shapes). Textures are another trend you'll see throughout the booth with these new paver styles, plus our new artisan textures that will be coming in 2023.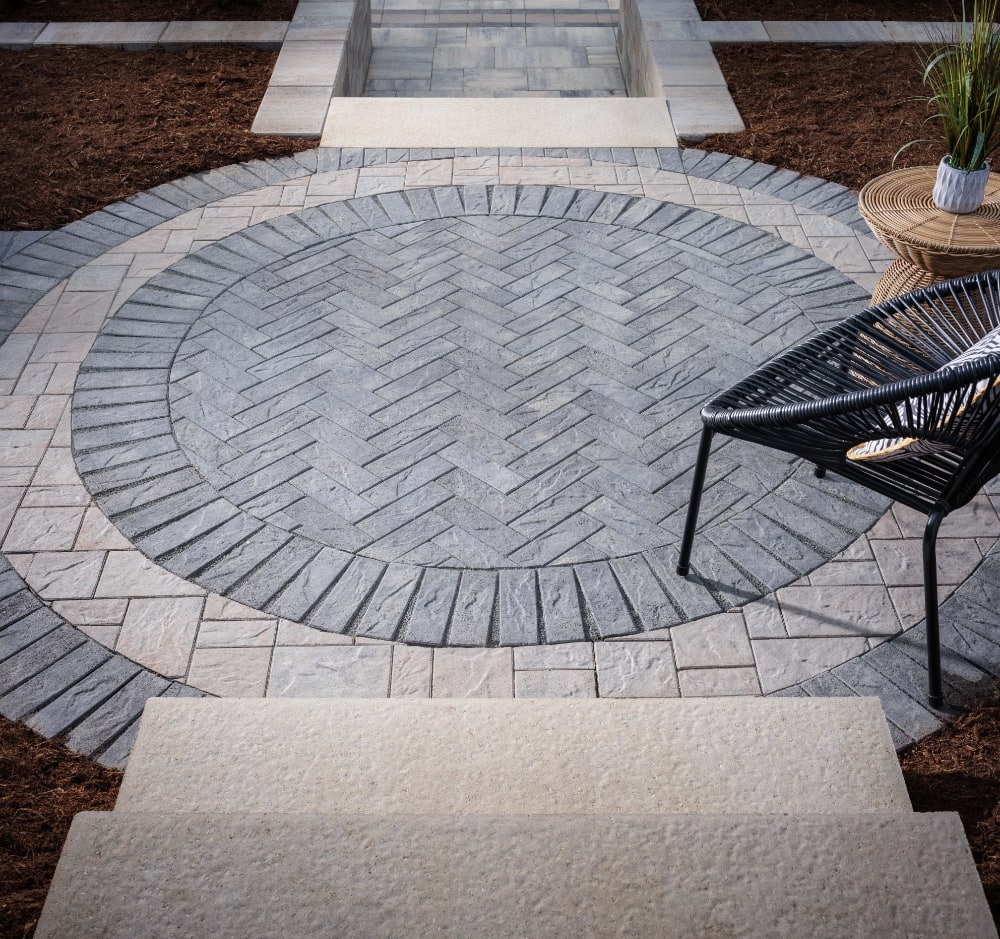 Outdoor Living Technology to Make Design Easier
Belgard Rooms, introduced at last year's show, continues to be an integral part of our design process. Technology is front and center this year, with the addition of Belgard Rooms AR. Attendees will be able to experience Belgard Rooms AR firsthand and see how it can make designing and selling outdoor living even more enticing.
We'll have three full Belgard Room styles integrating components from other Oldcastle APG Brands featured in the booth.
Hardscape Demonstrations
In addition to our indoor booth, Belgard will also have two outdoor booths (booth #4018D and 4114D) where we'll be hosting demonstrations throughout the trade show on installation best practices, including technologies that can improve efficiencies.
What else?
For more information for the product showcase, visit our Belgard HNA page. We do have some more surprises in store at the event. You'll just have to wait and see at HNA 2022! Stop by booth our booths October 19-21. See you in Louisville!