Happy National S'mores Day! For several years, we reached out to the followers of our blog and social media to ask submissions of unique s'mores recipes. In doing so, we've received some really interesting ideas on recreating everyone's favorite ooey gooey fireside concoction. Get ready to light the fire pit or outdoor fireplace, grab your ingredients of choice, and get roasting!
Gourmet S'mores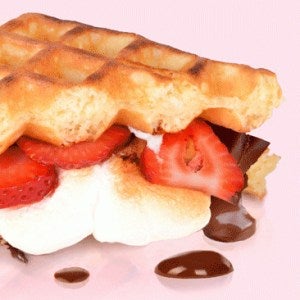 Get ready for your mouth to water. Some of these gourmet recipes take a bit more time, but some are super simple. All are AMAZING!
Baklava Truffle S'mores: Get the recipes for sumptuous Baklava Truffles. Then create the s'mores by sandwiching a truffle between graham crackers with a roasted marshmallow.
Tropical S'mores: Coconut shortbread cookies sandwiched with 1/2 pineapple ring, chocolate and a melty marshmallow.
Queen Bee S'Mores: Baguette slices with Chuao Chocolatier Honeycomb mini bars, marshmallows and honey.
Strawberry Waffle S'mores: Toast some frozen waffles and sandwich with Chuao Chocolatier Cinnamon Cereal Smooch mini bars, marshmallows and fresh strawberries.
Oh, Snap! S'mores: ginger snap cookies, Chuao Chocolatier Caramel Apple Crush mini bars and marshmallows, drizzle with caramel sauce.
Reese's S'moreos: Open an Oreo, put on the toasted marshmallow, add a Reese's peanut butter cup, and close the Oreo with the top cookie.
Rum Cherry S'mores: Strain the juice out of a jar of cherries and soak the cherries in rum overnight. Push the cherry into the center of the melty marshmallow before assembling the s'more.
Key Lime Pie S'mores: Honey graham crackers, key lime marshmallows and white chocolate, topped with a little bit of lime zest.
Beyond the Roasting Stick
No roasting sticks? No problem! There's more than one way to cook your marhmallowy yuminess.
S'mores Banana Boats: Slice a ripe banana (still in the peel) lengthwise. Place chocolate and marshmallows into the banana. Wrap it in foil. Put it over the fire until mallows and chocolate are melted. Eat with a spoon.
S'mores Cones: Stuff sugar cones with Reese's mini cups and marshmallows. Wrap in foil and warm on a grate next to the fire.
Mexican S'mores: Tortilla, chocolate and marshmallow — deep fried and covered in cinnamon and sugar.
Oven-Baked S'more Squares: Heat oven to 350°F. Place 9 graham squares in single layer on bottom of 8-inch square pan; top with 36 marshmallow halves. Sprinkle with chopped chocolate. Top with remaining marshmallow halves, cut sides down. Bake 9 to 11 minutes or until marshmallows are puffed and golden brown. Let stand 5 minutes and cut into squares
S'more Pie: Graham cracker pie crust, cold chocolate pudding filling with chocolate chunks — set in fridge to chill. Add Marshmallow Creme topping spread on top and return to fridge to chill. Ready to slice and serve after 1 to 1.5 hrs.
Top That!
Tons of readers sent us ideas of toppings for kicking s'mores up a notch. Here are some great examples.
Coconut sprinkles
Sea salt
Candied bacon
Nut butters
Sliced strawberries or stone fruit
Cinnamon sugar
Hazlenut or Irish Creme liquer
S'more to Try
The ideas just kept on coming. Here were some other great ideas sent to us by our readers.
Substitute peeps for the marshmallows
Ditch the graham crackers for apple slices and drizzle with caramel
Substitute chocolate with another candy like Almond Joy, peanut butter cups or Ghirardelli squares, Andes Candies
Instead of graham crackers, try squares of baked layered phyllo dough or chocolate chip cookies
S'mores Bar
But why choose just one idea when you can try them all and more?! For the a real s'mores-a-thon, set up a s'mores bar using lots of the ideas above. Time to get toasting. Enjoy!