The Belgard team is always innovating to create products that will enhance outdoor living design and functionality. One of Belgard's latest hardscape product innovations is designed not only for beauty and function, but also versatility and installation speed. I'm talking about the award-winning Artforms™ system.
Artforms is the outdoor living industry's first modular concrete panel system. Its sleek modern design style offers clean lines, a smooth texture and a timeless aesthetic. The Artforms system is incredibly durable, can be used for countless outdoor living structures, and installs significantly faster than masonry or wall block.
Here are just a few ideas of where you can incorporate Artforms in your outdoor living areas.
1. Create permanent outdoor seating
Large modular panels make Artforms suitable for a range of outdoor living projects. One popular application is outdoor seating. The shape and size of the panels make them perfect for outdoor benches and seating walls. Modular sizing allows you to create a variety of seating configurations in your outdoor kitchen, outdoor living room, fire pit area and more.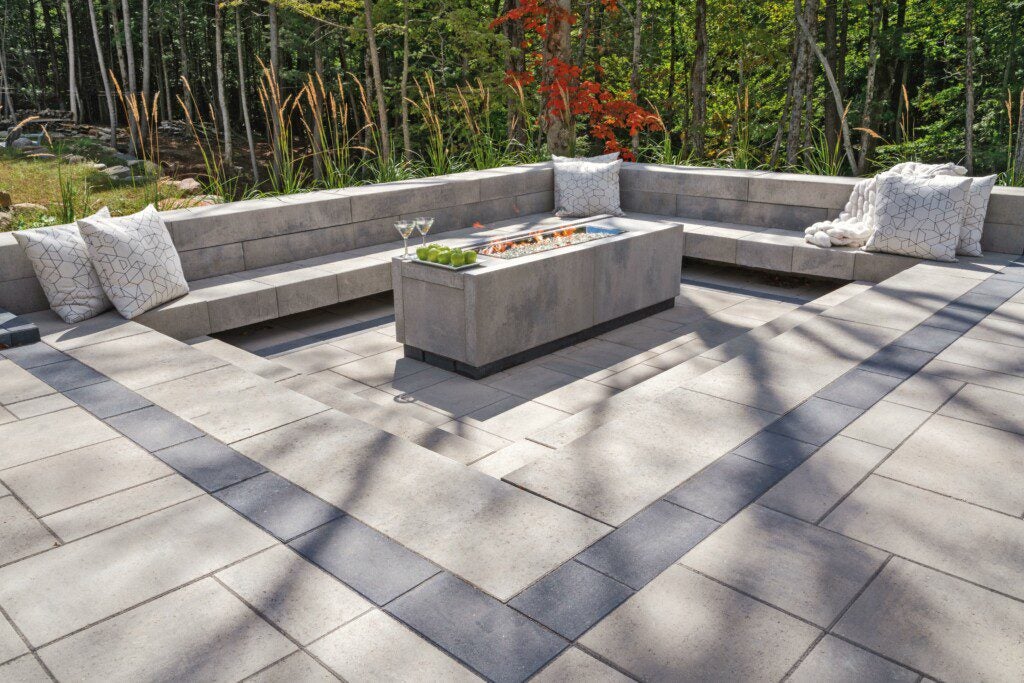 . . .
2. Add style to your BBQ
Outdoor kitchens are one of the most popular renovations today, and Artforms is a great choice for an upgraded, modern style. Given its flexibility and modular sizing, you can build a striking barbecue station or L-shaped outdoor kitchen. Use Artforms to create beautiful countertops around your Elements grill for prepping and serving, as well as for the base of the barbecue. It's also easy to add Artforms to existing projects if you aren't looking for a full outdoor kitchen upgrade.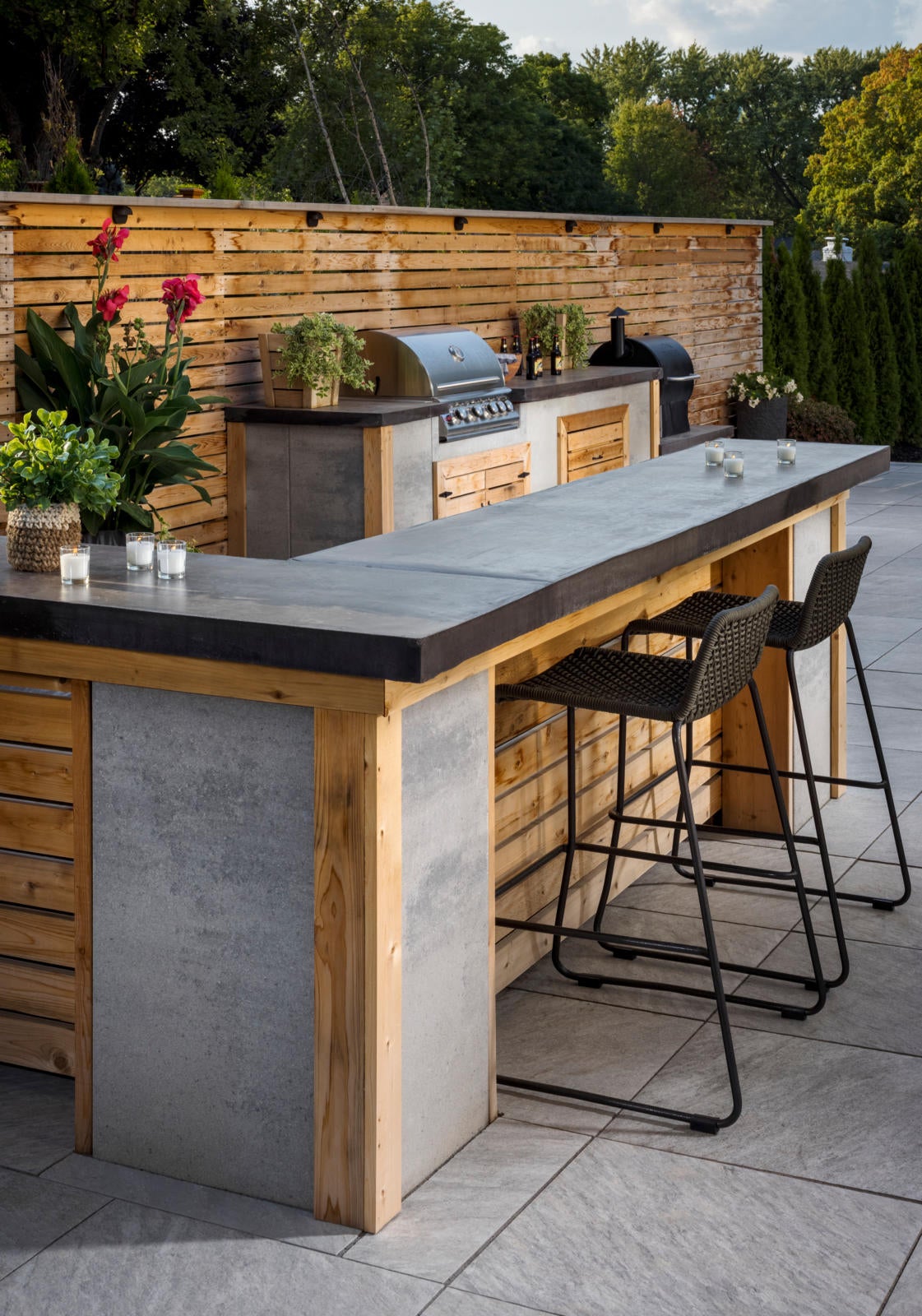 3. Belly up to the bar
Whether you'd like to add seating to your outdoor kitchen, or just a space for entertaining and serving, Artforms is an excellent choice for creating an outdoor bar. If you're not into the ultra-contemporary look, you can also pair Artforms with other materials, like wood or natural stone, to add texture and warmth to your designs
. . .
.
4. Patio planters with modern style
Colorful, vibrant plants brighten up every room – indoors or out. Add some texture and elegance to your patio or other outdoor areas with built-in planters. The smooth yet rugged concrete finish gives spaces a contemporary feel and pairs beautifully with a variety of plants. If you want to stick with a more modern style, plant a variety of greenery, succulents or cacti. For more contrast, pair Artforms planters with bright blooms like petunias, geraniums or impatiens.
. . .
5. Fire pits with contemporary flare
Fire pits continue to be one of the top must-haves in outdoor living design. There's just something about sitting around a fire with loved ones that appeals to people of all backgrounds and ages. With the modular shape of Artforms, building either a square or linear rectangle fire pit is a breeze. For a wood-burning fire pit, be sure to line the interior walls with fire bricks to protect the Artforms from extreme heat. For a gas-burning fire pit, the Belgard Elements line offers gas fire pit inserts in compatible square and rectangular sizes.
Plan your Artforms project
Artforms is a revolutionary system offering endless design possibilities. The durability and strength of the concrete panels make it suitable for projects of all sizes, even rooftop applications. The efficient installation process means less disruption at your home – and for contractors, this means the project can be completed faster and with minimal waste. For more project ideas, download the Arforms Idea Book below.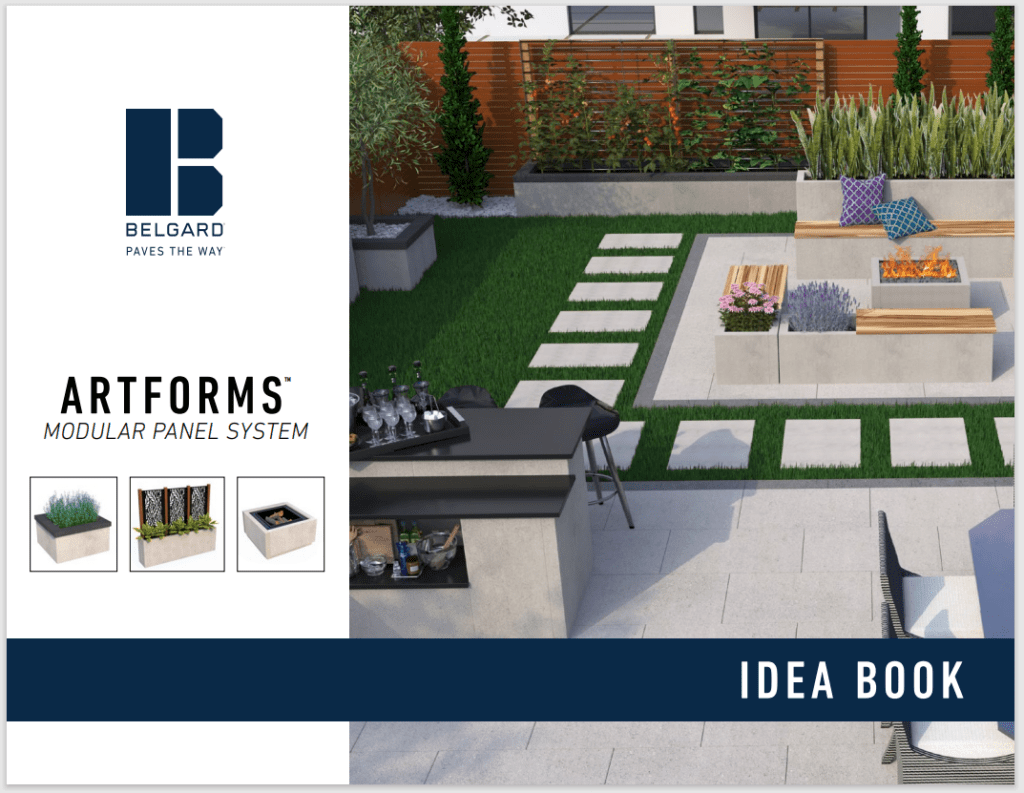 To create your dream outdoor living area with Artforms, visit Belgard.com/locator to find a contractor or dealer near you.