The first day of spring is March 20, and what better way to celebrate the season than by getting your hands dirty? Whether you want to add some color to your patio or freshen up your built-in planters, adding new flowers and foliage is a great way to bring some vibrancy to your space.
Know Before You Grow:
Gardening in containers is different than in-ground gardening. Follow these tips to keep your patio flowers looking stunning all season long:
Use the right soil. Regular soil is too heavy and retains too much water for confined spaces. Use potting soil for pots and built-in planters and raised bed soil for larger, above-ground beds.
Good drainage is key. Too much water will kill your plants. So, you need to make sure your planters have drainage holes to remove any excess water. If your planter does not have holes or you are unable to make any, adding a 1 to 2-inch layer of rocks or gravel to the bottom will help pull extra water away.
Water often. Container plants need to be watered more often than in-ground plants because their soil dries out much faster. Be sure to check on them often, especially during hot, dry spells. A good rule of thumb is to water when the first inch of soil is dry (unless otherwise directed).
While you can grow any plants you want, some are better suited to planters than others. Here are some of the best flowers for patio containers.
Petunias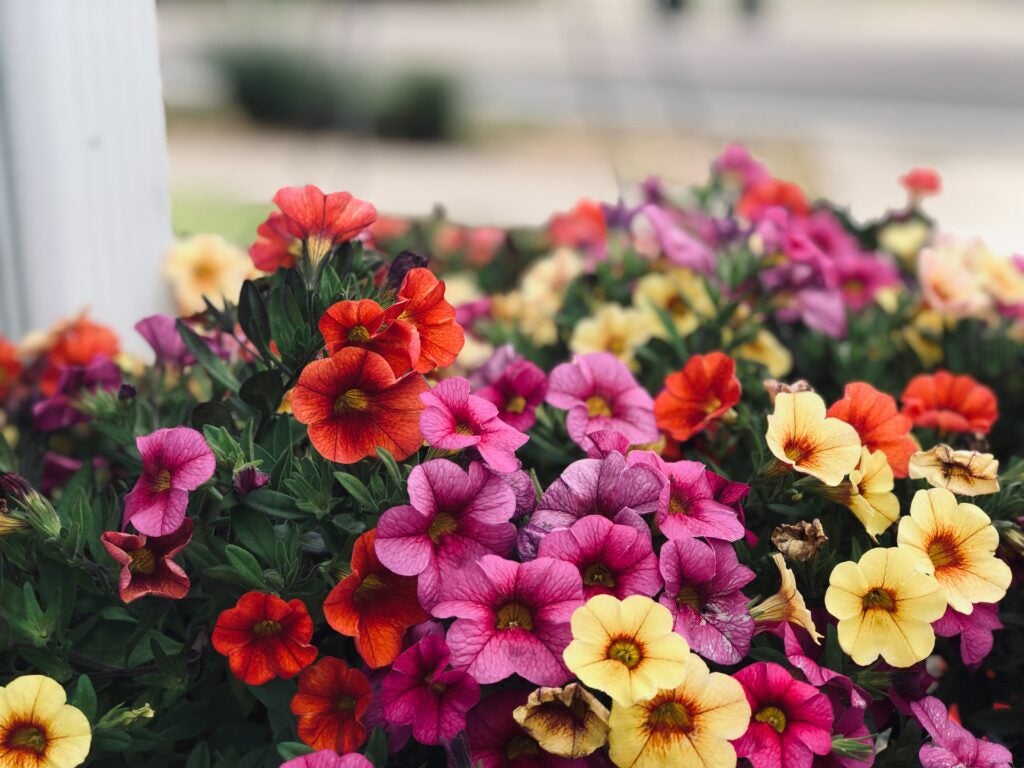 Classic showstoppers, petunias are known for their bright and plentiful blooms. Summer is the petunias' time to shine, but depending on where you live, they can flower as early as spring and last through the fall. They come in a variety of colors and species. Trailing petunias can add drama to hanging baskets and high planters.
Type: Annual
Light: Full sun, some afternoon shade ok
Soil: Moist, well-draining
Water: When top 1-2 inches of soil are dry
Geraniums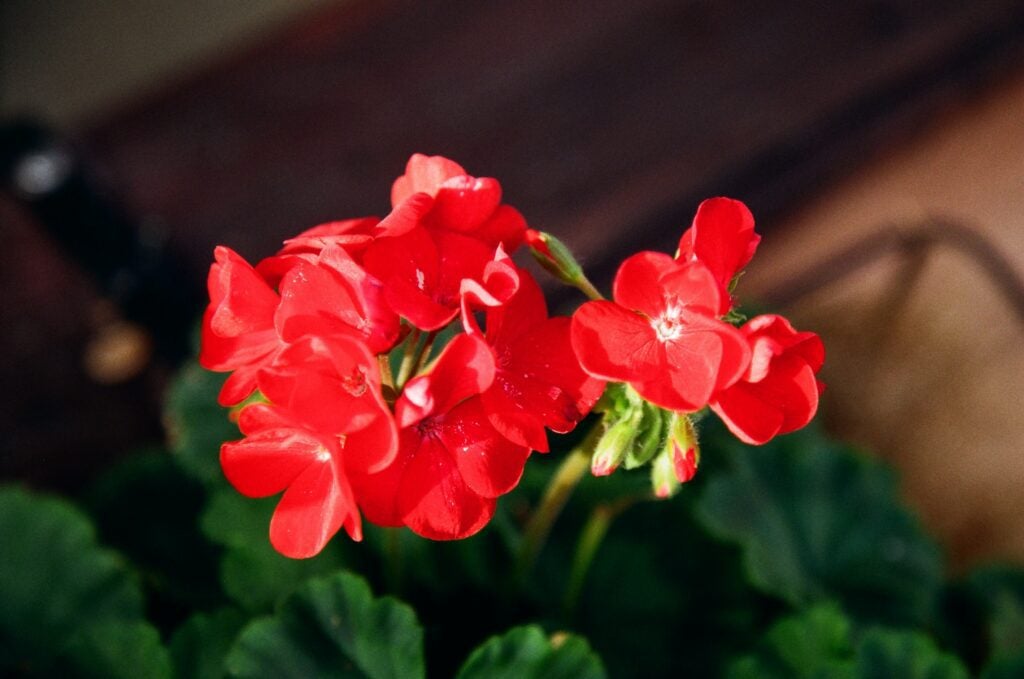 A staple of the English garden, geraniums have been well-loved for centuries. They produce colorful clusters of blooms on sturdy stems from late spring to early fall. Geraniums are a popular pick for borders, hanging baskets and medium height plants in planter arrangements.
Type: Annual
Light: Full sun
Soil: Well-draining
Water: Allow to dry out some between watering
Impatiens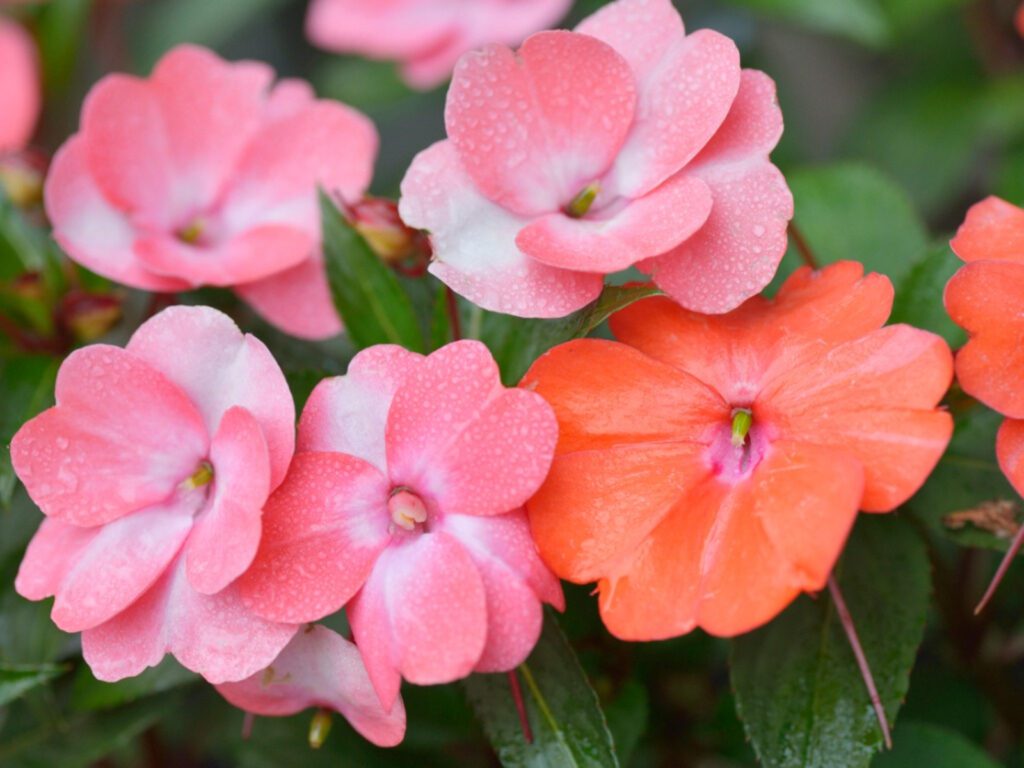 Brightly colored and bursting with seeds, Impatiens are the perfect annual to bring some color to shady beds and planters. Fast growers, these flowers bloom from spring to the first frost.
Their name comes from their quick seeding method, which produces fat seed pods in the fall that burst open at the slightest touch.
Type: Annual
Light: Full- to part-shade
Soil: Moist, well-draining
Water: Weekly, more often during dry spells
Mandevilla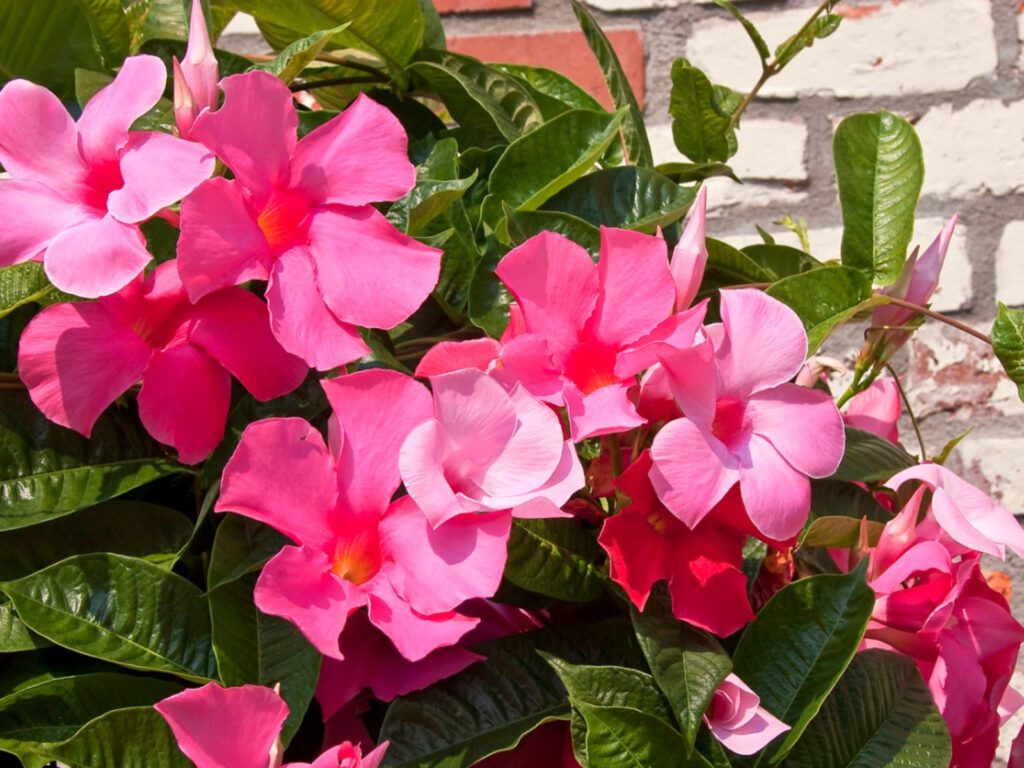 For a showy, cascading look, Mandevilla is the way to go for planters or vertical gardens. A tropical flowering vine, it sports rich blooms in shades of red, pink or white with glossy green foliage. They flower from summer to fall in most warm climates. The vines can reach up to 10 feet long but can be kept pruned to a desired length.
Type: Annual
Light: Full sun, afternoon shade is ok
Soil: Moist, well-draining
Water: Weekly
Coleus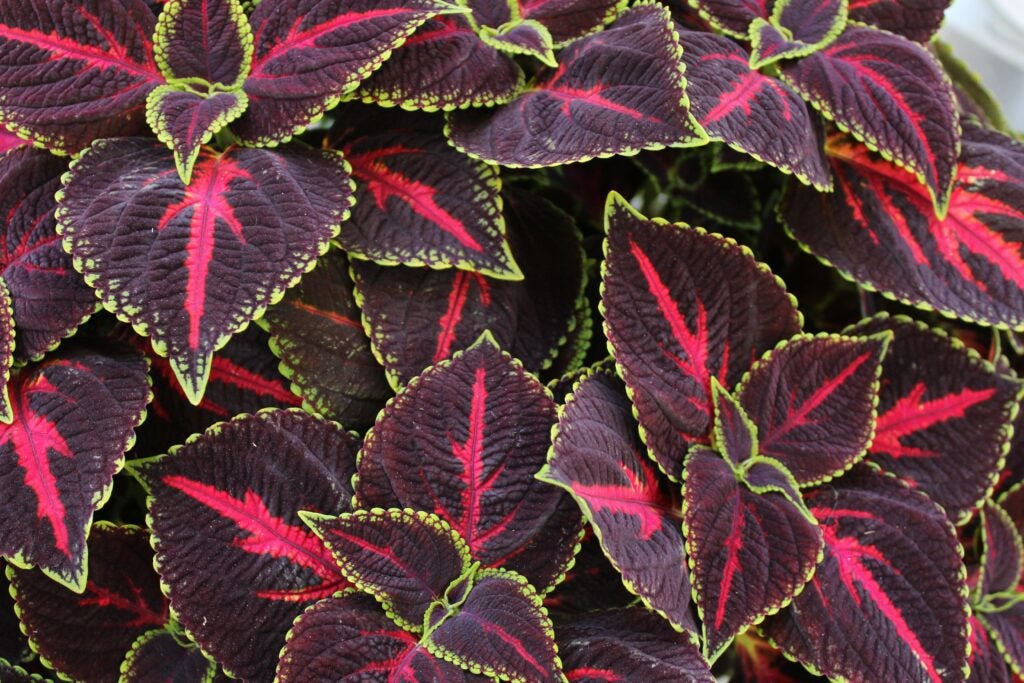 Coleus is proof you don't need flowers to put on a good show. This popular annual is grown for its stunning foliage that comes in a wide range of colors from neon green to deep burgundy. It frequently comes in two-tone varieties as well, giving it added visual interest. It makes a great middle-height plant in a container arrangement.
Type: Annual
Sun: Full- to part-shade
Soil: Loose, moist, well-draining
Water: Weekly, more often during dry spells
More Ideas for Patio Planters: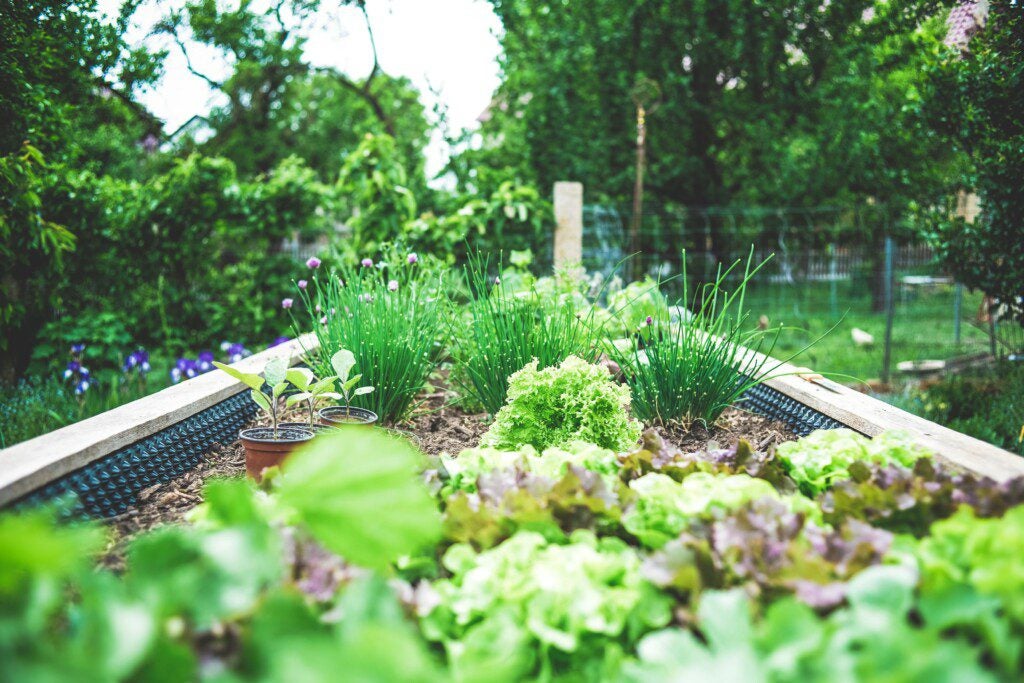 Layers
Growing flowers is only one step in the decorating process. To really step up your patio appeal try layering different plant heights for a more dramatic effect. A good rule to follow is thrillers, fillers and spillers.
Thrillers are tall focal point plants meant to draw attention. These can include tall grasses, small shrubs like boxwood or trellised flowering vines like Mandevilla.
Fillers are medium-height plants and can include flowers or stunning foliage. Feel free to mix and match varieties. Common fillers are petunias, impatiens, coleus, lantana and ornamental cabbage or kale.
Spillers bring the drama to your planters by draping over the container's edge and creating long, sweeping trails. Sweet potato vine, creeping jenny, English ivy, vinca and verbena are excellent choices.
Vertical Gardens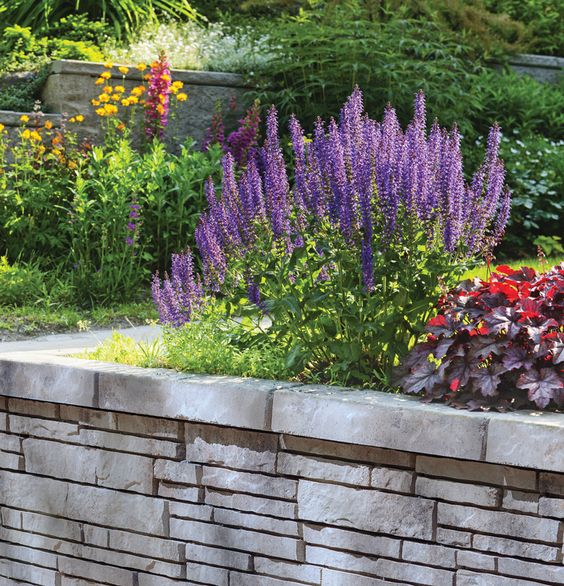 Don't just think in terms of horizontal spaces. There are multiple ways to incorporate a vertical garden into your outdoor living space. Think of your exterior walls and fences as potential places to add some color. And of course, built-in planters are a great way to add dimension.
Make it Edible
Who says planters can't be pretty and tasty? Patio gardens and built-in planters are the perfect spaces to grow something that looks good and tastes better. Herbs do very well in containers and are great to have on hand for cooking. You can also grow vegetables such as tomatoes, cucumbers and peppers. For more ideas, read our blog on Edible Gardens.
Whatever you decide to plant, don't be afraid to get creative and have fun with it!