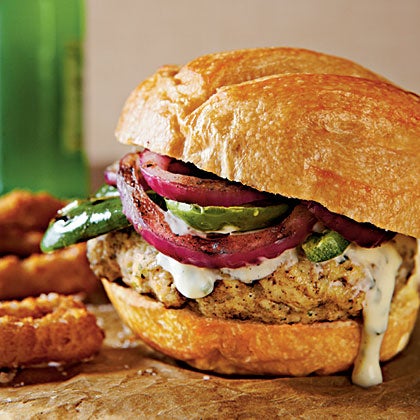 This "dad-approved" sandwich has a nice little kick. Picture a juicy chicken burger, nestled under tender bell peppers and onions, dressed with cool Cilantro-Lime Mayonnaise — it will become your new favorite summer dish. (Yield: 5 servings) Heat up the grill, break out the tequila, and get ready for some mouth-tingling yumminess. Consider pairing it with a Mexican beer, margarita or a refreshing watermelon cocktail.
CILANTRO-LIME MAYO INGREDIENTS:
3/4 cup mayonnaise
1 tsp chopped fresh cilantro
1 tsp chopped fresh chives
1 tsp lime zest
1 tsp fresh lime juice
Preparation:
Stir all ingredients together and refrigerate.
BURGER INGREDIENTS:
1 lb ground chicken breast
3 Tbs chopped fresh cilantro
2 chopped garlic cloves
1 seeded and chopped jalapeño pepper
1/2 cup panko (Japanese breadcrumbs)
2 Tbs tequila
1 tsp lime zest
3/4 tsp salt
1/2 tsp black pepper
1/4 tsp soy sauce
sliced bell peppers
sliced onions
your favorite buns
Preparation:
Preheat grill to medium-high heat (350-400°)
Pulse ground chicken, cilantro, garlic and jalapeño pepper in a food processor 3 or 4 times until combined
Add panko, tequila, lime zest, salt, pepper and soy sauce; pulse until combined
Shape into patties
Grill, covered with grill lid 4 to 5 minutes on each side or until a meat thermometer inserted into the thickest portion registers 165°
Remove from grill and keep warm
Reduce grill temperature to medium heat (300-350°)
Grill sliced bell peppers and onions 4 minutes on each side or unit tender
Serve burgers, bell peppers and onions on buns with Cilantro-Lime Mayonnaise
Recipe by Cara Lyons, courtesy of Southern Living Magazine and Time, Inc.; Photo: Becky Iuigart-Stayner; Styling: Buffy Hargett